Low Carb Angel Food Cake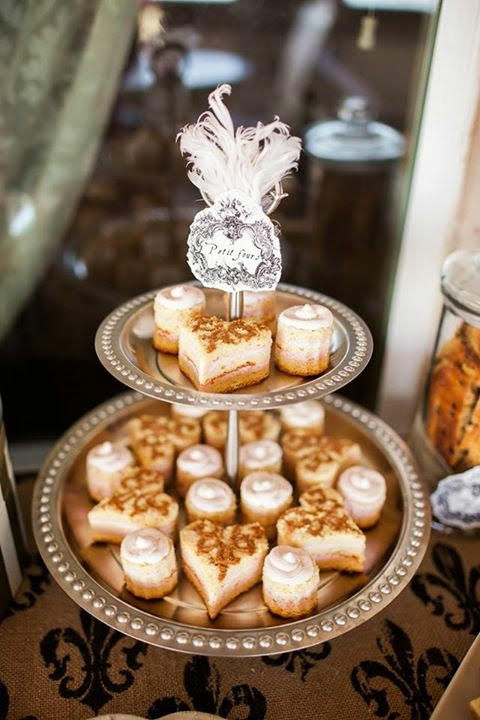 BETTY CROCKER ANGEL FOOD CAKE Ingredients: Sugar, Wheat Flour Bleached, Egg White, Corn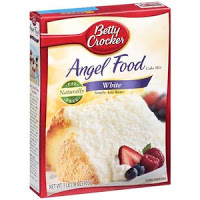 Starch, Leavening (Baking Soda, Citric Acid), Modified Corn Starch, Calcium Chloride, Modified Soy Protein, Salt, Cellulose Gum, Dextrose, Maltodextrin, Artificial Flavor, Sodium Lauryl Flavor (A Whipping Aid), Nonfat Milk.

Yuck! Sugar, sugar, sugar and soy… bad bad bad…
I get a lot of questions on products and protein powders that are made up of soy protein (such as Kashi cereals and bars, Special K protein bars, Melaleuca protein powder, Body By Vi, South Beach bars, Atkin's bars, Think Thin Bars…) and if those are okay to use.
A few reasons why I don't recommend soy protein:
1. Soy produces phytoestrogens, which are estrogen-like. This estrogenic and toxic effect increases cancer in tissues that are estrogen sensitive, such as breast, uterus, and thyroid cancer. To explain how strong soy can have on our estrogen levels, in 2009, a jail was fined a lot of money because they fed their prisoners soy meat, soy milk, soynut butters… so they could keep their testosterone levels down!
Our body produces 3 types of estrogen:
1. Ovaries produce healthy estrogen: Estradiol
2. Fat Cells store and form unhealthy estrogen: Estrone
3. 3rd type is produced only when pregnant: Estriol
Healthy estrogen from our ovaries gives women ample curves, attractive breasts and youthful skin. However, estrogen from our fat cells and external sources causes too many curves…or you might say 'bulges,' mainly in the belly area. Farmers have known this for years. They use a little synthetic estrogen to fatten their cattle. But women say to themselves: "I don't take any form of estrogen. Why do I have too much?" The sad truth is that estrogen comes from our food choices such as soy, alcohol or too many carbohydrates.  Insulin, the master hormone, is secreted from the pancreas in response to sugar and processed carbohydrates. Insulin stores fat and also causes our bodies to make more estrogen. This isn't just a problem with women either…a big "beer" belly is really just an "estrogen" belly.
2. Soy blocks certain nutrients from absorption such as zinc, which is very harmful for low thyroid function and causes low sperm count.
3. Processed soy has been proven to cause growth disorders, thyroid problems, infertility, and tumors.
4. Soy has toxic chemicals and can't be metabolized, unless fermented.
5. Soy contains enzymes inhibitors that reduce protein digestion. This is why vegetarians who try to eat meat again after a long time of eating soy have a hard time adding healthy protein back in.
6. Processed soy protein contains carcinogens such as nitrates.
7. Giving babies soy formula is the equivalent of 5 birth control pills a day.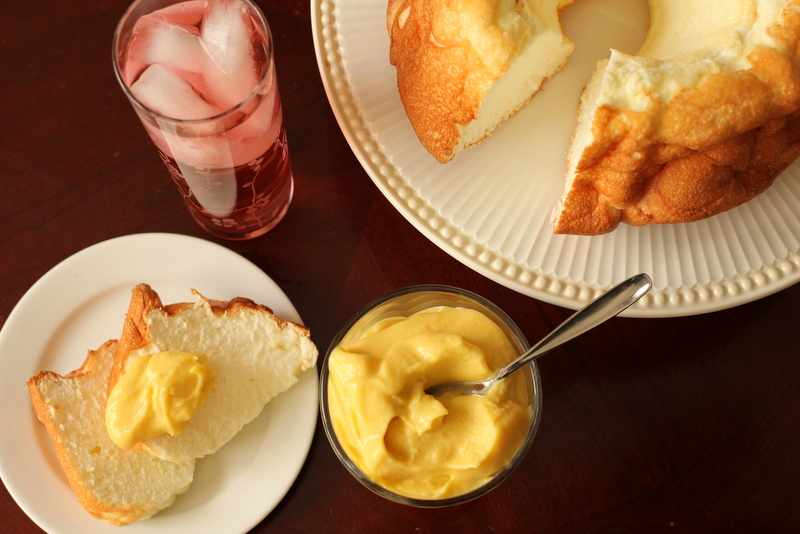 Click
HERE
to find my Lemon Curd to serve with this delicious Angel Food Cake!
To make this Low Carb Angel Food Cake, I used a stand mixer! I adore my stand mixer and it was my favorite foodie gift!
Find my FAVORITE stand mixer HERE (makes a GREAT gift!)
Find my favorite smaller 5 quart mixer HERE.

Low Carb Angel Food Cake
Ingredients
12 egg whites
2 tsp cream of tartar
1 pinch salt
1 cup Swerve confectioners' sweetener (or powdered erythritol)
1 tsp strawberry extract (or other extract)
Instructions
Preheat oven to 350 degrees F (175 degrees C). Sift whey protein and confectioners erythritol together and set aside. In a large clean bowl, whip egg whites with a pinch of salt until foamy (save the yolks for "healthified" creme brule, "healthified" coconut custard, OR "healthified" ice cream). Add cream of tartar and continue to beat until very stiff (you will be able to put bowl upside down and the whites won't fall out). Add your favorite extract flavor. Quickly fold in whey mixture. Pour into a greased 10 inch tube pan. Bake at 350 degrees F (175 degrees C) for 45 minutes. Makes 14 servings.
OPTION: Serve in Push Pop Molds with fresh whipping cream and strawberries. Click HERE to find Push Pop molds.
It also makes great FRENCH TOAST (see below for directions).
Notes
NUTRITIONAL COMPARISON (per serving)
Traditional Angel Food = 159 calories, 0.7g fat, 5.5g fiber, 35g carbs, 0.2g fiber
"Healthified" Angel Food = 54 calories, 0.7g fat, 11.1g protein, 0.9g carbs, trace fiber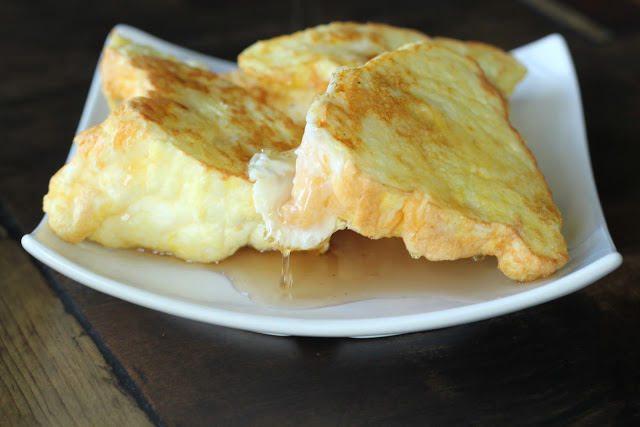 "HEALTHIFIED" FRENCH TOAST
1 Angel Food Cake
4 eggs
1 cup unsweetened almond milk
Cut the cake into 1 inch thick slices. In a medium bowl, mix the eggs and almond milk. Heat a skillet to medium-high heat, greased with coconut oil. Dip each slice of angel food cake into the egg mixture. Place on skillet and fry on each side until golden brown.
Click HERE to find the Keto syrup I use.
NUTRITIONAL COMPARISON (1/4 cup syrup)
Maple Syrup = 210 calories, 0.2g fat, 0g protein, 54g carbs, 0g fiber (54 effective carbs)
Xylitol Sap Syrup = 50 calories, 0g fat, 0g protein,19g carbs, 18g sugar alcohol (1 effective carb)

Testimony of the Day
"Hi Maria!! I need to tell you Thank You!! I wanted to let you know 2013 has been the best year of my life. I am so happy I found your blog, and signed up for a consult. I'm down over 60 pounds, and off all but 1 prescription medication!!! I was taking over 600 pills a month, prescription and non-prescription. I had headaches everyday, had no energy, severe acid reflux and had severe IBS. For the first time in my life I feel amazing!!! My body is changing, and it feels great. I used to be a carb loader, now I have turned my body into a fat burner thanks to you!! You have given me back my health, which I am forever grateful!!!! -Tanya