Keto Chicken and Dumplings with Protein Sparing Bread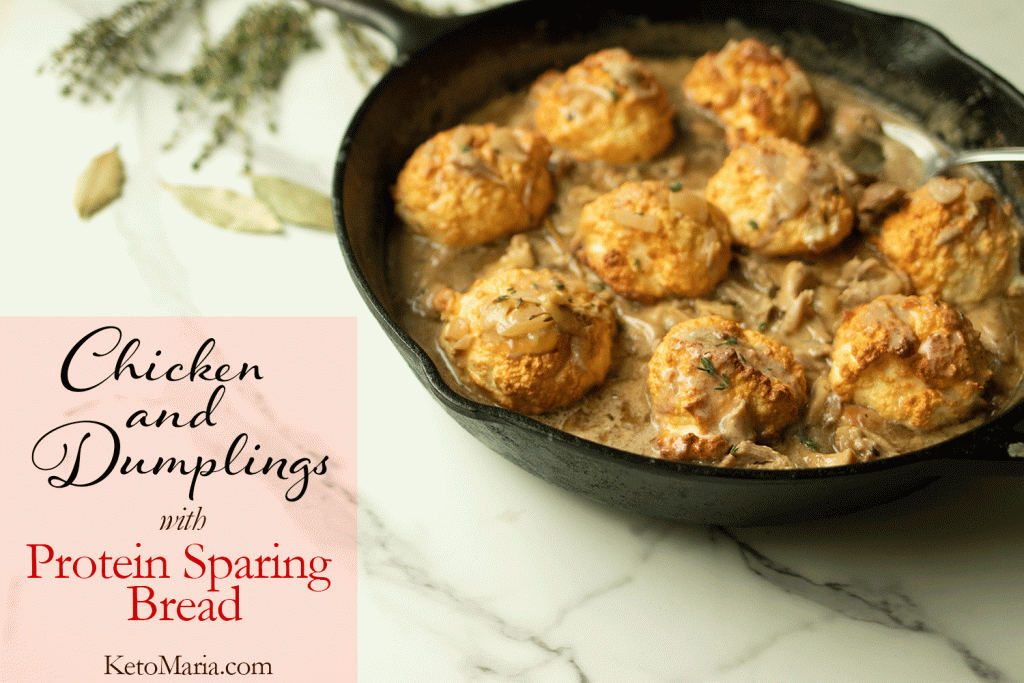 One of my dad's favorite meals is Chicken and Dumplings. I love my dad very much. I learned my hard work ethic from him.
My recipe for Chicken and Dumplings with Protein Sparing Bread is dedicated to my dad!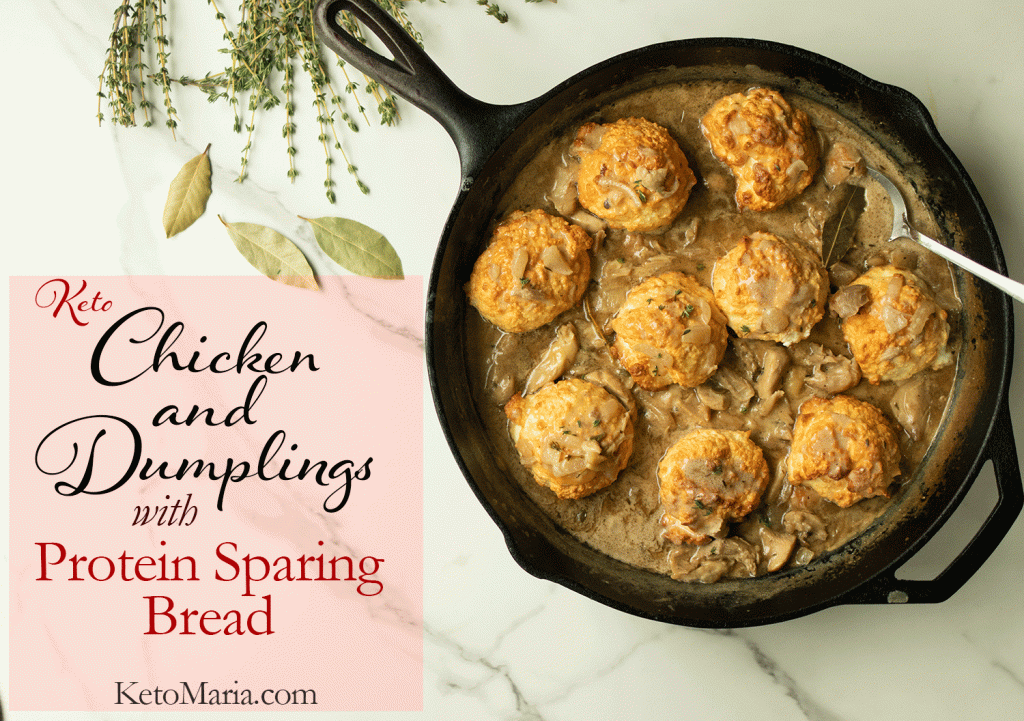 HOW TO MAKE KETO CHICKEN and DUMPLINGS
Most of you know I rarely go to the store!
Honestly, almost everything I used to make my Keto Chicken and Dumplings was mailed to me! My life is busy enough! I save time (and money) by supporting small businesses like FOND bone broth and I love and having things mailed to me!
I understand that life gets busy and sometimes we need to find shortcuts. This is why I highly suggest to stock up on FOND bone broth! It is super delicious and doesn't have any sugar! It is hard to find bone broth without sugar or additives like yeast!
FOND Bone Broth flavors are so amazing! They are delicious as a soup on it's own! Using it in my keto Chicken and Dumplings takes your cooking to the next level!
When you use quality ingredients like FOND bone broths your meals will taste extra delicious! I'm not kidding! When you use ingredients that taste extra spectacular, the recipe you make with them are extra flavorful! FOND uses special organic herb infusions and use Redmond real salt which really takes their broths to out-of-this-world delicious territory!

FOND Bone Broth was born from a mother's search for healing, easy-to-digest nourishment to soothe her chronic health issues. Based in San Antonio, Texas, the female-founded, female-led company makes ready-to-sip, organic chicken and beef bone broth tonics that combine pasture-raised protein with fresh herbs and botanicals to nourish the body and delight the palate. Named for the French term for "base", FOND is the first and only bone broth to combine a flavor-forward and nutritionally-functional approach to create food-as-medicine tonics with ingredients that work synergistically to support good health. The broths are packaged in glass, utilizing a 100% plastic and aluminum-free process – from brew to jar, without any preservatives, additives, acids or artificial flavorings. FOND Bone Broth is Certified Organic, gluten and dairy-free and non-GMO, as well as Keto Certified and Whole30 Approved. Zero added sugars, hormones or GMOs, and every jar sold supports local farms.
Woman-founded, owned and led! And the women are very kind!
FOND only uses fresh herbs (many broths use dried!) and they never use powdered bone broth as their base (a surprising number do!)
 FOND has a 100% plastic and aluminum-free process and package their broths in recyclable/reusable glass jars.
They test for heavy metals, including lead, arsenic, cadmium and mercury.
FOND has 12 delicious flavors that are certified organic and 3 flavors are low FODMAP-friendly broths and 3 broths are AIP-friendly.
Whole30 Approved, Keto Certified, Certified Organic
Their beef is 100% grass-fed, chicken is pasture-raised
ZERO SUGAR! Which is hard to find in bone broth!
FOND Bone Broth is so generous they are offering 20% off your first time purchase or 10% off your subscription order when you use code MARIA.
Keto Chicken and Dumplings with Protein Sparing Bread
Ingredients
1 1/4

pound

boneless

skinless chicken breasts (or boneless chicken thighs)

2

teaspoons

Redmond Real salt

1/2

teaspoon

fresh ground pepper

1 1/2

tablespoons

butter flavored coconut oil

or bacon fat

1

small onion

chopped

2

celery ribs

chopped

3

cloves

garlic

minced

3

tablespoons

fresh sage

2

tablespoons

lemon juice or apple cider vinegar

4 1/2

cups

FOND chicken broth

use code MARIA to save!

2

bay leaves

8

oz

cream cheese

softened (or Kite Hill dairy free cream cheese for PSMF macros)
PSMF DUMPLINGS:
4

large

egg whites

1 1/4

tablespoons

powdered allulose

1/4

teaspoon

Redmond Real salt

or Redmond season salt

1/4

teaspoon

cream of tartar

to stabilize the egg whites

1/3

cup

unflavored egg white powder

Optional: add back in 1 tablespoon egg yolk or egg yolk powder

to improve texture but this will add fat
Instructions
Season the chicken breast on all sides with salt and pepper. Heat a large Dutch oven to medium high heat. Add the coconut oil. Once hot, add the chicken and cook on both sides for 3 minutes per side. Remove the chicken breasts and set aside.

Add the onion and celery and cook for 3 minutes or until soft. Place the garlic and fresh sage in with the onions and saute another minute. Add the lemon juice or vinegar to deglaze the pan, scraping the bits off the bottom then the FOND chicken broth and bay leaves.

Return the chicken and bring to a simmer and cook for 12-15 minutes or until chicken is cooked through and no longer pink inside.

While the soup is simmering, make the protein sparing dumplings. To make the dumplings, preheat the oven to 325 degrees F. Place a piece of parchment onto a rimmed baking sheet and spray with avocado oil spray.

Separate the eggs (save the yolks for another recipe like my keto ice cream, hollandaise, mayo or lemon curd), and place the whites into a large bowl or stand mixer. Add the allulose, salt and cream of tartar if using and whip the whites for a few minutes until VERY stiff. Turn the mixer to low and gently mix the egg white protein powder into the whites. Use a small 2 inch ice cream scooper or spoon to form small 2 inch dumplings and place onto the prepared baking sheet.

Bake for 8 minutes or until light golden brown. Set aside.

Once the chicken is cooked through, remove from the pot and shred with 2 forks. Place the softened cream cheese into a small bowl and slowly add in a few tablespoons of the soup. Use a fork to whisk well and loosen the cream cheese. Add a few more tablespoons and stir until there are no clumps in the cream cheese then add the mixture to the soup. Place the shredded chicken back into the pot. Place the dumplings into the soup and simmer for 5 minutes or until dumplings are soft.

Serve hot with fresh herbs if desired.
Nutrition
Calories:
420
|
Fat:
20
g
|
Protein:
52
g
|
Carbohydrates:
7
g
|
P:E Ratio:
1.9
TESTIMONY OF THE DAY
"Hi Maria! Here's my first body goal achievement photo at my goal weight. It's hard for me to  believe that I'm here. There were days where I felt frustrated thinking that I was not getting results, yet here I am!

Slap happy and looking for excuses to get dressed up.  I lost 60 pounds and now weight 144 pounds!

Before working with you, I didn't think I would be below 145#.  Never really considering achieving my dream weight range.

Which is to lose-12/21 more #s- to keep  my weight between 123 and 132.

The best part of all of this is how strong, and more flexible and physically fit I have become. I clearly feel better regarding brain fog, have more energy and have less depression.  I love the greater mobility, strength and balance which I haven't seen in forty years.

Thank you  Maria & Craig! for the knowledge, the continued support, feedback and great vibes!" Michelle
Most people I consult are doing keto totally wrong. Get fast results with the my Mind-blowing Keto School!