Instant Pot Doro Wat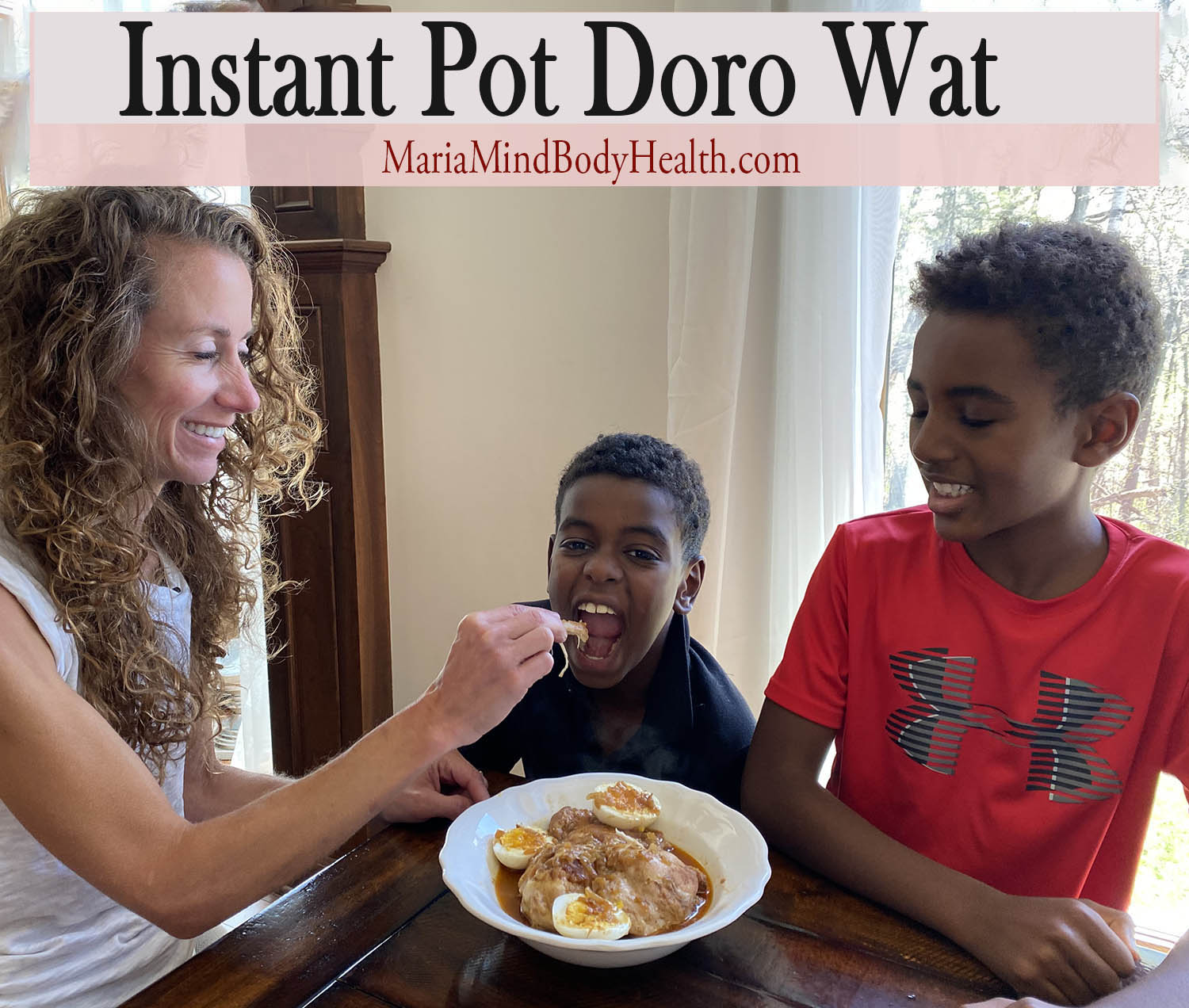 This Instant Pot Doro Wat is a very special dish to my family!
When we were in Ethiopia meeting our children for the first time, one of the things we ate all the time was Doro Wat. It is a traditional dish that is made with lots of onions, chicken and hard boiled eggs. Doro Wat is absolutely delicious and exotic!
The trick to the best Doro Wat is the spice they use. The spice for Doro Wat is called Berebere.  If you do not have Berbere spice, you can do your own blend of Berbere spices. However, Doro Wat is do flavorful and makes great leftovers, you are going to want to get some berbere! We just ordered another canister because, as you can see, the boys LOVE this dish! I asked Micah if he remembers eating it and he didn't really answer… I think he was in food heaven!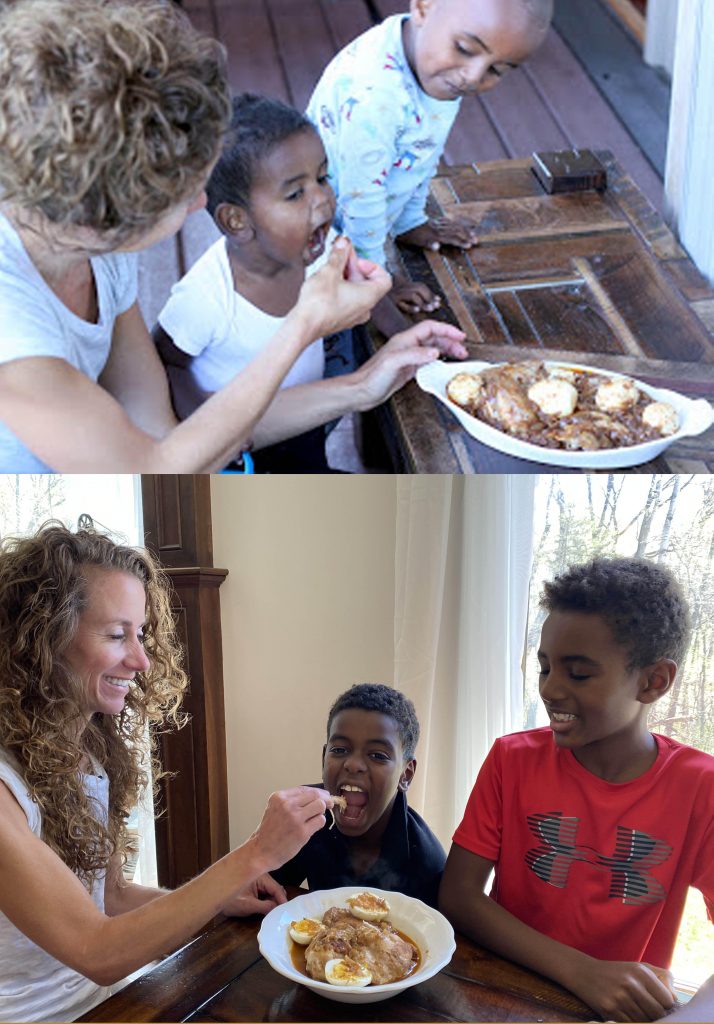 The Instant Pot is great for times like these when it is hard to juggle everything! Life may seem easy and smooth sailing for me but believe me, we still have very difficult times. One of the reasons I really wanted to write Keto Instant Pot Recipes ebook is because I know that we all have trials and tribulations throughout our life that can be extremely difficult to deal with and those are the times we are often thrown off course! When I wrote Keto Instant Pot, I was juggling more than ever. With Craig's illness, I had to take on more jobs. That is why the instant pot became my best friend!
If you are looking for a little help to get dinner on the table, I highly suggest investing in an Instant Pot (click HERE) and my favorite Keto Instant Pot ebook which is on SALE for ONLY $10!!!!  (click HERE).  Thank you so much for your support!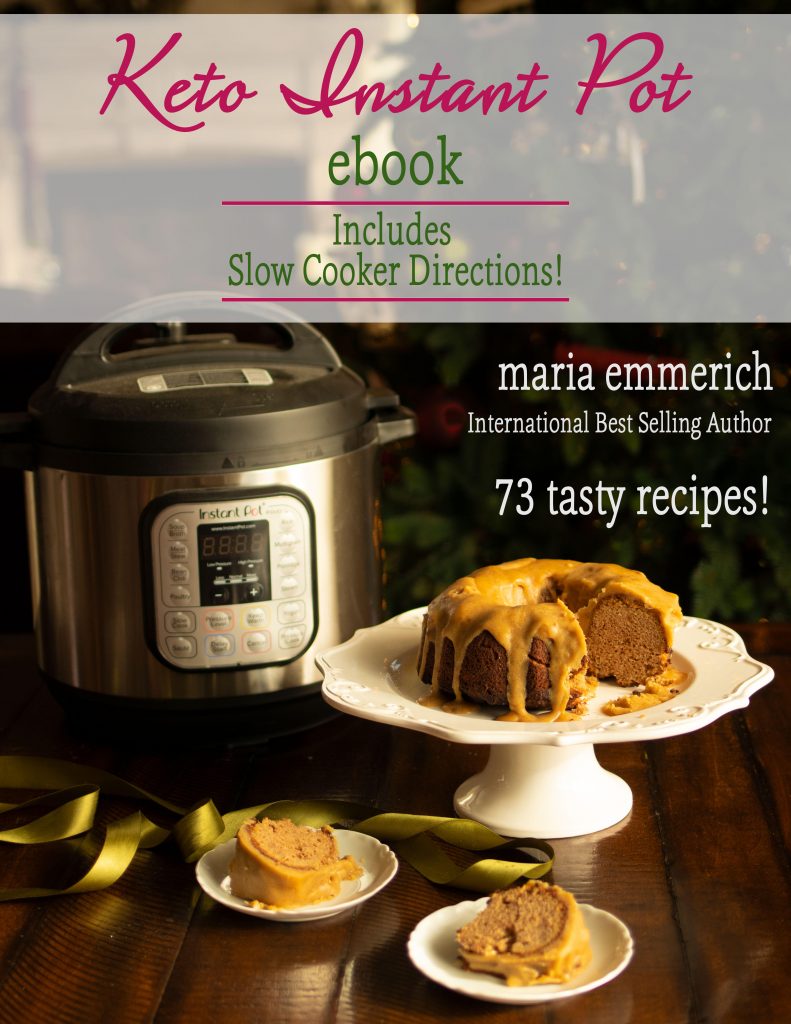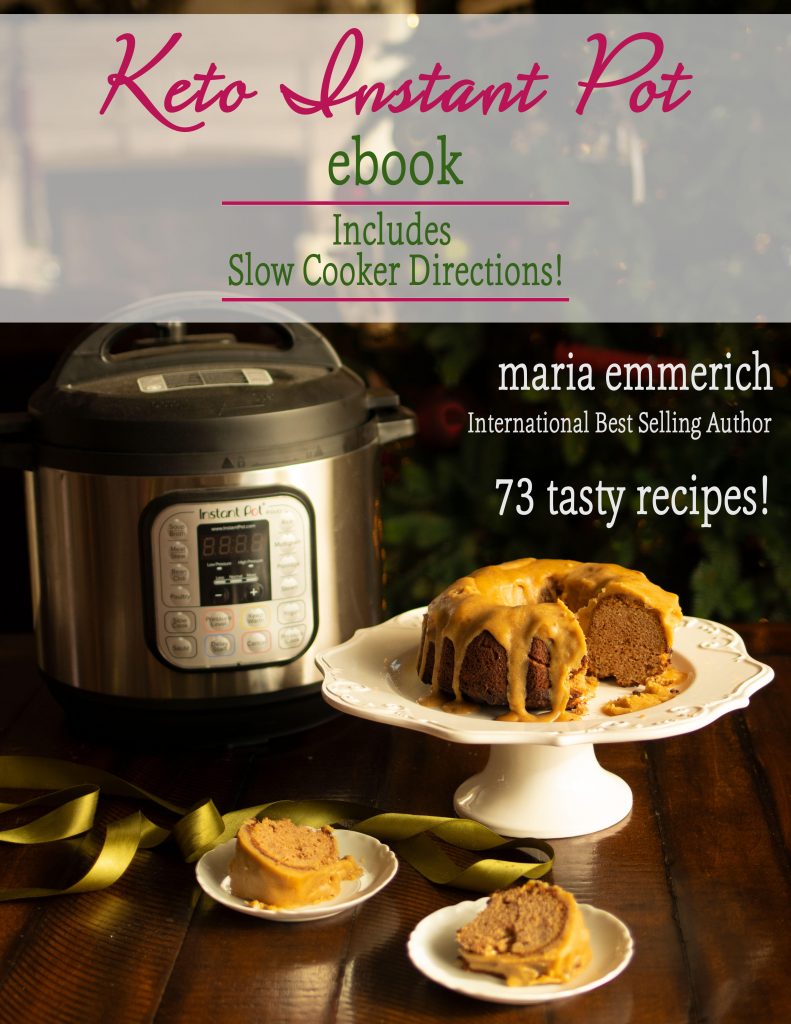 If you want to save even MORE time, skip the stores and get the most delicious chicken for this Instant Pot Doro Wat from Butcherbox! For a special offer for my readers, when you order now, you get 2 pounds of FREE ground beef for LIFE!
This video is of our first visit to meet the boys. It was a bittersweet meeting because we had to leave them in Ethiopia after falling in love with them. I am thankful we didn't know it was going to take 6 months of waiting to be able to bring them into the U.S… the wait would have killed me. We took one week at a time, hoping that this was the day we were going to fly to bring them home. Finally on the day before Thanksgiving, we brought them into our home and the journey began!
Instant Pot Doro Wat
Equipment
Ingredients
2

tablespoon

ghee or butter

or duck fat for dairy free

1

tablespoon

Berbere Spice

1

large

onion

diced

4

cloves

Garlic

minced (or 1 head roasted garlic)

1

tablespoon

freshly grated Ginger

1/4

cup

chicken broth

I used Kettle and Fire

2

teaspoons

Redmond Real salt (use code MARIA15 for 15% off

6

large

hard-boiled eggs

sliced in half
Instructions
Place the melted ghee and berbere spice mix into the instant pot. Add the onions, garlic and ginger.

Cover, seal and cook on high pressure for 10 minutes, and then quickly release pressure.

Add chicken and stir well to coat.

Add 1/4 c of chicken broth and salt, cover and seal and cook for 20 minutes on high pressure, then quick release.

Add hard-boiled egg halves and stir gently before serving.
Nutrition
Calories:
428
|
Fat:
31
g
|
Protein:
33
g
|
Carbohydrates:
4
g
|
Fiber:
0.4
g
|
P:E Ratio:
1
TESTIMONY OF THE DAY
"THANK YOU MARIA EMMERICH!!!!
Back in Sept 2018 I saw my Gyn & she said "If you don't lose weight, you're Cadidiasis (Candida) will only get worse & you will get Cancer!"
I left her office without any help on how to do that, I just sat in my car and cried…THEN, when I got home I cried a little more with hubby, I told hubby I'll be on the computer looking for a "cure", I was on the computer all night!
The next day, I laid the "plan" on the table & explained it to my hubby.  I remember telling him that I was going to do this with or without him but I hoped he would do it with me.  Hubby didn't agree to leave processed junk foods until after he saw me lose almost 30 lbs in just 3 months, then he got on my diet with me & as of today, or rather as of this b4/after picture which was taken in March 2020. 
Hubby:  6', SW 306, CW 210 (-96 lbs)—still on some meds. 
Me:  5'4", SW 230, CW 160 (-70 lbs)—my GP took me off 3 High Blood Pressure pills!
We don't call it it a diet anymore, it's just how we eat everyday…we just say NO to junk food!  I did see my Gyn again & she said whatever I was doing to lose weight, to just keep at it!  Our two favorite cookbooks are Maria Emmerich's Keto Comfort Foods & Keto Restaurant Favorites. 
I would especially like to thank Maria & Craig Emmerich for their big hearts️, their expert advice, their recipes & their sharing of their wonderful life stories with their two handsome young boys, Micah & Kai! Thank you!" – Graciela
Most people I consult are doing keto totally wrong. Get fast results with the my NEW Keto Packages!