How to Smoke Ribs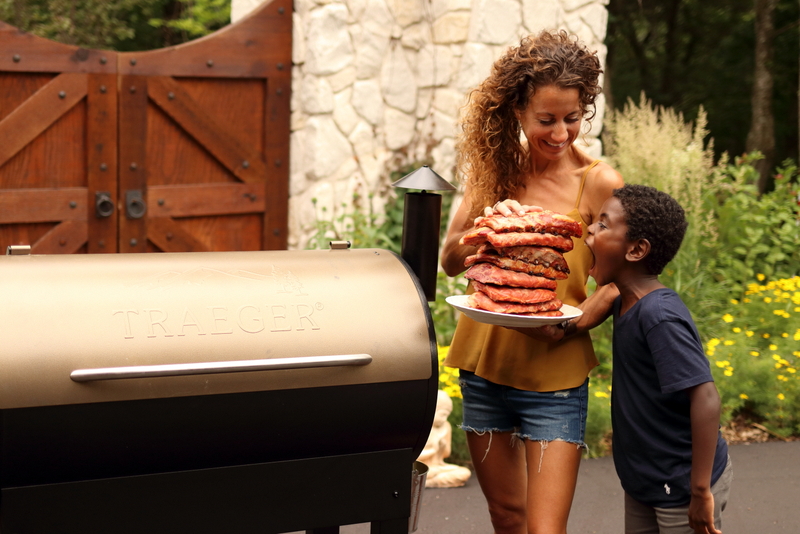 One of our favorite family dinners is Smoked Ribs! It may sound intimidating to smoke meats, but it is really very simple and it one of the most delicious ways to enjoy a keto carnivore dinner!
For years we had an old cheap smoker that was small and we decided to upgrade to a Traeger Grill and we have been using it non-stop! It is nice and large and easier to use that our old junky one. No need to soak the wood chips or keep adding chips while smoking. I can just turn it on and let it smoke while I enjoy a long bike ride with my kids.
To show you how easy it is to smoke ribs I made a How to Smoke Ribs video on Youtube. I hope you enjoy! You never know what is going to happen when you have goofy kids in your videos!
If you would like the nice and convenient toaster oven I used in the video, click HERE. It is on SALE now!
Click HERE to find AlternaSweets Ketchup and Sauces.
ButcherBox is an amazing company that mails tasty organic grass-fed beef, pasture-raised pork and chicken right to your front door! They save me so much time by not having to run to the grocery store! I always have something to make. Even just grilling up a steak or frying up a tasty burger or pork chops for an easy keto meal; I have something from ButcherBox in the freezer I can easily make such as my smoked ribs using quality organic ribs!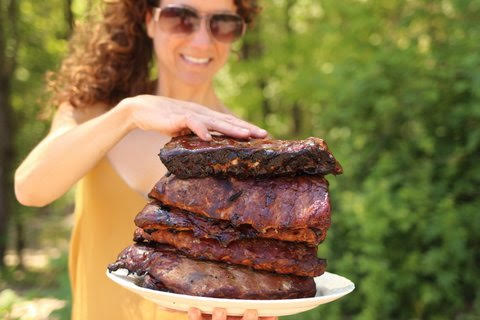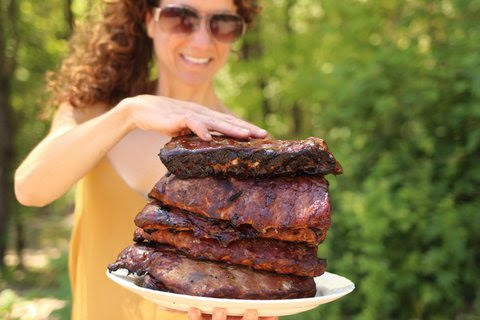 Some people have gotten upset that I don't support local farmers, but they are jumping to conclusions because I DO! We purchase a cow from a local farmer (a former client of mine!) however, I have so many clients who do not have the space for 3 full-sized chest freezers like we have. There are so many people living in small apartments with a small freezer and do not have the room for purchasing large amounts of meat. This is anther reason I love Butcherbox, they work with quality farms and send just enough to fill a small freezer and last you the month. It is a win, win!
How to Smoke Ribs
Equipment
Ingredients
4

racks baby back ribs

Coconut vinegar

for sprinkling on the smoked ribs before cooking
Instructions
Thirty minutes before you smoke the meat, soak the wood chips in water and remove the meat from the fridge. Place the ribs on a clean cutting board. Liberally season both sides of the ribs with salt.

To smoke the meat: Read the manufacturer's directions for your smoker before you begin. There are wood, electric, propane, and charcoal smokers, and each type works differently. Start the smoker and, if your smoker came with a water bowl, add water to it. When slow-cooking meat, it is essential that you have a thermometer to monitor the temperature of the smoker. When the temperature reaches 225°F to 250°F, you can start smoking the ribs.

Place the ribs in the smoker and secure the lid so that it is airtight and no smoke escapes. Every so often, check the temperature and adjust the air vents to maintain a temperature of 225°F to 250°F. Smoke the meat for 2 to 3 hours, depending on how smoky you like your ribs; the longer you smoke, the more intense the smoke flavor will be. Add more fuel to the smoker if needed to maintain the temperature, and add more soaked wood chips if the smoke starts to dissipate.

After 2 to 3 hours, remove the ribs from the smoker. At this point, the meat still needs to be fully cooked at a higher temperature, which is best done on a grill or in the oven. You can either cook the entire amount now or divide the ribs into portions for quick and easy meals (see Tip / Single Serving Option opposite).

To prepare the ribs for cooking: Transfer the ribs to a large sheet of foil lined with unbleached parchment paper. Generously sprinkle the meat with coconut vinegar and tightly seal the foil packet closed. Note: Make sure that there are no holes in the foil or the ribs will dry out.

To cook the ribs: Preheat a grill to medium-low (275°F) or the oven to 275°F. Place the tightly wrapped ribs on the grill or in the oven and cook for 2 to 2½ hours, until the meat is tender. Remove the ribs from the grill or oven and take them out of the packets. Turn the grill or broiler to high. Return the ribs to the grill or oven with the meaty side toward the heat (meaty side down if using a grill, meaty side up if using the oven) and grill or broil for 5 minutes on one side to crisp the edges.
Nutrition
Calories:
566
|
Fat:
45
g
|
Protein:
41
g
|
Carbohydrates:
1
g
|
Fiber:
0
g
|
P:E Ratio:
0.9
TESTIMONY OF THE DAY
"Hi Maria! I just wanted to thank you! I was diagnosed with PCOS when I was 18 (even though I suffered from it for years prior) and have always had problems with my weight. I was on medication for anxiety and depression. Since eating Keto I am no longer on Lexapro, Wellbutrin or Xanax. Most of my PCOS symptoms have gone away or are at least manageable. So thank you for all of your help!" Melissa
Most people I consult are doing keto totally wrong. Get fast results with the my NEW Keto School!