DAIRY FREE CUSTARD
Testimony of the Day
"Hi Maria, I have read ALL the diet books, I've done LOTS of different diets, LOTS. I understood each diet's CONCEPTS, but never understood the science UNTIL I met Maria Emmerich! I was eating arugula, spinach, strawberries, blueberries, Ezekial bread, nuts and seeds and on and on, you name it, if we were suppose to eat it, I ate it, including grass fed grass finished beef and I still couldn't keep the weight off! I could lose weight but I have never been able to maintain it. AND, I would never lose everything I needed to loose.
Now I understand some of the science thanks to Maria, and what IS affecting my chemistry, and I will continue to be a STUDENT with her daily BLOG'S etc.! Before I had a consultation and worked with Maria for 6 weeks, I had been introduced to Maria's BLOG by an acquaintance almost a year prior. I read, read, read her BLOGS etc. and also bought ALL of her books except the children's one at that time. That was a year ago. I started to incorporate her recommendations in to my life, food wise, and even some of the supplements she recommends, and I actually still wasn't loosing. I mentioned this to the acquaintance who introduced me to Maria's BLOG and she theorized that maybe there is something, supplement wise, that Maria could zero in on that would help me loose and maintain, or that maybe I am still doing something wrong, meaning eating something wrong.
WELL, after working with Maria for 6 weeks I think she has zero'd in on the culprit, dairy!!!! Also, I was, occasionally, eating the Trader Joe's sprouted grain bread, so between that and the occasional dairy, we are on to something VERY important for me. I am only getting detailed and personal to help you understand that Maria KNOWS HER STUFF! Maria is exactly what I have been looking for, someone who could/would/and did tailor her services to ME, and for ME! Getting back to ALL the books I have read and diets I have done, I have never read one or talked to anyone who can and does explain the science like Maria does, plus I understand it at the same time!!
I am just mad that I didn't hear about Maria sooner because it could have saved me a lot of money and time AND wear and tear on my body!!! Do what she says as she knows what she is talking about!!! I am just at the early/beginning stage of my journey with Maria, I am running up and down the stairs in my home where before I had to hold on because of the pain, my CRAVINGS are GONE but the fact that I can have something sweet and delicious, "healthified", while losing weight is a Godsend to me!! The best part is that I don't even crave anything anymore!! I AM A STUDENT FOR LIFE and will also try to be a TEACHER of Maria's way and live by example to all my precious children and grandchildren!!! Thank you Maria for ALL that you do and DID for me!! Mary Ellen
To get started like Mary did, click HERE.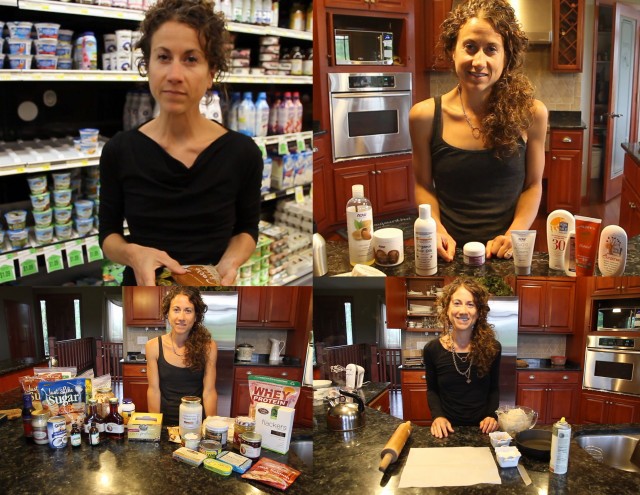 PEDIASURE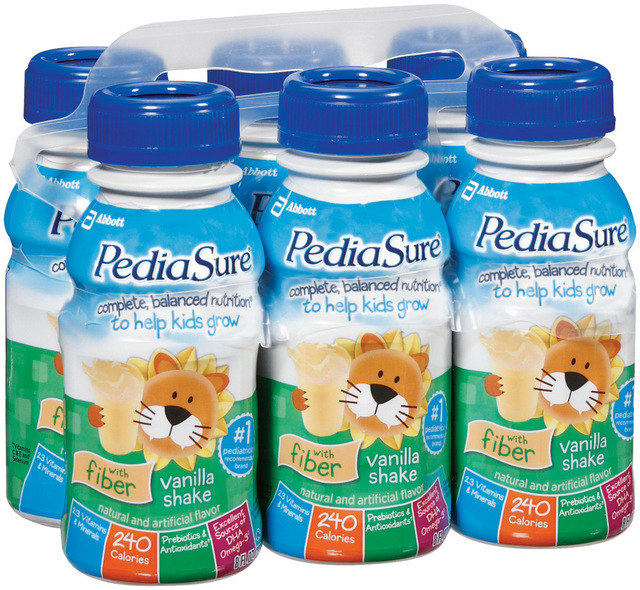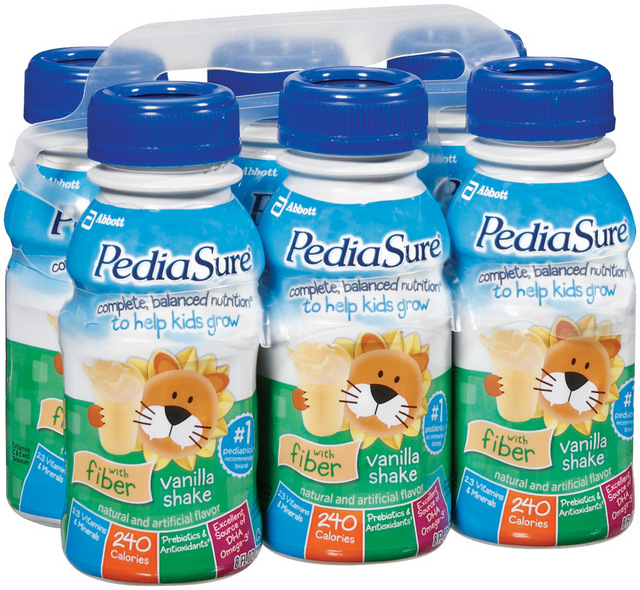 Have you ever used PediaSure or Pedialyte to help with baby's health or dehydration? Pediasure's second ingredients is sugar, then GMO corn, soy oil, soy protein…this is NOT a healthy product.
INGREDIENTS: Water, Sugar, Corn Maltodextrin, Milk Protein Concentrate, High Oleic Safflower Oil, Soy Oil, Whey Protein Concentrate, Medium-Chain Triglycerides. Less than 0.5% of the Following: Soy Protein Isolate, Short-Chain Fructooligosaccharides, Natural & Artificial Flavors, Cellulose Gel, Magnesium Phosphate, Potassium Citrate, Potassium Chloride, Calcium Phosphate, Calcium Carbonate, Potassium Phosphate, Salt (Sodium Chloride), Cellulose Gum, Choline Chloride, Ascorbic Acid, Soy Lecithin, Monoglycerides, C. Cohnii Oil, m-Inositol, Potassium Hydroxide, Carrageenan, Taurine, Ferrous Sulfate, dl-Alpha-Tocopheryl Acetate, L-Carnitine, Zinc Sulfate, Calcium Pantothenate, Niacinamide, Manganese Sulfate, Thiamine Chloride Hydrochloride, Pyridoxine Hydrochloride, Riboflavin, Cupric Sulfate, Vitamin A Palmitate, Folic Acid, Chromium Chloride, Biotin, Potassium Iodide, Sodium Selenate, Sodium Molybdate, Phylloquinone, Cyanocobalamin, and Vitamin D3. Contains milk and soy ingredients.
Babies suffering from diarrhea can benefit extremely by adding in coconut and coconut water; as this fluid can help calm their digestive tract, prevent dehydration and malnutrition.
Coconut oil most resembles a woman's breastmilk! Coconut provides B vitamins, protein, zinc, phosphorus and iron. It is also high in lauric acid, which also happens to be the main fatty acid found in breast milk. Lauric acid is what makes breast milk so digestible and protect the body from infection and boost the immune system.
Coconut oil helps cure jaundice. The first solid food eaten by a Thai baby is three spoonfuls of the custard-like flesh of young coconut fed to the baby by a Buddhist priest.
How Coconut Oil Helps Babies:
1. Immune system does not fully develop until 6 months old, only protection against everyday viruses comes by consuming lauric acid.
2. Helps ease an array of stomach and digestive tract problems that often plague infants. This is because the antimicrobial properties of coconut oil combat many of the bacteria, fungi and parasites that often contribute to infant indigestion.
3. Helps improve the body's ability to absorb other nutrients such as vitamins, minerals and amino acids.

4. Coconut oil is a great moisturizer for all skin types, including very dry skin and highly sensitive skin, such as that of a newborn infant. This is because it closely resembles human plasma; therefore it helps with Cradle Cap as the antimicrobial properties of this oil are highly effective at soothing this skin inflammation.
The fat in breast milk is filled with lauric acid and capric acid, IF the mother is eating a proper diet. The American Journal of Clinical Nutrition claims that lactating mothers who eat coconut oil and other coconut products, have significantly increased levels of lauric acid and capric acid in their breast milk; therefore, the milk supply has increased amounts of the protective antimicrobials, which will give even greater protection to the nursing infant.
The next best food is organic egg yolks, rich in choline, cholesterol and other brain-nourishing substances, can be added to your baby's diet as early as four months, as long as baby takes it easily. (If baby reacts poorly to egg yolk at that age, discontinue and try again one month later.) Cholesterol is vital for the insulation of the nerves in the brain and the entire central nervous system. It helps with fat digestion by increasing the formation of bile acids and is necessary for the production of many hormones. Since the brain is so dependent on cholesterol, it is especially vital during this time when brain growth is in hyper-speed. Choline is another critical nutrient for brain development. The traditional practice of feeding egg yolks early is confirmed by current research. A study published in the June 2002 issue of the American Journal of Clinical Nutrition compared the nutritional effects of feeding weaning infants 6-12 months of age regular egg yolks, enriched egg yolks, and an otherwise normal diet. The researchers found that both breastfed and formula-fed infants who consumed the egg yolks had improved iron levels when compared with the infants who did not. In addition, those infants who got the egg yolks enriched with extra fatty acids had 30 percent to 40 percent greater DHA levels than those fed regular egg yolks. No significant effect on blood cholesterol levels was seen.
If you need more help on how to properly feed you baby or to help with a constipated baby, click HERE for the healthy baby package.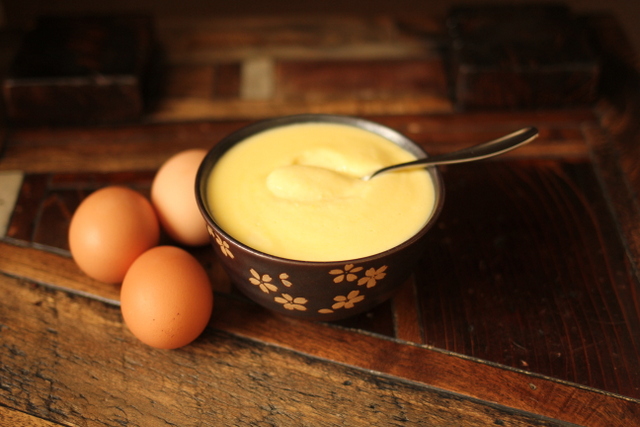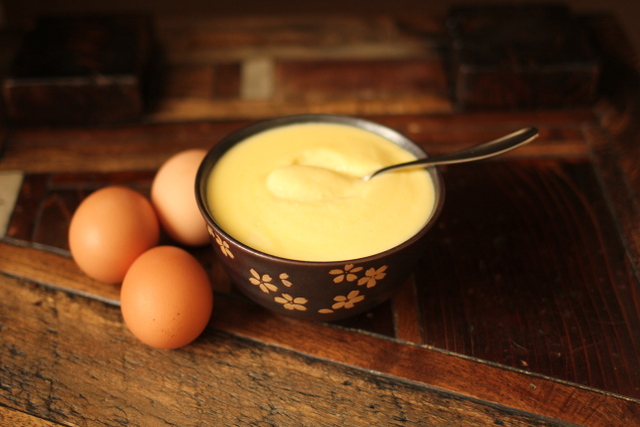 "HEALTHIFIED" BABY'S CUSTARD
5 egg yolks
1/4 cup Swerve or other approved sweetener
3 cups whole coconut milk
OPTIONAL: 3 TBS coconut flour (makes it less liquid so babies can pick up chunks)
1 TBS vanilla extract (or other extract…Kai LOVES banana and strawberry) Click HERE to find organic extracts.
Preheat the oven to 325 degrees. Heat the coconut milk in a small saucepan until simmers. In a medium sized bowl, whisk together the egg yolks, sweetener, coconut flour and vanilla extract. Slowly add the coconut milk, whisking constantly.
Pour the custard into 6 ramekins. Place ramekins in a deep baking pan and pour enough boiling water in the pan to reach halfway up the sides of the ramekins. Bake for 25-30 minutes until the custard sets. Do not over bake; it should be a little soft in the center. Cool in the refrigerator for at least 4 hours to firm up. Makes 6 servings.
NUTRITIONAL COMPARISON (per serving)
Traditional Custard = 360 calories, 32g fat, 5g protein, 16 carbs, 2.6g fiber
"Healthified" Custard = 327 calories, 32g fat, 5g protein, 7.4 carbs, 3.6g fiber