Testimony of the Day
"I'm not a doctor or a scientist. I'm just a 47 year old lady who has had IBS for at least 20 ears and was diagnosed with fibromyalgia a little over 10 years ago. I hadn't had normal BM's or a day without pain for so long it became my new normal. I had just learned to live with it. There were days I didn't have the strength to pick up a coffee mug. Since I have been following Maria, I no longer have IBS symptoms, and no fibro pain. I feel great! As an added bonus…I have lost almost 50 pounds and weigh what I did before the birth of my oldest child. My energy is great. My moods are stable. And her recipes have made it soooo easy. Thanks Maria." – Linda
Get started on your path to health today with the recently improved 30 day accelerated package! Now every day has calculations for percent of fat/protein/carbs. It has never been easier to follow the keto-adapted lifestyle.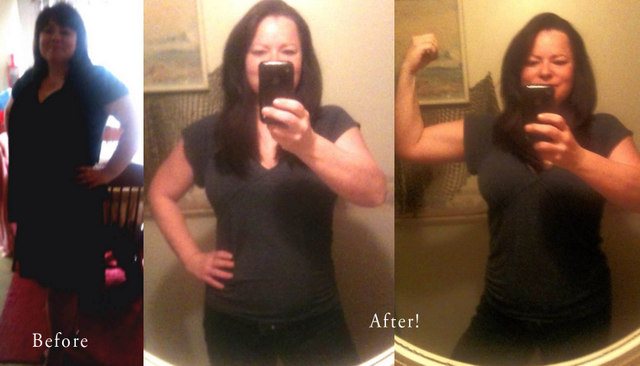 This bread is VERY tasty on it's own. When you are making it, make sure to whip the whites A LOT; most people under whip them. Also make sure to keep the whites high when folding the yolk mixture in. The "dough" should fill the whole bread pan.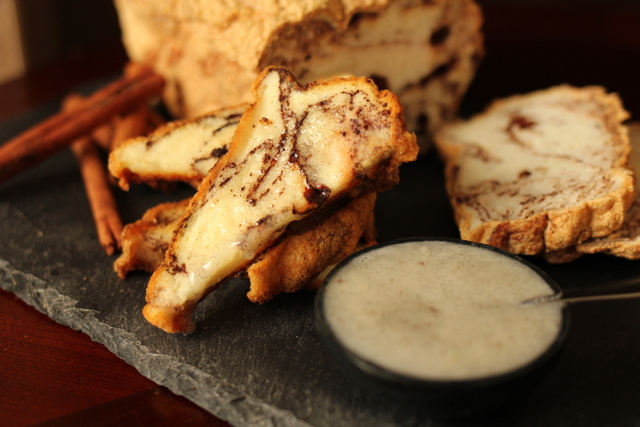 Eggnog French Toast
Ingredients
4 eggs, separated
1 cup Jay Robb vanilla egg white protein or whey protein
4 TBS Swerve (or a few drops of stevia glycerite)
½ cup unsweetened vanilla almond milk
1 tsp nutmeg
Instructions
Separate the eggs. Place the egg whites in the bowl of a stand mixer and beat to stiff peaks. Slowly add the whey. Set aside.
In a large bowl, beat the egg yolks until they lighten in color. Gradually add the sweetener and continue to beat for 2 minutes. Add the almond milk and nutmeg and stir to combine. Slowly stir the egg whites into the mixture.
Grease a bread loaf pan. Place the mixture into the pan. Bake at 350 degrees for 50 minutes. Cool completely and cut into 12 large pieces.
Notes
Nutritional Info (per slice) = 43 calories, 0.6 carbs, trace fiber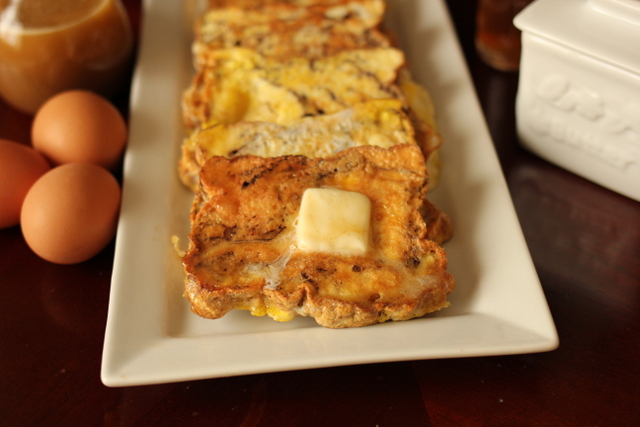 For FRENCH TOAST:
2 eggs
1/2 cup vanilla almond milk
1 tsp vanilla
1 tsp nutmeg
1 loaf Eggnog Bread
Place first 4 ingredients in a bowl. Dip the slices of eggnog bread into the egg mixture, fry on both sides until golden brown. Serve with "healthified" keto syrup.