Testimony of the Day
"Hi Maria! I just wanted to drop you a note and let you know that I've continued being dedicated to the "Maria way" of eating, and I have even further exciting evidence to back up that it's the "right" way to eat.

1. I am down over 35 lbs, I am almost to the very exciting 200 number. I NEVER thought i'd see the day. Remember how I was lamenting that i couldn't drop below 230 no matter what I did? Success, thanks to you.

2. During my last visit to the doctor, they took me off one of my blood pressure medications. I'm down to one and he said it's the "whimpy one". very excited to ditch that one too.

3. Cholesterol. In March, the day I started working with you, my doctor wanted to watch my cholesterol very closely. Although it wasn't to the levels that would require medication, with my blood pressure and family history, I needed to come back in a few months and have it re-tested from my first blood work done last year. Although I don't know what my tests results mean, the fact that all of my numbers (triglycerides and cholesterol) are so great, I can see that eating good FAT and BACON and EGGS DAILY and RED MEAT is not directly correlated to high cholesterol. EXCITING!!! I have stuck with my walking regiment. It is a great commitment to myself and my health, and i'm so grateful for the push to do it. I still have another 35 lbs or so to lose, but I'm so happy that i no longer feel "lost" or frustrated. I attempted to go back on dairy again, by adding in some cheese and sour cream one week, and I've determined that it's just not in the cards for the time being. I experienced rapid weight gain and had some bad digestive issues.

Lastly, I love your lemon bar recipe. best treat ever. THANK YOU so much for giving me a new life and a happy life. The proof is clearly in the dairy free almond milk pudding." -KARI
We love helping as many people as we can so from now until Sunday the 25th at midnight, you can use this coupon to get $30 off the 30 day Meal Plans that this testimony came from: She started with the old 30 day meal plans just 3 1/2 weeks ago! They are now new and improved! "I am 44 and over the past 15 years have gone from 160 pounds to at my highest 226 pounds!!!!!! Since signing up with you all on July 26th and only being able to semi follow the original menu plans am now 208!!!!! I will change that 2 to a 1 soon!! As soon as I have a month or so under me with a steady progress I will send a testimonial. In the meantime Thank you so much. What you do each day touches so many, gives us direction, hope and a solid game plan."
Coupon Code: 30daydiscount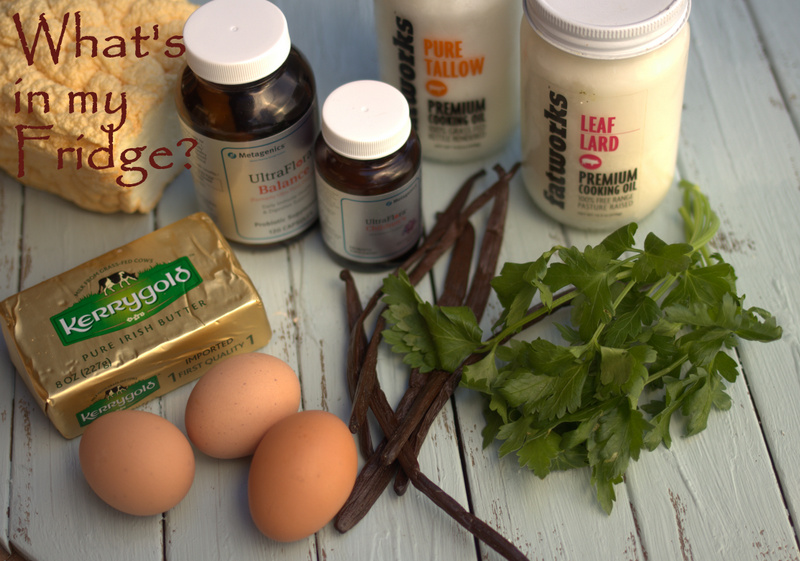 What's In My Fridge
I love listening to podcasts on my long bike rides. One of my favorite is the Splendid Table on National Public Radio. In one segment, the host, Lynn, does "Stump the Cook" where a listener calls in and lists 5 ingredients that they actually have in their fridge. Then Lynn has to create something the listener would actually eat. If I called in, I would list these 5 things that are ALWAYS in my fridge:
1. Raw Beef heart (that is what my dog Ohana eats)… no photo needed… kind of gross looking!
2. 11 dozen eggs (a dozen hard boiled)
3. Organic Butter, Leaf Lard, Beef Tallow and Duck Fat
4. Protein Bread
5. Supplements: Probiotics
6. Herbs and vanilla beans
I'm not sure if I would enjoy anything made with these all mixed together!
I'm not sure if I would enjoy anything made with these all mixed together!
On a side note, did you know that a healthy body has 2 POUNDS of good gut bacteria in the large intestine where the typical American has none! Could this be why there is so much depression, obesity, sleep issues going on? Serotonin comes from our gut! Low gut bacteria causes low moods, intense cravings, poor sleep and even weight gain. Did you ever wonder why the Asians can eat so much rice without gaining weight? They eat fermented veggies and foods before meals which are filled with good gut bacteria (click HERE for source). Do you take a bifido bacteria? I think this is a supplement everyone should take. It also increases our immune system by 70%!
I get mine here and my kids take this one.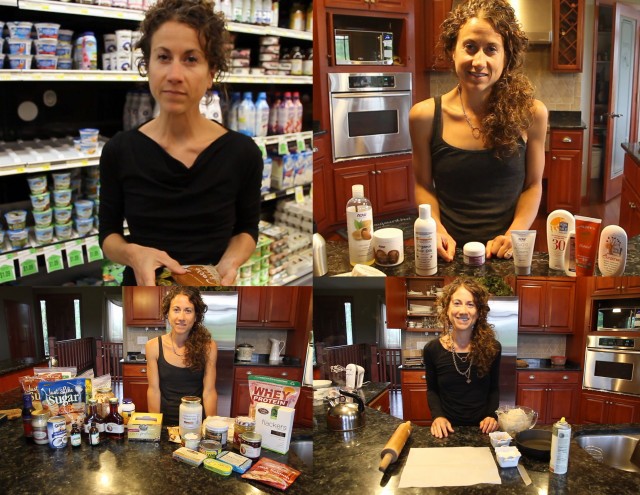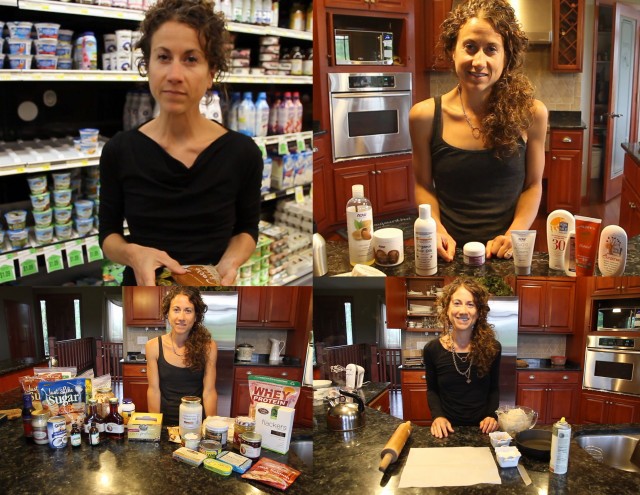 School is about to start and to help with time-management, I have my fridge and freezer stocked with lots of helpful items and treats. Many people ask me, how do I stock my pantry, fridge and freezer to make this healthy lifestyle easier? So, I have created a detailed video on how to shop at the grocery store where I teach you what words to look for on a label. I also step you through the things in my pantry (crackers, noodles, sauces, treats, chocolate) as well as things in my bathroom "pantry" because many products contain wheat (not to mention that everything you put on your skin also gets absorbed by the liver and affects our moods and how we lose weight).
To sign up for a fun tutorial click HERE to get started on the right path! It also includes a detailed shopping pantry list and website links where I find my favorite foods, treats and products for a great price as well as other cooking tutorial videos. You DESERVE this! Don't wait another day!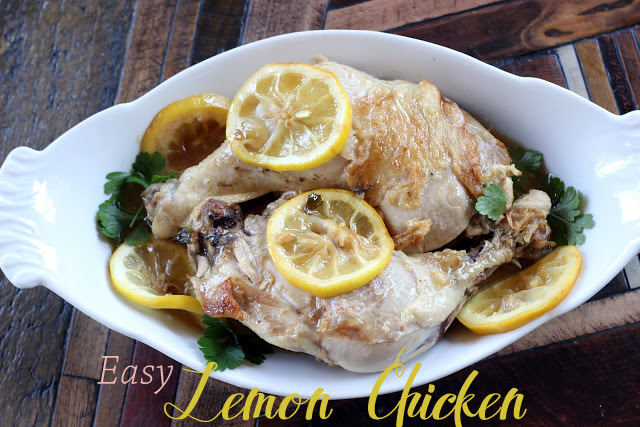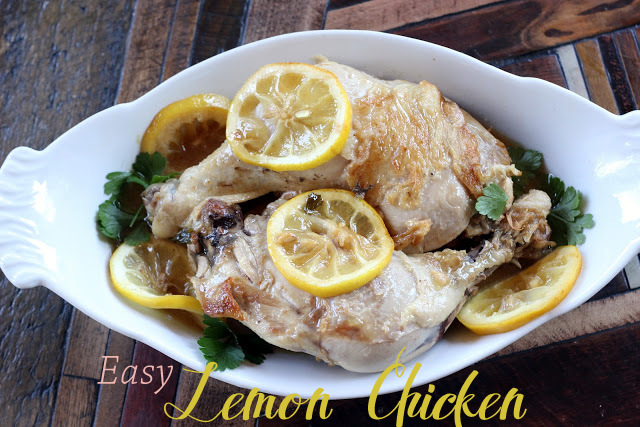 In the Splendid Table, Lynn also interviews famous chef's and asks them what their top 3 recipes are that everyone should know. These are usually easy, no-fail recipes that any home cook should be able to do. If she would interview me, my Lemony Braised Chicken would certainly be on the list. This is an awesome no-fail recipe that everyone needs in their cooking repertoire. A great thing about this recipe (besides the taste) is that you can half, double or triple all of the ingredients based on your number of dinner guests. This dish is very forgiving, feel free to adjust the ingredients to your liking. I made it with fresh basil instead of parsley the second time around and it was amazing too.
I am more like you than you realize… you can find me opening a Kettle and Fire organic beef broth instead of making my own broth quite often.
EASY Lemon Chicken
Ingredients
4

TBS

coconut oil

divided

1

cup

onion

minced

3

garlic cloves

peeled

4

chicken legs

drumsticks and thighs separated (about 2 pounds)

1-2

tsp

Redmond Real salt

1/2

cup

flat-leaf parsley plus more for garnish

1/3

cup

capers

drained

2

cups

organic chicken broth

1/3

cups

coconut or white wine vinegar

*see below

1

lemon

cut into thin strips

Freshly ground black pepper
Instructions
Heat 2 TBS oil in a large heavy skillet over medium heat. Add onion and garlic; cook, stirring often, until softened, about 8 minutes. Transfer onion to a bowl; wipe skillet clean.

Add 2 TBS oil to skillet and increase heat to medium-high. Season chicken with salt. Add chicken to skillet and cook, turning once, until golden brown on both sides, 10–12 minutes. Transfer chicken to a plate.

Add reserved onion, 1/2 cup parsley, and capers to skillet; cook for 1 minute. Stir in broth and vinegar. Add chicken with any juices and the lemon slices. Reduce heat to medium-low; cover and simmer until meat is tender and falling off the bone, about 1 1/4 hours.

Transfer chicken to a large platter. Season sauce in skillet with salt and pepper. Spoon over chicken; garnish with parsley. Makes 8 servings.
Notes
NUTRITIONAL COMPARISON (per serving)
Traditional Braised Chicken = 426 calories, 16g fat, 35g protein, 14g carbs, 1g fiber (13 effective carbs)
"Healthified" Braised Chicken = 304 calories, 16g fat, 35g protein, 2.7g carbs, 0.7g fiber (2 effective carbs)
*Coconut Vinegar nutritionally exceeds other vinegars in its amino acid, vitamin and mineral contents, and is an excellent source of FOS (a prebiotic that promotes digestive health). In addition to using in your favorite dressings and marinades, our Coconut Vinegar may also be used instead of apple cider vinegar for skincare or with any internal cleansing program. (This delicious vinegar does not have a coconutty flavor.) I purchase mine HERE.
To find more easy and tasty recipe like this, you would really enjoy my book: The Art of Healthy Eating: Savory. This was truly a labor of love! I've put together my best recipes to date in the next installment of my "The Art of Healthy Eating" color cookbook series. Choosing a healthy lifestyle doesn't have to mean a lifetime of deprivation. This book is filled with mouth-watering foods and nutrition facts that demonstrate how eating healthy can be an expression of art. Included are recipes for your favorite comfort foods like pasta, lasagna, risotto, calzones, sushi, clam chowder in a bread bowl, baked brie, chicken pot pie, chili cheese "fries", tomato basil sandwich wraps, pizza, tortillas, and many more. There are also lots of valuable tips and tricks to help one along the journey of learning how to eat as an art. CLICK HERE to get your copy!