Easy Ham Fauxtato Soup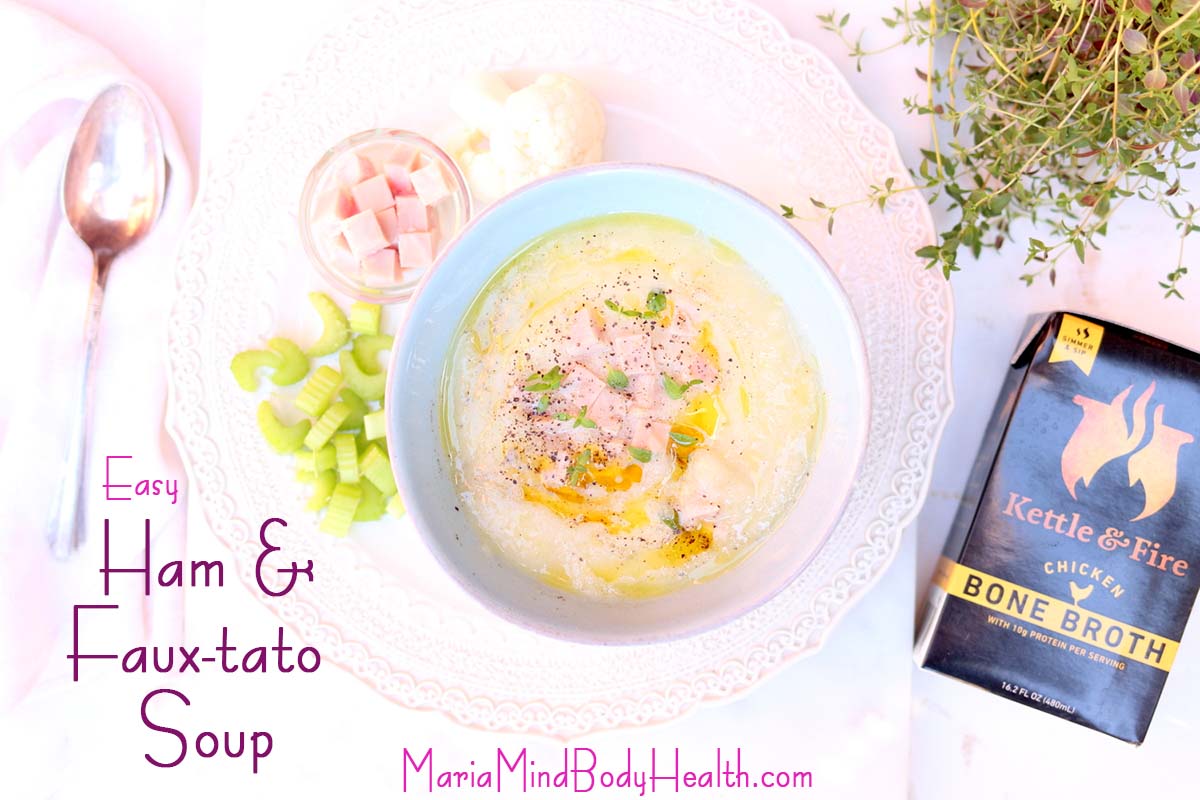 It is SOUP SEASON!!!!
Sometimes life just get too busy and we need easy options. I once made my own homemade bone broth weekly! I made it all the time because my son Kai drank that from a bottle when he was a baby. I know that has helped lower his sweet tooth. He craves savory foods like my homemade Easy Ham and Fauxtato soup instead of sweet treats! 
Years ago I had to make my own bone broth. There were no healthy organic bone broths to buy on the shelves. BUT I have GREAT news! There's now a healthy alternative and you do not need to boil bone broth for days! Yes, it takes days to make a thick beef bone broth!
Nowadays, I often open a box of my favorite Kettle and Fire bone broth to make my life easier!
Kettle and Fire make amazing bone broths. This is real bone broth made with grass fed ingredients. Top quality real bone broth in a box!
If you want to stock up on healthy Bone Broth for making easy soup like this, click HERE to save 15% off your order! Use code: KETOADAPTEDBLOG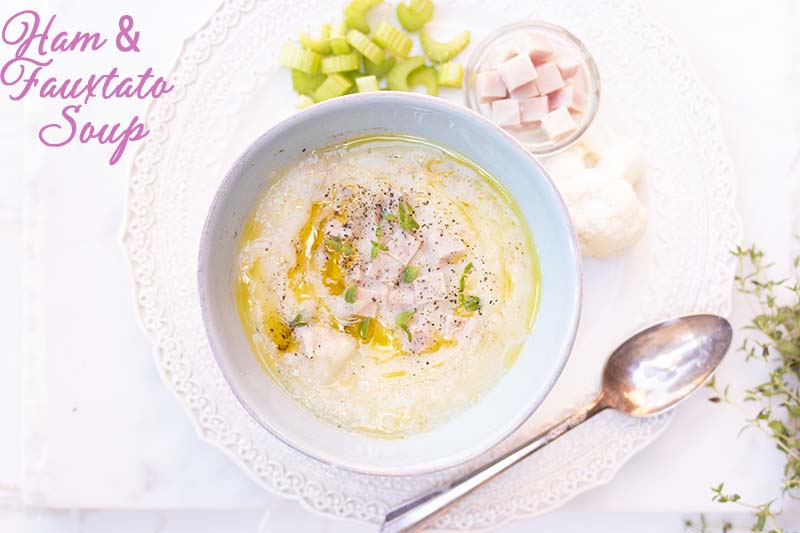 There's no heavy cream in this soup and if you want to make it completely dairy free, I have a great option for you!
Easy Ham Fauxtato Soup
Ingredients
3½ cups chopped cauliflower
⅓ cup diced celery
⅓ cup finely chopped onion
¾ cup diced cooked ham
½ teaspoon Redmond Real Salt, or to taste
1 teaspoon fresh ground black pepper
5 tablespoons Kite Hill dairy free spread (or cream cheese if not dairy free)
Garnish with fresh chopped parsley
Instructions
Combine the cauliflower, celery, onion, ham and broth in a stockpot. Bring to a boil, then cook over medium heat until cauliflower is tender, about 10 to 15 minutes. Remove from heat, puree ½ of the cauliflower chunks with the cream cheese spread until very smooth. Add puree back to the soup. Add salt and pepper to taste. Serve immediately. Store extras in an airtight container in the fridge for up to 4 days. Can be frozen for up to a month. To reheat place in a pot over medium heat for 4 minutes or until heated through.
TESTIMONY OF THE DAY
"I would like to thank Maria Emmerich for helping me get my health back!
In 2016, I was desperate. I was DOWN to 230 from 260+ but couldn't lose more. I had tried every diet. At age 62, I had lost 100 lbs at least 4 times in my life (coming from an obese family). I needed a knee replacement and spinal lumbar surgery. Then I started hearing about Keto and Maria's name popped up.
I checked out her credentials and took a chance on a consultation. That started my new way of eating/life. It was hard to change the way I saw food but, most of all, control my sugar addiction (which will always be a part of me). Honestly, there have been ups and downs. Sometimes, I've had periods of childish resentment, wanting to have unlimited sweets 24-7. That ended up with a 75 lb gain before I wrestled control back from my addiction. You learn a lot from these set-backs! Addiction never goes away.
But back to the point, Maria gave me all of the knowledge and support that became the basis for my Keto way of life. To this day, it still helps me weed through the true and false info I read on line! I love how she has Keto community spirit and has led me to some great women bloggers with great recipes. My current weight is 123 lbs, ht is 5'3", BMI 21.8. I take less medication. No longer pre- diabetic.
Thank you. You changed my life. God bless!" – Pam
Most people I consult are doing keto totally wrong. Get fast results with the my NEW Keto Packages!