Chowder in a Protein Sparing Bread Bowl

If you love my protein sparing bread, you are going to love my recipe for Chowder in a Protein Sparing Bread Bowl!
I remember the first time I had Chowder in a Bread Bowl. It was my first time in Monterey California and I was in college. Craig had to work in California for a few months out of the year which was hard to be away from him, but getting to visit California on the weekends was amazing!
Craig drove us to Monterey California and as we walked the pier along the ocean. There was a stand where you could purchase wristbands. The wristbands were to try all the different chowders in bread bowls and you voted on your favorite one. They were delicious but I didn't like how I felt. I much prefer eating a large protein sparing bread bowl with my homemade chowder which is just as delicious and doesn't weigh me down or make me feel sluggish!

HOW TO MAKE PROTEIN SPARING BREAD BOWLS
To make my Protein Sparing Bagels, I always use Further Food Gelatin!
Further Food gelatin and collagen peptides are both excellent sources of collagen. Both their Collagen & Gelatin are sourced from the highest quality, grass-fed, pasture-raised, hormone-free, and antibiotic free bovine collagen.
The benefits of collagen and gelatin are astounding! Just eating my delicious Protein Sparing Bread Bowls helps support skin elasticity & hydration, longer hair & nails, stronger bones & joints, faster recovery between workouts, increased flexibility, improved digestion, and it even keeps you feeling full and satiated for longer!
Further Food Collagen Peptides dissolve instantly in any recipe, and Gelatin Powder naturally thickens recipes. It's perfect for making dairy free ice cream, jello, sugar free gummies, no bake cheesecake, panna cotta or protein sparing bread!
Use code MARIAMINDBODY is for 20% off site-wide !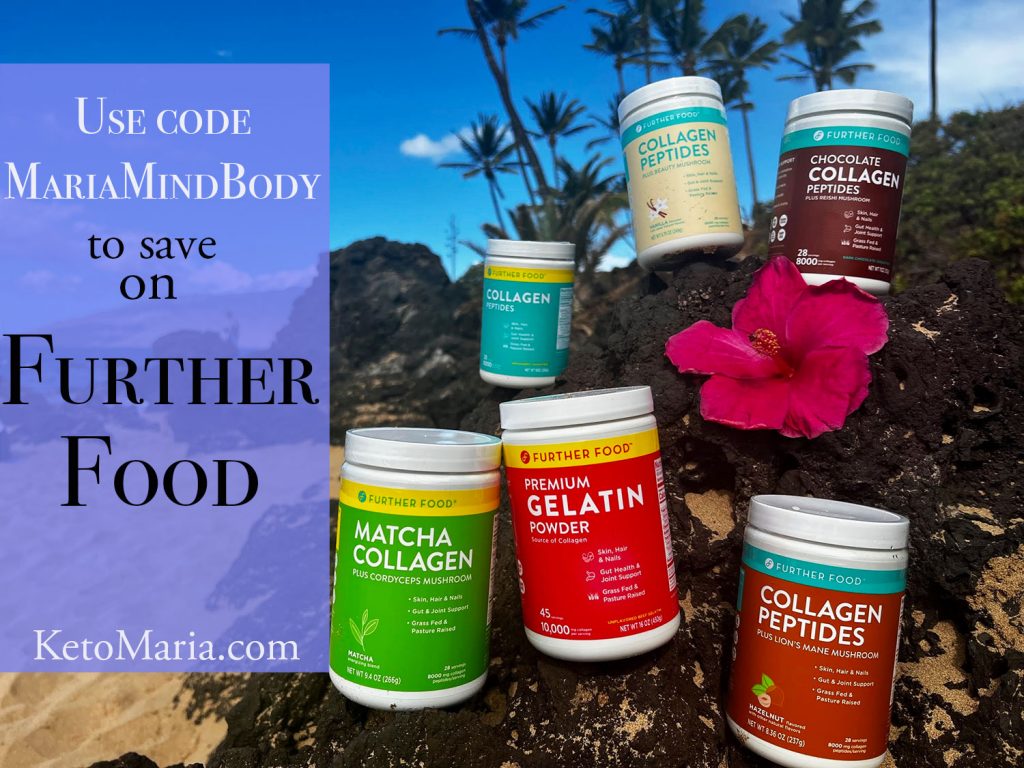 Chowder in a Protein Sparing Bread Bowl
Ingredients
CHOWDER:
2

slices

sugar free bacon

diced

1/4

cup

diced onion

1

clove

garlic

minced

4

or 5 small shrimp or scallops

click HERE

1 1/2

cup

beef broth

or chicken broth

4

ounces

cream cheese

softened (or Kite Hill cream cheese if dairy free)

Redmond Real Salt and fresh ground black pepper
PROTEIN SPARING BREAD BOWL:
Instructions
To make the chowder, place the diced bacon into a large pot. Heat to medium high heat and cook the bacon while stirring occationally for 4 minutes or until bacon is cooked to your liking. Use a slotted spoon to remove the bacon and set aside for garnish (leave the fat in the pot).

Add the onion and heat over medium high heat. Saute the onions for 2 minutes or until starting to soften. Add the garlic and saute another 2 minutes.

While the garlic cooks, pat the shrimp or scallops dry with a paper towel. Chop the scallops into small 1/4 inch pieces and season with salt. Add the scallops to the pot and cook while stirring for 1 minute. Scallops cook very quickly. Place the cream cheese into a medium bowl. Stir with a fork to loosen the cream cheese. Add a tablespoon of broth to the cream cheese and stir well. Once there are no lumps, add the cream cheese and the broth to the pot. Bring to a gentle simmer for 2 minutes. Taste and add seasoning if desired. Then set to low heat while you make the protein sparing bread bowls.

To make the protein sparing bread bowl, preheat the oven to 325 degrees F. Spray 2 silicone bread bowlswith Primal Kitchen Avocado oil spray and set aside.

Separate the eggs (save the yolks for another recipe like my keto ice cream, hollandaise, mayo or lemon curd), and place the whites into a large bowl or stand mixer. Add the allulose, gelatin, salt and cream of tartar if using and whip the whites for a few minutes until VERY stiff.

Turn the mixer to low and gently mix the egg white protein powder into the whites. Do not over mix or the psmf bread bowls will end up like styrofoam.

Spread the protein sparing bread bowl mixture onto the prepared bread bowl pans.

Bake for 15-20 minutes or until cook through and golden brown.

Allow to cool completely before removing from the pans.

Ladle the chowder into the bread bowls and enjoy!

Store leftover bread and chowder in separate airtight containers in the fridge for up to 4 days. The protein sparing bread bowls can be stored in the freezer for up to a month.
Nutrition
Calories:
219
|
Fat:
11
g
|
Protein:
23
g
|
Carbohydrates:
4
g
|
Fiber:
1
g
|
P:E Ratio:
1.6
TESTIMONY OF THE DAY
"Here are the results of 3 weeks of Maria Emmerich's protein sparing challenge!

Down 28.8 lbs and 10 inches (overall)!

 A cold snap (blackberry winter) a couple of weeks ago gave me a chance to try on clothes I haven't worn in a VERY long time. My morning glucose levels are consistently 45+ mg/dL lower. I have a doctors appt and am anxious to see improved lab results that will further corroborate my success thus far.

 I started a platinum membership on Keto-Adapted.com! I'm looking forward to greater understanding, even more weight loss and more delicious recipes in the coming weeks!

Thank you Craig and Maria Emmerich! I hope you will see even less of me! " Vicki
Most people I consult are doing keto totally wrong. Get fast results with the my Mind-blowing Keto School!