What a wonderful testimony to wake up to in my inbox!
"I had been taking Crestor for high cholesterol levels, but never felt well while I was taking it. So I decided to give Maria's diet plan a serious try. Within a few weeks on the diet plan I decided to discontinue my Crestor and had my cholesterol levels checked about 6 weeks later. My triglycerides dropped from 274 to 115. My LDL cholesterol was still high, but by doing the calculations of my ratio of triglycerides to HDL I had a ratio of .40. This shows I have more of the large fluffy LDL particles which do not appear to cause an increase of plague build up in my arteries. Previous to starting the low carb diet, my blood pressure had began to rise to the level of needing medication. After just a few weeks of the new diet regime, my blood pressure began to drop and after 6 weeks was back to normal levels. I've found the recipes to be fulfilling and delicious and plan to continue following this way of eating." -D
Click HERE to get your 30 day meal plans and start your transformation!
Trans Fats and FAT BURNING!
When insulin can't bind with the cell, the insulin stays in the blood. About 30 minutes after eating, our body measures the sugar levels in our blood to determine if it needs to produce additional insulin. If you have a healthy body, this process works great. The problem is when you live in America and are surrounded by trans-fat (Jiff Peanut Butter, Saltine Crackers, Cereals, Frozen Pizzas, Ice Cream Cones), a crust forms around your cells by consuming these harmful trans-fat. When this happens, the cells are incapable to respond to the insulin that is already in the blood; therefore, an additional surge is created even though enough insulin is already present. So when I read Diabetes Pamphlets that recommend low fat foods and MARGARINE, I get more than upset! Most often the writers of these food guide pamphlets are the pharmaceutical company pushing their drugs! Go figure! They don't want you to get better; they wouldn't be one of the most profitable companies in America anymore.
So now we have a very high level of insulin in our blood! And what goes too high, eventually and quickly goes too low…enter: low blood sugar = cravings, moodiness, hunger, low energy, lightheadedness… you grab any carb you see to satisfy your body's desire and the cycle happens all over again. All day you dream about food. You are no longer the person you once were.
Our fat burning hormone is called the Human Growth Hormone… and guess what? Its antagonist is insulin! So as you continue this cycle of high carb, low fat foods, you never get a natural surge of growth hormone and never get the opportunity to burn fat….you just burn sugar.


To read more on what to eat to get your Human Growth Hormone as high as possible, check out the charts on foods, exercise and supplements in my book: Secrets to a Healthy Metabolism. 
Thank you for your love and support!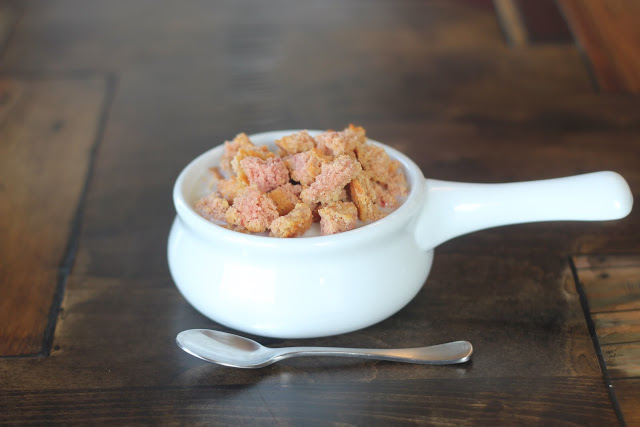 "HEALTHIFIED" Crunch Berries
2/3 cup Swerve
1 tsp stevia glycerite (omit if using Swerve)
1 cup almond flour
1 cup strawberry egg white protein
1/2 cup butter or coconut oil, softened
2 TBS water
1 tsp pure organic cherry extract
1 tsp Natural Red Food Coloring (if desired)
Preheat oven to 300 degrees F (170 degrees C). Combine sweetener, almond flour, whey, extract and food coloring in a small bowl. Add in butter and water with a blender until mixture resembles coarse crumbs. Place on a cookie sheet with defined edges or the butter will leak off. Bake for 12-20 minutes or until golden brown. Remove from the oven and gently stir while still hot. Let cool in the cookie tin (it will crisp up A LOT). Break pieces apart and enjoy with unsweetened almond milk. Makes 8 servings.
NUTRITIONAL COMPARISON (per serving)
Post Cereal = 220 calories, 3g fat, 3g protein, 45 carbs, 2g fiber
"Healthified" Cereal = 211 calories, 16g fat, 15.6 g protein, 4.2g carbs, 1.6 g fiber
MILK COMPARISON (per cup)
Skim Milk = 90 calories, 13g carbs, 13g sugar
Unsweetened Almond milk = 35 calories, 1g carb, 0g sugar