Testimony of the Day
"I don't know if you remember me, but I did a phone consult package last year in May. You convinced me to go off statins and I was getting ready for my son's wedding. I wanted to let you know I finally got enough courage to go get my blood work done and found a doctor that doesn't get too worked up about cholesterol.
I want to thank you for your post on the "LDL determination" regarding if it is large and fluffy. I brought that into the doctor and she ordered me a whole extension blood work up. I am thrilled to say I have a large and buoyant pattern!! In addition, the great news since I changed my eating habits, due to you, is I dropped my triglycerides from 199 to 86!! My HDL increased from 46 to 57!!
PS: Just an fyi, my husband has REALLY benefited from your suggestions and my new cooking habits, as his triglycerides dropped to 68 and his C-Reactive Protein was 0.39. Oh yes, he went off his statins as well!!"
-Deb
To get started like Deb did, click HERE.
Hospital Food Nightmare
My father had a mild stroke and had to stay in the hospital for 24 hours.  He is fine and we are very thankful for that.  My brother was there with him and he sent me this photo of the breakfast they gave him.  I just want to show you what my brain sees when I see a photo like this: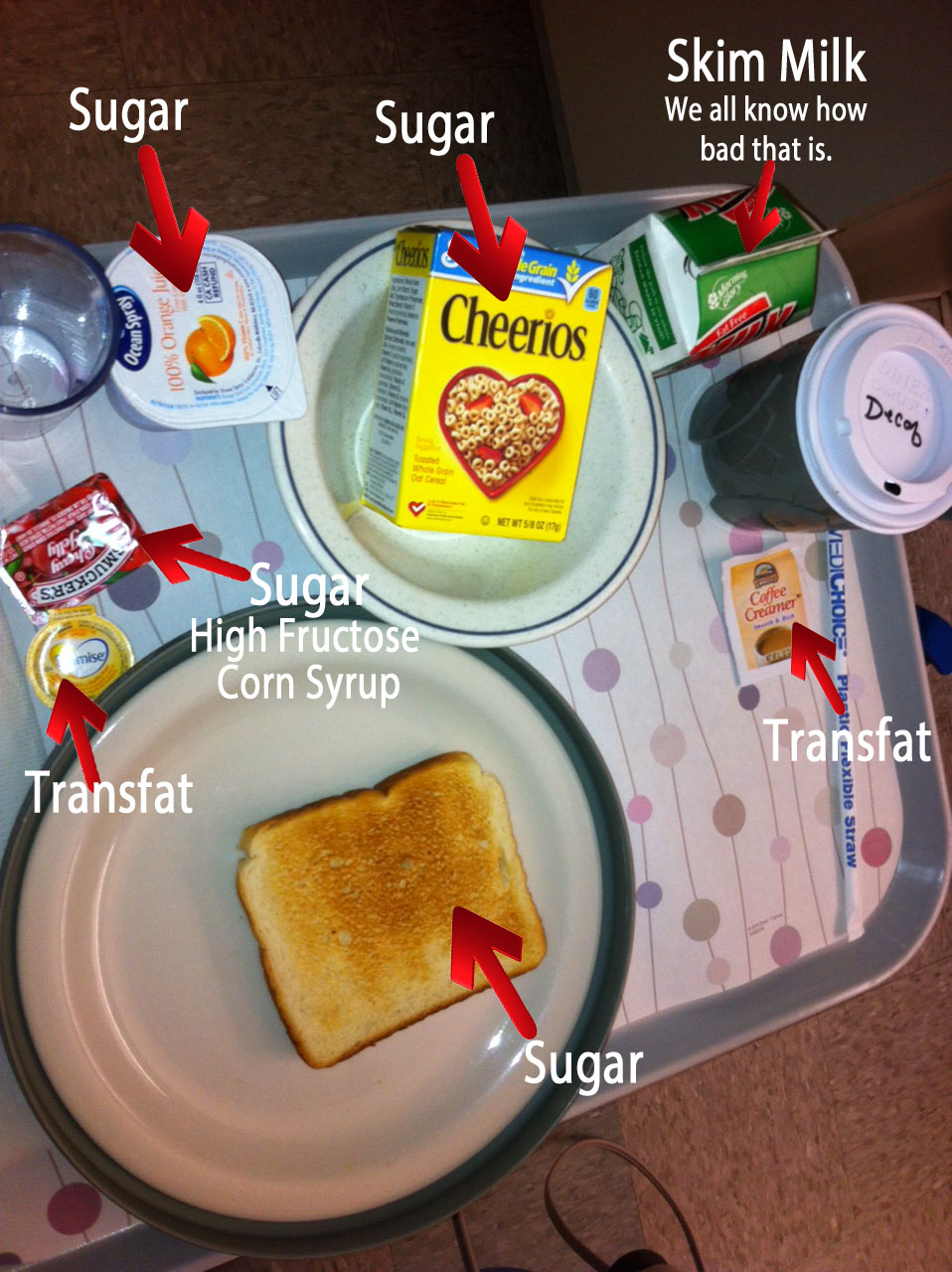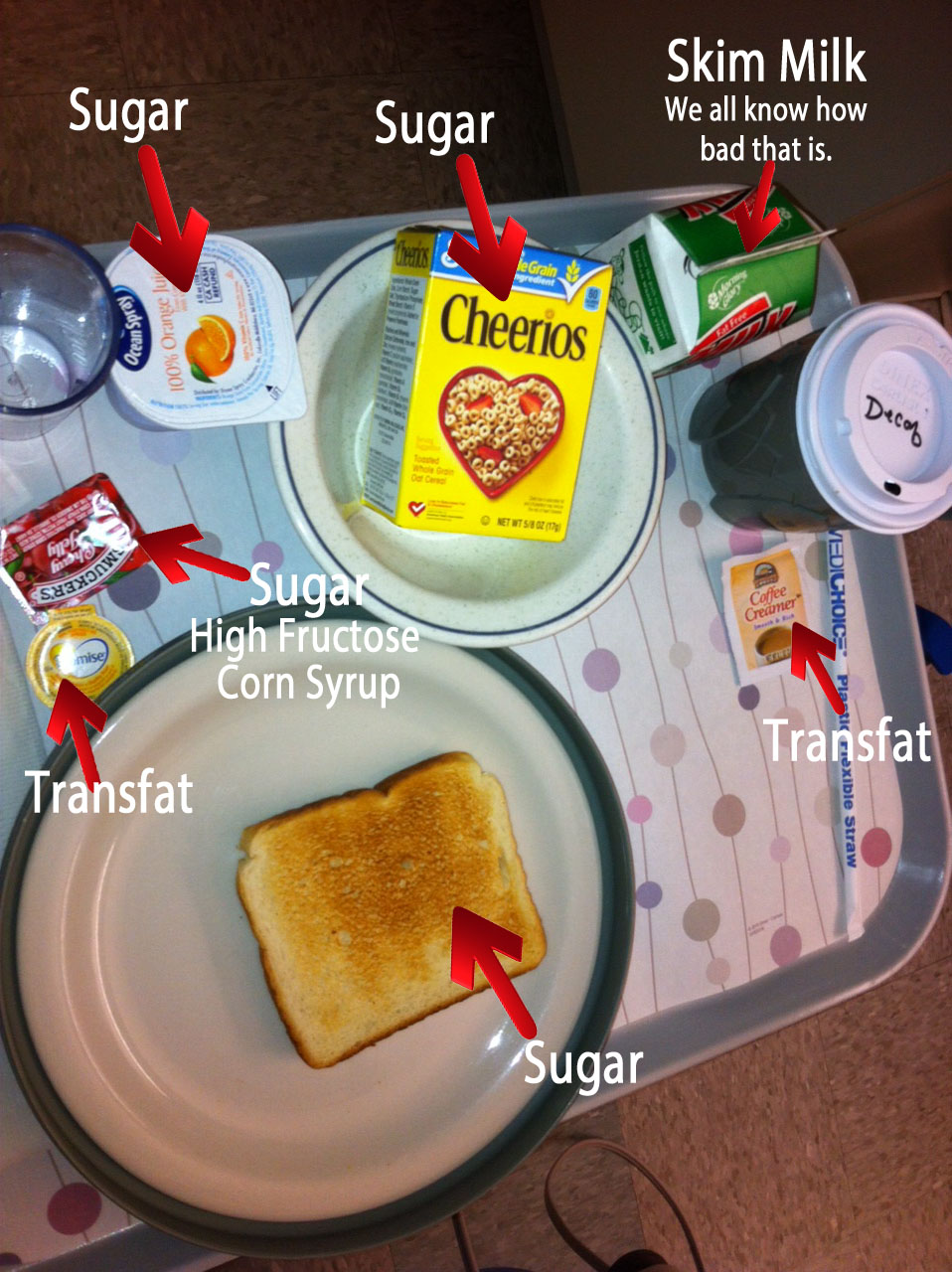 I replied to him with a text, "What are they trying to do, induce a heart attack!?"  It drives me crazy that hospitals feed patients food that makes them sick.  This is even worse when they feed diabetic patients lots of low fat, high sugar and carb foods and then have to give them huge doses of insulin as a result.  It is very frustrating.
Amazing Thin Crust Pizza
Hi everyone, this is Craig.  This recipe is a followup to one of my first posts.  It is a twist on my popular "Amazing Pizza", which is a hand tossed style pizza crust that really is amazing.  Well, thanks to a tip from a reader, we have converted this into a great thin crust style pizza.
I have just started a new format for my nutritional information in my recipes.  In the past I have used "effective Carbs" but through my continued education and learning (as well as experience with clients) Many of you have heard me talk about getting the right ratios of fat (70-80% of calories), moderate protein (10-15% of calories or 50-100 grams) and low carbs (less than 30 grams a day).  I think it is more important to talk about ratios of Fat/Protein/Carbs.  I will now put the % of calories from each of these macronutrients at the end of the nutritional info.  For example, (78%, 15%, 7%) would mean 78% fat, 15% protein and 7% carbs.  I think this can be helpful in ensuring you stay in a well-formulated keto-adapted diet.
We hope that this will help more people understand how to eat this way.  Instead of focusing on carbs, it is the well-formulated keto-adapted diet of high fat, moderate protein and low carbs that is important and we hope this will help you achieve even better results.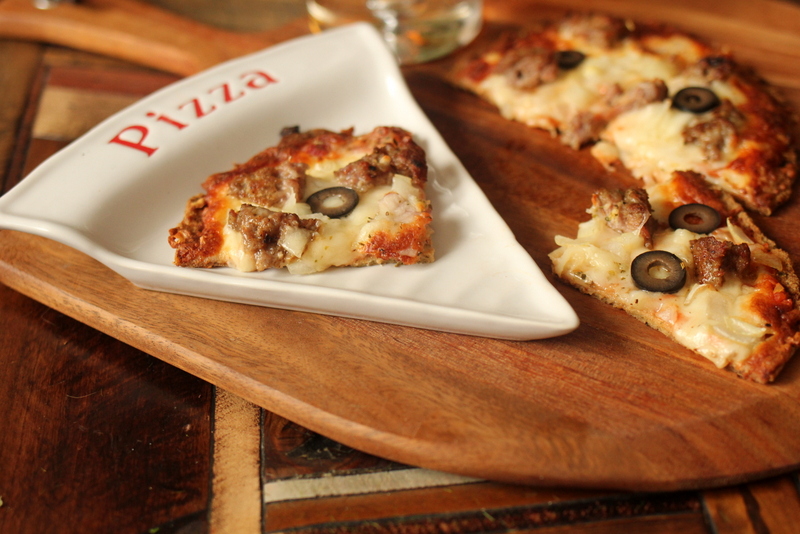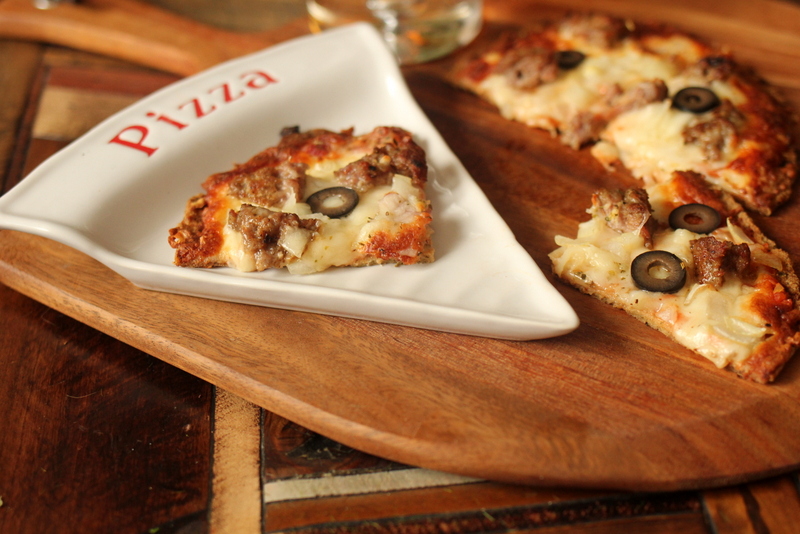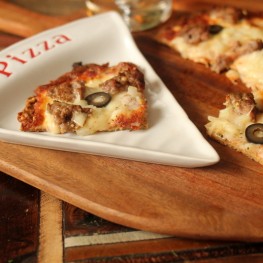 Amazing Thin Crust Pizza
Ingredients
1¼

cup

blanched almond flour

or ½ cup coconut flour

¼

cup

unflavored egg white protein

4

tablespoons

Psyllium husk powder

ground into fine powder

½

teaspoon

Redmond Real salt

2

tablespoons

freshly grated Parmesan cheese

1

tablespoon

Italian Spices

2

teaspoon

baking powder

2

large

eggs

4 eggs for coconut flour

1

cup

boiling water

butter or coconut oil

for brushing

Toppings of your choice
Instructions
Preheat oven to broil. Combine all dry ingredients and mix until blended. Add eggs and mix until well combined. Add boiling water and mix until dough thickens and start to stick to beaters.

To make the crust you can either use a tortilla press like THIS one, or you can use a large pan. If using a tortilla press, place a piece of parchment (I spray with oil to help keep it from sticking) on the bottom of the press. Divide your dough into 8 similar sized balls. Place one ball in the center of the press and place another piece of parchment on top. Close and use the handle to press the dough very thin. Remove from parchment and place on a greased baking sheet or pizza stone. If using a pan, place a ball of dough on a piece of parchment on your counter and place another piece of parchment on top. Use the flat bottom of the pan to press until very thin (about 8-9 inches in diameter).

Spray the dough or brush with oil (to keep the sauce from making the dough soggy).

Note: for a crispier crust, you can put the crust under the broiler for a few minutes until it starts to brown and then add your toppings.

Add your sauce and toppings.

Place in oven and Broil for 15 minutes or until cheese starts to brown. Makes 8 8-9 inch personal pizzas.
Notes
BUSY FAMILY TIP:
You can follow the above directions until you have your crusts flattened out. Then place the crusts in the oven and broil for about 8-10 minutes or until they are just starting to brown a little (you can do this with the above recipe also if you want the crust to be crispier). Then remove and add sauce and toppings. Wrap in tin foil and freeze. Then when you need a quick meal, remove it from the tin foil and bake them in a 425 degree F oven for 10-12 minutes or until cheese starts to brown.
Nutrition
Calories:
175
|
Fat:
13.1
g
|
Protein:
8.6
g
|
Carbohydrates:
6
g
|
Fiber:
2.5
g
|
P:E Ratio:
0.5
For more great recipes like these amazing pizzas, check out our Savory cookbook HERE. Thank you so much for your love and support!