Zero Carb Mozzarella Sticks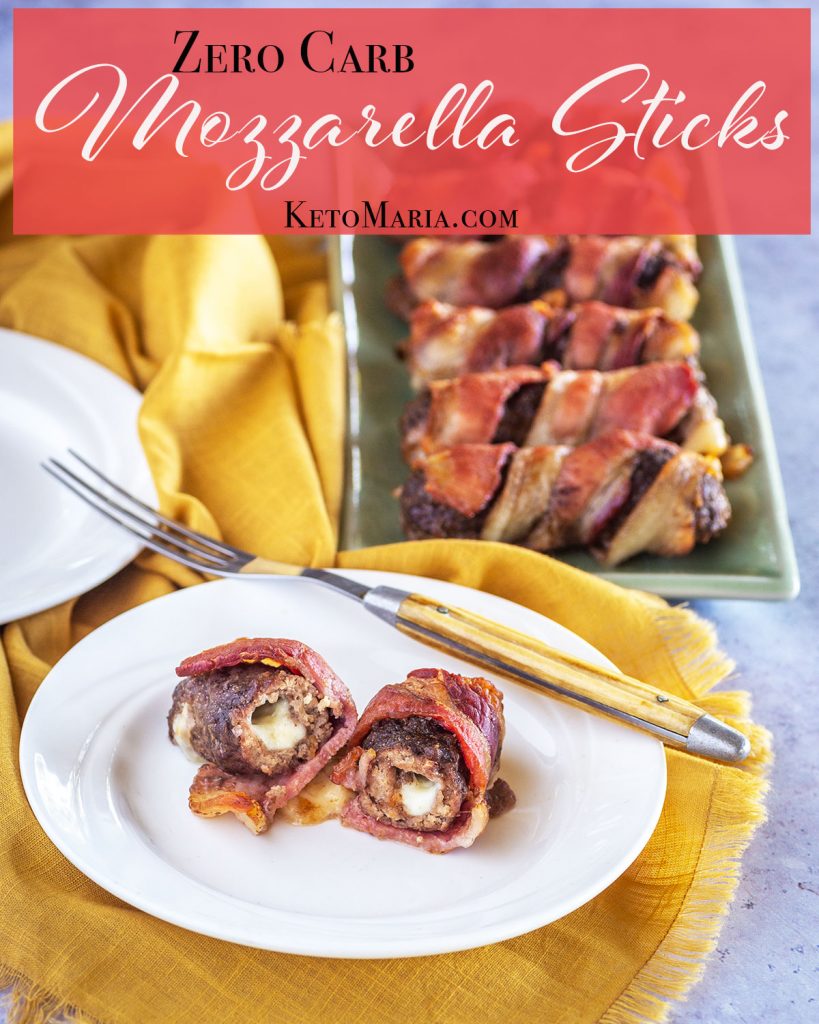 If you haven't noticed, I do not allow advertising on my site.
I just didn't agree with some of the products that were advertised. They were keto products, but they were unhealthy and I would never personally eat most of the products. It was hard to say no to blog advertisements; they pay thousands of dollars a month, but I just felt uncomfortable about having the products I didn't recommend on my website.
Instead, I have created a shopping list where you can find all the healthy ingredients that are difficult to find in the grocery store (and if you do find them, they are often very expensive).
I have done a lot of detective work and found the lowest prices on for all of the products I use and love. Everything from food, pantry items, kitchen tools, supplements, and skin products are on my list.
I rarely waste time in the grocery store because I find everything online for a way better price!
All you have to do is click on the words in my recipes and it will take you right to the correct item. If you add them to your cart I get a tiny commission that helps me afford to keep practicing recipes (Recipe experimenting can costing me a fortune!…but I love helping!).
I also have GREAT HOLIDAY GIFT IDEAS on the list!
Happy Shopping and THANK YOU for all your support!!!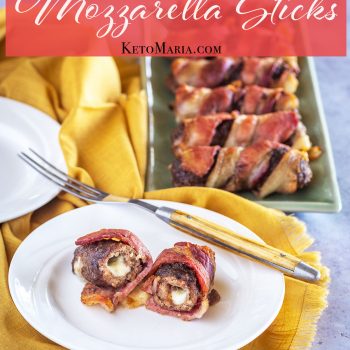 Zero Carb Mozzarella Sticks
Instructions
Preheat the oven or an air fryer to 400°F.

Place the ground beef in a large bowl and season with the salt. Use your hands to combine well. Divide the beef into 8 equal portions and form each portion into a ¼-inch-thick rectangle, about 3½ inches by 2 inches.

Place one string cheese in the center of a patty. Use your fingers to seal the patty around the cheese; be sure to seal the edges well or the cheese will melt out. Repeat with the remaining patties and cheese. Wrap a slice of bacon around the entire patty, then secure the ends of the bacon with toothpicks. Repeat with the remaining patties and pieces of bacon.

Place the wrapped patties on a rimmed baking sheet lined with parchment paper if using the oven or in the air fryer basket in a single layer if using an air fryer and bake or cook for about 8 minutes, flipping after 4 minutes, until the bacon is cooked to your liking.

Remove the mozzarella sticks from the oven or air fryer and let cool for a few minutes before consuming or the melted cheese will burn your mouth.

Store in an airtight container in the refrigerator for up to 4 days. To reheat, place in a preheated 400°F oven or air fryer for about 3 minutes, or until heated through.
Nutrition
Calories:
274
|
Fat:
20
g
|
Protein:
24
g
|
Carbohydrates:
0
g
|
Fiber:
0
g
|
P:E Ratio:
1.2
TESTIMONY OF THE DAY
"Hi Maria and Craig,

I just wanted to update you on our success! I am the one that asked if you would add two seats so I could bring my daughter to your PSMF class at your home.

Jozie is 12 and has Turners Syndrome and weight issues and eating has been a struggle her entire life. Guess what?! She is successful and loves this way of eating! She is experiencing being full and I always said "she doesn't have a full switch"!

Also, she is on shots daily for growth for her TS and hadn't been growing well even with them. Well, during the last 44 days she grew an inch and she lost 10lbs!!

The supplements from your personal health assessment and your way of Keto has been nothing but amazing! We didn't care about the weight loss but figured some would happen. Her self esteem, her confidence, and her success in committing to this lifestyle is just giving her so much! Thank you, thank you, thank you I have been doing it side by side with her so we could be a team and the benefits I am seeing are also nothing short of amazing. I have lost 17lbs and still going.

Most importantly for me I am hanging on to my gallbladder and seeing so many other health improvements! Like my allergies are even non-existent since I converted – who knew?!

Thank you for going out of your way to add two seats that day…you literally changed our lives in ways I can't put all in to words." – Linda 
Most people I consult are doing keto totally wrong. Get fast results with the my Mind-blowing Keto School!