Whatchamacallit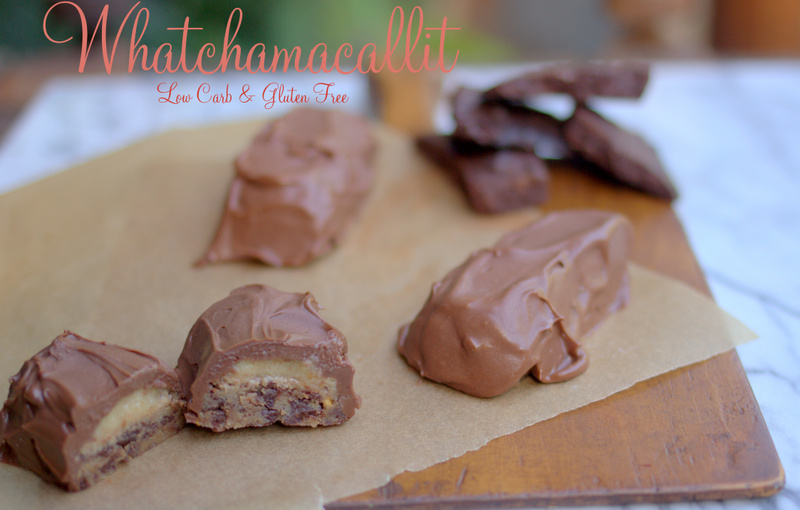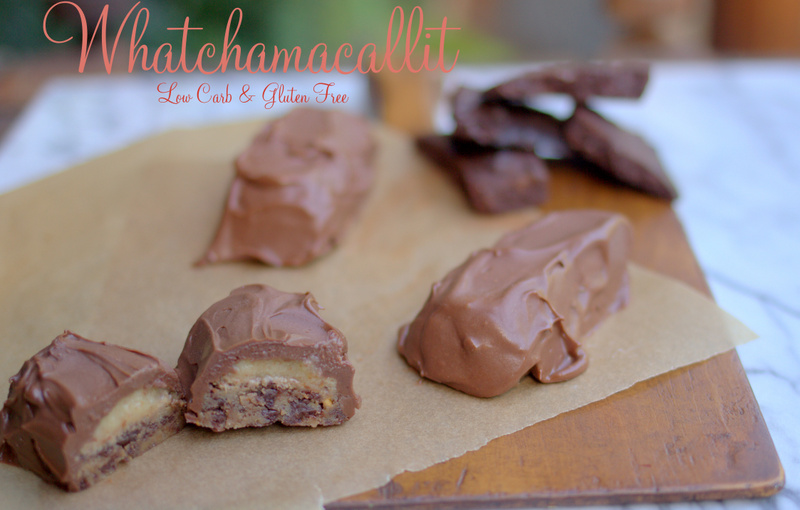 "HEALTHIFIED" WHATCHAMACALLIT???!!!
I have mentioned this before but if companies were smart they would allow more time outdoors in nature. This recipe idea for a keto Whatchamacallit came to me while I was canoeing with my boys. Nature helps me invent these amazing keto recipes!
The crispy chocolate fat bomb on my blog has been such a hit and people are raving about it I thought we needed to feature in in another recipe that needed a crispy chocolatey inside. And who doesn't love a candy bar?
Sure, you could make these into sheet-pan bar shape to make them a bit easier, but there is something about a candy bar shape… it makes it taste even better!
Who feels like this is a "diet?" Not me!
This recipe is one of my favorites. It has the crunch I crave along with the creamy mouth feel of the caramel.
Whatchamacallit
Instructions
In a heat safe medium bowl place place 1/4 cup of erythritol (or Swerve), cream cheese, 1/4 cup natural peanut butter, 1 tsp vanilla and heat until soft and stir able (I heated in microwave for 1 minute). Stir until well combined.

Add the nugget to the tiny bits of crispy fat bomb. Stir well.

Form into candy bar shapes. Place on parchment. Let cool in freezer until set.

Caramel Layer: Before you begin, make sure you have everything ready to go – the cream and the butter next to the pan, ready to put in. If you don't work fast, the xylitol will burn. You may want to wear oven mitts; the caramelized sugar will be much hotter than boiling water. Heat xylitol on moderately high heat in a heavy-bottomed 2-quart or 3-quart saucepan. As it begins to melt, stir vigorously with a whisk or wooden spoon. As soon as it comes to a boil, stop stirring. You can swirl the pan a bit if you want, from this point on. As soon as all of the xyltiol crystals have melted (the liquid should be dark amber in color), immediately add the butter to the pan. Whisk until the butter has melted. Once the butter has melted, take the pan off the heat. Count to three, then slowly add the cream to the pan and continue to whisk to incorporate. Note than when you add the butter and the cream, the mixture will foam up considerably. Whisk until caramel sauce is smooth. Let cool in the pan for a couple minutes, then pour into a glass mason jar and let sit to cool to room temperature. Store in the refrigerator for up to 2 weeks.

Add a layer of 1 TBS caramel on top of the candy bars. Set in freezer to cool.

CHOCOLATE COATING: Make the chocolate coating by melting butter/coconut oil over low heat. Stir in chocolate, natural sweeteners, extracts and salt until completely melted.

Once the caramel on the candy bar is cool spread the chocolate over the top.

Place back in fridge to set.
Notes
NUTRITIONAL COMPARISON (per serving)
Traditional Whatchamacallit = 222 calories, 28.5 carbs, 0.9 fiber
"Heathified" Whatchamacallit = 210 calories, 21.6g fat, 3.5g protein, 3.5g carbs, 1.7g fiber
(91% fat, 4.5% protein, 4.5% carbs)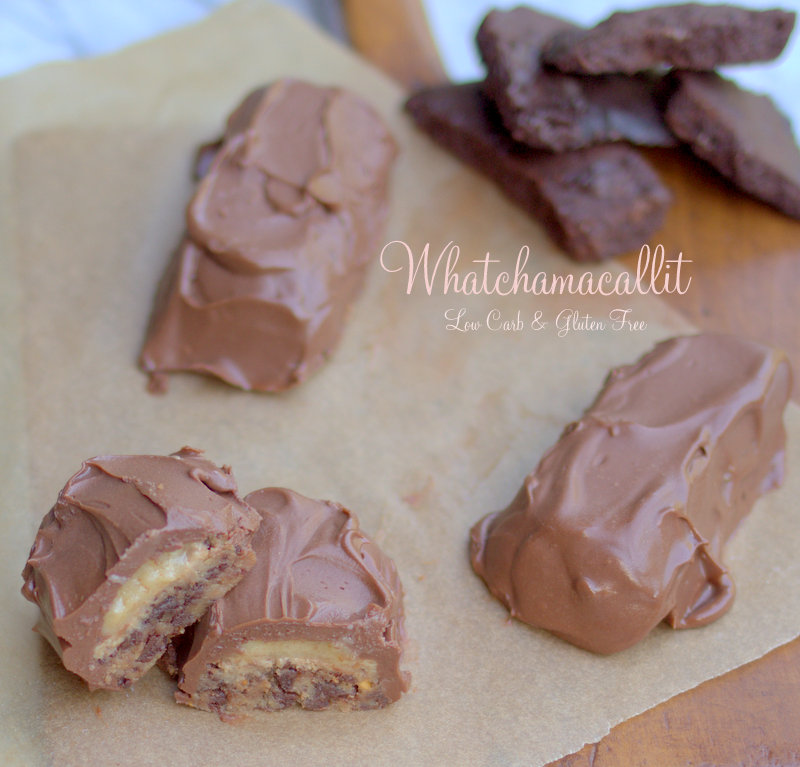 Testimony 40 pounds in 4 months following The 30 Day Ketogenic Cleanse!
"My husband joined me on this Keto journey on Mother's Day, May 14th of this year.  The "before" picture is probably from a year or so ago and I'm sure I was heavier when I started, but it was the only photo I had (we'd taken some family photos of all of our adult kids and their boyfriends/girlfriends as well).  The shirt was a gift and I love it, but had to safety pin it closed to wear it so it wouldn't gape open, now I'm doing to have to pin it so it isn't quite so revealing.
Prolonging hitting "post" so without further ado, I'm posting these for all to see that this was the easiest thing I've ever done and if you follow this plan as it's been laid out, you WILL be successful.  I went from 190.8 and needing a size 14 (but refused to buy them), to 148 pounds in just 4 months and my size 10 jeans are now baggy.  From XL tops to mediums (my 22 year old daughter and I now wear the same size shirt and I'll admit to wearing her clothes when she's not home, but don't tell her.  =) )  My husband has gone from 190-195 to 165-170 at 6 foot tall.  I'm 47, pushing 48 so trust me when I tell you this was the easiest thing I've EVER done.  I'd totally given up ever being thin again, I'm a bit lighter than when I got pregnant with my son who was 25 in May, he was our first of 4 kids." – Alexa
 Thank you for your love and support!