Crispy Fat Bomb
Why We Crave Crunch
The theory why crunchy foods are innately pleasing to our palate is captivating. Crunchy  foods add a level of our senses to eating. If you are lucky and are able to smell and taste, you get those (I say lucky because I had a terrible ear infection that caused me to lose smell and taste for 2 weeks! Yikes). You also get texture in your hands and mouth when eating. One thing you may have not thought about is sensual part of the eating experience of sound. The crunchy sensation we experience is more significant for the sounds it makes inside our heads. The internal noises of chewing always happen as we eat, but eating a soft omelet is quite different than chewing on nuts, chips or my crispy fat bomb. This is one reason why "You can't eat just one." Our neural sensory systems all experience something called "habituation" in which our sensory neurons become less receptive with constant exposure to a stimulus.
We all experience habituation to the smell and taste of food as we eat. This is why we over-eat when we are eating at a potluck or buffet… so many choices to keep stimulating the senses. But if you have one food on your plate, your brain gets bored and signals to stop eating. One reason that crunchy foods may have more of an appeal to you lies in the extra layer of your senses when you eat; you may like a particular crispy food because you like the way it sounds in your head. Crispy foods have a special sensory place in the brain. They incorporate hearing into the sensory mix of eating, and it is very likely that the stronger and more varied sensory mix provided by crispiness staves off boredom and habituation while we eat these foods. We also often crave crunchy foods because in Paleolithic days, insects and fresh produce was our main source of crunchy. A soggy vegetable was tossed aside in lieu of a crunchy/fresh one. The problem now is that we still crave that crunch but it often isn't for a crunchy piece of celery… it is most likely chips or cereal (thank goodness for people like Clark W. Grizzwald who invented "non-nutritive cereal varnish" in Christmas Vacation! lol) So if you are in love with crunch, you MUST try this Fat Bomb!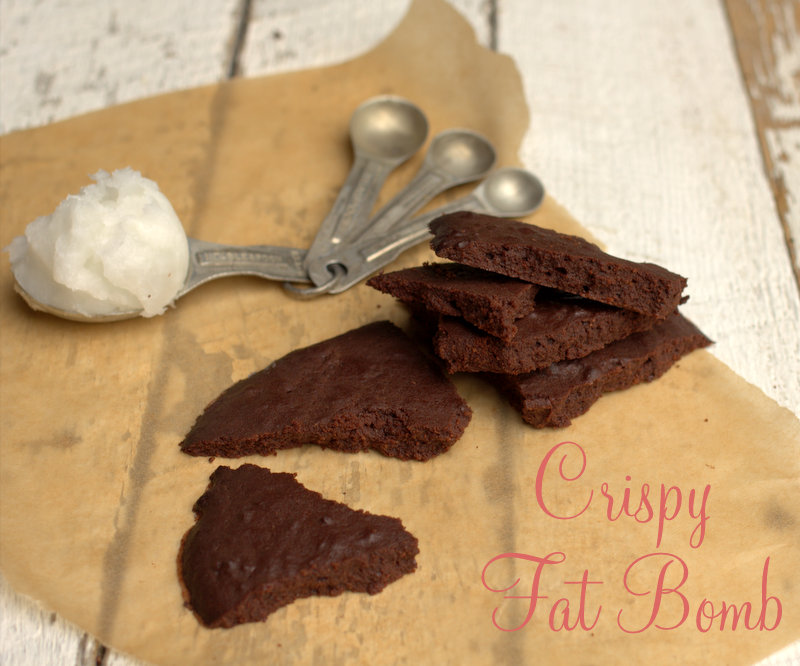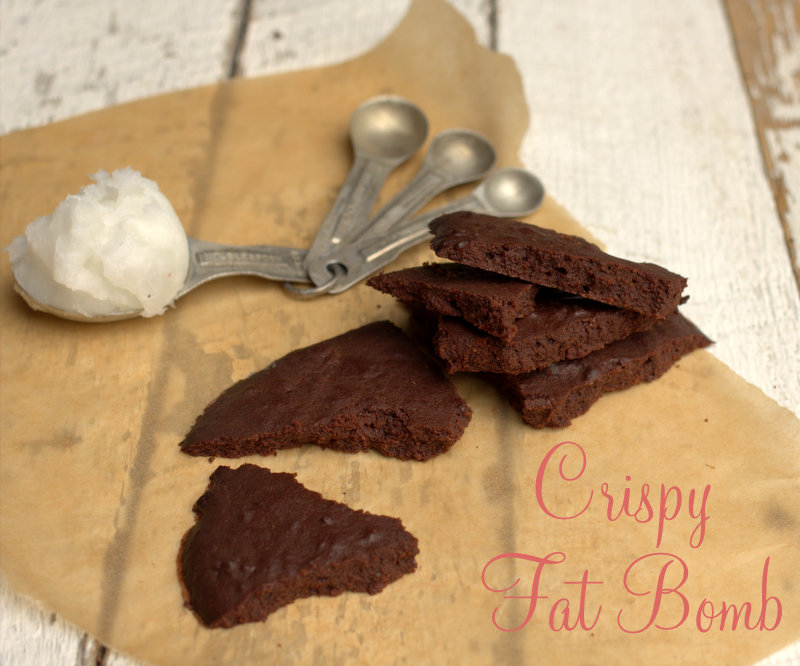 Crispy Fat Bomb
Ingredients
3 tablespoons unsweetened cocoa powder
1 vanilla bean scraped clean, or 1 tsp vanilla extract
¼ teaspoon almond extract
3 tablespoons coconut oil
Instructions
Preheat the oven to 350°F. Line a rimmed baking sheet with parchment paper.
Combine the cocoa powder, natural sweetener, extracts and coconut oil with a fork until small crumbs form.
Place on the baking sheet and spread into a thin sheet. Bake for 12 to 15. Remove from the oven and allow to cool completely.
The candy hardens as it cools.
Store in an airtight container in the fridge for up to 1 month.
Use on keto ice cream or eat plain!
Notes
NUTRITIONAL COMPARISON (per serving)
Hard Candy = 110 calories, 0g fat, 0g protein, 69g carbs
"Healthified" Fat Bomb = 98 calories, 10.8g fat, 0.5g protein, 1.2g carbs, 1g fiber
(97% fat, 1% protein, 2% carbs)
To find more crispy fat bombs like this
Streusel Candy check out my new book: The Ketogenic Cookbook.
Thank you for your love and support!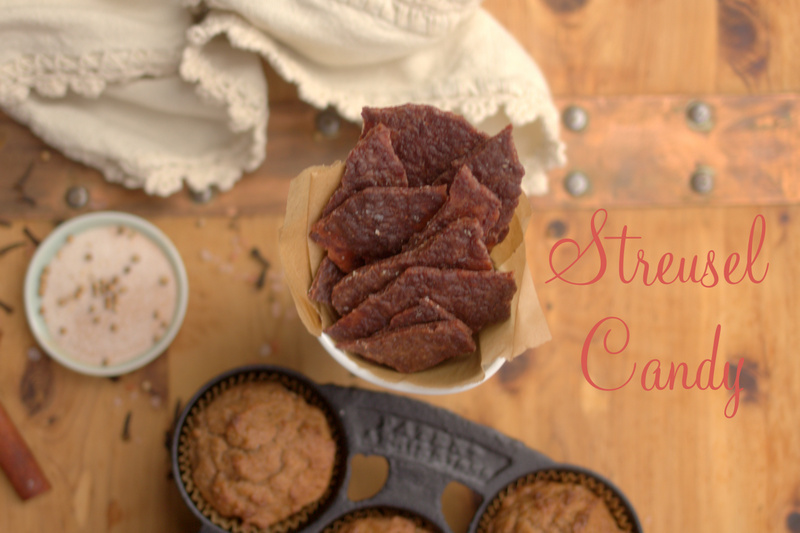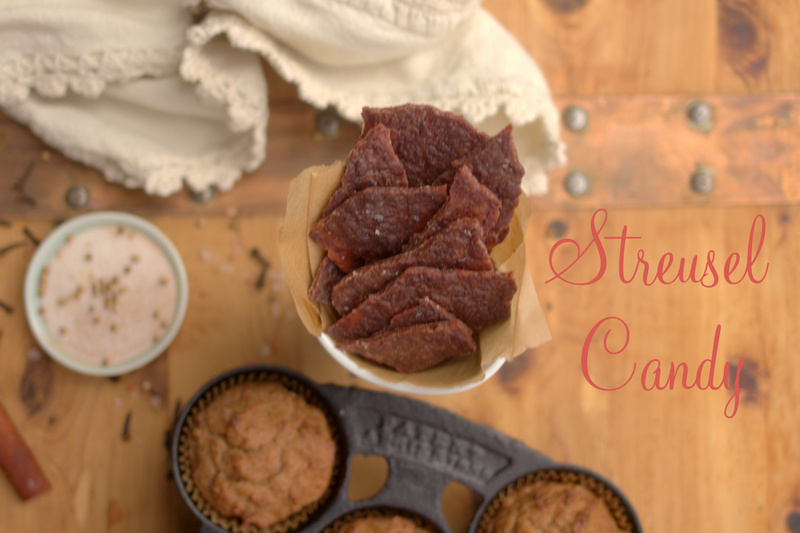 TESTIMONY of the Day
Phone Client TESTIMONY: ""100% sleep efficiency! woo! Before this I was getting ready to have a sleep study done. I was pretty sure I didn't have sleep apnea, but…..I wasn't sleeping. Then I started the Keto diet and supplement advice from Maria.

Thank you, Maria! I am so happy and I couldn't have done it without your help. I know because I had tried everything everyone else recommended and while there was improvement I still didn't sleep enough and went through my days tired. Now I have plenty of energy to get through the entire day, and then some, but I still sleep really well.
And I lost another pound yesterday!
THANK YOU Maria Emmerich" – Kelly