The BEST BBQ Ribs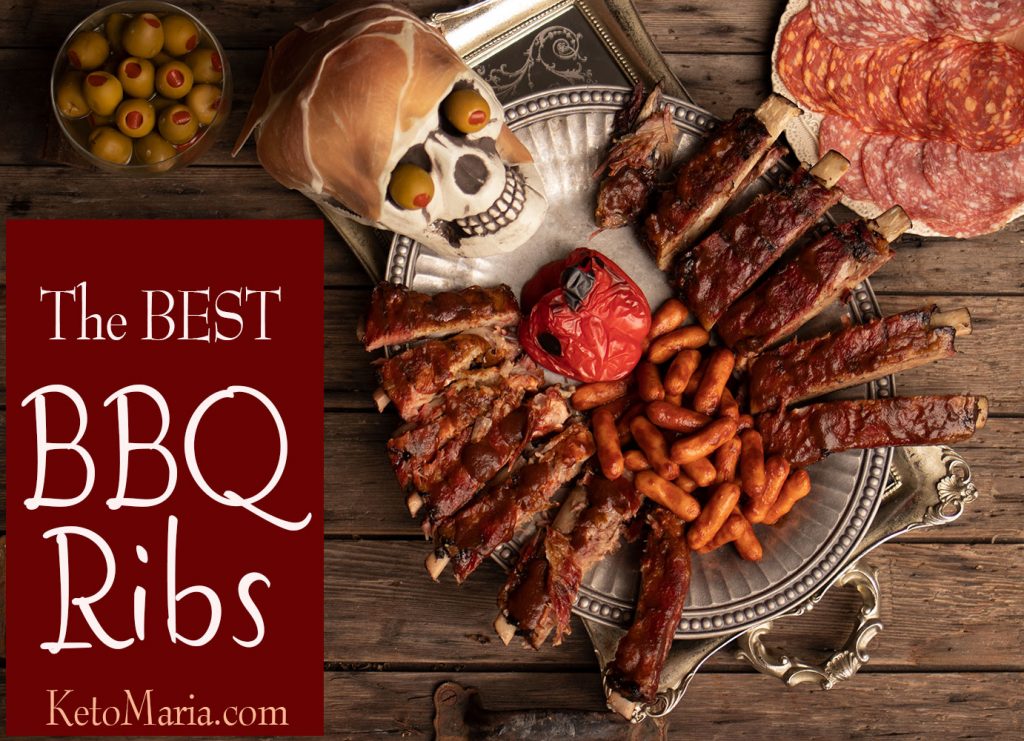 I know that all of you are busy and prefer easy recipes that are also delicious! This is why I am SO excited to tell you about the BEST BBQ Rib recipe! Not only are these keto ribs the BEST they are also fast and easy!
When I was on the television show in Costa Rica, I met the most kind man, Robert Overholser! Robert is the owner and creator of the BEST BBQ sauce EVER!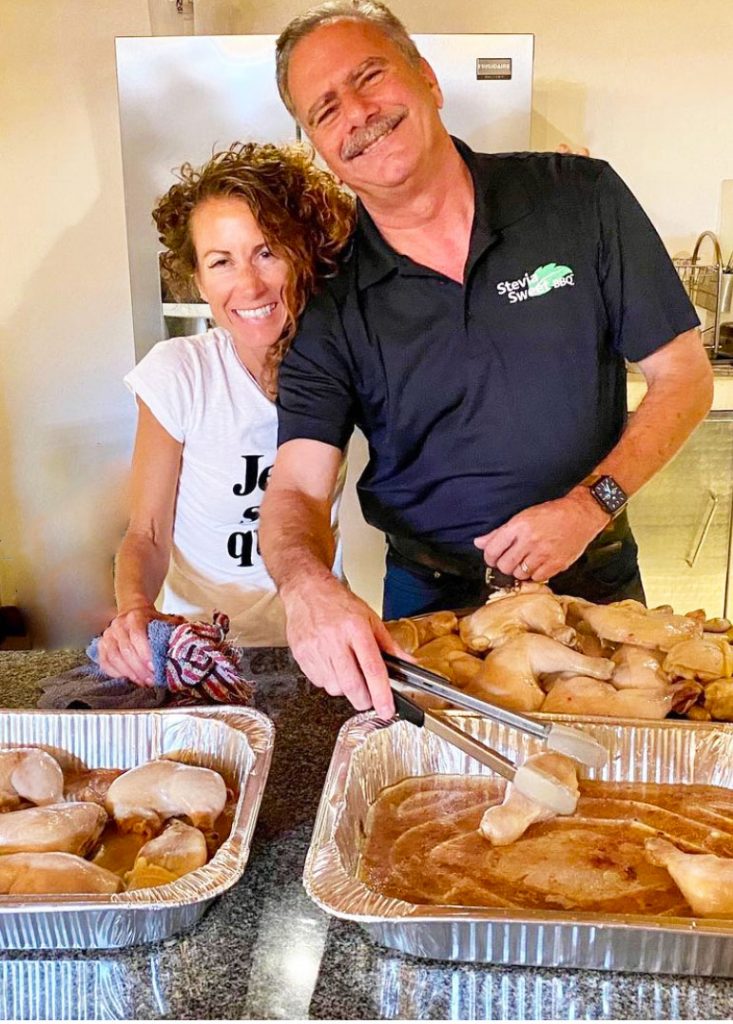 Stevia Sweet BBQ Sauce is sugar free and so delicious that my son Kai would drink it from the bottle if I let him! No lie! Kai puts Stevia Sweet BBQ Sauce on his bologna (we get organic bologna from U.S. Wellness Meats).
You can find Robert's delicious sugar free BBQ Sauce in many restaurants all over the US, especially in the Florida area where Robert lives. You should request your favorite BBQ restaurant to carry Stevia Sweet BBQ Sauce!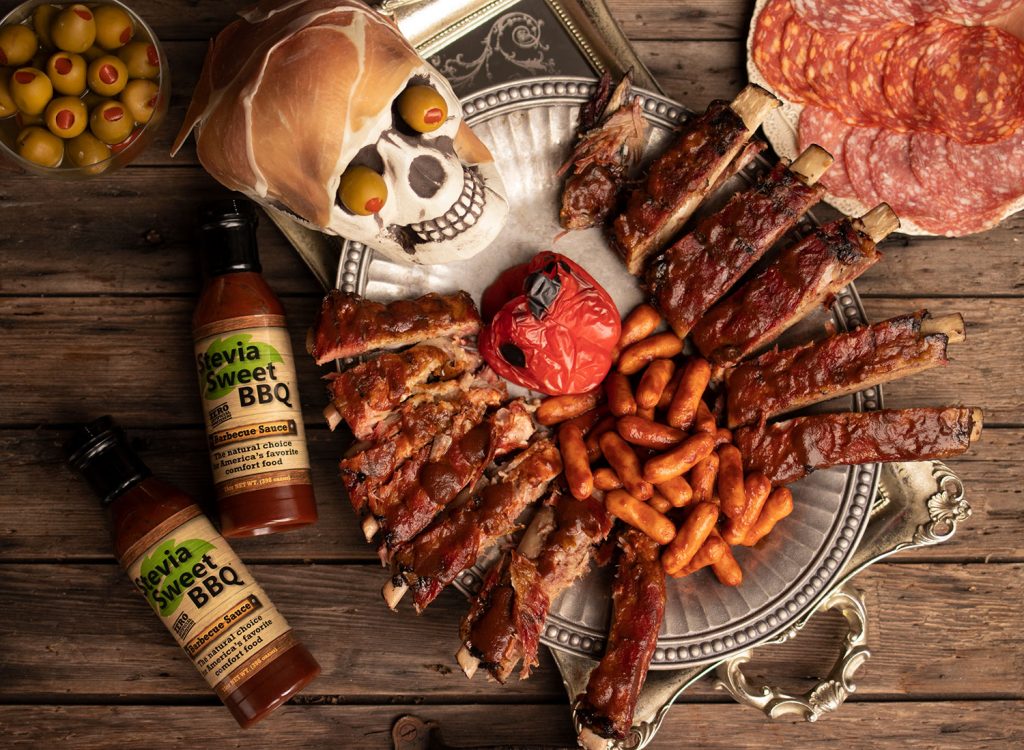 I love BBQ Ribs and using Robert's Stevia Sweet BBQ Sauce makes these ribs not only really EASY, they are the Best BBQ ribs ever!
Since Kai loves BBQ Ribs and his birthday is close to Halloween, I thought I would makes these keto BBQ ribs into a skeleton meat platter!

And don't forget to ask your local restaurants to carry Stevia Sweet delicious sugar free BBQ sauce!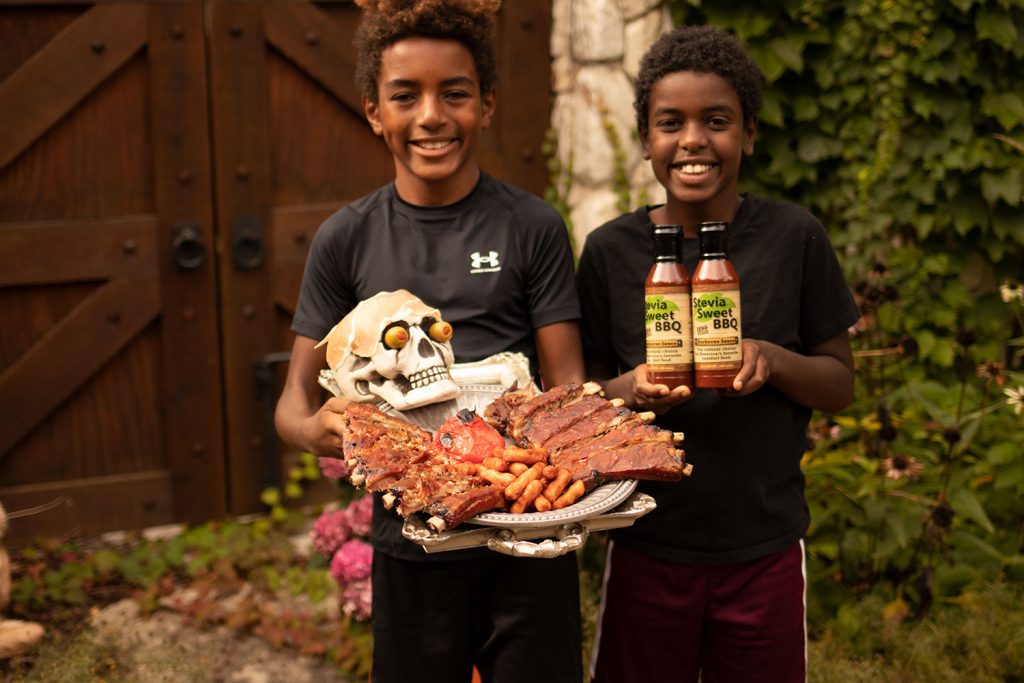 The BEST BBQ Ribs
Ingredients
1

rack bone-in pork ribs

cut in half

2

teaspoon

Redmond Smoked Salt or plain salt

1

teaspoon

freshly ground black pepper

1

teaspoon

garlic powder

1

teaspoon

chili powder

1

teaspoon

onion powder

1

cup

water

¼

cup

apple cider vinegar

1/4

cup

Stevia Sweet BBQ Sauce

or more if you are like Kai and LOVE BBQ sauce!
SKELETON ADDITIONS:
1

red bell pepper

charred (for the heart)

1

12 oz package mini hot dogs, plus more Stevia Sweet BBQ Sauce

1

6 oz package prosciutto

1

skeleton head

2

stuffed green olives
Instructions
Place all the seasonings in a small bowl and stir well to combine.

Slice the rack of ribs in half if needed. Remove membranes from the back of ribs, if needed.

Rub seasonings over both sides of ribs.

Instant Pot: Place wire trivet rack in the bottom of the instant pot. Add water and apple cider vinegar.

Place the ribs upright, with the meat side facing out.

Seal and press the Meat button and set to 25 minutes. Once finished press Natural Release.

NOTE IF USING A SLOW COOKER: Place the vinegar in the bottom of a 4 to 6 quart slow cooker. Add the seasoned ribs with meat side down. Cover and cook on low for 6-8 hour, or high for 3-4 hours, until ribs are very fork tender.

SERVE: Remove from vessel and slather the ribs in Stevia Sweet BBQ Sauce. Cut into individual riblets and place on a platter in a skeleton shape. Place the chared red bell pepper in the center of the ribs. Heat the mini hot dogs in a large pot of boiling water for 3 minutes or until heated through. Remove from the water and coat in Stevia Sweet BBQ Sauce. Scatter the cooked mini hotdogs below the BBQ ribs to look like intestines.

Wrap the slices of prosciutto around the skeleton head and place the head at the top of the platter. Place stuffed green olives in the eye sockets.

Serve for a fun Halloween dinner!

STORAGE: Store extras in an airtight container in the fridge for up to 5 days. To reheat, place a slice on a rimmed baking sheet in the oven at 350 degrees F for 5 minutes or until heated through.
Nutrition
Calories:
542
|
Fat:
34
g
|
Protein:
51
g
|
Carbohydrates:
4
g
|
Fiber:
1
g
|
P:E Ratio:
1.4
TESTIMONY OF THE DAY
"Once more I have to say THANK YOU to Maria and Craig Emmerich. You've helped us change our lives!!!
Craig your scientific mind helped me understand why I got as big as I did and Maria your encouragement and wonderful recipes have helped so immensely.  It's impossible to ever thank you enough.  Pictures of my husband and I ….taken one year apart." – Felicia
Most people I consult are doing keto totally wrong. Get fast results with the my NEW Keto Packages!