Testimony of the Day
"I found Maria in April of 2012, in my 2nd semester of graduate school. Which was when the photo of my before the picture was taken. My mom had sent me a link to her blog and I immediately started trying her recipes.
Shortly after, I decided to take her health assessment and started a diet plan and supplements she had suggested. Before the Maria Way I was eating over 100+ grams of carbohydrates a day and who knows how much sugar. I was experiencing intense hungry and mood swings when my blood sugar would drop between meals. Less than a week eating the Maria way and I longer had fluctuations in my blood sugar and as a result, I could think clearer! But then the stress of graduate school kicked in and I began returning to my old eating habits. In January of 2013, I attempted to start eating the Maria Way again and even joined a gym.
I've lost 25 pounds since January and with my upcoming wedding, I am working hard to meet my weight loss goals. I still struggle to stick to the diet on the weekends but I hope to update Maria with my after photo this spring!" -Emily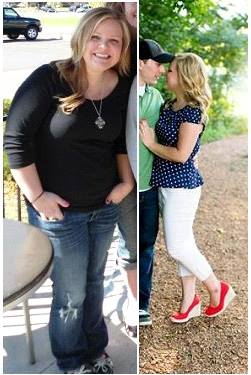 To get the results like Emily, click here to get started. A year from now you will thank yourself!
TORTILLA:
1/3 cup
blanched almond flour
1/3 cup Parmesan cheese
1/3 cup
unflavored whey protein
1 tsp Celtic sea salt
Water (just enough to hold together)In a medium bowl, mix all the dry ingredients. Slowly add water, just enough to hold the dough together. On greased parchment paper, roll out the dough into a thin rectangle. Cut into 2 x 5-inch rectangles. Set aside to fill meat with.BEEF FILLING:
1 (3.3 pounds) grass-fed beef roast (you will have extra)
*You could also use CHICKEN
1 tsp Celtic sea salt
1 tsp pepper
1 tsp chili powder
1 tsp garlic powder
1 tsp cumin
1 tsp oregano
1 TBS coconut oil
5 cups beef broth
1 onion quartered
3 garlic cloves in a bowl mix together salt, pepper, chili powder, garlic powder, cumin, and oregano. Rub mixture all over beef roast to coat. In a large pan heat oil. Brown roast on all sides, about 6 minutes per side. Place in a slow cooker. Add onion and garlic. Pour in water and beef broth. Cover and cook for 8 hours. Remove from slow cooker and shred. Use to fill tortillas.Preheat oven to 350 degrees. Grease baking sheet. To assemble, spoon 2 tablespoons of meat mixture into tortilla and roll closed. Place on the prepared baking sheet. Repeat until all are rolled.Bake for 15 -20 minutes or until ends start to brown. Remove and sprinkle cheese on top. Turn oven setting to broil and broil for 2-3 minutes or until cheese melts. Remove from the oven. Top with shredded lettuce and guacamole if desired. Serve with salsa for dipping.
This will make a lot of meat so you will have leftover meat. Idea: Make my Beef Stroganoff for tomorrow!
NUTRITIONAL COMPARISON (5 servings)
El Charrito Taquitos = 380 calories, 42 carbs, 4g fiber
"Healthified" Taquitos = 257 calories, 1.9 carbs, trace fiber