TESTIMONIES OF THE DAY:
PAIN TESTIMONY: Six months ago I was taking eight extra-strength pain pills to quiet severe nerve pain. No one ever had to remind me to take those eight pills. The drug barely took an edge off my pain. I had been using that high dose for years. I was getting concerned about the potential of negative side effects with prolonged use of the pain pills I was using. It was time to find a better answer. I found Maria and began following her advice. My hope was that I would notice some benefits in a couple months. I felt better right away. Now, six months later, my pain is manageable without pain medication. I've dropped weight and inches, my energy has increased and my body is healing. Concerns about damage I might cause while taking pain meds has been replaced with the joy of feeling my body heal. Maria's Way of Life is now My Way of Life. Thank you, Maria and Craig, for all you do to help us help ourselves." Pam
MENSTRUAL CYCLE TESTIMONY: "Hey Maria – I just wanted to share and thank you for an unexpected but very welcome benefit of the supplements you had recommended for me about four months ago. My menstrual cramps have completely disappeared!!! I am someone who would be popping Advil the first day or two of my cycle, and now I have no discomfort at all!  In any case, I am so thrilled not to have to the annoyance of cramps every month. Thank you again for everything you do! – Megan
PHOTO TESTIMONY:
"As "the skinny girl" my entire life it was a medical condition and the medications necessary for me to take for the rest of my life that packed on more than 50 lbs. in a very short amount of time at the age of 37 that led me places I had never been before. Although the medication was making me feel better, it was a different story when I looked in the mirror. I had never tried to be thin, i just naturally was, and it's not like I wanted to weight 102 lbs on my 5'4″ frame, I always had a dream weight of 120. Something my doctor laughed at when I asked him how to keep some of my baby weight after I delivered my first baby, after all, being pregnant was the first time I actually got over 100#, something that had been a goal of mine since I was about 16.
I know, poor thin girl … however, I was about to learn how body image affects so many aspects of a persons being, something I had never even considered. 20 days after starting my medication and I had already gained 27 lbs. I was so shocked every time I looked in the mirror, I still expected to find my former self and seeing my friends visible reactions although they tried to be encouraging. I kept having to purchase larger and larger clothes and eventually peaked at plus 54 pounds. I had tried to "eat better", you know, yogurt, fruit, vegetables, but in all honesty I am a bona fide, all out sweet tooth, always have been. Nothing seemed to help. My doctor and I decided to switch my medication to see if the side effects would alter. Hard to say if it worked, I didn't change anything else, although eating my way across Australia on vacation did non add any weight. I took that as a good sign. Then I ventured back into the work force and was more mobile and managed to lose a bit of weight, about 10 lbs. But I still felt terrible, emotionally, physically, had the 3:00 "I'm so tired I could sleep the rest of the day" thing going on.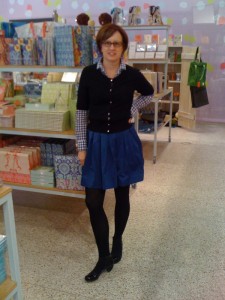 I had a couple of friends who started working with a nutritionist who were altering their lifestyles, but it sounded like an impossible plan, no sugar!! No gluten?? How could I live without dessert and bread, my life line? I happened to overhear a session my friend was having with this nutritionist and honestly, it sounded do-able. You could substitute healthy versions of sweeteners, not give them up completely. Might work. There were ways to make/buy breads that I could eat, who knew? I decided to buy the book and check into it. What I learned changed my life.
I decided to go "all in". I scheduled a consultation with Maria (said nutritionist) attended her Healthy Metabolism Class and attend her grocery store shopping excursion. I could do this, no, I will do this. My family was in shock. I don't think they gave me a chance, no sweets, no way. But I was determined. I did not eat one thing that wasn't on Maria's approved/recommended list. It definitely didn't happen over night, but little by little, week by week I was losing weight. My clothes were starting to hang, people were taking notice.
My goal … 120 pounds! Ironic right? My goal when thin and chubby was always 120!  I honestly don't know where I found the strength to do it, except by following Maria. Her constant encouragement and knowledge educated me in an area I didn't even know I needed to learn, after all prior to medication I could eat whatever I wanted. I no longer had the 3:00 afternoon energy dip, and generally had a better outlook on life. I'm not saying it was completely easy, there were challenges … what to order if we went out to eat? I eventually did reach my goal and I owe it all to this book and it's author, Maria Emmerich. Thank you Maria   -Jennifer Norman
To get started on your path to health and healing, click HERE. I'd be honored to help you too!
Why Wild Caught
Over 60% of the fish eaten in the United States is farm-raised, so when you are at a restaurant do you really know if it is Wild Caught? And why should you care? Well…here are some scary facts!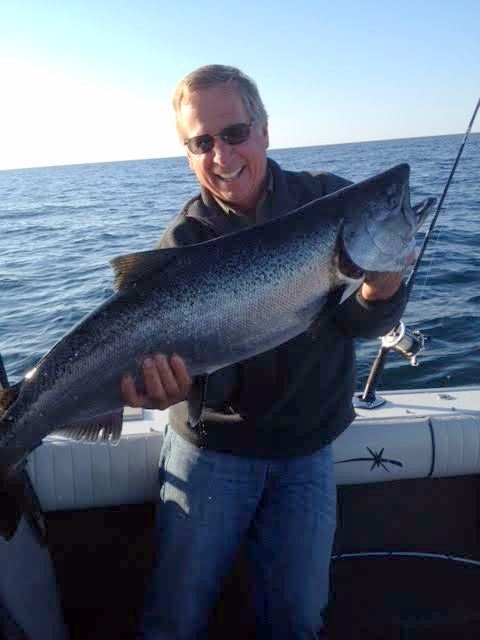 A photo of my dad!
1. MERCURY AND TOXINS: Farmed Salmon have 7 times the levels of PCB's as wild salmon:  Wild salmon, for the most part, feed on krill, giving them their rich red color. Krill are mostly toxin-free (which is why I recommend Krill oil for an Omega 3 supplement). On the flip side, farm raised are fed pellets containing high concentrations of fish, which increases toxins and mercury in the salmon.
2. SEA LICE: Farmed Salmon has 30 times the number of sea lice. Blood-sucking sea lice often attach themselves to adult salmon, but the little parasites aren't a big deal on larger fish. Also, sea lice can't live in fresh water, so they die off when the salmon go upstream to spawn. By the time the young salmon make it to the ocean, they are large enough to handle the occasional sea lice. But, when salmon farms are located near salmon migration routes, the large numbers of adult fish swimming close together mean that sea lice start to cause problems and infestations start to happen. The young salmon can't handle large numbers of lice so they never make it to adulthood. You would think this would put an end to the farmed salmon, but nope, they found a way around this problem… give them antibiotics!
3. ANTIBIOTICS: Farmed Salmon are given antibiotics at higher levels than any other livestock have less omega 3's due to lack of wild diet are crowded into small areas inhibiting movement, and causing disease. To combat lice and other diseases, the man-raised fish are given antibiotics. The number of antibiotics given is in higher concentrations than any other 'livestock'. Those antibiotics are passed on to the consumer, making us more antibiotic resistant.
4. FOOD DYE: Remember, I mentioned that the most common food we eat isn't even a food… it is food dye? Well, this is also the case with salmon. The color of a farmed fish is gray due to its diet and confinement. To make it look pink/red, the fish are fed chemical dyes. One of the artificial colorants added to the fish feed, canthaxanthin, has been linked to retinal damage when taken orally and yet the FDA has approved it!
5. GMO FOODS: Farmed Salmon are fed chemicals to give them color are fed pellets of chicken feces, corn meal, soy, genetically modified canola oil and other fish which have dangerous toxins.  These toxic fish pellets also contain unsanitary and genetically modified foods.
 Father's Day Gift Idea
One of Craig's favorite gifts was the smoker I purchased for him! We have experimented with smoking, poultry, meat, sausages, fish, cheese, eggplant but can also include smoked eggs, other vegetables, and nuts. The smoked eggplant was SUPER good!
 Click HERE to find the Traeger smoker I love!
 Find the recipe in this new cookbook!
I'm very happy to announce the pre-sale of the project Jimmy Moore and I have been in the works with for the past 6 months!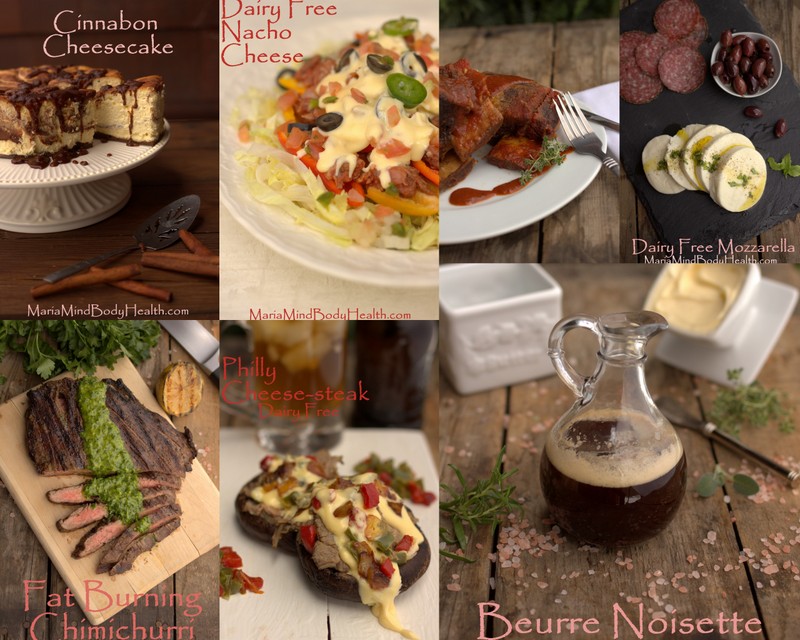 The Ketogenic Cookbook is the ultimate resource for the growing number of people who are interested in eating a low-carb, moderate protein, high-fat diet to lose weight, improve their health, and heal their bodies from the inside out.
This first-of-its-kind collection of more than 150 real food–based recipes that will satisfy the taste buds of anyone desiring to be in a state of nutritional ketosis or simply wanting to eat healthier. Jimmy Moore, leading low-carb diet blogger, podcaster, and bestselling author of Keto Clarity, joins forces with a fellow ketogenic nutritionist, blogger, and author Maria Emmerich to bring you incredibly delicious recipes that are appropriate for people who need to eat a ketogenic diet therapeutically for a myriad health condition, including:
Weight loss
Diabetes
Metabolic syndrome
Cardiovascular disease
Epilepsy
Irritable bowel syndrome
Non-alcoholic fatty liver disease
And a whole lot more!
In The Ketogenic Cookbook, you will also find practical advice for pursuing a state of ketosis, a unique collection of foods to help you get into ketosis, meal plans designed for specific health purposes, guidance from leading experts on ketosis, and more.
Thank you for your love and support!
 Another Great Testimony
"Maria, I just have to tell you that it took about three weeks on your supplement plan, but yesterday I woke up and I just felt good, it's working. Best investment I've ever made for myself. I spent 1 1/2 years trying to study this and find answers on my own. I feel like I can exhale a bit now, finally, got the answers I needed. Now I actually feel like focusing on the keto meals, I have more mental clarity . I've gone from 5 to 6 hours sleep up to 7 and 8 and I am ready to go to bed when I go, no more tossing and turning." -Debra
My supplement suggestions in my health assessment can provide relief from many ailments. You just have to stick with them long enough to begin to heal. Click here to get you customized supplement plan with a health assessment!
30 Day Accelerated Testimony: "The Shrimp Scampi Bake is my absolute new favorite! I usually stayed away from making new things (especially seafood) but this was so easy and even more delicious! This is something I love about your 30-day meal plan, it is forcing me to step outside my comfort zone! Thank you, Maria! I plan to make this many more times! (I used Miracle Noodles and they made a yummy combo.)" – LLisa