Savory Tart
A Savory tart are a great addition to any party! I made a batch ahead of time on a rainy day and froze them for an easy appetizer.
1/4 tsp baking soda
1/4 tsp Celtic sea salt
1/4 cup butter
2 TBS water(just enough to hold the dough together)
1 additional large egg (to brush on pastry)
Filling:
Fill with crab, pesto, cheese, ground nuts or olives, or any combination thereof. Brush the tops with additional egg wash and sprinkle with poppy or sesame seeds if desired. I used crab and dipped it in a Ginger Sauce (recipe follows).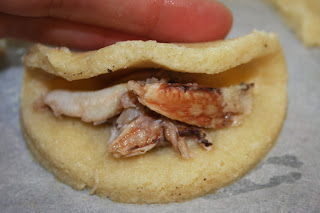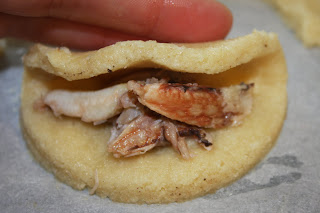 Preheat the oven to 350 degrees F (200 degrees C). In a medium bowl, stir together the whey, almond flour, baking soda and salt. Cut in the butter using a pastry blender or your fingers until the butter lumps are smaller than peas. Stir in the water to form a stiff dough. On parchment paper, place 10 balls of dough a few inches apart. Shape with hands into rectangle shapes (This recipe will make a batch of 16 2 1/4″ x 3″ rectangles or ovals.).Beat the additional egg and brush it over the entire surface of the rectangles. Even the "insides" of the tart; the egg is to help glue the lid on. Place a heaping tablespoon of filling into the center of each rectangle, keeping a bare 1/8-inch perimeter around it. Fold the other side over and using your fingertips, press firmly around the pocket of filling, sealing the dough well on all sides. Press the tines of a fork all around the edge of the rectangle. Repeat with remaining tarts. You could either freeze the filled tarts or bake them at this time. Gently place the tarts on a lightly greased or parchment-lined baking sheet. Prick the top of each tart multiple times with a fork; you want to make sure steam can escape, or the tarts will become fluffy pillows instead of flat toaster pastries (my mistake number 1). Bake for 10-12 minutes in the preheated oven, until edges are lightly browned. Cool in oven to crisp up.Nutritional Info for the WHOLE Batch: 995 calories, 18 carbs, 9 fiberPop Tart Minis: These are tough, but totally worth it for a cocktail party!
GINGER SAUCE:
1 TBS peeled and minced ginger
1/2 cup macadamia nut oil
1/4 cup trimmed scallions, white and green parts combined, chopped into 1/4 inch pieces
Celtic sea salt to taste
2 TBS aged tamari or coconut aminos
1 tsp sesame oil
To make the sauce, stir together all ingredients in a bowl. The mixture should be quite strong; you can add more ginger, scallions, or salt if you like.
Testimony of the Day  
"Hi Maria!! I need to tell you Thank You! I wanted to let you know 2013 has been the best year of my life. I am so happy I found your blog, and signed up for a consult. I'm down over 60 pounds, and off all but 1 prescription medication!!! I was taking over 600 pills a month, prescription and non-prescription. I had headaches everyday, had no energy, severe acid reflux and had severe IBS. For the first time in my life I feel amazing!!! My body is changing, and it feels great. I used to be a carb loader, now I have turned my body into a fat burner thanks to you!! You have given me back my health, which I am forever grateful!!!! -Tanya
Click here to get your 30 day meal plans and start your transformation!