Testimony of the Day
"Before working with Maria, I had struggled most of my adult life with my weight. I had tried other plans, and they would work for a time and then once I went on my own, I fell back into the old patterns and the weight came back. In December 2012, I weighed 212lbs. I had been pushed into finding an alternative way to better eating because of some health-related issues in my family. My dad is diabetic and has had a couple of heart attacks. He's been told that there's nothing that they can do to repair his arteries. Of course, this gets me paying attention as I don't want to head down that same path.
Maria was non-judgemental during this process. She was always providing me excellent resources to allow me to take this journey on my own once I got properly set up. When I was struggling she had tips for me. The videos that she's created or the ones that she recommends were always timely and helpful. I have lost 35 lbs since working with Maria – and just 7 away from my original goal. I've chosen to take the longer path to success because I want to make sure that this weight stays off – for good. Eating food that tastes amazing has been the key to my success in being able to do this on my own. I'm a fussy eater, but also one who's grown up in a practical environment. The menus that Maria has created are based on food that I grew up on – not high-end fancy dishes that I don't know how to pronounce. I have to say that that has made a huge difference for me – eating foods that I would have eaten – just differently so that they're healthy for me and keep me satiated. Maria has given me the tools and resources to be able to modify my own recipes in a 'healthified' way. Since losing weight, I am now able to fit into cute show clothes again, and I'm sure that I'm also much lighter for my horse's sake :-)" –Janice
To get started on your before and after photo collage, click HERE.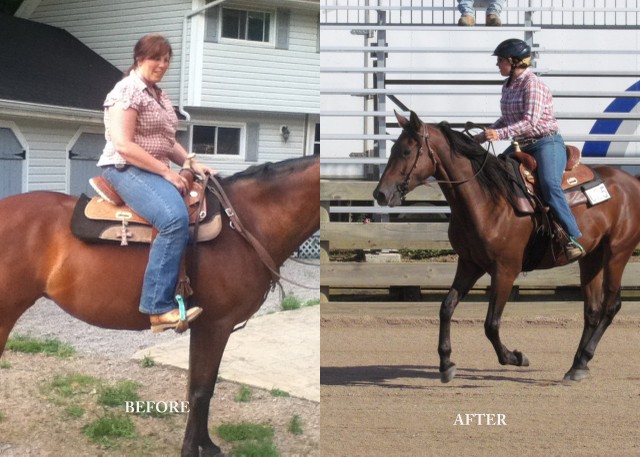 Salmon Cakes
Why Wild Caught
Over 60% of the fish eaten in the United States is farm-raised; so when you are at a restaurant do you really know if it is Wild Caught? And why should you care? Well…here are some scary facts!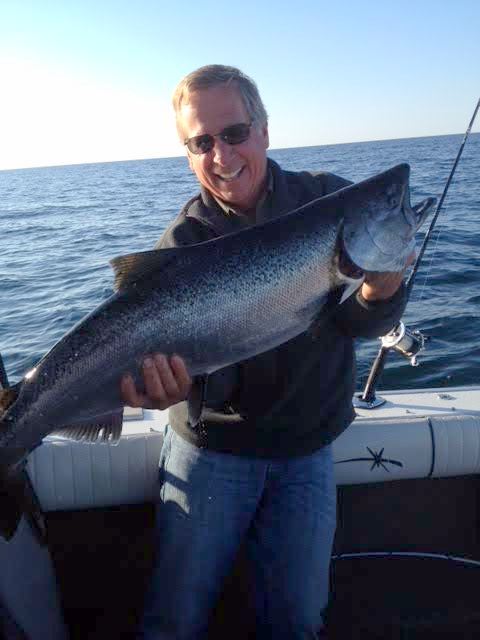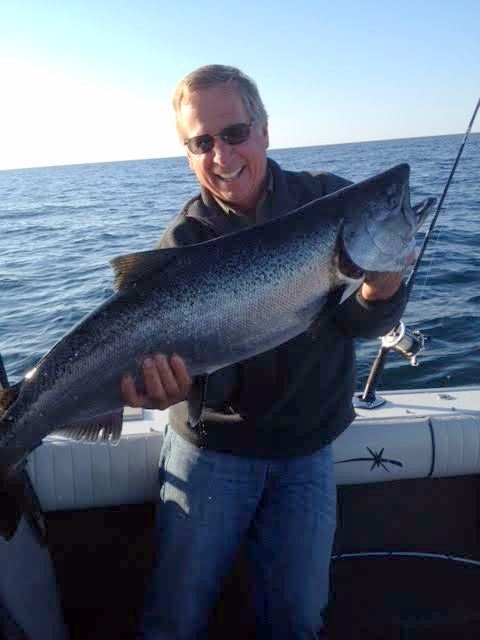 1. MERCURY AND TOXINS: Farmed Salmon have 7 times the levels of PCBs as wild salmon:  Wild salmon for the most part feed on krill, giving them their rich red color. Krill are mostly toxin-free (which is why I recommend Krill oil for an Omega 3 supplement). On the flip side, farm-raised are fed pellets containing high concentrations of fish, which increases toxins and mercury in the salmon.
2. SEA LICE: Farmed Salmon has 30 times the number of sea lice. Blood-sucking sea lice often attach themselves to adult salmon, but the little parasites aren't a big deal on larger fish. Also, sea lice can't live in freshwater, so they die off when the salmon go upstream to spawn. By the time the young salmon make it to the ocean, they are large enough to handle the occasional sea lice. But, when salmon farms are located near salmon migration routes, the large numbers of adult fish swimming close together mean that sea lice start to cause problems and infestations start to happen. The young salmon can't handle large numbers of lice so they never make it to adulthood. You would think this would put an end to the farmed salmon, but nope, they found a way around this problem… give them antibiotics!
3. ANTIBIOTICS: Farmed Salmon are given antibiotics at higher levels than any other livestock have less omega 3's due to lack of wild diet are crowed into small areas inhibiting movement, and causing disease. To combat lice and other diseases, the man-raised fish are given antibiotics. The number of antibiotics given is in higher concentrations than any other 'livestock'. Those antibiotics are passed on to the consumer, making us more antibiotic-resistant.
4. FOOD DYE: Remember, I mentioned that the most common food we eat isn't even food… it is food dye? Well, this is also the case with salmon. The color of a farmed fish is gray due to its diet and confinement. To make it look pink/red, the fish are fed chemical dyes. One of the artificial colorants added to fish feed, canthaxanthin, has been linked to retinal damage when taken orally and yet the FDA has approved it!
5. GMO FOODS: Farmed Salmon are fed chemicals to give them color are fed pellets of chicken feces, cornmeal, soy, genetically modified canola oil and other fish which have dangerous toxins.  These toxic fish pellets also contain unsanitary and genetically modified foods.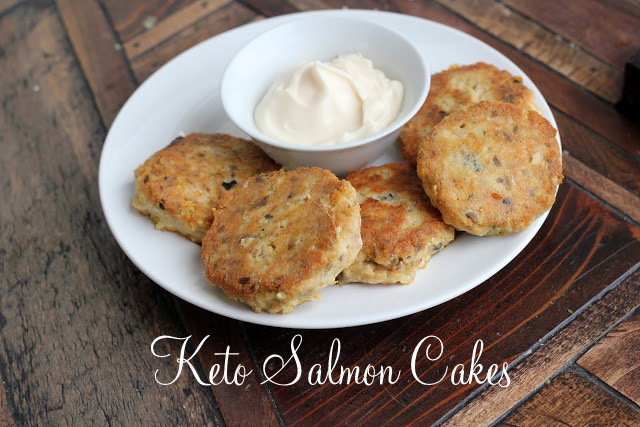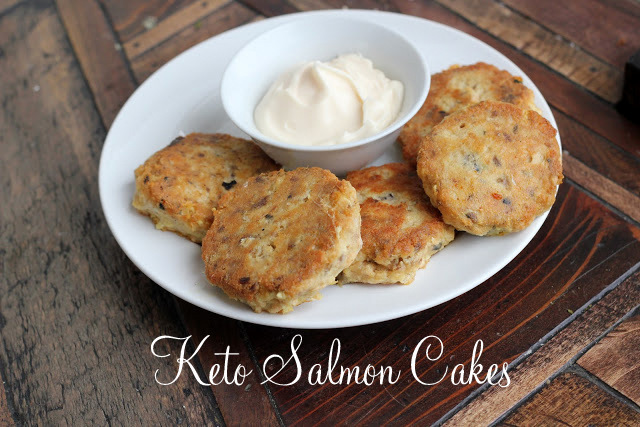 Instead of using breadcrumbs or cracker crumbs, I use an egg for the binder along with finely chopped mushrooms (don't worry you don't even taste them, but it makes it very moist) and grated Parmesan cheese. Mushrooms and aged cheeses have something called "UMAMI." Umami is a pleasant savory taste produced by glutamate and ribonucleotides, chemicals that occur naturally in many foods. Umami is subtle and not generally identified by people when they encounter it, but blends well with other tastes to intensify and enhance flavors; it plays an important role in making food taste delicious.
"HEALTHIFIED" SALMON/CHICKEN CAKES
2 TBS coconut flour
1/4 cup finely chopped mushrooms
1/4 cup Parmesan cheese, grated (or nutritional yeast if dairy sensitive)
16 oz canned salmon (my dad caught it!) or canned sardines OR chopped smoked chicken
1/4 cup chopped green onions
2 tsp Cajun seasoning
1/4 tsp Celtic sea salt
1 egg
2 tsp coconut oil OR ghee
For the Aioli:
2 TBS organic mayonnaise
2 tsp prepared horseradish
1 tsp bottled minced garlic
1/8 tsp salt
To grind the chicken, add it to the food processor and pulse just until ground. Be careful not to go too long. In a medium bowl, mix together ground chicken, parmesan, chives, Cajun seasoning, 1/4 tsp salt, egg, coconut flour, and mushroom pieces. Evenly divide the mixture into 8 portions and flatten out into thick patties. Add oil in a large nonstick skillet over medium heat. Carefully place the patties in the pan and cook 6-8 minutes on each side or until done.
For the aioli: In a small bowl, whisk together mayonnaise, horseradish, garlic and salt. Serve with the cakes. This makes a small amount, so if you like things saucier, I would double the aioli ingredients.  Makes 4 servings.
NUTRITIONAL COMPARISON (per serving)
Traditional Salmon Cakes = 359 calories, 21g fat, 21g protein, 9 carbs, 0.5g fiber
"Healthified" Salmon Cakes = 339 calories, 21g fat, 30g protein, 4.4 carbs, 1.5g fiber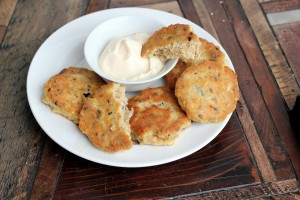 KETOGENIC SUPPORT GROUP
I wrote the 30 Day Ketogenic Cleanse because I want everyone to succeed and love the ketogenic lifestyle!
It makes me sad to hear, "I tried keto and it didn't work for me."
Eliminating dairy as well as other common "keto foods" will take your keto diet to the next step!