Protein Sparing Pretzels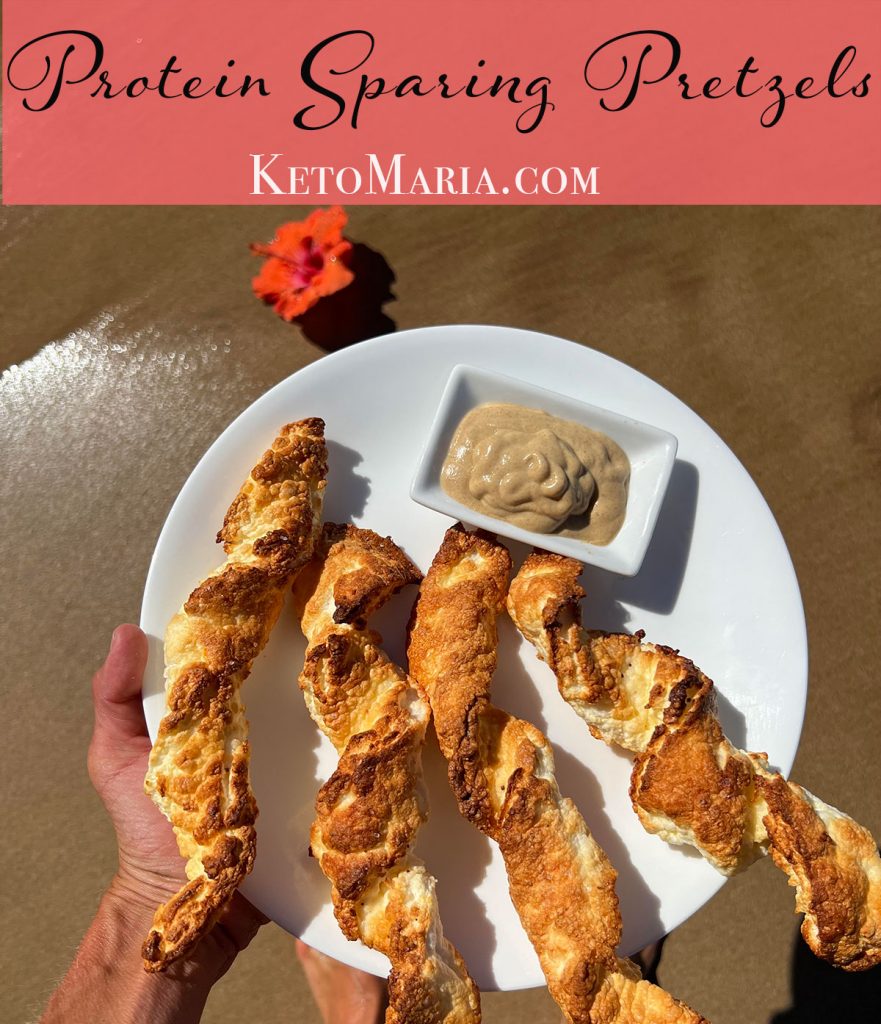 Craig and I are both German and German's LOVE pretzels and mustard!
If you are loving my protein sparing bread recipe, you are going to love this protein sparing pretzel!
I posted a video making them on my Instagram wall @mariaemmerich if you would like to see me make these healthy protein packed pretzels!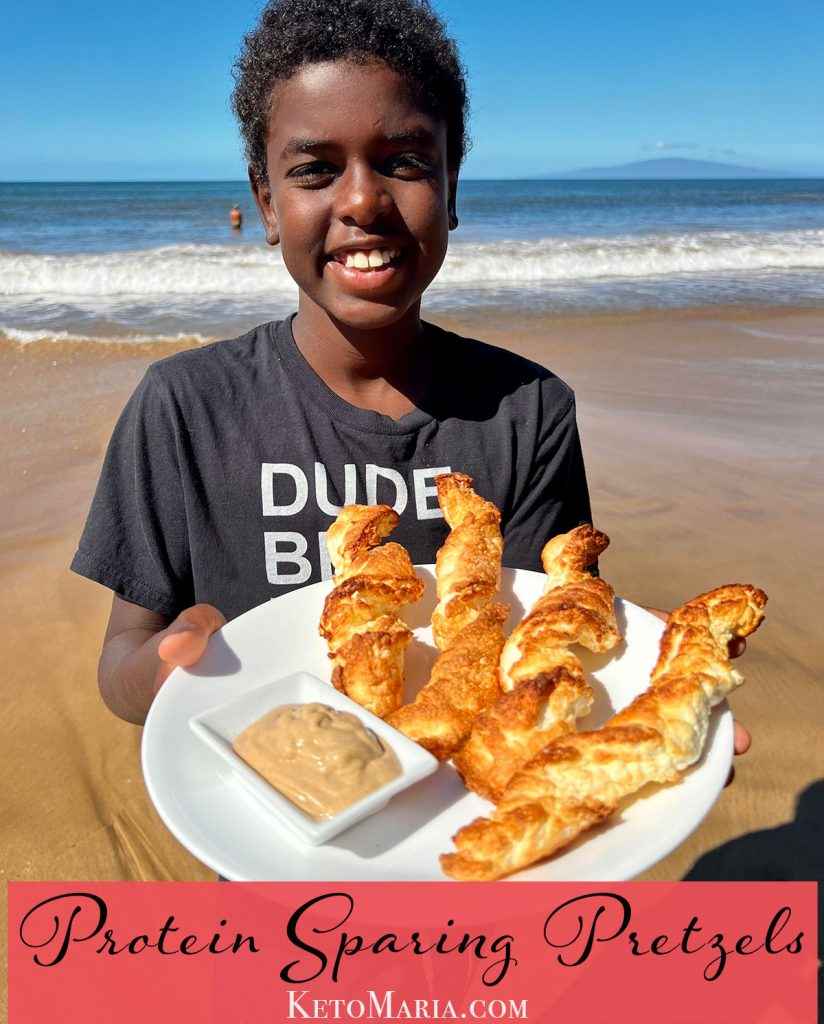 I love a tender filet mignon, but I understand that somedays you want to hit your protein macro, but you aren't feeling like meat!
Do not worry my friends! I have your taste buds in mind!
My protein sparing pretzel recipe is perfect for hitting your protein goal without adding fat!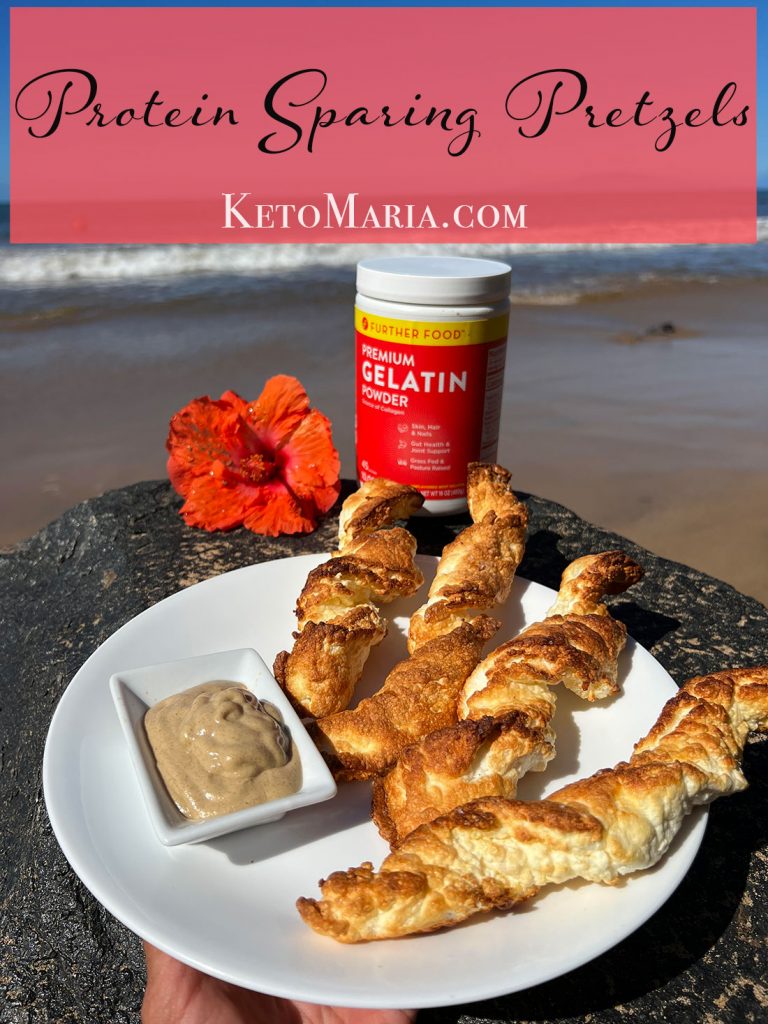 To make these delicious protein sparing fry breads, I used Further Food gelatin!
Further Food gelatin is sourced from the highest quality, grass-fed, pasture-raised, hormone-free, and antibiotic free bovine.
Adding Further Food Gelatin works perfectly for making my protein sparing pretzel extra delicious and chewy!Do not skip adding the gelatin! It adds a chewy texture just like a real pretzel!
Use code MARIAMINDBODY is for 20% off site-wide !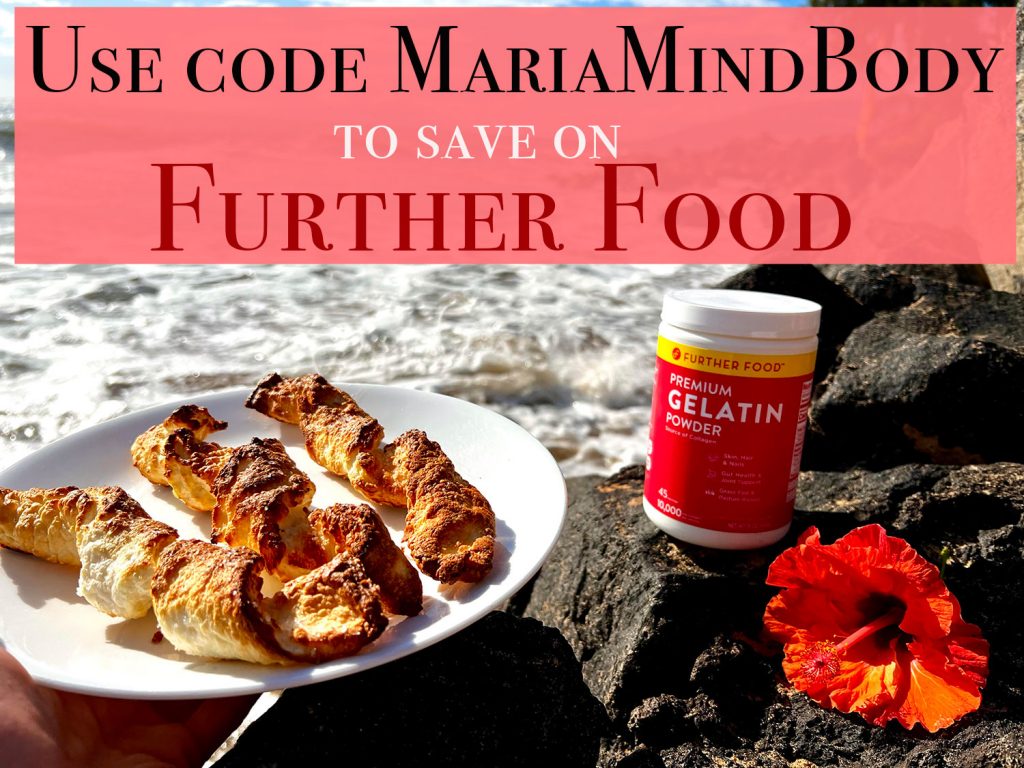 Click HERE to learn more about how to do protein sparing modified fasting properly and discover all the mistakes people make when they are not losing weight! 
Protein Sparing Pretzels
Ingredients
6

large

egg whites

3

tablespoons

allulose

2

tablespoons

Further Food gelatin

chewy texture

1/2

teaspoon

Redmond Real salt

plus coarse salt for sprinkling

1/2

teaspoon

cream of Tartar

1/3

cup

unflavored egg white protein

butter

melted (optional, for serving)

Primal Kitchen Dijon or Spicy Brown mustard

optional, for serving
Instructions
Preheat the oven to 325 degrees F. Place a piece of parchment onto a rimmed baking sheet and spray with Primal Kitchen Avocado oil spray and set aside.

Separate the eggs (save the yolks for another recipe like my keto ice cream, hollandaise, mayo or lemon curd), and place the whites into a large bowl or stand mixer. Add the allulose, gelatin, salt and cream of tartar if using and whip the whites for a few minutes until VERY stiff.

Turn the mixer to low and gently mix the egg white protein powder into the whites. Do not over mix or it will end up like styrofoam.

Spread the protein sparing pretzel mixture onto the prepared baking sheet.

Bake for 8 minutes or until just starting to cook through. Remove from the oven and use a pizza cutter to cut into 1 inch thick strips. Gently use your hands to twist each strip into a pretzel shape and place back onto the baking sheet. Repeat with remaining strips of pretzel dough.

Place back into the oven and bake for another 10-15 minutes or until dark golden brown and cooked to your liking. Remove from oven.

If desired, brush the tops of each pretzel twist with melted butter and sprinkle with coarse salt. Serve with brown mustard if desired.

Store leftovers in the fridge for up to 4 days or in the freezer for up to a month.
Nutrition
Calories:
62
|
Fat:
1
g
|
Protein:
14
g
|
Carbohydrates:
1
g
|
Fiber:
1
g
|
P:E Ratio:
14
TESTIMONY OF THE DAY
"Hi Maria and Craig, I wanted to thank you guys for your passion and dedication to my health. I began to dabble in the Emmerich way January 1st. Weighing in on that day I was 423 lbs. I started The 30 Day Ketogenic Cleanse on January 7th.  At the end of 30 days I weighed in at 385lbs so that was a 38lb loss.

The night before I moved to Dairy free PSMF I was 384.7. I started DF/PSMF on about 2/8 and this morning weighed in at 370lbs. So that is 53lbs since January 1st!

The support on keto-adapted.com is amazing. The food is amazing. The community you have built is amazing.

I love you guys. My family loves you guys. My kids (all 5 adopted) look forward to summer and getting back into travel. Thank you so much." – David
Most people I consult are doing keto totally wrong. Get fast results with the my Mind-blowing Keto School!