Protein Sparing Bread Pudding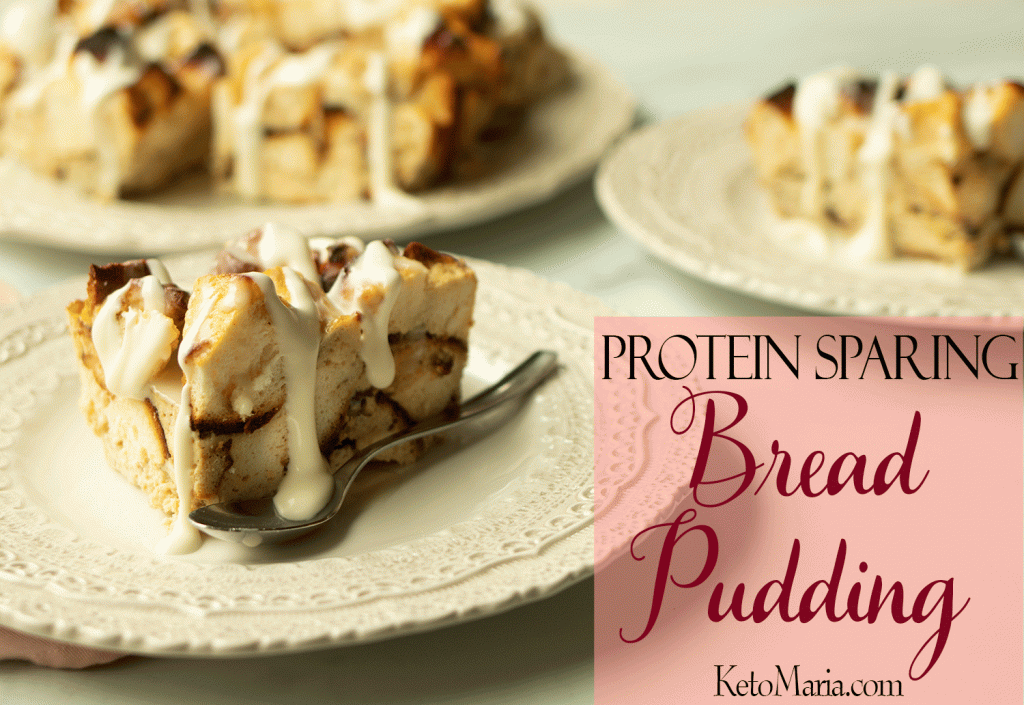 Always look on the bright side of things!
That is my motto!
There have been many times in my life that I could have gotten down in the dumps about losing our house when Craig lost his job, or when we had to sell our cars because we needed the money, or when my doctor told me I couldn't have children. BUT NO! I grabbed life by the balls and thought positive!
If you are thinking, "I hate my body and I hate this diet. I can't eat bread, pasta or rice without gaining weight!" Then guess what? You will fail!
Instead of thinking negative about things in life, THINK POSITIVE! Think about all the delicious foods you CAN have! Including a HUGE SLICE of this protein sparing bread pudding!
What a perfect Christmas morning breakfast!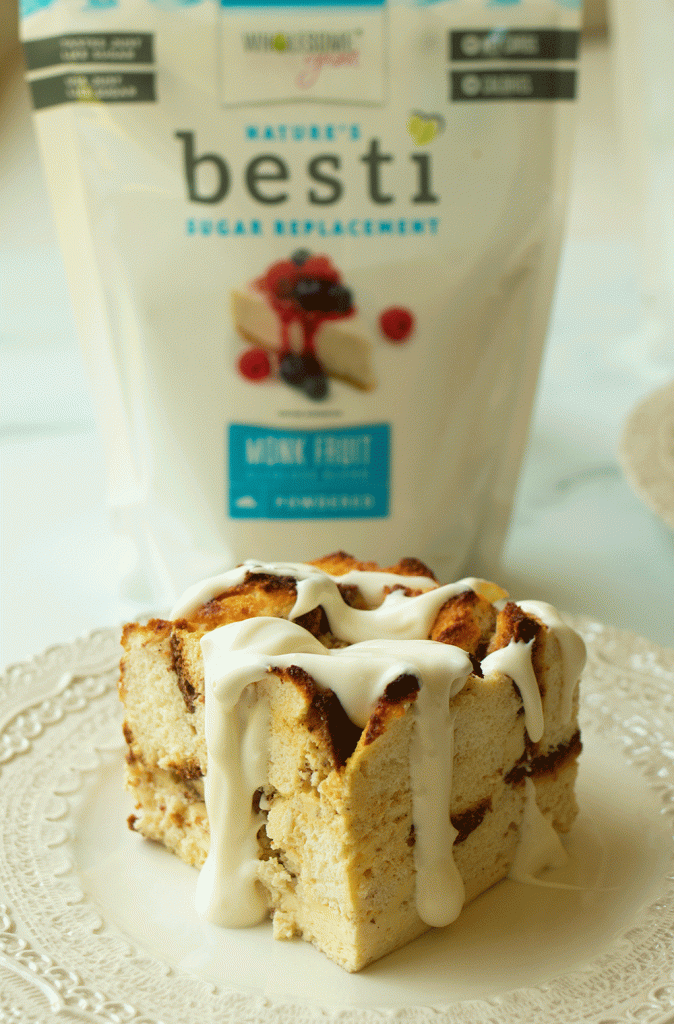 If your protein sparing bread falls and doesn't turn out like you hoped, THINK POSITIVE! If that happens to me, I make this Protein Sparing Bread Pudding with it!
This Protein Sparing Bread pudding is SO delicious and it makes great leftovers!
If you need a simple protein sparing meal, I highly suggest to make a double batch of this protein sparing bread pudding and store extras in the freezer for an easy delicious protein sparing day!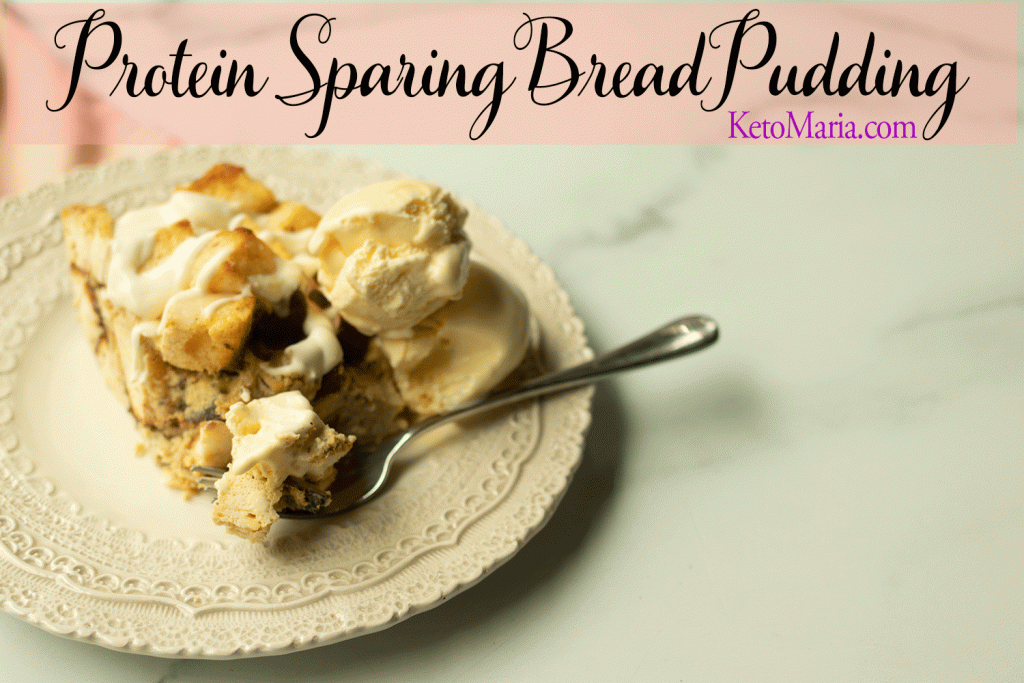 To make my delicious protein sparing bread pudding, I added used Wholesome Yum Allulose to make the protein sparing bread! 
Allulose is a natural sweetener with zero calories and has no impact on blood sugar. Many people prefer this as their keto sweetener because it tastes just like sugar!
I used my protein sparing wonder bread dough to make this protein sparing bread pudding. Adding 1/4 cup of Wholesome Yum Allulose (any of their allulose works) to my protein sparing bread recipe gives the bread a softer texture. Other sweeteners will not work. You need allulose because allulose melts and creates a caramel-like protein sparing bread.
I only use Wholesome Yum brand of allulose for many reasons!
Wholesome Yum has the best quality natural sweeteners. Wholesome Yum also doesn't use harmful additives like some brands! I also love Wholesome Yum because they are also a kind small family-owned business. You all know I love supporting small business!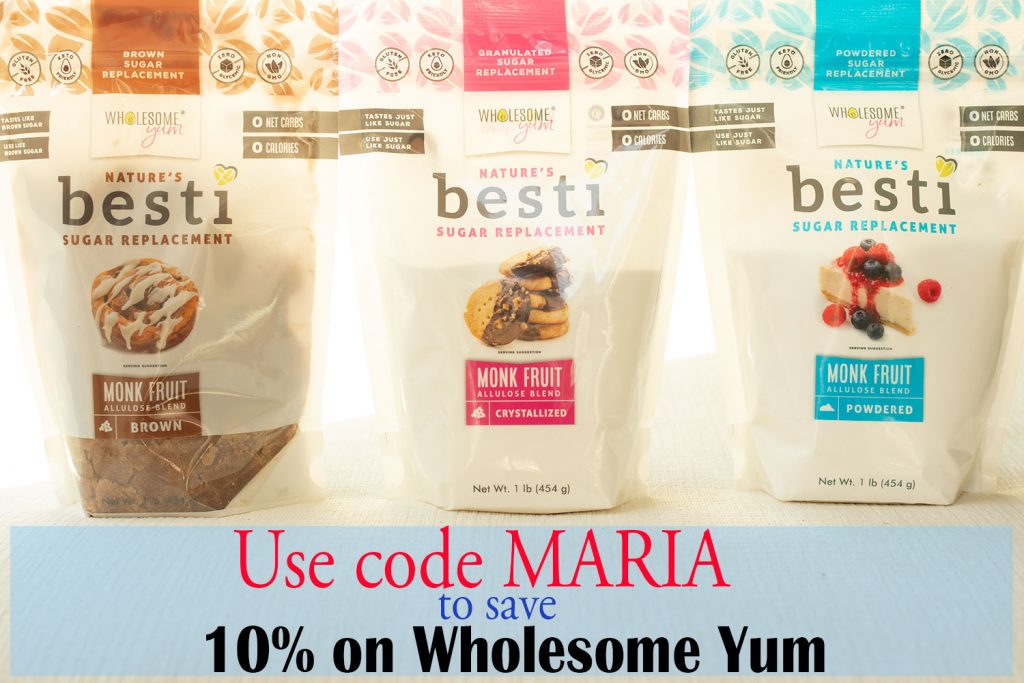 Protein Sparing Bread Pudding
Ingredients
PROTEIN SPARING BREAD:
12

large

egg whites

separated from whole eggs

¼

cup

Wholesome Yum Allulose

any type works

½

teaspoon

Redmond Real Salt

½

teaspoon

cream of tartar

to help stabilize the whites

1

cup

unflavored

or vanillaegg white protein

Primal Kitchen Avocado Oil Spray
PROTEIN SPARING BREAD PUDDING:
1 3/4

cups

unsweetened almond milk

8

large

egg whites

2/3

cup

Wholesome Yum Allulose

any type works

2

teaspoons

ground cinnamon

2

teaspoons

vanilla extract

½

teaspoon

Redmond Real salt
CREAM CHEESE GLAZE (OPTION 1):
4

ounces

cream cheese

softened (or Kite Hill spread for dairy-free)

¼

cup

unsweetened almond milk

or hemp milk if nut free

3 to 4

tablespoons

Wholesome Yum powdered allulose

1

teaspoon

vanilla extract
PROTEIN SPARING GLAZE (OPTION 2):
1

cup

Wholesome Yum powdered Allulose

3 - 4

tablespoons

unsweetened almond milk

or hemp milk if nut free

1/2

teaspoon

vanilla extract

or other extract like almond
Instructions
Preheat the oven to 325 degrees F.

Separate the eggs (save the yolks for another recipe like my keto ice cream, hollandaise, mayo or lemon curd), and place the whites into a large bowl or stand mixer. Add the allulose, salt and cream of tartar if using and whip the whites for a few minutes until VERY stiff.

Turn the mixer to low and gently mix the egg white protein powder into the whites.

Grease a bread pan with Primal Kitchen Avocado oil spray and fill with protein sparing Wonder Bread mixture.

Bake for 30 minutes or until golden brown. Turn oven off and leave bread in the oven for 15 minutes to avoid the bread from falling.

Let completely cool before cutting or the bread will fall. Cut into 1 inch cubes.

Spray a 9x13 baking dish with nonstick cooking spray. Place the cubed protein sparing bread into the prepared baking dish and spread it around into an even layer. Set aside.

In a large mixing bowl, whisk together the egg whites, natural sweetener, almond milk, vanilla, and cinnamon until fully combined. Pour the mixture evenly over the protein sparing bread in the prepared baking pan, making sure all of the bread is coated.

Meanwhile, preheat the oven to 350°F. Cover the bread pudding with tin foil and place the bread pudding in the oven and bake for 35-40 minutes or until the pudding is set. Remove foil and cook another 10 minutes or until there are crispy edges on the top.

Remove from the oven and allow to cool slightly before serving.

Make the cream cheese glaze: Stir the cream cheese with a fork until it is very loose and there are no lumps. Slowly add the almond milk and stir until smooth. Add the sweetener and vanilla and stir until smooth. Taste and adjust the sweetness to your liking. Just before serving, drizzle the glaze over the warm bread pudding.

To make the Protein sparing glaze, place the allulose in a small bowl and slowly add a tablespoon of almond milk to the bowl and extract. Stir and add more almond milk until you get a glaze with your desired consistency.

Store extras in an airtight container in the fridge for 5 days.
Notes
Nutritional Information (Protein Sparing Glaze: Option 2):
88 calories, 1g fat, 17g protein, 2g carbs, 0.2g fiber
P:E Ratio 6.1
Nutrition
Calories:
132
|
Fat:
5
g
|
Protein:
18
g
|
Carbohydrates:
2
g
|
Fiber:
0.2
g
|
P:E Ratio:
2.6
TESTIMONY OF THE DAY
"Hi Maria! I just want to say a big thank you! I can't even write this without tearing up because I'm so grateful that your have shared your knowledge and let us all on your journey with you.
Last November I was hospitalized with extremely high blood pressure that was unable to be controlled. I was 45 year old. My specialist recommended losing weight.
I went home from that appointment and found you and went to work on changing my life.
I'm happy to say I'm so close to being off all drugs to lower my blood pressure and I've never felt so in control of my own health.
Truly Thank you, one grateful follower️!" Vanessa
Most people I consult are doing keto totally wrong. Get fast results with the my NEW Keto Packages!