Protein Sparing Bread Eggs Benedict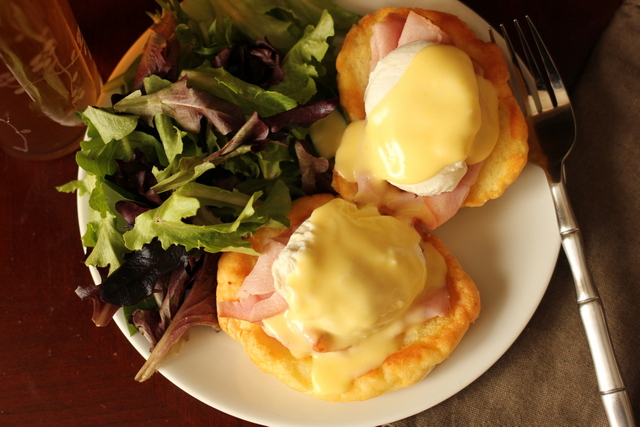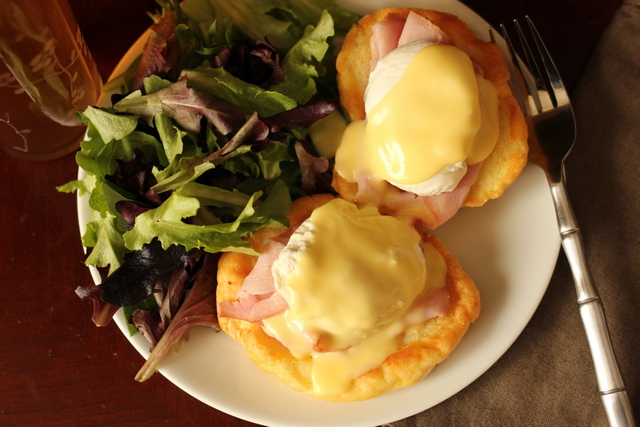 I keep my protein sparing bread and protein sparing buns in the freezer at all times to make sandwiches and to bring with me to restaurants. My protein sparing buns make a GREAT Protein Eggs Benedict!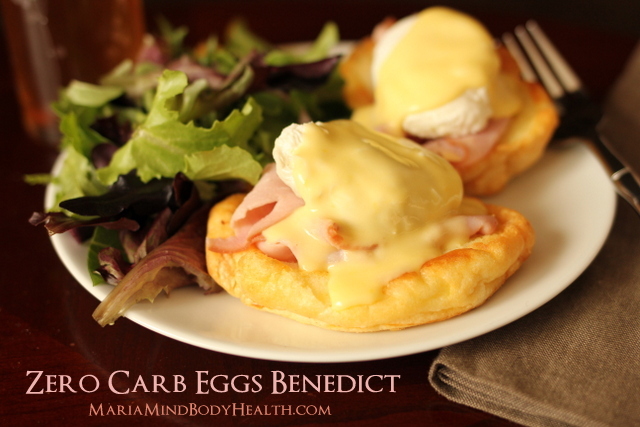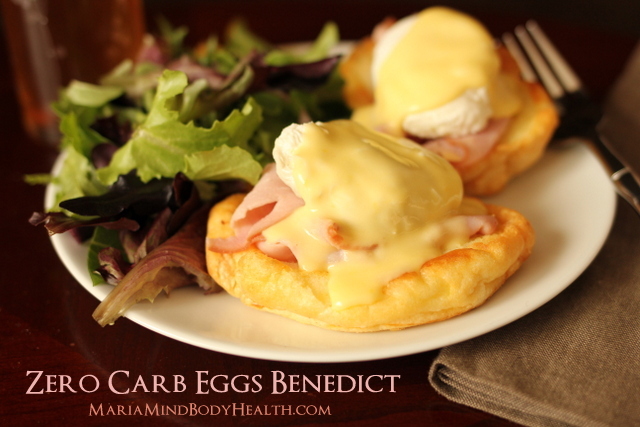 Eggs Benedict
Ingredients
PROTEIN SPARING BUN:
3

eggs

separated

1/4

cup

unflavored egg white protein

1/2

tsp

fresh dill or other herb of your choice
Alternative Bun:
HOLLANDAISE:
6

large egg yolks

1/4

cup

lemon juice

2

TBS

Dijon mustard

1 1/2

cups

melted organic unsalted butter

or melted bacon fat or duck fat if dairy sensitive

1/2

tsp

Redmond Real salt

1/8

tsp

freshly ground black pepper

EGGS BENEDICT

6

slices

ham

12

large eggs
Instructions
To make the BUNS: Preheat the oven to 325 degrees F.

Separate the eggs (save the yolks), and whip the whites for a few minutes until VERY stiff (I use a stand mixer on high for a few minutes).

Gently mix the protein powder and herbs into the whites.

Slowly fold the reserved egg yolks into the whites (making sure the whites don't fall).

Grease a cookie sheet with coconut oil spray and place mounds of "dough" about the size of a hamburger bun onto the sheet.

Bake for 15 minutes or until golden brown.

Let completely cool before cutting or the buns will fall.

Make hollandaise sauce: In the bottom of a double boiler or in a medium saucepan, bring 1 in. of water to a simmer over high heat and adjust heat to maintain simmer. Put egg yolks, lemon juice, and mustard in top of a double boiler or in a round-bottomed medium bowl and set over simmering water. Whisk yolk mixture to blend.

Whisking constantly, add butter in a slow, steady stream (it should take about 90 seconds). Cook sauce, whisking, until it reaches 140°, then adjust heat to maintain temperature (remove from simmering water if necessary). Add salt, pepper, and cayenne and continue whisking until thick, about 3 minutes. Adjust seasonings to taste. Remove from stove and set aside.

Assembly: Place 2 bun halves on each plate and top with ham.

Poach eggs: Bring 1 in. water to boil in a 12-in.-wide pan. Lower heat so that small bubbles form on the bottom of the pan and break to the surface only occasionally. Crack eggs into water 1 at a time, holding shells close to the water's surface and letting eggs slide out gently. Poach eggs, in 2 batches to keep them from crowding, 3 to 4 minutes for soft-cooked. Lift eggs out with a slotted spoon, pat dry with a paper towel, and place 1 egg on each ham covered protein bun.

Top each egg with 2 to 3 TBS reserved hollandaise sauce and serve hot.

POACHING EGGS TIP: add a few tablespoons of coconut vinegar to the simmering water you poach the eggs in. This helps hold the whites together.
Notes
NUTRITIONAL COMPARISON (per serving)
Traditional Benedict (IHOP) = 1020 calories, 57g fat, 43g protein, 80g carbs, 6g fiber
"Healthified" Benedict = 675 calories, 64.2g fat, 23g protein, 3.4g carbs, trace fiber (85% fat, 13.6% protein, 2% carbs)
TESTIMONY OF THE DAY
"Every morning when I get up I thank God for Maria and Craig Emmerich !

I will never be able to convey my thanks for showing me the way to lose weight. I tried every diet possible, I was in TOPS (Take Off Pounds Sensibly)at the age of 12, I tried WW, and a few other well known diet programs. None of them ever worked long term. I'd lose a few pounds and gain it right back.
Wish I could send you a huge bouquet of flowers Maria, but once again I will just send you my thanks and deepest gratitude!

I don't have many pictures of myself at 420+ pounds. So I have to go way back to find pictures to share.

Hit 200 pounds this morning. I have to say it feels unbelievable!" – Felicia