TESTIMONY OF THE DAY
"Maria, I have to say this has been amazing, I have taken Zantac in the morning and night for 18 years and was thinking about switching to the purple pill as the Zantac was not work any longer. My wife and I read your book and took your assessment test and I started around mid January, I am on my third week with NO antacids and NO heart burn at all! I also had 4-5 nights a week that could not sleep more than 4 hours, I'd wake up at 1am and not be able to go back to sleep. I am now sleeping 7-8 hours 6 or more nights a week! Thank you for your book. Feeling better at 59." – Garth
What are your goals for today? Diet does NOT mean deprivation! 
Click HERE to get started today!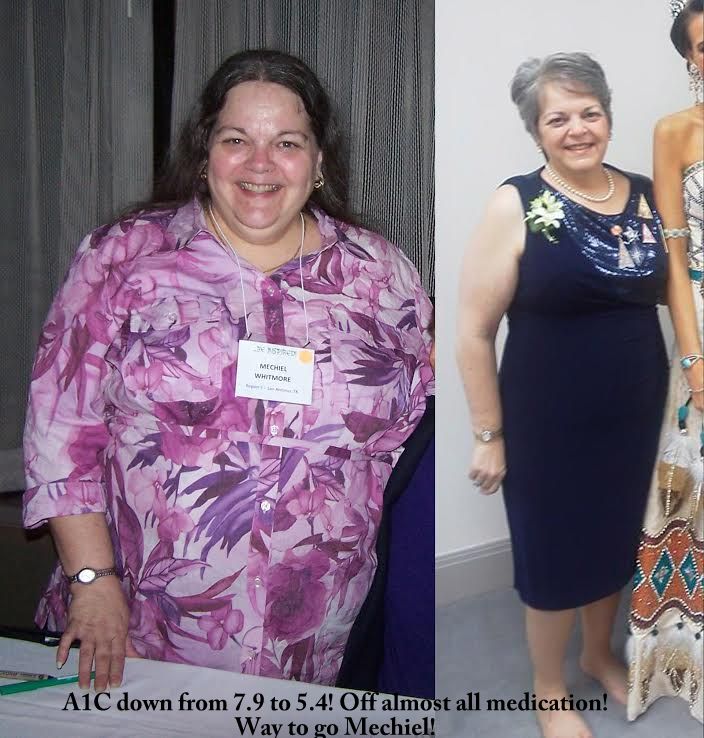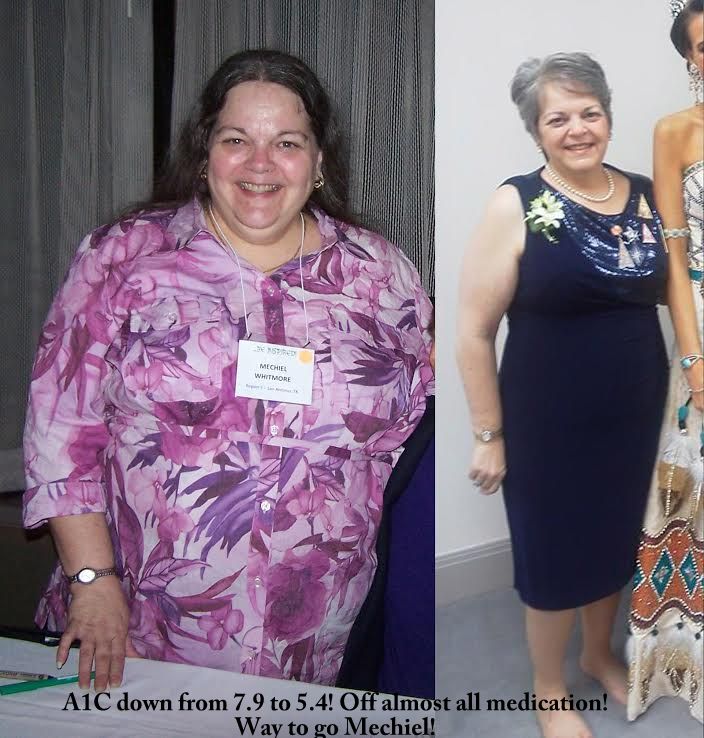 WILD RICE
Another question I am frequently asked is about wild rice. Yes, it is gluten free, but for those with a damaged gut (leaky gut) or a damaged metabolism or anyone who wants to become keto-adapted, it is way too high in carbs.It is disturbing to find that 60% of adults never completely heal from celiac disease despite following a gluten-free diet.[53] It has been found that only 8% of adult patients with celiac disease eating a gluten-free diet reached "normalization," where their intestines completely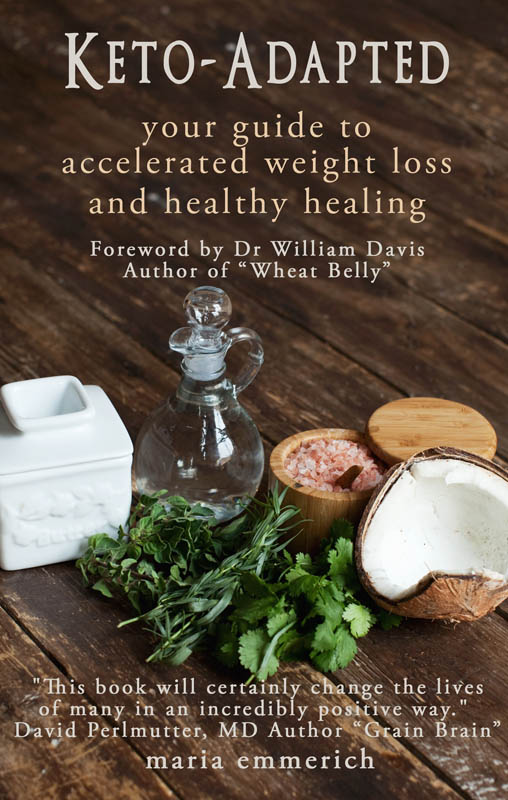 recovered.However, there is new research that may help people with celiac for good! Researcher Alessio Fasano, M.D. has been on the leading edge of recent autoimmune and celiac disease exploration. In 2011, he published a paper titled "Leaky Gut and Autoimmune Diseases" which presented a new theory that suggests prevention and reversal of autoimmune disease is possible.
Read more about healing autoimmune diseases and celiac in my new book Keto-Adapted.
We all know that sugar is bad, but we mistakenly believe complex carbohydrates are healthy and we need to eat them in abundance. BUT what if I told you that "Complex carbohydrates" and "Whole Grains" are just glucose molecules hooked together in a long chain; the digestive track breaks it down into glucose…also known as sugar. So a "complex carb" diet and a "sugary" diet are pretty much the same thing.
To watch a helpful video on how carbs become sugar, click HERE.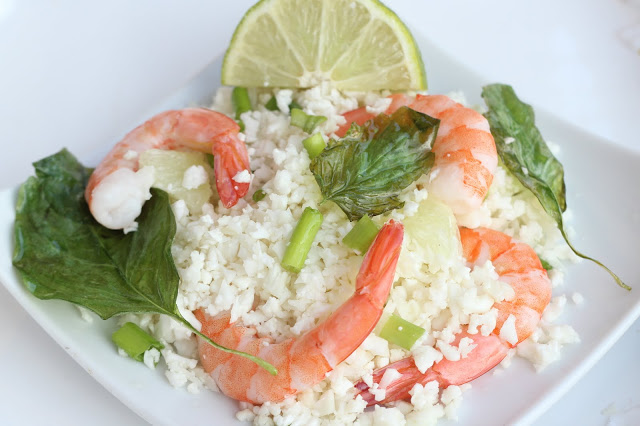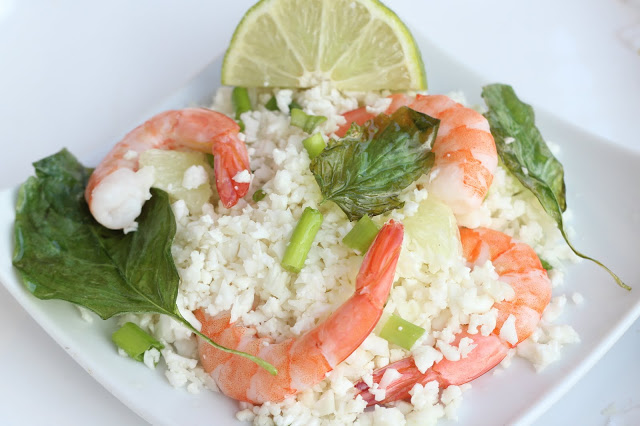 This was a tasty dinner. Lots of flavors going on here. It takes a little time to prepare, but I prepared the Cauliflower Rice the night before along with pre-frying the basil. I also had the marinated shrimp ready to go when I got home from work, so all I had to do was do a quick fry of the "rice" and a quick fry of the shrimp…all done!
SHRIMP:
16 jumbo shrimp (about 1 1/2 pounds), peeled and de-veined
1 TBS ancho chile powder
1 1/2 tsp garlic salt
1 tsp ground coriander
1 tsp dried oregano
1/2 tsp ground cumin
1/2 tsp pepper
1-2 TBS coconut oil or ghee
LEMON RICE:
1 1/2 TBS coconut oil or butter/ghee
1/2 cup finely diced onions
1 clove garlic, minced
4 cups Cauliflower converted into rice
1/4 cup chicken stock
1/4 cup fresh lemon juice
1 1/2 tsp Celtic sea salt plus more to taste
1/4 tsp freshly ground black pepper plus more to taste
1 large zucchini, trimmed, seeded, and diced, optional
FRIED BASIL:
1 cup coconut oil or ghee
1 large bunch fresh basil, leaves only, well washed and dried
Shrimp: Rinse the shrimp under cold running water. Place the chile powder, garlic salt, coriander, oregano, cumin, and pepper in a mixing bowl and whisk to mix. Add the shrimp and toss to coat. Let the shrimp marinate in the refrigerator, covered, for 30 minutes to 1 hour.Add coconut oil and preheat pan to medium-high heat. When the pan is hot a drop of water will skitter in the pan. When ready to cook, place the marinated shrimp in the hot pan. They will be done after cooking 1 to 3 minutes per side. When done the shrimp will turn pinkish white and will feel firm to the touch.
Lemon Rice: Place cauliflower flowerettes in a food processor. Pulse until small pieces of "rice." Heat the oil in a medium saucepan over medium heat.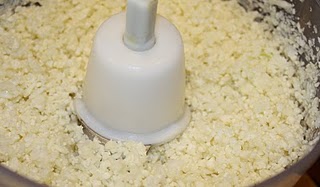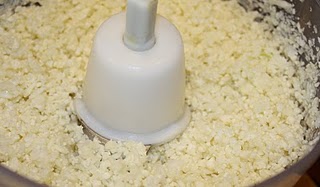 Add the onions and allow them to sweat their liquid for 4 minutes. Add the garlic and sweat for an additional 3 minutes. Stir in the "rice" and zucchini and sauté it for 3 minutes. Add the stock, lemon juice, salt, and pepper. Simmer for 10 minutes, or until the "rice" has absorbed most of the liquid.
Fried Basil: Heat the oil to 350 degrees on a candy thermometer in a large saucepan over high heat. Standing as far back from the pot as possible and wearing an oven mitt, drop the basil leaves into the hot oil. The oil may bubble and splatter. Fry for about 1 minute, or until the leaves are crisp. Using a slotted spoon, transfer the leaves to a double layer of paper towels to drain.
NUTRITIONAL COMPARISON:
White Rice = 242 calories, 53 carbs, 0 fiber
Brown Rice = 218 calories, 46 carbs, 4 fiber
Quinoa = 222 calories, 39 carbs, 5 fiber
Wild Rice = 166 calories, 35 carbs, 3 fiber
Cauliflower Rice = 28 calories, 3 carbs, 1 fiber