Mummy Hotdogs
If you haven't' noticed, I love to make cute food like my Mummy Hotdogs for my Keto kids!
One misconception is that children shouldn't eat keto. To learn more on how to do Keto Healthy for your your Kids, click HERE.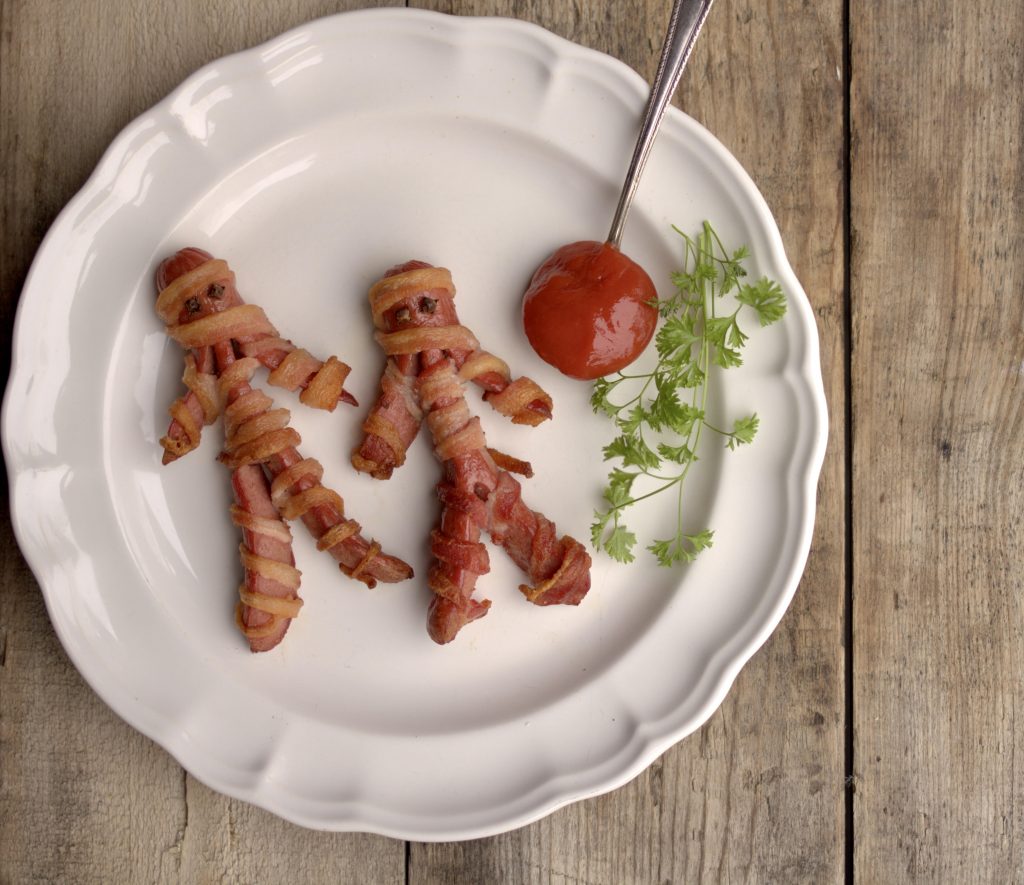 How do you celebrate Halloween without sugar?
My boys love it when I make my Mummy Hotdogs!
They take a little time to make, but why not make the holidays special and instead of making cookies, make a protein packed treat of these cute Halloween Mummy Hotdogs without sugar!
I feel that making the holidays a little special with making food with love will be in their memories forever!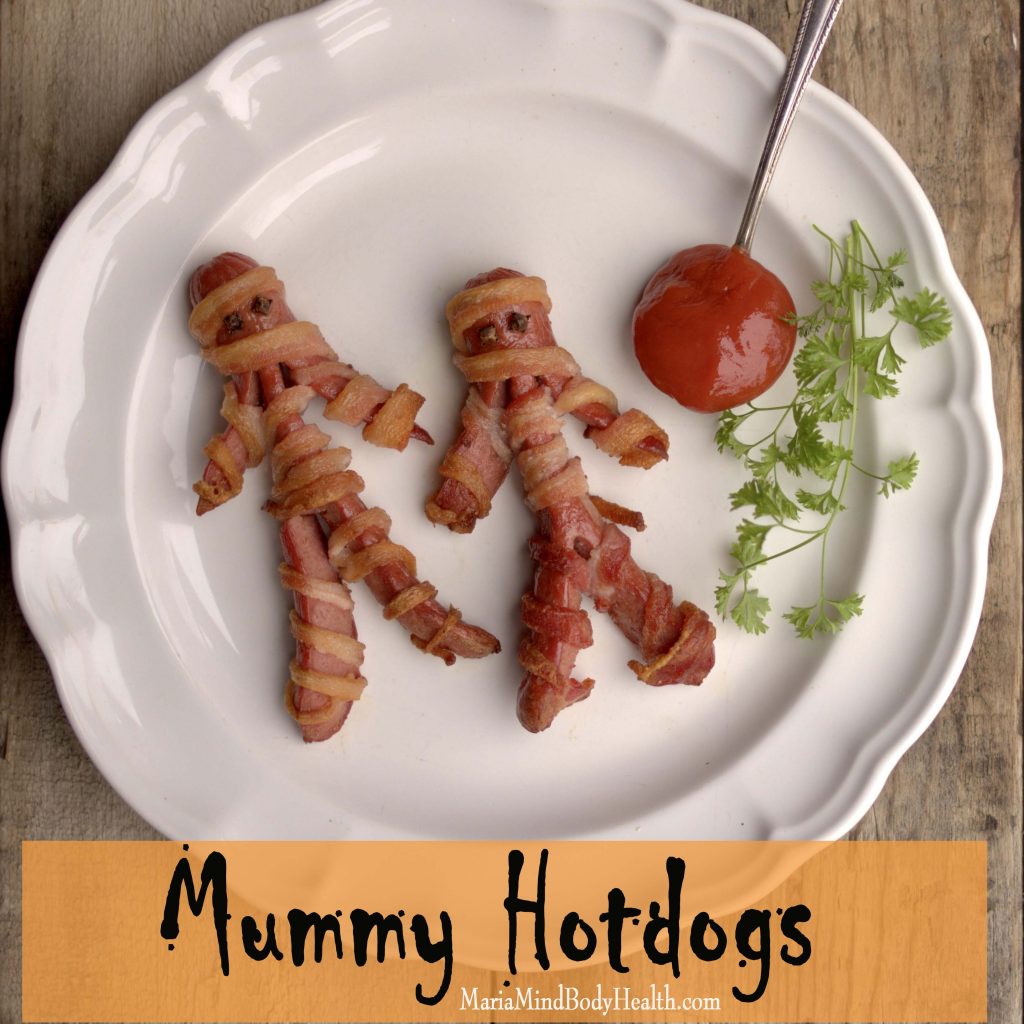 HEALTHY HOTDOGS!
It is hard to find bacon without sugar and if you do, it is really expensive! That is why I order Butcherbox hotdogs and bacon!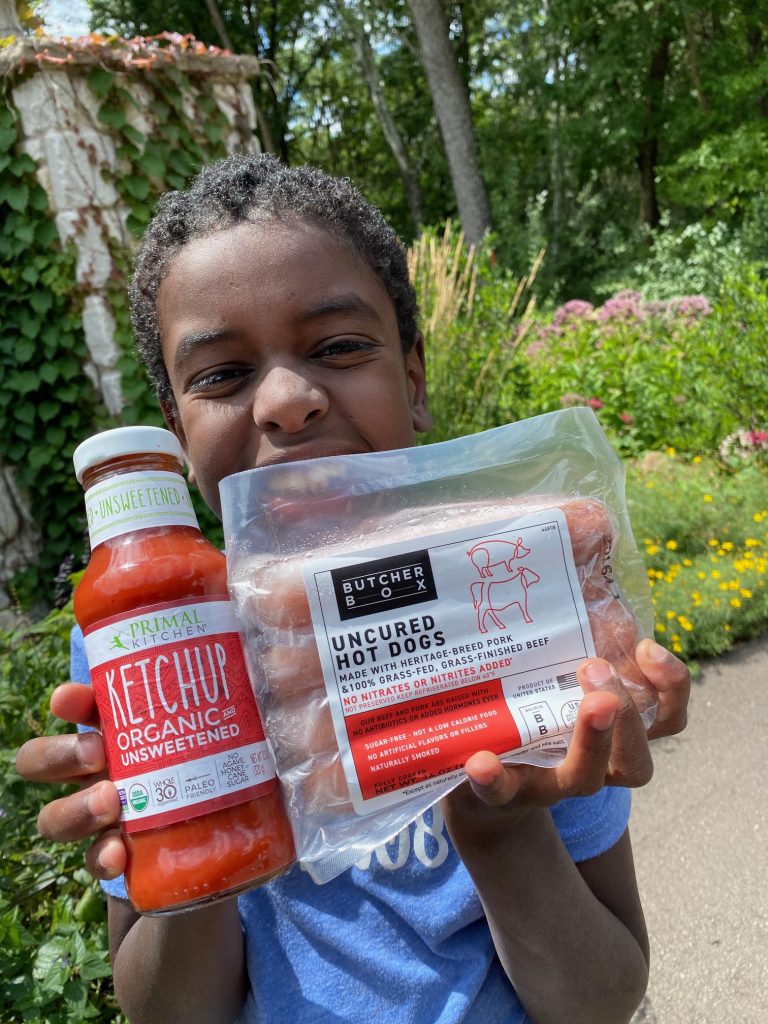 Mummy Hotdogs
Instructions
Preheat your oven to 375 degrees F.
Slice each dog on one end, 1½ inch to make the legs. About ½ way up the hotdog, slice arms.
Cut the bacon into 4 long strips lengthwise. Use the long strips to wrap the hotdogs like Mummies. Secure the ends of the bacon to the hotdogs with toothpicks.
Push the peppercorns into the face area of the mummies.
Place on a parchment-lined rimmed baking sheet. Bake in the oven for 10-15 minutes or until the bacon is cooked to your liking!
Serve with ketchup or mustard!
TESTIMONY OF THE DAY
"This is for Maria. I'm reading The 30 Day Ketogenic Cleanse Book, tears of gratitude.
You are an inspiration for me! Really, really reading it , like, I never saw all the words of health wisdom…this is my "Health Bible"… you were put in my life exactly when I thought I would not see my 68th Birthday next Monday. Thank you. I have a lump in my throat, tears in my eyes. My Keto Journey has only begun. I spent my whole life knowing in my heart there had to be a way for me to eat, without guilt, a way for me to be healthy, a way for me to feel alive, YOU, are my way … you are my light, you helped me to live.
I am OFF heart meds, diabetic meds, healed my liver, thyroid has been made smaller in size, no neck pain from it anymore, my joints are pain free. I have the energy of a 30 year old. My friends said they saw death at my door last year. I'm alive and going to live until I choose to go! There are not enough words to tell you both how valuable you are for me and all…your big Keto Family! Love you, Bless you.
Alive in Arizona because you cared enough to share yourselves with the World!" Sue S.
Most people I consult are doing keto totally wrong. Get fast results with the my NEW Keto Packages!