Maria Emmerich's Bourbon Chicken
When I was in high school, I loved going to Chinese restaurants for take out on Fridays. But I changed my lifestyle 23 years ago and I'm never looking back!
Also, when Craig lost his job, and we couldn't afford to go out to eat, I started cooking our favorite restaurant meals at home! Not only was it a great way to save money, but we both lost a lot of weight eating healthier versions at home!
Check out our favorite restaurant recipes made keto in my best-selling cookbook Keto Restaurant Favorites! Click HERE to find it on SALE!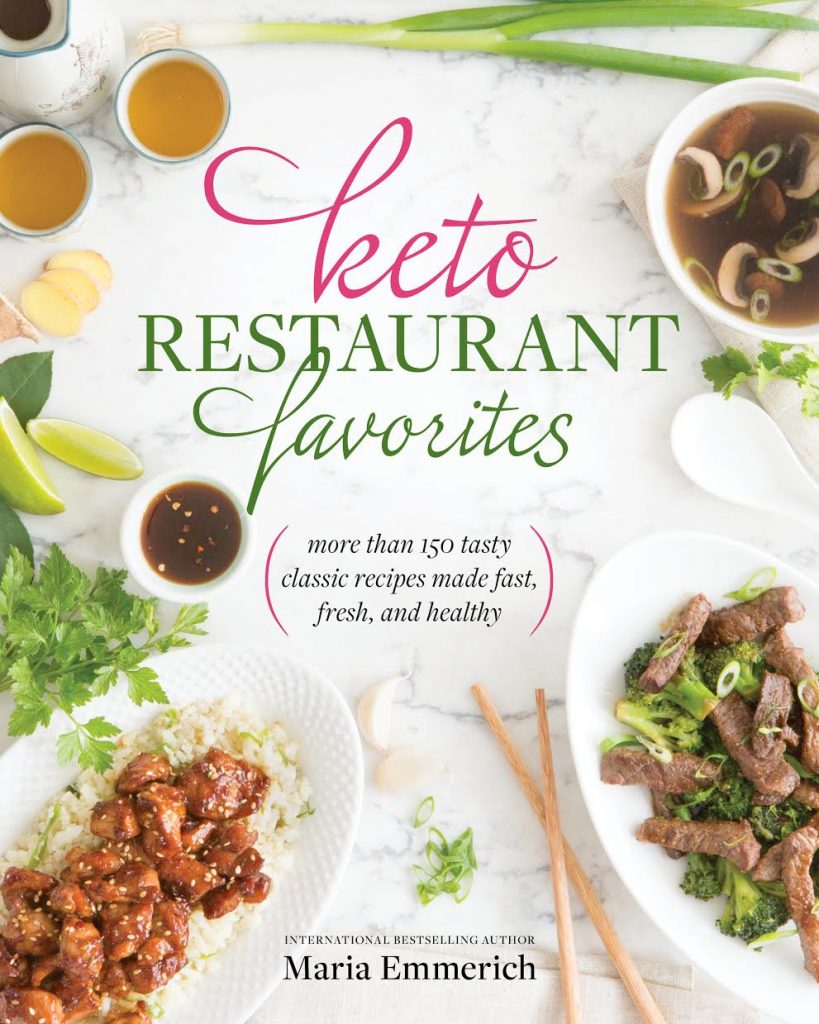 On a side note, I just found this old photo I took years ago. Why is there SUGAR in Salt???
Not all salts are created equal. The photo shows how some even have SUGAR~! Once you start using real quality salts like Redmond Real Salt, you will notice the "chemically" taste the next time you are at a restaurant that used table salt.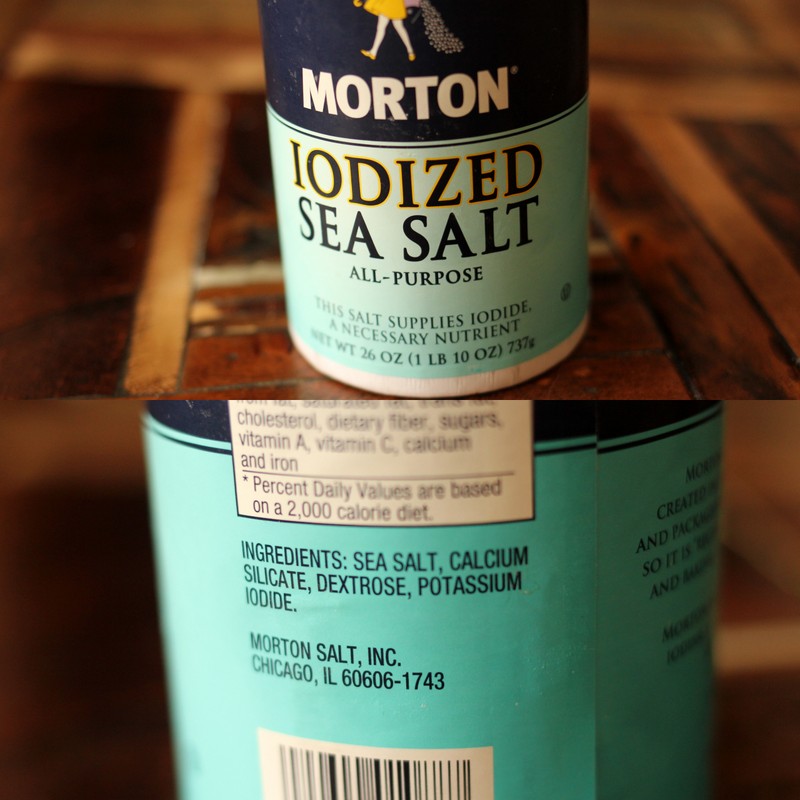 MARIA EMMERICH'S BOURBON CHICKEN
When I first heard of bourbon chicken, I assumed it was because it was made with bourbon, but it has nothing to do with alcohol. The name comes from the Chinese cook who created it and worked in a restaurant on Bourbon Street in New Orleans.
I had the great opportunity to film this Bourbon Chicken video in New Orleans in the Swerve Kitchen! Afterwards I hung out on Bourbon Street! Does anyone else love New Orleans? I don't even drink and I'm in bed by 8pm but MAN, I love that city!
Check out my video to see how easy it is to make my Bourbon Chicken!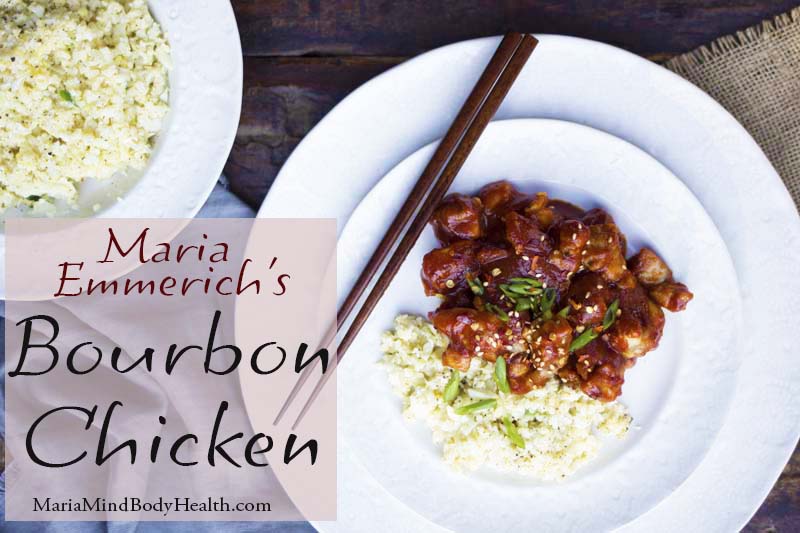 Maria Emmerich's Bourbon Chicken
Ingredients
2 tablespoons coconut oil
½ teaspoon Redmond Real salt
¼ cup tomato sauce
¹⁄3 cup coconut aminos or wheat-free tamari
1 tablespoon coconut vinegar or apple cider vinegar
¾ teaspoon crushed red pepper flakes
¼ teaspoon grated fresh ginger (or more if you are like me and LOVE fresh ginger)
1 clove garlic, smashed to a paste
Scallions, sliced on the diagonal, for garnish
Sesame seeds, for garnish
OPTIONAL SERVING
1 batch Zero-Carb Fried Rice or Fried Cauliflower Rice, for serving (optional)
Instructions
Heat the oil in a large wok or cast-iron skillet over medium-high heat. Pat the chicken dry with a paper towel. Season well on all sides with the salt.
Place the chicken in the wok and stir-fry on all sides until light golden brown, about 4 minutes. Remove the chicken from the wok and set aside. Add the broth, sweetener, tomato sauce, coconut aminos, vinegar, red pepper flakes, ginger, and garlic to the wok and whisk to combine. Simmer until reduced and thickened, about 10 minutes.
Return the chicken to the wok and simmer for 5 to 10 minutes, until the sauce is thickened and the chicken is warmed through. Garnish with scallions and sesame seeds and serve over fried rice, if desired.
Store in an airtight container in the refrigerator for up to 4 days. To reheat, place in a lightly greased skillet over medium heat for 5 minutes, stirring occasionally, or until heated through.
Notes
Nutritional Information:
495 calories, 32g fat, 44g protein, 8g carbs, 3g fiber
TESTIMONY OF THE DAY
"I started to gain weight after high school. I got married and had 2 boys. After my second child I was finally diagnosed with Hashimoto's thyroiditis. I tried and tried to lose weight. I always blamed it on my thyroid. At 270 pounds I had gastric bypass 16 years ago. 10 years ago I was the first person after having gastric bypass to be able to donate part of my liver to my then 12 year old niece. The trauma from the donation took its toll on my body and I ended up getting fibromyalgia. I slowly started to pack on my weight again. I had gained 50 pounds back from before the donation.     
January 1st 2017 I decided to go keto. The first year I did it all wrong! I lost weight but very slow. I started being honest with myself about being a food addict. I do not "cheat" on this lifestyle. I can NOT just have one small slice of cake at a party. If I do I know that all my cravings for sugar will start all over again. I was feeling very overwhelmed because I knew that keto was a great lifestyle but my weight loss totally stalled and I didn't know what to do.  I also found out that I'm post Menopausal. So I have Hashimoto's, fibromyalgia and I'm post menopausal! I felt like I was doomed!! 
 Then I heard about Maria Emmerich! Wow everything changed!
 I read your keto book (Keto: The Complete Guide to Success on the Ketogenic Diet). I started all the supplements for hypothyroidism. I stopped all the extra fat that I was adding into my diet. I weight melted off and I feel great!! I'm smaller than I've ever been. I didn't know that I could be less than 120 pounds. I never even let myself dream of being this small. I'm never going back!
My husband started your keto just a couple of months ago and he has now lost 30 pounds and feeling great! Thank you Maria for all your knowledge. I'm forever grateful!" Melissa Goleno
Most people I consult are doing keto totally wrong. Get fast results with the my NEW Keto Packages!