Low Carb Spanakopita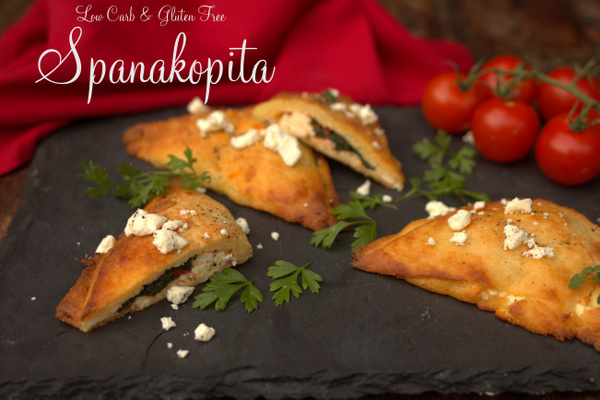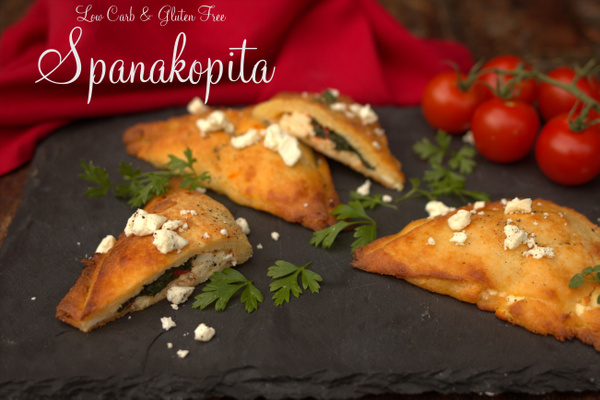 Spanakopita is a traditional Greek hand pie traditionally filled with spinach, feta, garlic, onions, scallions and in some cases marinated red peppers. I have always been a fan of those strong Greek flavors and thought I should create a low carb Spanakopita.
I thought that the fat head dough would work perfect for a low carb Spanakopita and it did!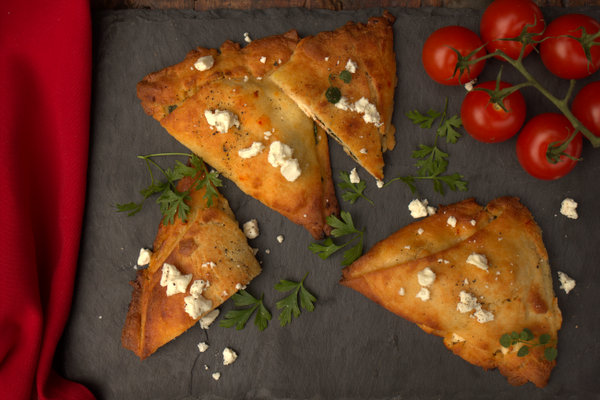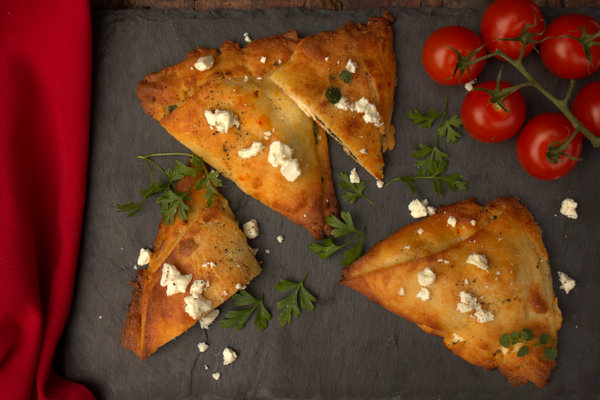 Low Carb Spanakopita
Ingredients
Dough:

1 3/4

cup

shredded mozzarella cheese

2

tablespoons

cream cheese

3/4

cup

almond flour

1

egg

1/8

teaspoon

Redmond Real salt

Filling:

1

tablespoon

butter

4

cups

fresh spinach

2

tablespoons

marinated red pepper

I used jarred red peppers

1/2

teaspoon

minced garlic

or 1/2 clove garlic minced

1

tablespoon

minced scallions or onions

1/2

teaspoon

Redmond Real salt

2

ounces

crumbled feta cheese
Instructions
Preheat oven to 400 degrees F.

To make the dough, place the mozzarella and the cream cheese in a heat safe bowl and microwave for 1-2 minutes or until the cheese is entirely melted. Stir well.

Add the almond flour, egg and salt and using a hand mixer, combine well.

Place a greased piece of parchment paper on a pizza stone (or cookie sheet, but a pizza stone will bake the bottom better). Put the dough on the greased piece of parchment paper and pat out with your hands or rolling pin to make 4 squares about 4 1/2 inches by 4 1/2 inches.

Make the filling by placing the butter in a skillet on medium heat. Add the spinach, garlic, red peppers, scallions and salt in a saute pan. Saute for 2 minutes or until spinach is wilted. Place this mixture down the middle of each square. Top with feta cheese. Fold the square in 1/2 to make a triangle. This dough is forgiving, so if you see a hole, just press together with your fingers.

Place the stone with the spanakopita into the oven to bake for 10 minutes or until the dough is golden brown and dough is fully cooked. Remove from oven and allow to cool.

Once cool, drizzle with Primal Kitchen Greek dressing and garnish with herbs.
Notes
Nutritional Information:
260 calories, 21.5g fat, 9.7g protein, 7.2g carbs, 3g fiber
74% fat, 15% protein, 11% carbs
TESTIMONY OF THE DAY
Hi Maria!
I meant to email you earlier in the week to check in.  I'd call our 30 day experiment a success!
I plan on keeping many parts of the program as part of my daily habits…the supplements, green tea, six hour eating window, 8 hours of sleep each night, and delicious recipes!  I've decided to keep omitting caffeine, nuts and dairy.  I don't feel I need them on a regular basis.Your recipes are brilliant- I do love to cook and I found your recipes yield amazing results for relatively little effort and cost.  They were a hit with the entire family.  The fish tacos seem to make the rotation each week- such a treat!  
My energy levels have surprised me!  I've stopped procrastinating and have accomplished so many things on my "to-do" list…I've even started working in the yard a couple hours each day.  If you knew me, you'd fall over!  I have no green thumb and live in Houston (sauna/rain forest conditions!) and have never wanted to work in my yard- ever.  Who knew?  Happy, steady mood and no h-anger!
I followed a Keto diet on my own for two months and only dropped three pounds.  Over the last four weeks I dropped 11 pounds following your nutritional plan.
Thank you very much for everything you do to improve the health and lives of complete strangers.  I appreciate you and your work so much. If you and your sweet family are ever in Houston, stop by for a visit…xo Angèle
Start today on your path to healthy healing! Click HERE to get started!