Have you ever gone to look for a recipe on a website or blog and have been bombarded with too many advertisements and pop-ups? I have. It seems as though every website now is plastered with more advertising than helpful information.
I get asked all the time to have advertisements on my website and I get offered thousands of dollars a month for it, but you know what? I tried it for a few days and I was horrified to see "healthy" chips and things that I would never recommend for people to eat. I found it so intrusive and it covered up the message I want you to leave my website with.
I ADORE that I now can fast forward commercials on the tv shows I record because right before bed I swear they always show foods like pizza and even though I wasn't hungry, I wanted pizza after I saw it. I don't want you to see temping junk food on my website. I want my website to be a safe place to be educated and encouraged on your ketogenic lifestyle. Not tempted by junk.
Also, I only list things I approve of. I don't support things like the monthly delivery boxes, etc since they often have junk ingredients, flax, etc.
Why am I expressing this? Instead of doing advertisements, Craig and I researched and found healthy foods and products to keep you in ketosis and heal your body from the inside out. Every company we endorse (such as ButcherBox, RealGood Pizza, BeautyCounter) are companies that really care about your health and not only that, they are super kind business owners that we love to support!
Some of the ways you can help support my blog without me having advertisements are ordering my favorite keto products! Click here to get exclusive coupon codes!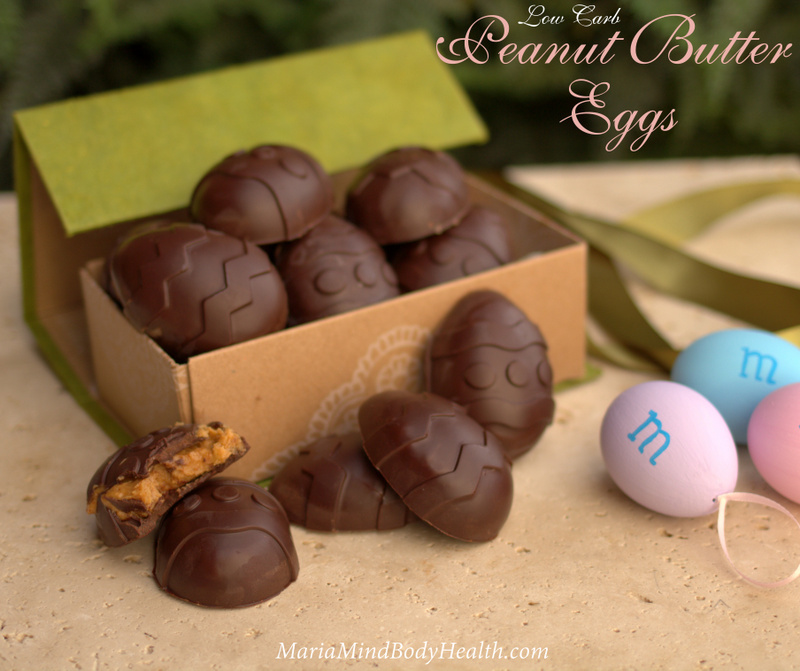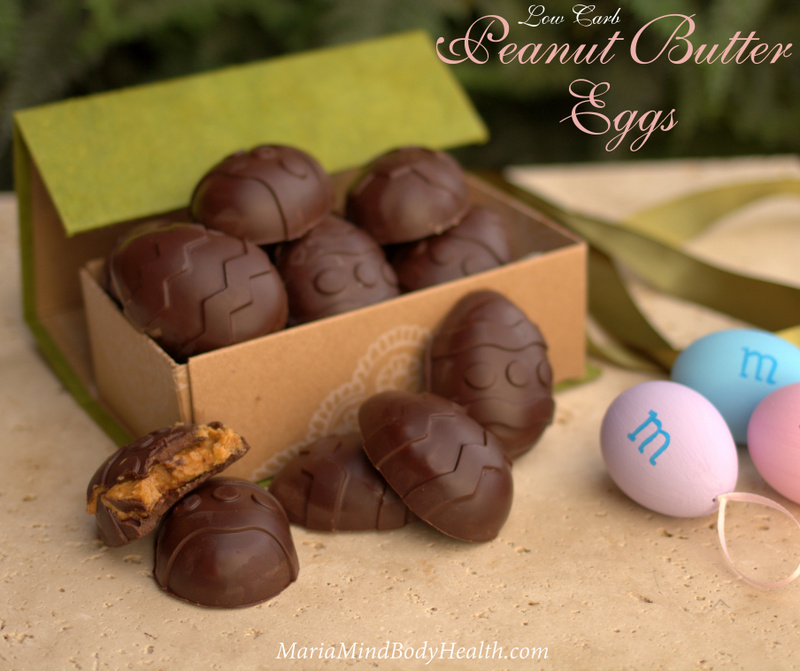 Chocolate and Peanut butter! What's not to love?
Reece's Peanut Butter Eggs were one of my weaknesses in my past life. But now with understanding on what certain chemicals do to our cells and brain, I have no problem walking by them in the grocery store. Instead, I enjoy every bite of my homemade eggs without any guilt.
Oh, AND always make sure you use NATURAL peanut butter…Jiff has trans-fats!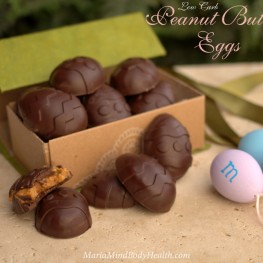 Low Carb Peanut Butter Cups
Equipment
Ingredients
8

ounces

cream cheese

or Kite Hill dairy free cream cheese, softened

1/2

cup

salted butter

softened or coconut oil

18

ounces

natural peanut butter

(or almond butter)

1

tsp

vanilla extract

1

cup

Natural Sweetener

1

teaspoon

stevia glycerite
CHOCOLATE COATING:
4

tablespoons

salted butter

or coconut oil

2

ounce

unsweetened baking chocolate

5

tablespoons

heavy cream

or coconut milk

1/2

cup

Natural Sweetener

2

teaspoons

stevia glycerite
NOTE: OR melt a The Good Chocolate Bar for an easy chocolate coating
Instructions
Using a coffee grinder, grind the sweetener until a fine powder to resemble powdered sugar. In a large mixing bowl, beat cream cheese, butter, peanut butter and vanilla until smooth. Beat in sweetener. Form rounded tablespoonfuls into egg shapes. Place on waxed paper-lined baking sheets. Chill for 30 minutes.

To make the chocolate coating, Place the butter and chopped chocolate in a double boiler (or in a heat safe dish over a pot of boiling water). Stir well until just melted (don't burn the chocolate!), add in the cream, and sweetener. Stir until smooth and thick. Dip eggs until coated; place on waxed paper to harden. For more decorative eggs, place about 1/4 cup melted chocolate in a small plastic bag. Cut a hole in the corner of the bag; pipe chocolate over tops of eggs. Store in the refrigerator. Makes 30 eggs.
Nutrition
Calories:
178
|
Fat:
15.4
g
|
Protein:
6.1
g
|
Carbohydrates:
3.7
g
|
Fiber:
1.2
g
|
P:E Ratio:
0.3
What's your favorite "healthified" candy? I have many tasty treats in my cookbook The Art of Healthy Eating SWEETS, which is on SALE over 50% off today!!!! Click HERE to get the sale.
Thank you SO much for your love and support!

TESTIMONY OF THE DAY
I love making friends on Facebook and Instagram! I was friends with the mother of this family for a long time and then they drove all the way from Illinois to Madison Wisconsin at my book signing at the Good Food Low Carb Cafe! Don't they look amazing??? I love it when families get healthier together and do the keto diet as a lifestyle!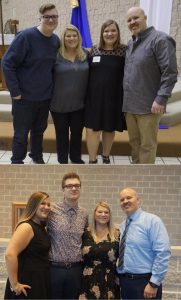 "Hi Maria! This is what happens when you lose your rolls & then put them back on again 🤣
I used to have to lay flat on my back on my bed to button my size 22 jeans.
Now I'm down to a size 14❣ Thanks Maria Wojcik Emmerich.
"
Most people I consult are doing keto totally wrong. Get fast results with the my NEW Keto School!