KETO FUDGE
 
Note: The more cocoa you add, the darker your chocolate will be. I've always been a "milk chocolate" girl!
A Skype client from Australia just mentioned to me that she added English Toffee stevia to this recipe! Great idea Adri! Click HERE to find the flavored stevia. 
FOR NUTRITIONAL BENEFIT add 2 tablespoons Unflavored Collagen! Click HERE to order the collagen I love that has 0 carbs! Use coupon code: MARIAMINDBODY for 5% off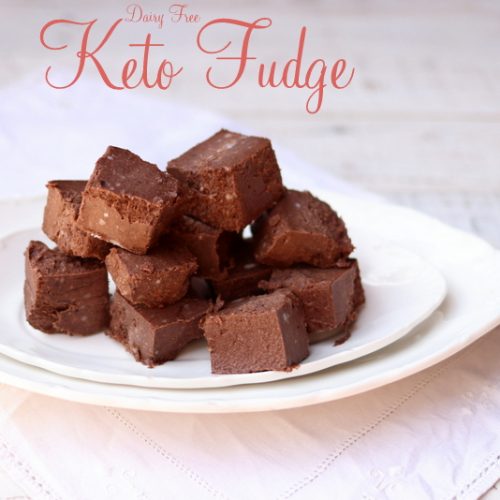 Keto Fudge
Helpful Tip: Click on the ingredients to find them on sale online. I rarely go to the grocery store. It saves me a lot of time and decreases temptations!
Instructions
Place the coconut oil and coconut milk a medium sized bowl and mix with a hand mixer on high for 6 minutes or until well combined and glossy. TIP: I used my stand mixer.

Place the remaining ingredients in the bowl and stir on low speed until the cocoa is combined (so it doesn't poof all over your kitchen). Increase speed and mix until everything is well combined. Taste the fudge and adjust to desired sweetness.

Place a sheet of parchment or wax paper along the inside of a loaf pan. Spoon the fudge into the pan.

Place the loaf pan in the freezer for at least 15 minutes, until just set.

Use the edges of the parchment to pull the fudge out of the pan.

Place on a cutting board and remove the parchment paper.

Use a sharp knife to cut the fudge into squares.

Store in an airtight container in the freezer; it will liquefy if you leave it in a warm area.
Nutrition
Calories:
172
|
Fat:
19.6
g
|
Protein:
0.4
g
|
Carbohydrates:
1.3
g
|
Fiber:
0.6
g
|
P:E Ratio:
0
Fertility Testimony 
Dealing with a difficult pregnancy? Check out this awesome testimony from a pregnant client who was stuck on bed rest: "Hi, Maria, I actually went to the doc yesterday for a checkup and you won't believe it. My cervix is back to normal! Thanks be to God! I'm still on bed rest, but I wouldn't do any differently now anyway. This is obviously working for me. Thanks again for your suggestions. I bought the prenatal vitamin you suggested and really like it so far. God bless, Dianne"
Plan Plan Plan is the key to success
Recipes like this can be found in my cookbook…Yes, I even have a fudge recipe in The Art of Healthy Eating Slow Cooker! One trick that works for our family is that Craig helps clean up after dinner, while I prepare dinner for the next night. I often fill my slow cookers with a main dish, side dish and dessert (yes, I have 3 beloved slow cookers). Then in the morning, all I have to do is take the slow cooker shell out of the fridge and turn them on. That takes so much stress and anxiety out of my day!
To get over 300 slow cooker recipes, check out The Art of Healthy Eating: Slow Cooker, click HERE to order. 
Happy Eating! Thank you all for your love and support!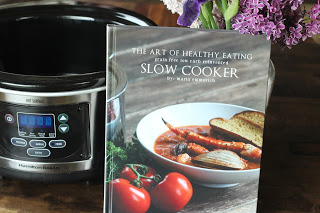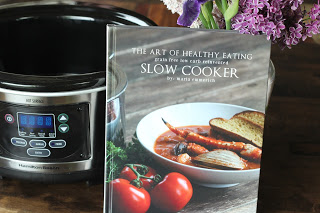 •       Tropical Traditions Home Page: http://www.tropicaltraditions.com
Disclaimer: Tropical Traditions provided me with a free sample of this product to review, and I was under no obligation to review it if I so chose. Nor was I under any obligation to write a positive review or sponsor a product giveaway in return for the free product. If you order by clicking on any of my links and have never ordered from Tropical Traditions in the past, you will receive a free book on Virgin Coconut Oil, and I will receive a discount coupon for referring you.
Testimony of the Day
"Maria helped me lose 75 pounds in just over a year. The Maria way cleared up many health issues I had been struggling with, some my whole life. Losing the weight and getting into the best health of my life also helped me and my husband get pregnant after 7 years of trying and two miscarriages. We are due with our little girl in February. Thank you Maria Emmerich for changing my life." Leah
Click here to get started on your path to health!
FERTILITY 
Many clients come to me with fertility issues and want help getting pregnant. When women are eating a low fat diet, this causes their hormones to not produce enough progesterone. Estrogen, progesterone, cortisol, DHEA, and testosterone are made from cholesterol; if we don't eat enough, our bodies take cholesterol from our endocrine system to use for brain function and repair. When that happens, it's almost impossible for our bodies to maintain hormonal balance. When following a low-fat diet, what are women eating? Carbs! I was guilty of this and dealt with estrogen dominance at a young age. But I now have found balance with my hormones. But since both Craig and I have a passion for adoption and have seen the millions of children who need homes in the orphanages, we feel that we are destined to adopt.
Carbohydrates are metabolized into sugars which cause weight gain and insulin resistance which in turn disturbs normal ovulation because it converts healthy estrogen into androgens (testosterone). This is a classic sign of PCOS that I see quite often. Starch, sugar and caffeine increase androgen production and women often complain about dark hairs on their face and inability to lose weight. Saturated fats and cholesterol make healthy hormones, including thyroid hormones, which also help with fertility. We cannot have proper hormonal balance and conceive a child without adequate amounts of saturated fats.
I often start my clients out with eating a "fat bomb" three times a day. A fat bomb is basically a tasty treat made with coconut oil, cocoa powder and stevia (basically this keto-fudge recipe). But if that is too rich for you, I also suggest stir frying with coconut oil, using it in spreads like my "nut butters" and I always use it in my baked goods. Coconut oil is high in Lauric Acid (LA). LA is found in two sources: coconut and breast milk! It has been proven that breast feeding women who eat coconut products have higher levels of LA in their milk. This is important because  it boosts the immune system. Other awesome properties of LA is that it increases the baby's brain and bone development. Our bodies can store LA so start consuming coconut early on in pregnancy helps with milk production.
Cholesterol so important during fertility and pregnancy, it is the foundation of normal cell function and it helps us digest fat-soluble vitamins like A, D, E and K which are essential in formation of healthy fetuses. Full fat dairy is also filled with healthy cholesterol, but I do find some clients to be dairy sensitive and for those clients we need to use other sources of saturated fats such as the coconut oil and quality animal fats, seafood and egg yolks.
HEALTH TIP: I do not recommend losing weight while pregnant or breastfeeding. You store toxins in your fat cells. When eat a keto-adapted diet, you lose weight by burning body fat rather than lean mass, like you do with low-fat diets. For example, if you are losing 1 pound of body fat every four days, that is 3500 calories worth of toxins in your blood. Your blood stream becomes very high in toxins because they are getting released from your fat cells. Passing them to your fetus or baby is undesired.
Another Fertility Testimony 
Hi Maria! So, I came to you just what, 8 weeks ago?  I asked for help with 2 matters.  Weight loss and infertility. I know from my measurements that weight loss is occurring and we found out this week that I am expecting!!  How's that for fantastic news?!  In just 2 monthly cycles, my body was able to do what it hasn't been able to do in 3 years ( I started your eating plan on day 1 of the first cycle).