Ice Cream Cake
TESTIMONY OF THE DAY
Photo Testimony: "Maria, I have struggled with weight loss my entire life since I was six years old and my doctor put me on my first low fat and low calorie diet.  I would lose 5 pounds here and there but remained heavy and as a kid it is hard to stay on a restrictive diet because the first time you are allowed anything sweet you eat all that you can because you have been deprived of it for so long.  Time passed and when I was in 7th grade my mom decided to try out the Atkins diet that helped me to succeed in my weight loss taking off 60 pounds in about 15 months.   I had never felt better and really kept it off until I got my first job at a fast food restaurant when I was seventeen.  The weight started coming back after a few too many fries and I was eating fast food nearly everyday at work and gaining despite living an active lifestyle.  The years passed and I steadily gained at 145 pounds and 5'2 my doctor had suggested I start trying to lose weight as my blood sugar was very unbalanced and my blood pressure was abnormally high for a 20 year old.  I was starting to have the problems of a 50 year old at the age of 20. 
When I was 23 I found out my husband and I were pregnant and I stopped all dieting and ate whatever, whenever and a lot of it.  I had a nightmare of a pregnancy being put on bed rest for high blood pressure at 4 months along.  At the time of delivery I was 207 pounds.  I was so unhealthy and completely miserable fighting off cravings was nearly impossible and my weight had gotten out of control.  After the baby and things started to settle I once again reached towards a low carb lifestyle.  It was harder this time after consuming so much junk food for years and then go back to low carb eating.  At that time I didn't realize there were low carb desserts and had never heard of my beloved almond flour.  Even though I was low carbing during the week, I would allow myself junk food on the weekend needless to say my progress was very slow and disappointing and I fell off the low carb wagon.   
In November 2011 after bad blood work revealing I was prediabetic and my blood pressure was once again going up I decided I really had to make a change in my life.  I decided that this time I was going to take a different approach to low carb and really seek out recipes so that I wouldn't feel deprived. Pinterest had just started up at the time so I pinned low carb desserts by a blogger named Maria Emmerich who single handedly changed everything I ever thought about nutrition, dieting, and living a healthy lifestyle.  I began buying the ingredients she suggested and making her recipes which left me feeling amazing and satisfied.
One month in and I was down 15 pounds! I couldn't believe it, I was eating all these great foods and losing, I never hit a plateau and even started incorporating exercise into my life.  When I first started living the Maria Way I was 170 pounds and one year later I was 115 pounds. I couldn't believe I had lost 55 pounds in one year! The best part was when I went to the doctor and they didn't even recognize me, it was the best feeling ever.  My doctor was surprised at my appearance but did warn that my blood work may not be any different because the low carb lifestyle promotes high fat (blah, blah, yawn).  Well did I prove him wrong, my blood pressure was perfect and my prediabetes was gone.  The doctor left saying, "well you have cured yourself you are in perfect health.
I have been living the Maria Way for nearly two years now and I have never been happier! You have changed my life, the way I look at food and have inspired me more than you could ever know.  Everyday I am thankful for you in my life because without you this would not have been possible." – Amanda
All my meal plan packages are on SALE now!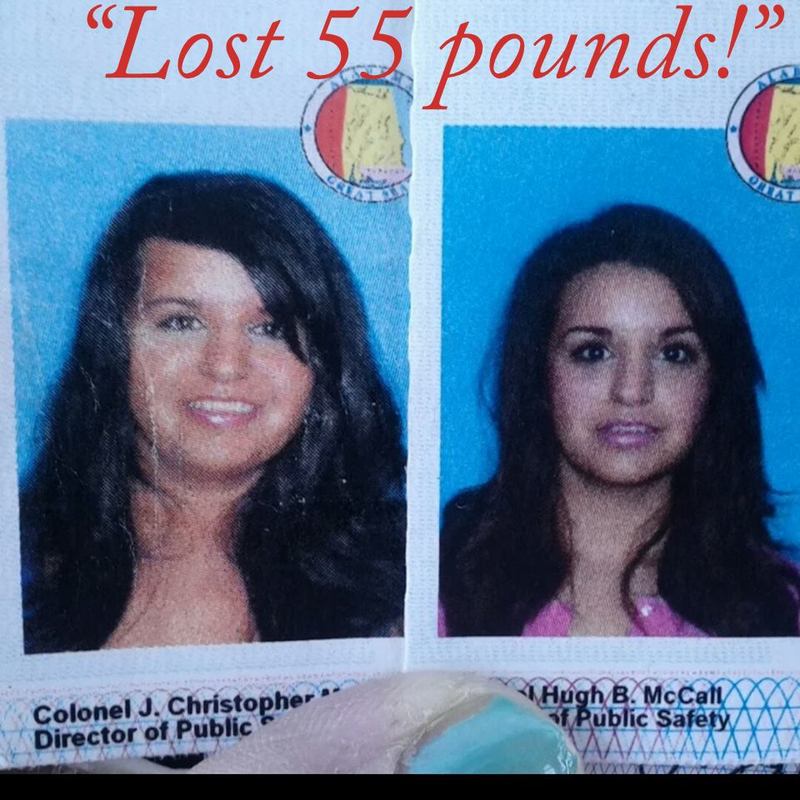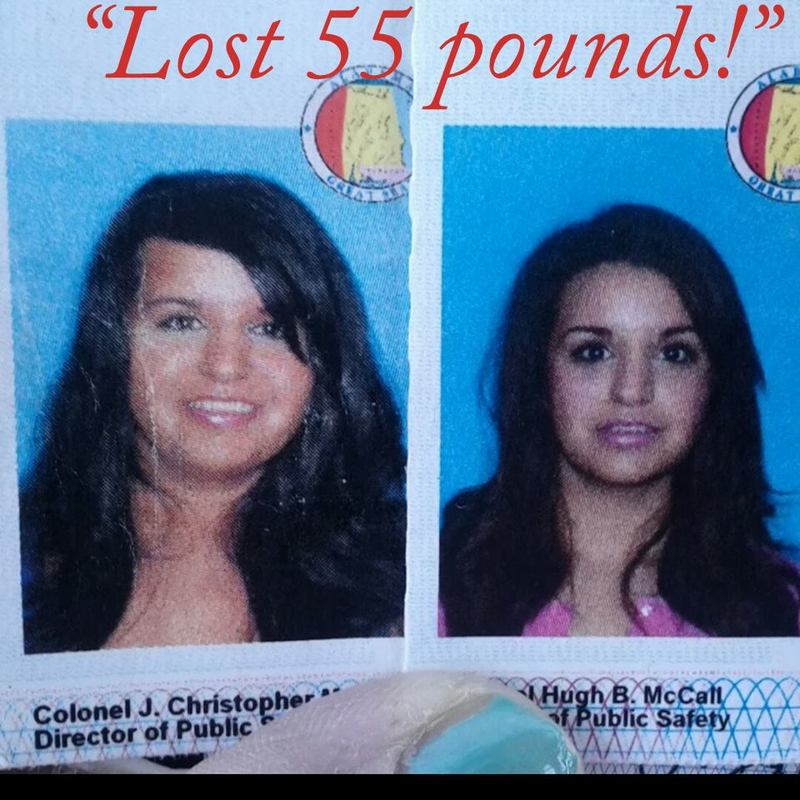 SKINNYFat MCT Oil
I prefer cooking with SKINNYFat brand MCT oil because it does not have the distinct coconut taste that can often overwhelm dishes.
I also use SKINNYFat because unlike other MCT oils, it does not cause the stomach upset that can occur when using MCT oil on its own. Receive $5.00 off skinny fat. All you have to do is enter $5KetoOil in the checkout to get the discount. Click HERE to get the discount.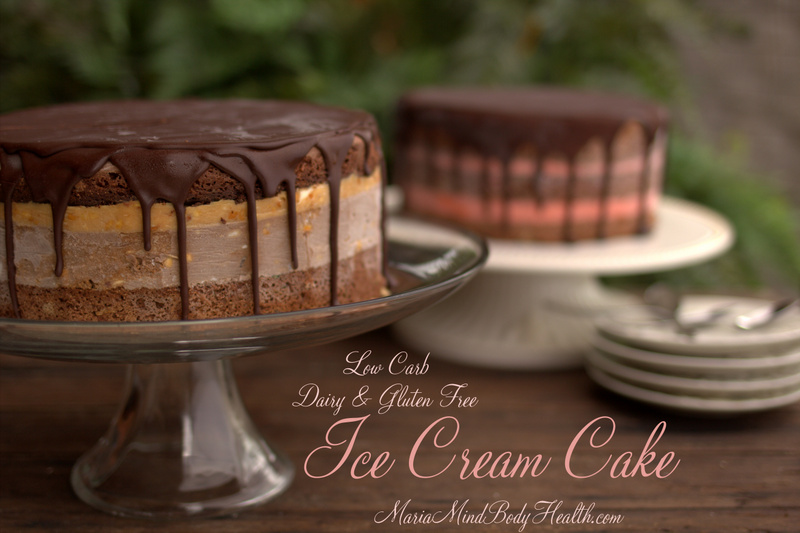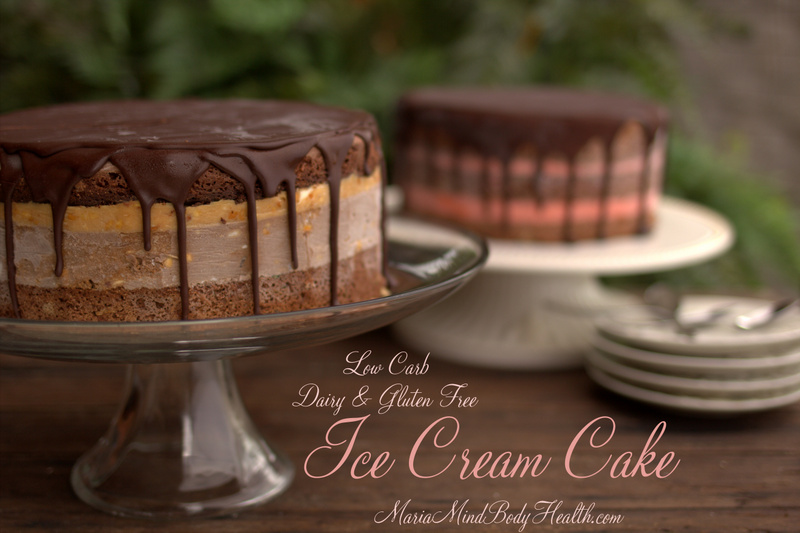 Another great update!: "Thanks for all you do, Maria! Started the low carb WOE again in January. Switched to keto the end of March. The weight loss is slow but consistent, about 4.5 lbs. every 30 days, which, I suppose isn't bad for this 67 year old broad! LOL I intend to get off my blood pressure meds and had, also, wanted to get off all acid blockers and get rid of my acid reflux. Thanks to you, I have been off the acid blockers with no rebound problems for the last two weeks! I bought your paper on supplements for intestinal health, which has really helped so very much! Thank you again, from the bottom of my heart!" – Melainie
Ice Cream Cake
Ingredients
CAKE:

3

cup

blanched almond flour

or 1 cup coconut flour

3/4

cup

unsweetened cocoa powder

1/2

tsp

Redmond Real salt

1

tsp

baking soda

1

tsp

ground cinnamon

optional

6

eggs

12 eggs if using coconut flour

1

cup

Natural Sweetener

or equivalent

3

TBS

coconut oil or butter

melted

3

TBS

unsweetened almond milk or coconut milk

1/2 cup if using coconut flour

1 1/2

cups

grated raw zucchini

1

tsp

vanilla

or other extract like raspberry

ICE CREAM LAYER

3/4

cup

plus 2 tbs coconut oil

organic butter if not dairy sensitive

4

tbs

SKINNYFat MCT oil *needed to create a smooth ice cream

1/2

cup

unsweetened almond milk or water

4

whole eggs

4

egg yolks

1

vanilla bean

scraped clean or 2 tsp vanilla

1/4

cup

Allulose

keeps ice cream soft

1/2

tsp

salt *helps keep ice cream soft

1/4

cup

unsweetened cocoa powder

PEANUT BUTTER SWIRL:

1/2

cup

natural peanut butter

softened

1/4

cup

coconut oil

melted

1/4

cup

Natural Sweetener

or 1 tsp stevia: to desired sweetness

CHOCOLATE GLAZE:

2

tablespoons

unsalted butter or coconut oil

1

ounce

unsweetened baking chocolate

chopped

6

tablespoons

heavy cream or full-fat coconut milk

1/4

cup

powdered natural sweetener

1

teaspoon

vanilla extract
Instructions
Preheat oven to 350F.

Combine almond or coconut flour, salt, cocoa powder, cinnamon and baking soda into medium-sized bowl.

Beat eggs and natural sweetener for about 2-3 minutes.

Add in melted coconut oil, almond milk and extract to the egg mixture.

Grate the zucchini. Squeeze out the water of zucchini if it seems wet, then add to the egg mixture.

Stir the wet and dry ingredients together, only stirring enough to combine.

Spray 2 8 inch cake pans with coconut oil spray. Pour mixture into the pans and bake about 20-30 minutes, or toothpick inserted into the center comes out clean.

TO MAKE THE ICE CREAM LAYER: In a blender (I used my blendtec), place the coconut oil, MCT oil, eggs, yolks, almond milk/water, vanilla bean seeds (discard the pod), natural sweetener, salt and cocoa powder. Blend until very smooth. Place into ice cream maker and watch the magic happen!

Meanwhile, make the peanut butter swirl by combining the peanut butter, coconut oil/butter and natural sweetener in a small bowl. Combine until smooth. Cool in fridge until ice cream is almost done.

NOTE: IN THE PHOTO, I DID ANOTHER BATCH OF PEANUT BUTTER ICE CREAM WITH DOUBLE THE AMOUNT OF PEANUT BUTTER SWIRL.

Swirl into the ice cream maker for the last 30 seconds.

Turn off ice cream maker.

While the ice cream is churning make the chocolate coating.

Place the butter and chocolate in a double boiler over medium heat (or in a heat safe dish over a pot of boiling water). Stir well until just melted (don't burn the chocolate!), then add the cream, sweetener, and 1 teaspoon of extract. Stir until smooth and thick. Remove from the heat. Allow to cool in the fridge for a few minutes.

TO ASSEMBLE: Once cake is done, allow to cool. Once it's fully cooled, use a knife to loosen around the edge and tip over and pop out the cake. Take a sharp large knife and cut the cake in half. Take cake and stick in the freezer to be assembled whenever ready. Or assemble immediately after this step and then freeze.

When ready to assemble, take the one sliced layer of cake and set in the bottom of a pan, (I used springform pan so I could remove the sides and display) After the first cake layer is set in, then scoop ice cream on top and spread. Once the ice cream is level, place the 2nd layer of cake and then add another layer of ice cream to the top. Freeze overnight. Once frozen, add the ganache to the top and put back into the freezer to set. this is just one option of layering. You could also put one cake layer in the bottom of the pan, add all the ice cream in the middle and then add the second cake layer to the top and add ganache on top.
Notes
NUTRITIONAL COMPARISON (per serving)
Traditional Ice Cream Cake = 494 calories, 35.2g fat, 5g protein, 69g carbs, 2g fiber
"Healthified" Ice Cream Cake = 380 calories, 35.2g fat, 11.3g protein, 9.4g carbs, 4.5g fiber
(82% fat, 10.5% protein, 7.5% carbs)