Hot BEEF Sundae

As you know I LOVE butcher box!  High quality proteins delivered to my door many times for less than you can get locally!  Here is my un-boxing of my latest delivery!
You know I love getting my food delivered so I can spend more time doing things I enjoy rather than going to the store; that's why I get Butcherbox mailed to my front door!
If you're an existing ButcherBox member I've got deals for you too.
Skip the stores with all the temptations and get quality food mailed to your front door!
Click HERE to access member deals and specials.
You'll find exclusive and limited time offers as well as new product launches like lobster, ground bison, seafood sampler, cast-iron favorites, their legendary bacon blast (10 packs of bacon for just $5/pack), and so much more. Their member deals are constantly changing so be sure to click
HERE
!
I know a lot of you have tried cauliflower mashed "faux"tatoes and thought the taste was good, but the texture wasn't the same. I'm here to tell you, I found a special trick. I also never really cared for the gritty fake potatoes either until we purchased the VITAMIX Blender! We bought it to make pureed baby food and it has been an awesome purchase for so many of my recipes; including making the smoothest "faux"tatoes.
Click HERE to find it on sale!
"FAUX"TATOES (ICE CREAM LAYER)
1 medium head cauliflower
2 cups broth
1 TBS cream cheese, softened
1/4 cup grated Parmesan
1/2 tsp minced garlic
1/8 tsp freshly ground pepper
Set a stockpot of broth to boil over high heat. Clean and cut cauliflower into small pieces. Cook in beef or chicken broth for about 6 minutes, or until well done. Drain well; do not let cool and pat cooked veggie very dry between several layers of paper towels. In the Blend Tec Blender or food processor, puree the hot veggie with the cream cheese, Parmesan, garlic, and pepper until smooth. Set aside. Makes 4 servings.
NUTRITIONAL COMPARISON (per serving)
Using Potatoes = 156 calories, 4.5g fat, 8g protein, 21 carbs, 2.3g fiber
Using Cauliflower = 88 calories, 4.5g fat, 7.5g protein, 5 carbs, 2g fiber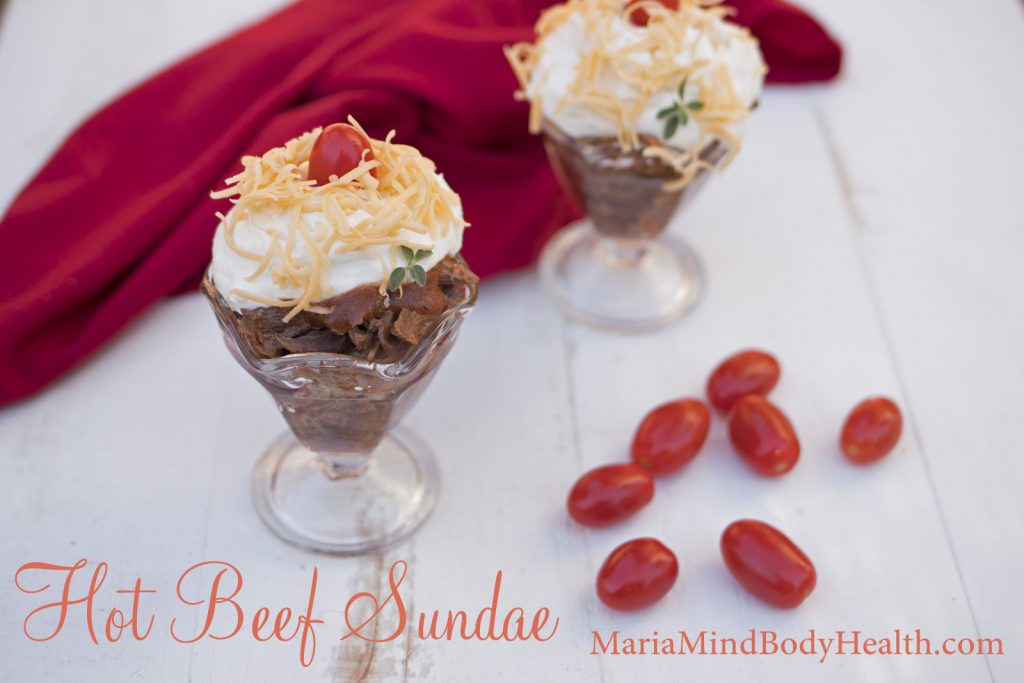 HOT BEEF LAYER:
1 TBS coconut oil
1 (4 pound) grass fed beef chuck roast
1 cup tomato sauce
1/2 cup beef broth (I used Kettle and Fire brand)
1/2 cup apple cider vinegar
1 TBS chili powder
Celtic sea salt and pepper to taste
2 garlic cloves, minced
Heat oil in a large Dutch oven over medium-high heat. Place the roast in the pan, and brown on all sides. Reduce heat to medium-low, and pour in the tomato sauce, broth, and vinegar. Season with chili powder, salt, pepper, and garlic. Simmer over medium-low heat for 3 hours, or until meat is fork tender. Remove beef, and refrigerate overnight. Reserve sauce, and refrigerate. Slice or shred beef, and place in a large pot on the stove with the sauce. Heat through, and serve alone, or over the "faux"tatoes.
Top with white cheddar cheese and a cherry!
NUTRITIONAL COMPARISON (per serving, with 1/4 pound hot beef)
Traditional Sundae = 701 calories, 41g fat, 39g protein, 40.7g carbs, 1g fiber
"Healthified" Sundae = 535 calories, 28g fat, 38g protein, 9g carbs, 3.8g fiber
Testimony of the Day from a Type I diabetic
"Maria, Kathy and I have to let you know what the time with you has done for us. As you know I am a type 1 diabetic and am always looking to improve my eating habits. And like most Americans we are also trying to fight the onslaught of cheap easy food and what it does to us.My goal as a type 1 diabetic was to reduce my insulin intake and to stop taking drugs that doctors feel are necessary for diabetics take just because we are diabetics. In my search for better meals and healthier eating a friend of mine recommended you.
From our very first session I learned I was close. But, the little changes I made were a world of difference. And as continue making changes that are in line with your teaching I continue heal my body.For example, before we changed our food combinations I was taking up to 40 units of insulin a day. The changes started lowering the amount of my daily use of insulin the very first day. I am now down to using between 15 and 20 units a day. That means my body is storing less fat and I am beginning to fuel my body with protein instead of carbs. What is more impressive is that I have never been under 20 units of insulin a day in five years as a diabetic.
I thought the first day was a fluke. But, it is now a norm. And most important I am eating as much if not a little more food each day. I am not starving at all.My wife is not a strict as I am. However, she is making the changes I am making everyday. She is also losing weight and getting closer to her natural body weight. There is little to no effort to make the changes.
The only things that are hard for her to give up totally is wheat bread an a little Diet Dr. Pepper a week. However, she is taking steps every day to change her life over and plans to be completely changed in the next few weeks.Thank you Maria for helping us get on the right path to better health. Marc"
To get started on your path to health click HERE. I'd be honored to help you too!