Frankenberry Cereal

When I was a little girl, I loved Frankenberry Cereal during Halloween! I would get so excited if my mom would buy that for a special treat! But now I want everyone to know just how unhealthy this cereal really is and that you can make my recipe that tastes even better and is filled with healthy protein!
I am shocked that a box of Frankenberry cereal gets a "Healthy Whole Grain and Calcium" check of approval? I hate marketing! All I read is corn, sugar, unhealthy fats and artificial coloring!
Ingredients: Whole Grain Corn, Corn Meal, Sugar, Marshmallows (Sugar, Dextrose, Modified Corn Starch, Corn Syrup, Gelatin, Malic Acid, Natural & Artificial Flavor, Citric Acid, Red 40, Blue 1 & 2), Corn Syrup, Corn Starch, Salt, Canola and/or Rice Bran Oil, Tricalcium Phosphate, Trisodium Phosphate, Red 40, Blue 1, Artificial Flavor. BHT Added to Preserve Freshness. Vitamins and Minerals: Calcium Carbonate, Zinc and Iron (Mineral Nutrients), Vitamin C (Sodium Ascorbate), a B Vitamin (Niacinamide), Vitamin B6 (Pyridoxine Hydrochloride), Vitamin B2 (Riboflavin), Vitamin B1 (Thiamin Mononitrate), Vitamin A (Palmitate), a B Vitamin (Folic Acid), Vitamin B12, Vitamin D3.
TIP: If you use coconut oil, this works great for traveling or packing for school. No refrigeration is needed! Here's to happy and healthy kids!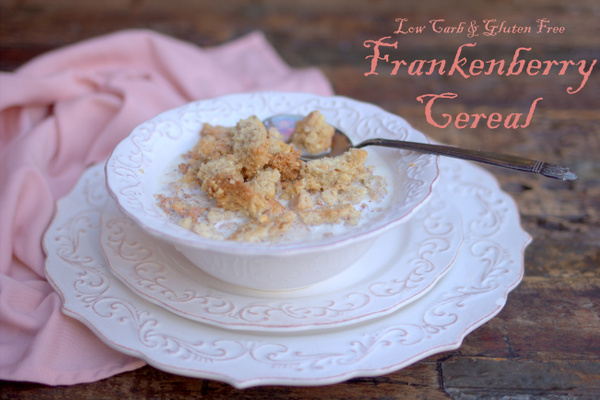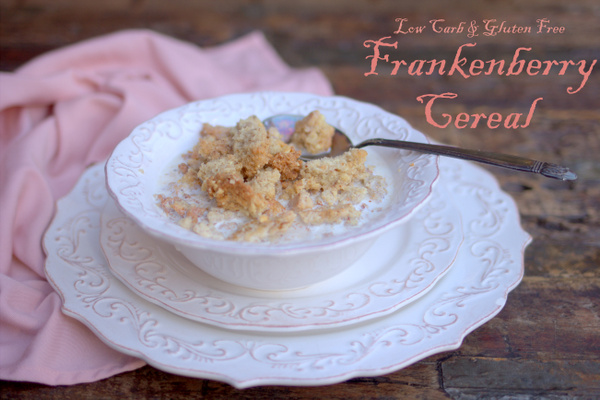 "HEALTHIFIED" CEREAL
1/3 cup Swerve
1 tsp stevia glycerite (omit if using Swerve)
1/3 cup crushed almonds/pecans/walnuts
1/4 cup almond flour
1/4 cup strawberry egg white protein
1/4 cup butter or coconut oil, softened
1 tsp strawberry extract
Optional: natural red food coloring
Preheat oven to 300 degrees F (170 degrees C). Combine 1/3 cup erythritol and stevia glycerite (or Swerve), 1/3 cup crushed nuts, almond flour, protein powder and extract in a small bowl. Cut in butter with fork or pastry blender until mixture resembles coarse crumbs. Optional: roll into little balls or leave in chunks.
Place on a cookie sheet with defined edges or the butter will leak off. Bake for 12-20 minutes or until golden brown. Remove from the oven and gently stir while still hot. Let cool in the cookie tin (it will crisp up A LOT). Break pieces apart and enjoy with unsweetened almond milk (NOTE: I added 1 tsp of strawberry extract to my milk for extra strawberry flavor!). Makes 4 servings.
MILK COMPARISON (per cup)NUTRITIONAL COMPARISON (per serving)
Post Cereal = 220 calories, 3g fat, 3g protein, 45 carbs, 2g fiber
"Healthified" Cereal = 220 calories, 9.2 g protein, 18g fat, 4g carbs, 2 g fiber
Skim Milk = 90 calories, 13g carbs, 13g sugar
Unsweetened Almond milk = 35 calories, 1g carb, 0g sugar
TESTIMONY OF THE DAY
"Hi Maria! Celebrated today…100 lbs off since January 2021,
Total of 183 lbs gone!
Without you this would never have been possible. Your recipes are all my family eats now. Thank you again for changing my life!" – Felicia
Most people I consult are doing keto totally wrong. Get fast results with the my Mind-blowing Keto School!