Testimony of the Day
"Growing up as a kid, I didn't even realize that my food options were actually going to help me out one day. What can I say, I am a "meat eater". I always got a lot of slack about not eating the bun or fries that come with my meal, but I just didn't have the taste buds for that stuff. I just craved meat and especially meats fried in good oils. I wasn't aware that my diet options would eventually affect my athleticism and structure as I got older and needed to be more aware of those things while in sports. I have eaten this way my whole life, but I feel so good when eating this way and it has helped my energy level and has also helped me "beef up" while going through High School and now into my College football career. We are put on a weight lifting routine and this diet has helped me to reach my goals and become in the best shape ever. And secondly, I DO NOT drink. Hard to believe, I know. As a college student you would think I would be doing the partying and drinking. But I don't consume alcohol in any form due to the detrimental effects it has on everything that I am trying to achieve. I feel like I am in the best shape of my life and full of energy and it's due mostly to my food choices of ketogenic diet and no alcohol intake. These things along with my weight program make me feel stronger than ever and able to achieve my goals." -Ericson
If you want to look like Ericson, click HERE for a consult. With the right diet and supplement plan, you can feel like a new person!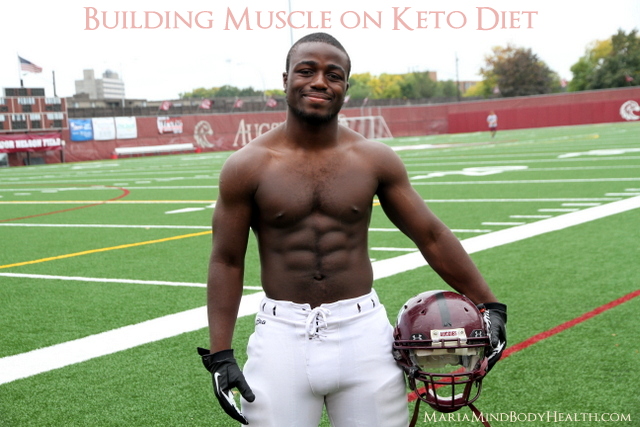 People mistakenly think that they need to exercise to create a calorie deficit in order to lose weight. This is not how exercise helps with weight loss. Exercise builds muscle and muscle builds mitochondria. It is in the mitochondria where fat is oxidized so you can keep your cells and liver insulin sensitized. Even personal trainers misguidedly believe that exercise is about the calorie expenditure. It is about hormones and specifically insulin.
BENEFITS OF KETO-ADAPTED DIET WHEN Exercising
1. It improves insulin sensitivity and speeds recovery time in-between training sessions. Low carb diets are anti-inflammatory. This produces less oxidative stress while exercising, which speeds recovery time in between exercise sessions. This is why I was able to run every day while training for my marathons.
2. It spares protein from being oxidized, which preserves muscle. Branch chain amino acids are considered essential, because your body can't make them, so you need to consume them for proper muscle building and repair (as well replenishing red blood cells). What I found so interesting is that BCAA oxidation rates usually rise with exercise, which means you need more if you are an athlete. BUT in keto-adapted athletes, ketones are burned in place of BCAA. Critics of low carb diets, claim that you NEED insulin to grow muscles; however, a well-designed ketogenic diet there is less protein oxidation and double the amount of fat oxidation, which leaves your muscles in place while all you burn is fat!
Jimmy Moore from Livin' La Vida Low Carb did an experiment while he was and still is on a keto-adapted diet. Jimmy writes, "When I was in the midst of my own personal n=1 experiment of nutritional ketosis in 2012, I decided to see what was happening to my body fat loss and muscle mass growth using a DXA scan. I had one done in September 2012, started a 20-minute slow lifting program every three days, and then got another DXA again two months later in November 2013 to see what changes would take place. I was stunned to find that I not only lost over 16 pounds of body fat but I also simultaneously GAINED over 6 pounds of muscle! I'll be sharing much more about the power of a high-fat, low-carb ketogenic approach on so many aspects of health in my book KETO CLARITY coming in June 2014." To read more on his keto adapted journey and muscle gain, click HERE to check out his blog.
3. It decreases the build-up of lactate, which helps control pH and respiratory function. A myth of low carb diets is that it puts you in a state of acidosis.
"This stems from the unfortunate fact that many doctors confuse nutritional ketosis (blood ketones at 1-3 millimolar) with keto-acidosis (blood ketones greater than 20 millimolar). In nutritional ketosis, blood pH at rest stays normal, plus sharp drops in pH due to CO2 and lactate buildup during exercise are restrained. By contrast, in keto-acidosis, blood pH is driven abnormally low by the 10-fold greater buildup of ketones. Suggesting these 2 states are similar is like equating a gentle rain with a flood because they both involve water." (pg 35 of The Art and Science of Low Carb Performance).
4. It improves cognition. Ketones aren't just fuel for our body, but they are also great for our brain. They provide substrates to help repair damaged neurons and membranes. This is why I really push a ketogenic diet for clients who suffer from Alzheimer's (type 3 diabetes) and seizures.
5. It doesn't damage our immune system and less free radical damage in our cells. Free radicals are highly reactive molecules produced in the mitochondria that damage protein tissues and membranes of the cells. Free radicals happen as we exercise if you are a "sugar burner." But ketones are a 'clean-burning fuel.' When ketones are the fuel source, ROS (oxygen free radicals) is drastically reduced. Intense exercise on a high-carb diet overwhelms the antioxidant defenses and cell membranes which explains why extreme athletes have impaired immune systems and decreased gut (intestinal) health. A well-designed ketogenic diet, not only fights off these aging antioxidants, but it also reduces inflammation of the gut and immune systems are stronger than ever. (2) After reading this, I am no longer concerned about taking all the anti-oxidant supplements that I do! I also don't worry about getting as many anti-oxidants in my food like with veggies and definitely not with fruit!
TIP: I keep my bread and buns in the freezer at all times to make sandwiches and to bring with me to restaurants.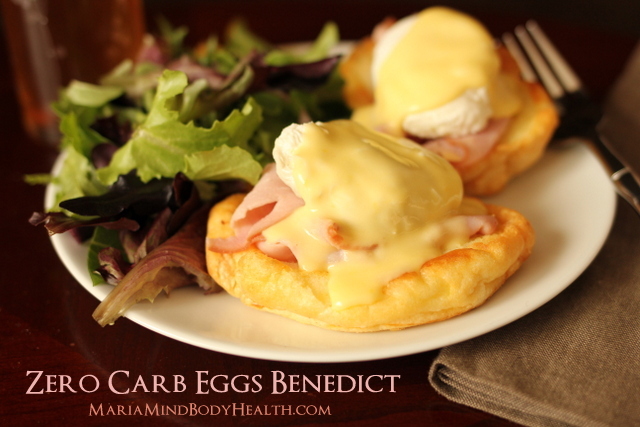 Eggs Benedict
Ingredients
PROTEIN BUN:
3 eggs, separated
½ tsp fresh dill or other herb of your choice
HOLLANDAISE:
6 large egg yolks
¼ cup lemon juice
2 TBS Dijon mustard
1½ cups melted organic unsalted butter (or melted bacon fat or duck fat if dairy sensitive)
½ tsp Celtic sea salt
⅛ tsp freshly ground black pepper
ADDITIONS:
6 ham or prosciutto slices
12 large eggs
Instructions
To make the BUNS: Preheat the oven to 325 degrees F.
Separate the eggs (save the yolks), and whip the whites for a few minutes until VERY stiff (I use a stand mixer on high for a few minutes).
Gently mix the protein powder and herbs into the whites.
Slowly fold the reserved egg yolks into the whites (making sure the whites don't fall).
Grease a cookie sheet with coconut oil spray and place mounds of "dough" about the size of a hamburger bun onto the sheet.
Bake for 20-30 minutes or until golden brown.
Let completely cool before cutting or the buns will fall.
Make hollandaise sauce: In the bottom of a double boiler or in a medium saucepan, bring 1 in. of water to a simmer over high heat and adjust heat to maintain simmer. Put egg yolks, lemon juice, and mustard in top of a double boiler or in a round-bottomed medium bowl and set over simmering water. Whisk yolk mixture to blend.
Whisking constantly, add butter in a slow, steady stream (it should take about 90 seconds). Cook sauce, whisking, until it reaches 140°, then adjust heat to maintain temperature (remove from simmering water if necessary). Add salt, pepper, and cayenne and continue whisking until thick, about 3 minutes. Adjust seasonings to taste. Remove from stove and set aside.
Assembly: Place 2 bun halves on each plate and top with ham.
Poach eggs: Bring 1 in. water to boil in a 12-in.-wide pan. Lower heat so that small bubbles form on the bottom of the pan and break to the surface only occasionally. Crack eggs into water 1 at a time, holding shells close to the water's surface and letting eggs slide out gently. Poach eggs, in 2 batches to keep them from crowding, 3 to 4 minutes for soft-cooked. Lift eggs out with a slotted spoon, pat dry with a paper towel, and place 1 egg on each ham covered protein bun.
Top each egg with 2 to 3 TBS reserved hollandaise sauce and serve hot.
POACHING EGGS TIP: add a few tablespoons of coconut vinegar to the simmering water you poach the eggs in. This helps hold the whites together.
Notes
NUTRITIONAL COMPARISON (per serving)
Traditional Benedict (IHOP) = 1020 calories, 57g fat, 43g protein, 80g carbs, 6g fiber
"Healthified" Benedict = 675 calories, 64.2g fat, 23g protein, 3.4g carbs, trace fiber (85% fat, 13.6% protein, 2% carbs)
I first met Ericson over a year ago when Kai was just a baby. Kai would cry if I wasn't holding him. Craig couldn't even comfort baby Kai. At the time it was exhausting for me to always hold Kai and be able to get everything done, but now I sure miss those days. Now he is so independent!