Easy Tomato Soup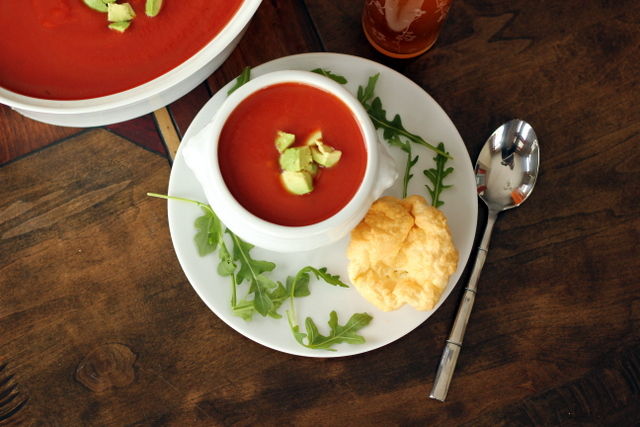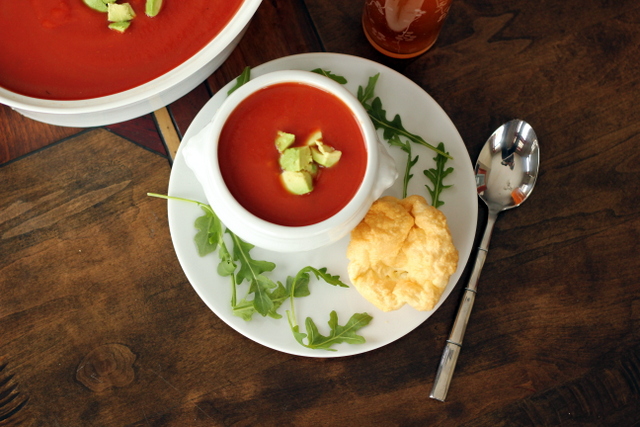 I adore tomato soup! I think I ate Grilled Cheese and Tomato Soup just about every day when I was a kid! I still love it but now I make my Easy Tomato Soup recipe! And I make grilled cheese using my Keto Bread!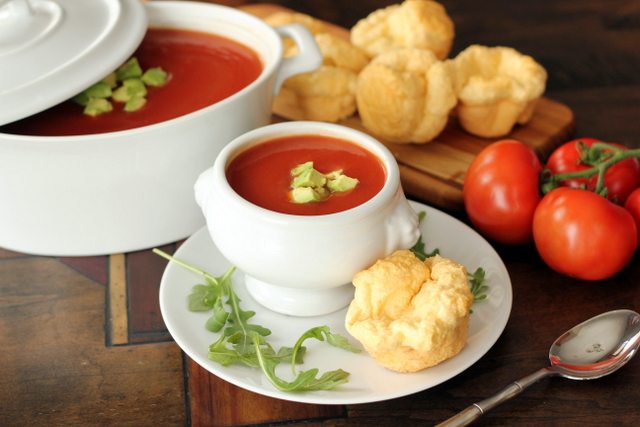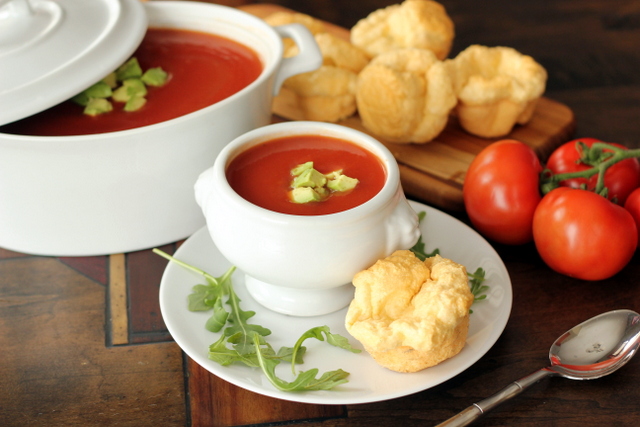 Serve with Popovers or Yorkshire Pudding using my PROTEIN BREAD found in the book: The Art of Healthy Eating SAVORY.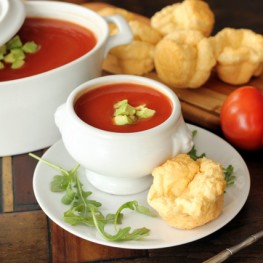 Easy Tomato Soup
Ingredients
1

TBS

coconut oil

½

yellow onion

sliced

3

large tomatoes

chopped (about 3 cups)

1

avocado

peeled and diced

1

clove

garlic

minced

1

cup

unflavored almond milk

2

TBS

lime juice

3/4

tsp

Redmond Real salt

2

TBS

fresh oregano

chopped

2

TBS

fresh basil leaves

chopped
Instructions
Heat oil in saucepan. Add onion and saute until softened, about 2 minutes.

Add tomatoes, garlic, ¼ tsp salt, oregano and basil Simmer mixture about 20 minutes until flavors meld. Remove from heat and cool slightly.

In a food processor place avocado and add tomato mixture. Blend until smooth, about a minute or two. Return mixture to the saucepan and add unflavored almond milk, lime juice and remaining 1/2 tsp salt. Simmer until flavors meld, about 10 minutes. This soup gets even better as it sits, so if you have time, let it stand an extra half hour before serving.
Notes
NUTRITIONAL COMPARISON (per serving)
Traditional Soup = 212 calories, 7g fat, 2g protein, 15g carbs, 4g fiber
"Healthified" Soup = 176 calories, 14.6g fat, 2.9g protein, 9g carb, 6.6g fiber
(74% fat, 7% protein, 19% carbs)
 If you are a vegetarian and would like to eat the keto-adapted way, I have just the meal plans for you! Click here to get started! 
Testimony of the Day
"When I began my journey with you I was size 3X. I had terrible mood swings and depression. I was diagnosed with autoimmune diseases such as fibromyalgia, idiopathic thrombocytic pupurra (I.T.P.), osteoarthritis and asthma. I had fatty liver disease, high blood pressure, eczema, rosacea, skin tags, and migraines.
I am now an extra large, I have no depression or mood swings. Though there is no test to prove it, I feel I no longer have fibromyalgia. I no longer use inhalers for asthma and I feel that has disappeared too. The damage from the osteoarthritis, unfortunately, cannot be reversed. My low blood platelets from the I. T. P. use to average a count of 30, 000 and now sit between 70 and 80, 000. My iron count averaged around 2 or 3 and I use to get infusions every 6 months. I now average a count of 10 and haven't had an infusion in over 18 months.
A recent ultrasound shows my liver is now normal. My blood pressure is stable. Skin tags are gone, eczema flare-ups are rare and my rosacea is better. Migraine headaches are a thing of my past. I haven't had a cold in over two years. I have removed 90% of prescription medications from my medicine cabinet. Nobody can convince me that this is a coincidence. I believe 100% there is health benefits to this way of eating." -Terri
If you too want to start healing your body, click HERE for a consult. With the right diet and supplement plan, you can feel like a new person!