Dirt Cake

 Happy 1/2 Birthday Craig!
Craig's birthday is on Christmas Day… poor chap! Even I often get so excited about celebrating Christmas with the boys that Craig's special day is often over-looked. And really… who needs another dessert on Christmas day?
About 7 years ago I started celebrating his 1/2 birthday which is today!
When I was growing up my mom made my favorite dessert which was dirt cake!

When I was a little girl, my mom made me a dirt cake for my birthday. I loved how she would put a flower in the cake with gummy worm in the "dirt!"
Dirt cake is traditionally made with crushed up Oreos, layered with Cool-Whip and filled with gummy worms. So I thought the boys would get a kick out of this cake and they sure did! They have never seen a gummy worm before so when I offered them my "healthified" gummy worms they didn't know what to think. They didn't realize you could eat such a crazy-looking "food" but once they popped them in their mouth, they couldn't get enough!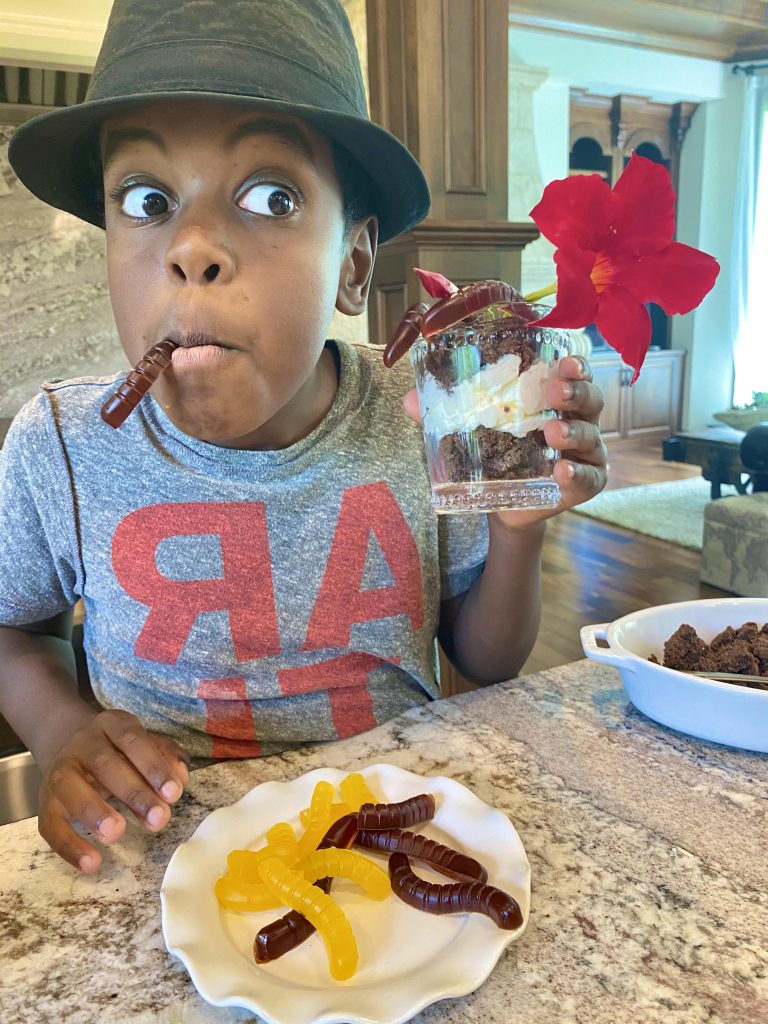 It is crazy how we eat with our eyes and kids are drawn to bright colored food. I always looked for things without added food coloring in them but EVERLY has created a wonderful product perfect for competing with food marketers out there. I love using EVERLY to make my delicious sugar-free gummy worms for this dirt cake!
My kids often see these colorful "foods" that  other kids are eating and Everly has made it possible for me to make "healthified" versions without any damaging food coloring (click HERE to read more on food-dyes). 
If you are looking for a delicious and cute cake to make for your kids (or yourself) you must try my flourless sugar-free dirt cake!
 Click HERE to find gummy worm molds.
 NOTE: This is a very dense chocolate cake. The Dirt Cake I grew up on was crunchy bits of Oreo so it wasn't a soft chocolate texture. I used this recipe because I usually cut nuts out of clients diet at first to help get into ketosis. But if you prefer a soft and very moist cake, check out my Zucchini Bundt Cake. It also tastes amazing and crumbles great for the chocolate cake layer.
Dirt Cake
Ingredients
GUMMY WORMS

Click HERE to find the recipe

DIRT CAKE

7

oz

unsweetened baking chocolate

chopped fine

2

cups

butter or coconut oil

1 ¼

cup

Natural Sweetener

1

tablespoon

Stevia Glycerite

adjust to desired sweetness

5

large eggs

1

teaspoon

vanilla extract

or 1 vanilla bean scraped clean

1

teaspoon

almond extract

CREAM FILLING

1

cup

heavy cream

whipped

8

oz

cream cheese

softened

1

tablespoon

Stevia Glycerite

to taste
Instructions
Make the gummy worms and set in the fridge to set while you make the dirt cake.

Preheat oven to 325 degrees. Grease an 8 inch pan and line with parchment paper (greased or mini muffin tins). Grease parchment paper. Brown the butter (if desired…tastes way better!) in a saucepan. Once the butter is brown (not black!), slowly add the chocolate (don't burn the chocolate). Add the sweetener. Let cool in fridge. Once cool, add one egg at a time. Add the extracts. The batter may be lumpy at this time. Stir well using a hand mixer until very smooth. Pour into pie pan and bake for 20 minutes. Remove and allow to cool. Once cool, crumble into "dirt."

To make the cream layer, whip the cream until stiff peaks form. Add the softened cream cheese and sweetener to taste. Mix until creamy.

To assemble, place 2 tablespoons of "dirt" into a small serving cup. Top with 2 tablespoons of the cream filling, then top with another 2 tablespoons of "dirt." Garnish with "healthified" gummy worms if desired.
Notes
NUTRITIONAL COMPARISON (per serving):
Traditional Dirt Cake = 521 calories, 27.4g fat, 4.8g protein, 57g carbs
"Healthified" Dirt Cake = 331 calories, 41.4g fat, 5g protein, 2.2g carbs
(91% fat, 6% protein, 3% carbs)
TESTIMONY OF THE DAY
"Ok well this is my 4th post today.  I'm sorry, but I'm so excited I'm crying!  I mentioned before that I have been keto/ carnivore for 3 years.  I felt amazing but my weight-loss was stalled for the last two years and I couldn't reach my goal.  That's a long frustrating stall.  I thought I was doing everything right and working so hard at it.  When I started Maria and Craig's way I broke my stall! 
Focusing on eating enough protein and lowering my fat has made me more satiated than ever in my life.  I can't believe I'm now one of those people that just isn't hungry.  I'm so over joyed to not be the hungry girl anymore and I know I will reach my goal now. 
Thank you so much Maria and Craig!!!  You are both changing the world in big ways and saving so many lives ️" – Katie
Most people I consult are doing keto totally wrong. Get fast results with the my NEW Keto Packages!