Chicken Pizza Crust
I have been keeping a few secrets that I can't keep any longer! Ever since we tried Real Good Pizza that has a chicken breast crust and is super tasty, I started experimenting in the kitchen making the perfect Chicken Pizza Crust. This recipe is an exclusive recipe from my next secret… the most amazing Keto Cookbook ever!!!! Keto Restaurant Favorites! This recipe is in the Italian chapter. (click HERE to find it on SALE today!)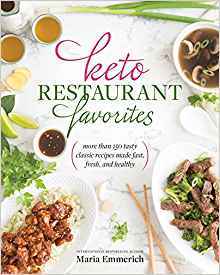 Keto Restaurant Favorites is filled with amazing recipes that I swear taste better than take-out; pot stickers, egg drop soup, Sweet and Sour Chicken, Chinese Sticky Rib Bites, cannoli, Olive Garden classics, Juicy Lucy, Zuppa Toscana… you name it!
I always appreciate constructive criticism and some of you who are super busy commented you want easy recipes and you all know, I am a busy mom and don't have a ton of time to cook on days I am consulting clients so there are many many easy recipes that you can do too! This Chicken Pizza crust is one that I make 4 large pizzas when I get everything out to make them and store 3 of them in the freezer for easy meals.
Remember… I grew up in Medford, WI which created the first frozen pizza; Tombstone Pizza! Every Friday was pizza day at school! Frozen pizzas are something I grew up with and I still love to be able to throw one in my beloved Breville Toaster oven (which is $50 OFF today… great Mother's Day gift)! I use my Breville Toaster oven just about everyday to reheat things.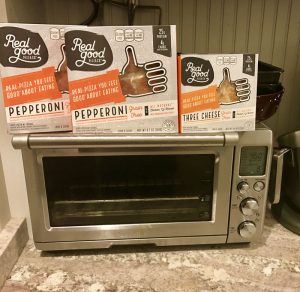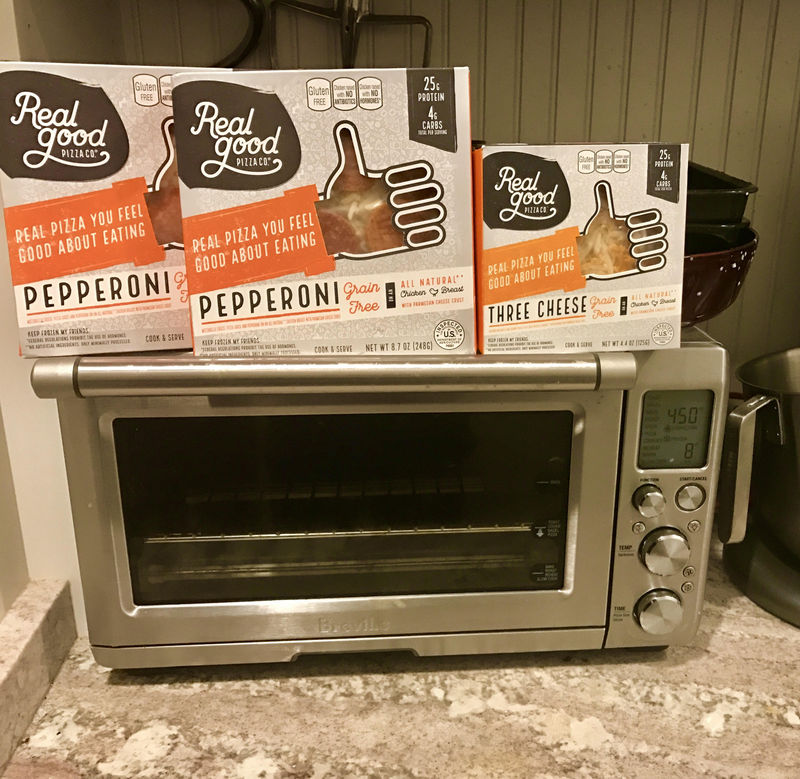 If you don't want to cook or do not have the time, Real Good Pizza is still an amazing option to have in your freezer! (Click HERE to find.)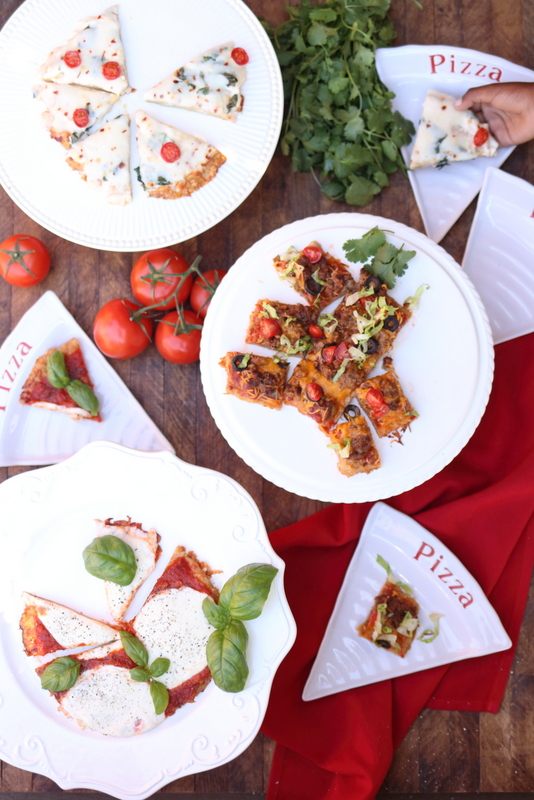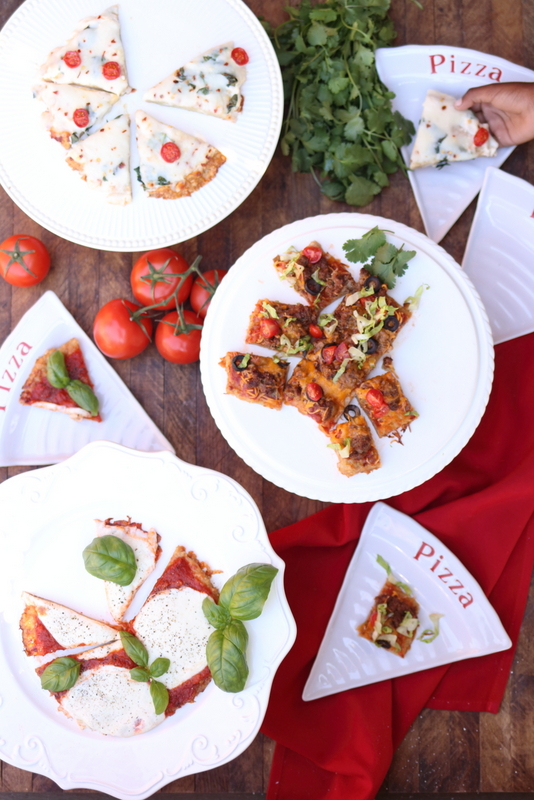 Using a pizza stone or a cast iron pizza pan helps to crisp the crust up nicely. If you don't have a pizza stone, you can use a baking sheet however the crust will not be as crispy as it would be with a stone.
Here is a video of this recipe!
Chicken Pizza Crust
Ingredients
CRUST:
1

pound

ground chicken

1/2

teaspoon

Redmond Real salt

2

cups

powdered Parmesan cheese

or freshly graded parmesan
TOPPINGS:
1/2

cup

Primal Kitchen Pizza Sauce

8

ounce

fresh mozzarella

1 ball, thinly sliced

1/4

cup

Fresh Basil Leaves

for garnish
Instructions
Place a pizza stone in the cold oven, then turn on the oven to 425°F. (You can use a baking sheet, but a pizza stone will bake the bottom better.)

Place the ground chicken in a large bowl. Add the salt and Parmesan and use your hands to combine well.

Grease a sheet of parchment paper and set it on an unrimmed baking sheet or pizza peel for easy transferring to the oven. Place the dough on the parchment paper and use your hands to form the mixture into a large round pizza about 12 inches in diameter or a 10-inch square pizza. Slice the piece of parchment with the crust onto the hot stone in the oven. Bake for 12 to 15 minutes or until the crust is turning light golden brown and the chicken is cooked through.

Meanwhile prepare your desired toppings.

Remove the pizza crust from the oven, top with sauce and slices of fresh mozzarella. Place back into the oven for 7 minutes or until the cheese is melted. Remove from oven and garnish with fresh basil.
Nutrition
Calories:
579
|
Fat:
36
g
|
Protein:
59
g
|
Carbohydrates:
3
g
|
Fiber:
0.3
g
|
P:E Ratio:
1.5
To see recipes for Taco Pizza and the Alfredo Pizza variations in the photos check out Keto Restaurant Favorites!
Thank you for your love and support!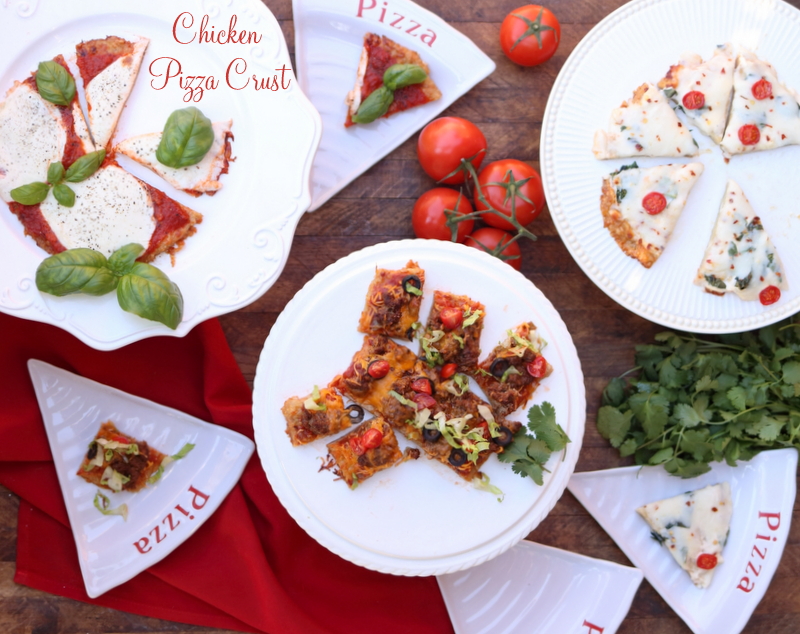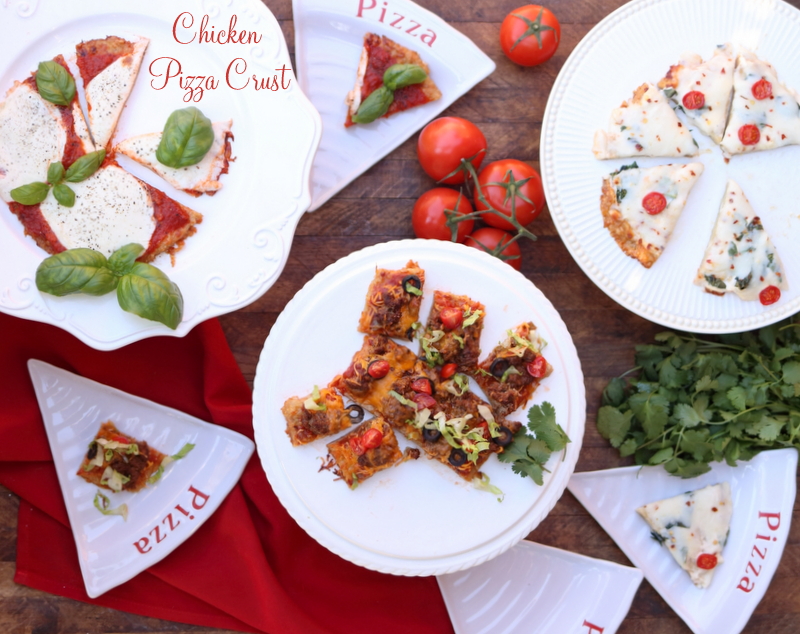 TESTIMONY OF THE DAY
I spoke at an event this past Saturday and a young mother told me she just found out that her 1 year old has Type 1 diabetes. She said the dietitian at the hospital said they NEEDED carbohydrates and keto diets are dangerous.
HOWEVER, I told her the facts and that I have copious amounts of Type 1 diabetic clients and that this is the way Type 1 diabetes need to eat!
In fact one of my recipe testers is a Type 1 diabetic and she tests herself with my recipes so I KNOW my recipes are on par for Type 1s.
She went from 50 units of long acting insulin to 15! AND her a1c is now 5.9! If you keep adding carbs such as sweet potatoes you will never get results like this!