Cheez-Its
Why We Crave Crunch
The theory of why crunchy foods are innately pleasing to our pallet is captivating.
Crunchy foods add a level of our senses to eating. If you are lucky and are able to smell and taste, you get those (I say lucky because I had a terrible ear infection that caused me to lose smell and taste for 2 weeks! Yikes). You also get texture in your hands and mouth when eating. One thing you may have not thought about is the sensual part of the eating experience of sound.
The crunchy sensation we experience is more significant for the sounds it makes inside our heads. The internal noises of chewing always happen as we eat, but eating a soft omelet is quite different than chewing on nuts or chips. This is one reason why "You can't eat just one."
Our neural sensory systems all experience something called "habituation" in which our sensory neurons become less receptive with constant exposure to a stimulus. We all experience habituation to the smell and taste of food as we eat. This is why we over-eat when we are eating at a potluck or buffet… so many choices to keep stimulating the senses. But if you have one food on your plate, your brain gets bored and signals to stop eating.
One reason that crunchy food may have more of an appeal to you lies in the extra layer of your senses when you eat; you may like a particular crispy food because you like the way it sounds in your head. Crispy foods have a special sensory place in the brain. They incorporate hearing into the sensory mix of eating, and it is very likely that the stronger and more varied sensory mix provided by crispiness staves off boredom and habituation while we eat these foods.
We also often crave crunchy foods because in Paleolithic days, insects and fresh produce was our main source of crunchy. A soggy vegetable was tossed aside in lieu of a crunchy/fresh one. The problem now is that we still crave that crunch but it often isn't for a crunchy piece of celery… it is most likely chips or cereal (thank goodness for people like Clark W. Grizzwald who invented "non-nutritive cereal varnish" in Christmas Vacation! lol)
So if you are in love with crunch, you MUST try these!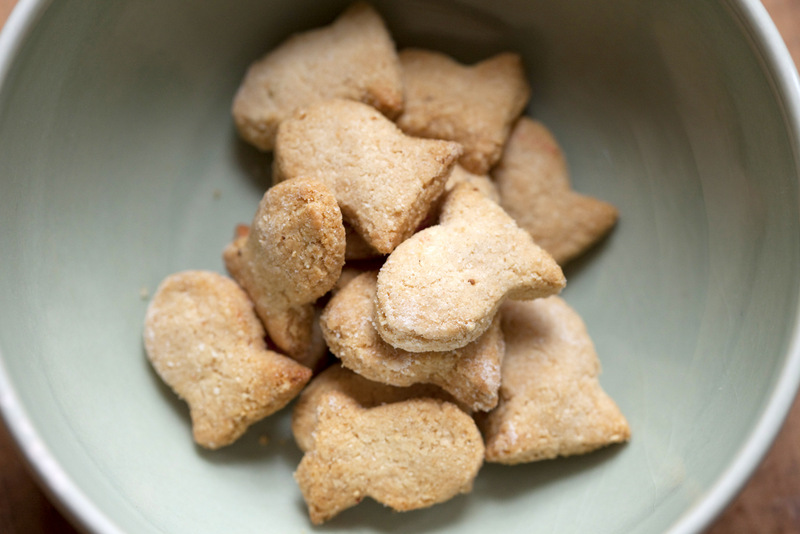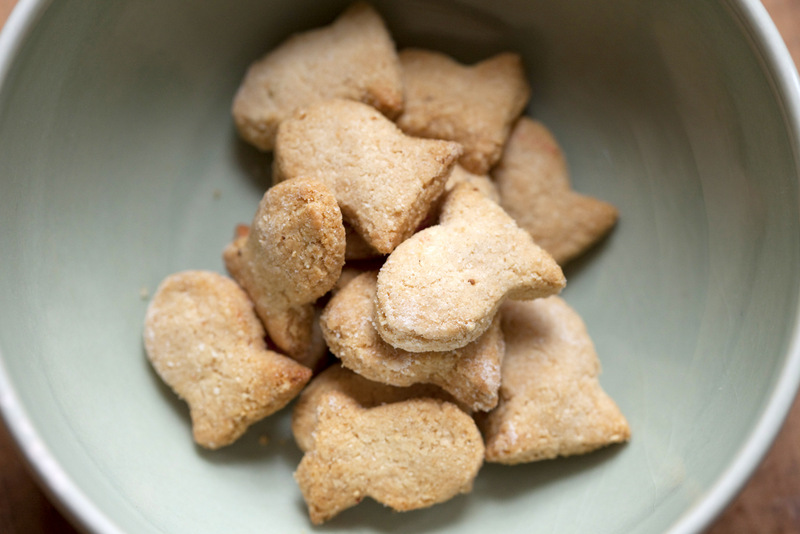 "Healthified" Cheez-Its!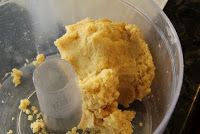 1 1/4 cup almond flour
1/2 tsp Celtic sea salt
1/2 cup freshly grated sharp cheese (I used aged Gouda!)
1 egg white
Preheat oven to 325 degrees F. Grate 1/2 cup cheese.
In a food processor (or medium bowl) whip the egg white until the egg has loosened and become frothy. Add in the almond flour, salt, and cheese until a stiff dough forms. Cut two pieces of parchment paper to the size of the baking sheet. Put dough on top of one piece of parchment. Place the second piece of parchment on top of the dough and roll out with a rolling pin until the dough covers the parchment sheet (see photo).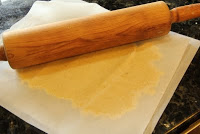 Roll the dough so it is the same thickness or it will bake unevenly.
Remove top parchment. Using a pizza cutter, score the dough into squares or other shapes. Place the parchment with the cut dough onto a baking sheet and bake 15-20 minutes, or until lightly browned. Makes 8 servings.
NUTRITIONAL COMPARISON (per serving)
Keebler Cheez-It = 160 calories, 8 g fat, 18 carbs, 1 fiber (17 effective carbs), 4 g protein
"Healthified" Cheez-It = 120 calories, 9.5 g fat, 2.4 carbs, 1.1 g fiber (1.3 effective carbs), 6.1 g protein
Click HERE to find the food processor I love for less than $30!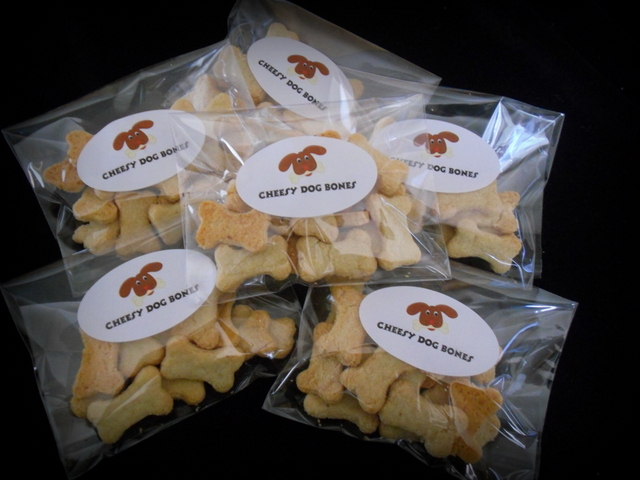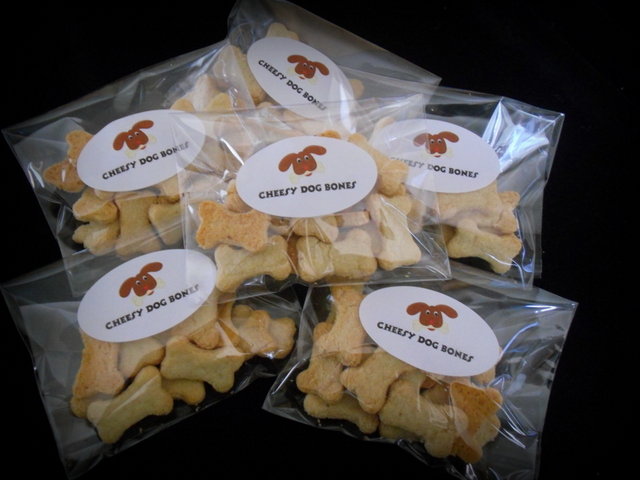 More ideas like this in The Art of Healthy Eating KIDS! If you would like to help out a small family, rather than large business, I am happy to announce that you can now get my books as a high-quality ebook that works on any platform. Plus, most of the profits don't go to Amazon or apple! Click HERE or select "My Books" above to get your copy now!
Thank you all for your love and support!


 Testimony of the Day
"Hi, Maria! I want to thank you so much for helping me! Here are photos of before and after eating your way of soy-free, gluten-free,  and eating locally and real food.  The picture doesn't show all the gastrointestinal, pain, and general icky feelings that disappeared as well! I can't thank you enough."
To get started on your "after" photo, click HERE! You deserve to feel and look the best you can!