Carnivore Quiche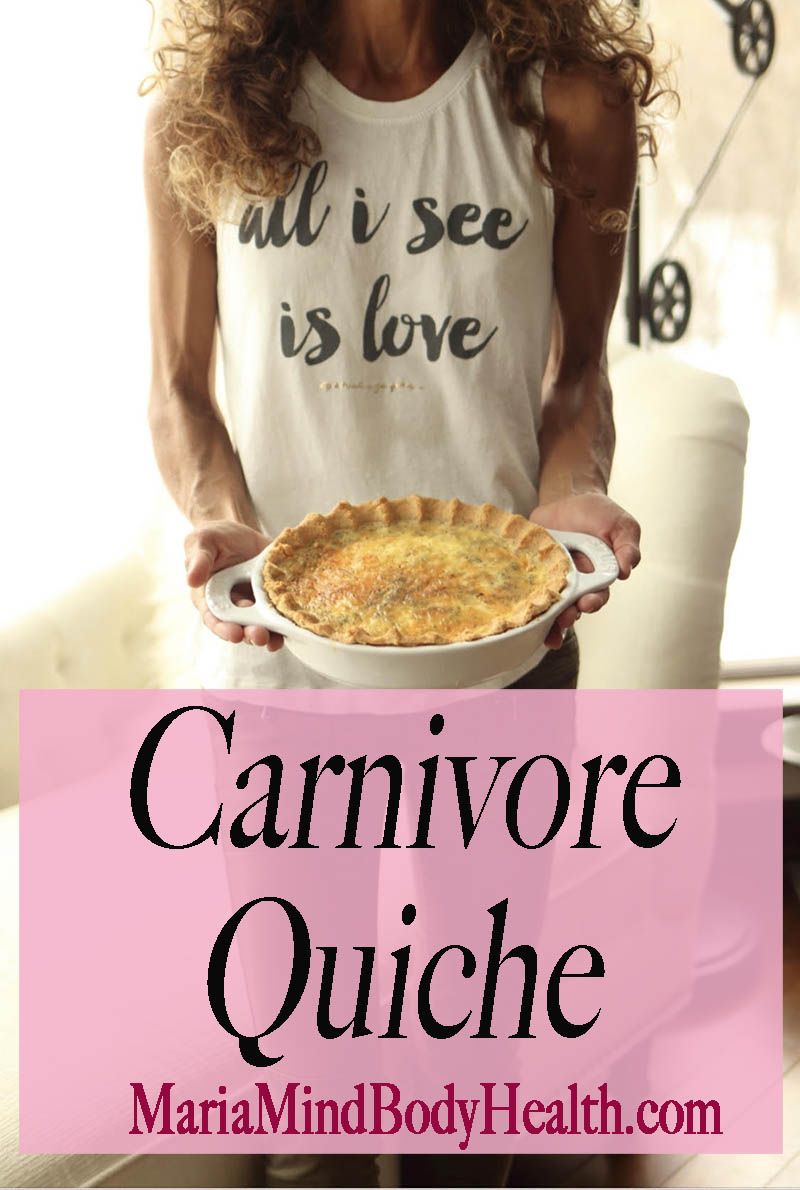 The Carnivore Diet has been changing lives! I get testimony after testimony on how the Carnivore diet is helping people finally heal!
Check out this testimony from the very famous Joe Rogan:
The Carnivore Diet somewhat started after we adopted Micah and Kai. Life was so busy juggling a baby, a toddler and work. Carnivore simplified my life! Plus, my boys didn't like vegetables. I thought they needed to eat them, so Craig and I started to research the most nutrient dense foods. GUESS WHAT? It is not veggies with the most nutrients, it is BEEF and ORGAN Meat! My boys LOVE bologna, hot dogs and sausages, we just make sure to get organic products from US Wellness Meats which makes the most delicious Tomahawk Ribeyes, bologna and hot dogs without sugar and even braunschweiger without sugar! Click HERE to check it out!
We were also desperate to find something that would help Craig with the pain he has from Lyme. Nothing was working and he tried everything! Once he eliminated all plants and the anti-nutrients (like oxalates) that came with them, which can cause pain, his pain was greatly reduced! A low oxalate food plan was essential to having my husband back. No one seems to understand how Lyme has changed his life and eating Carnivore has finally provided relief.
Carnivore is a great option for anyone who has any chronic disease or issue like autoimmune, mood issues like bipolar, anxiety, depression, chronic pain, fibro, Lyme, or other chronic issue that have seen some relief with keto, but not total resolution or reduction in symptoms. Carnivore can be the next step to realizing full relief. That is why we outlined the carnivore autoimmune protocol (CAIP) in this book to give you the tools to fully heal and reverse your issues and find your threshold for what foods you can add back in and keep symptoms away.
We now have a NEW CARNIVORE EBOOK WITH MEAL PLANS! FILLED with recipes like this delicious Carnivore Quiche so you can stick with this lifestyle and never get bored! Most cookbooks only have 100 recipes and this Carnivore eBook is filled with 130 recipes AND Meal Plans!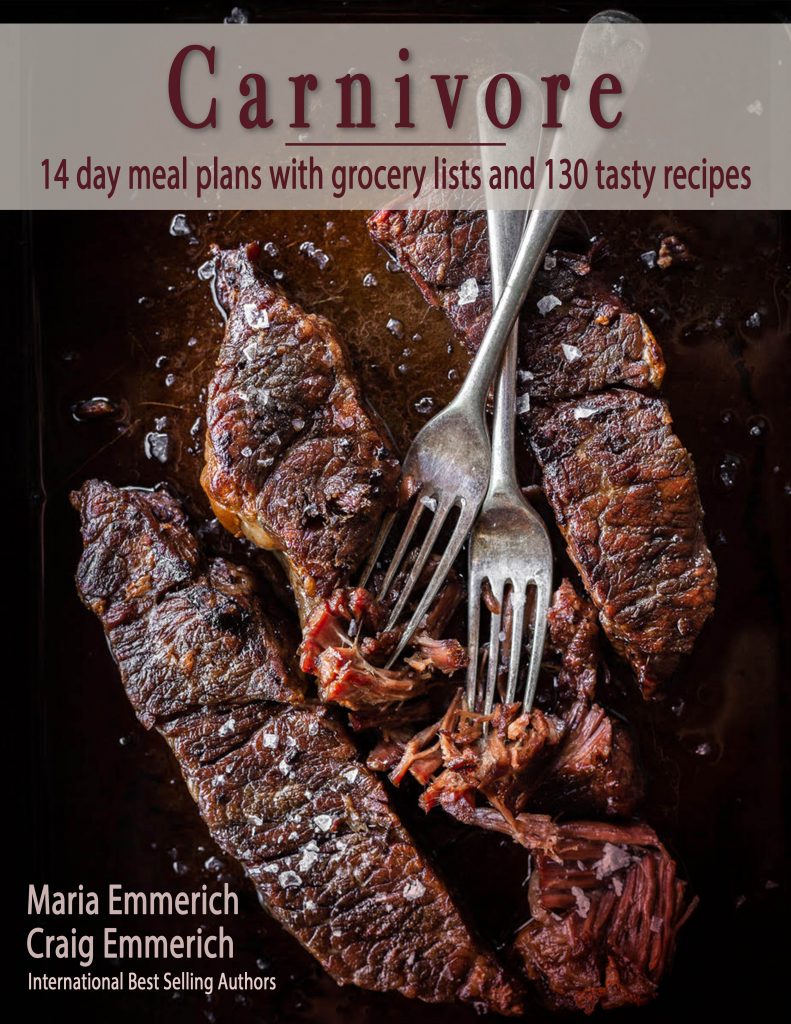 If you are looking for Level 1, 2 and 3 carnivore recipes as well as dairy free meal plans, you must check out our new Carnivore ebook!
If you would like to make a difference and support a small family rather than making a minuscule sale for a large company, I am happy to announce that you can now get my books as a high quality ebook that works on any platform (all done by my wonderful husband!). This is an ebook format that works on any computer or mobile device. It is a beautiful pdf that has all the full color pages and layouts as the printed books with click-able table of contents and searching capabilities. This is extremely useful when trying to find a recipe. These books are much higher quality than the ebook platforms (kindle, apple). Plus, most of the profits don't go to Amazon or apple!
Thank you for your support!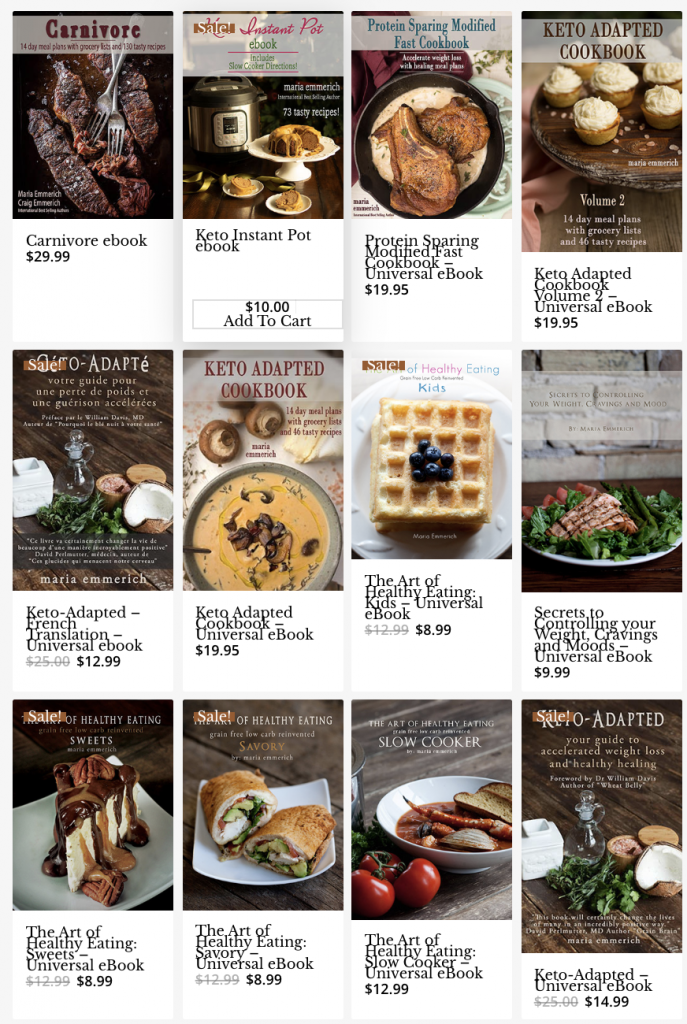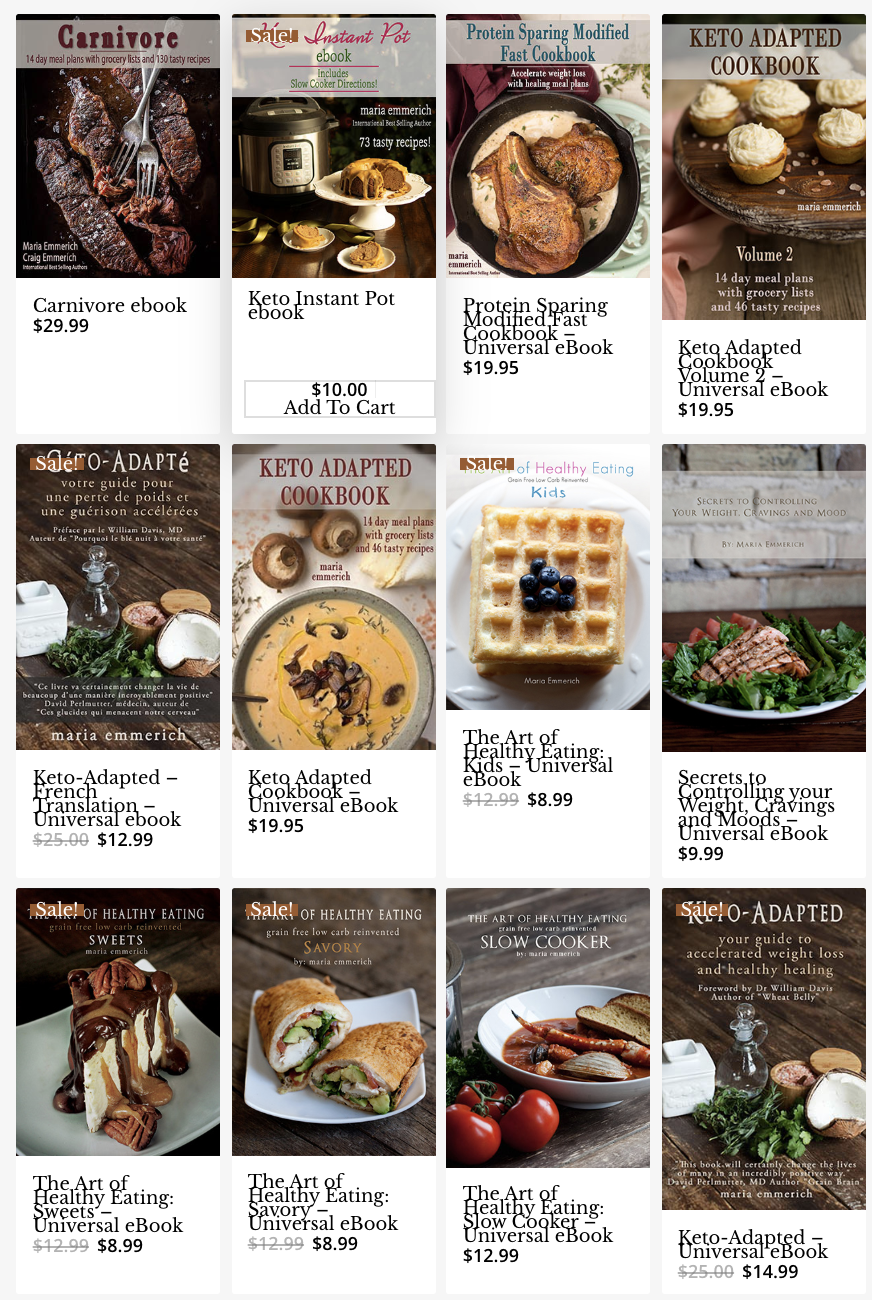 We still love food and I like to make holidays like Easter special, you MUST try this Carnivore Quiche! My recipe testers LOVED it!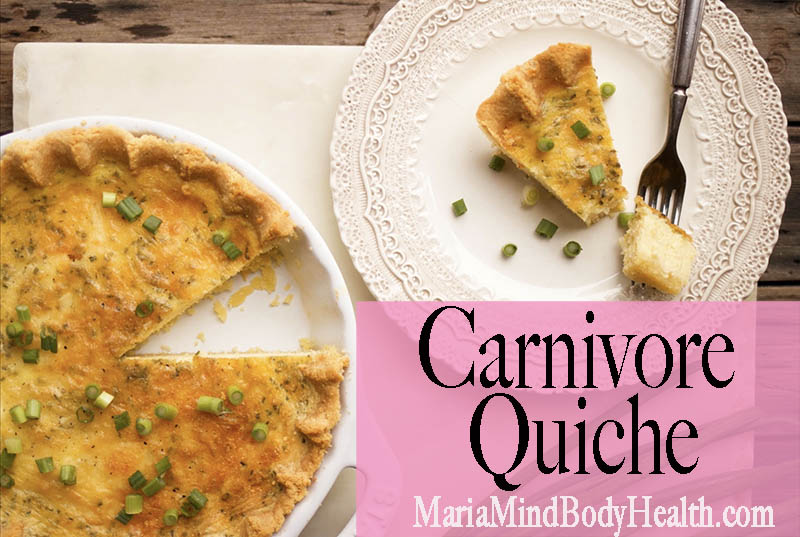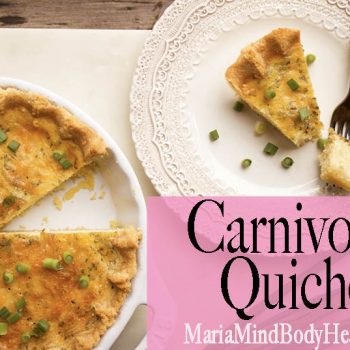 Carnivore Quiche
Ingredients
CRUST:
1 ¼

cups

powdered pork rinds

1 ¼

cups

freshly grated Parmesan cheese

or hard Gouda cheese

1

large

egg
FILLING:
1/2

cup

chicken broth

or beef bone broth, I used Kettle and Fire

1

cup

Swiss Cheese

grated or Muenster cheese

4

ounce

cream cheese

1

tablespoon

butter

melted

1/2

cup

diced ham

4

large

eggs

beaten

1/2

teaspoon

Redmond Real salt
Instructions
Preheat the oven to 325 degrees F. For the tart shell, combine the pork rinds, cheese and mix well.

Add the egg and mix until the dough is well combined and stiff (add more powdered pork rinds if needed). Press pie crust into a 9 inch pie dish. Cook the crust for 12 minutes, or until it starts to lightly brown.

To make the filling, place in a medium bowl, broth, Swiss cheese, butter and cream cheese. Stir well to combine. Stir in the ham, eggs, and salt. Pour mixture into pre-baked shell.

Place into the oven or air fryer and bake for 15 minutes. Reduce heat to 300 degrees F (150 degrees C), and bake an additional 30 minutes, or until a knife inserted 1 inch from edge comes out clean. You may have to cover the edges with foil to prevent over browning. Allow quiche to sit 10 minutes before cutting into wedges.
Video
Nutrition
Calories:
421
|
Fat:
30
g
|
Protein:
34
g
|
Carbohydrates:
2
g
|
Sugar:
1
g
|
P:E Ratio:
1.1
TESTIMONY OF THE DAY
"Hi Maria! I want to thank you for the miracle! 
I have ulcerative colitis, but this is the best I have been in 35 years, and for the last seven months, I have been symptom-free!!! Your testimonial to the anti-inflammatory diet inspired me to try it.  I have 3 of Maria Emmerich's books, at your recommendation, and love The 30 Day Ketogenic Cleanse and the Easy Dairy Free Ketogenic Recipes cookbook the best.  I am making breakfast chili today. We also love the sloppy joe's.
As a completely unexpected bonus, I lost 50 pounds and have only 15 more to go to be at my ideal weight…size 14 to 8 now!  I say bonus, because this just started to happen EASILY when I started to eat correctly.
The doctor said I do not need the new meds he was going to prescribe (they had so many potentially awful side-effects), and he said not to change anything I am doing because he said my colonoscopy showed excellent improvement! 
Without you, this would not have happened, so I thank God for you Chris!"
Most people I consult are doing keto totally wrong. Get fast results with the my NEW Keto Packages!