Bacon Roses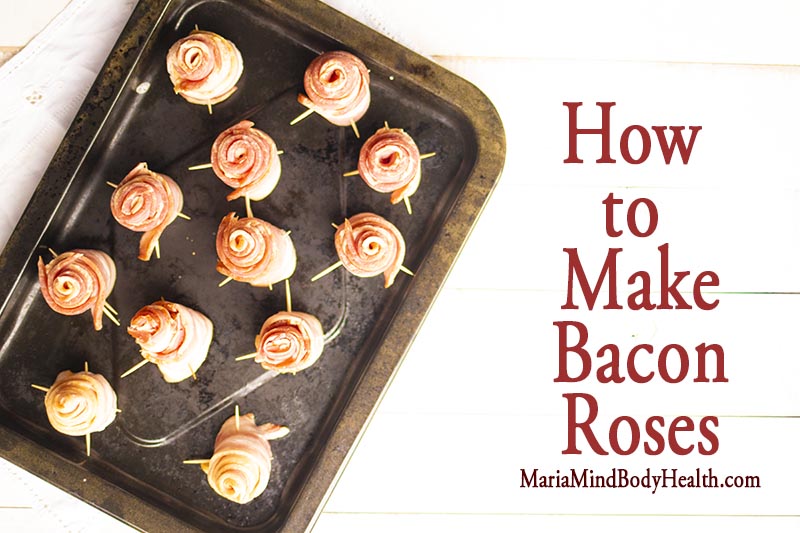 Today is our 19th wedding anniversary so I thought I would make a fun bouquet of Bacon Roses for celebrating!
I can't believe it has been 18 years since our wedding! We have been through so much together. I feel blessed to have such a generous, kind man as my husband. Craig is the most amazing father to our precious boys. He is a patient home schooling dad who teaches with passion and love. He puts up with my crazy adventures even though he may be tired and weak due to his illness but he puts on a smile and always does his best despite my outrageous ideas. I am a very lucky woman to have found such a man when I was only 17 years old.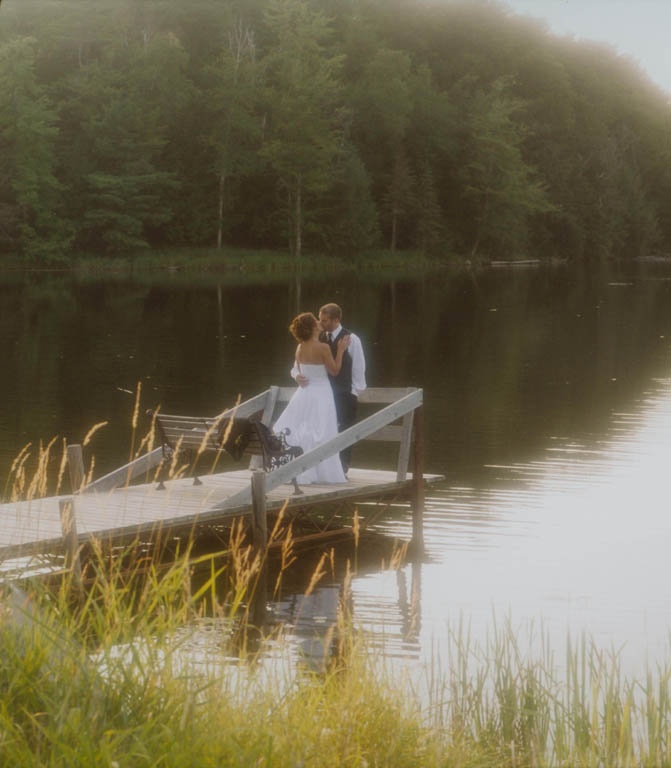 When we were engaged we read, The 5 Love Languages, which was the most helpful book to understand how to feed the proper love to all the people close in my life. Craig's love language is personal touch. My love language is not gifts, it is quality time. I'm not one to ask for real roses on anniversaries or Valentine's Day but I do love it when Craig helps me make fun projects like these Bacon Roses.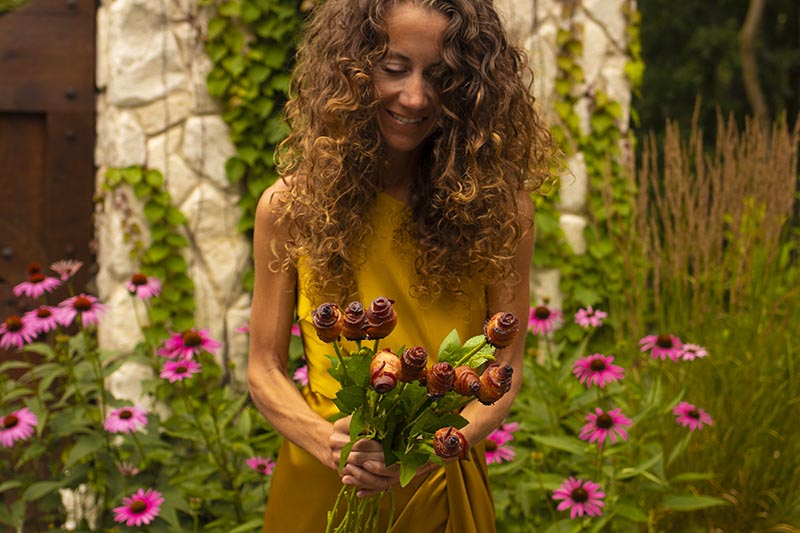 SUGAR FREE BACON
It is hard to find bacon without sugar and when you do it is VERY expensive! That is why I order Butcherbox bacon! It is sugar free and it is mailed to my front door!
If you LOVE bacon like my son does, you are going to want to check this out!
Butcherbox is doing a special deal when you sign up now!
If you're an existing ButcherBox member I've got deals for you too.
Skip the stores with all the temptations and get quality food mailed to your front door!
Click HERE to access member deals and specials. You'll find exclusive and limited time offers as well as new product launches like lobster, ground bison, seafood sampler, cast-iron favorites, their legendary bacon blast (10 packs of bacon for just $5/pack), and so much more. Their member deals are constantly changing so be sure to click HERE!
Bacon Roses
Instructions
Preheat oven or air fryer oven to 375 degrees F.

Preheat the oven to 375 degrees F. Place a piece of parchment on a rimmed baking sheet. Take one slice of bacon and roll it up like a jelly roll to make a cylinder shape. Take another slice of bacon to continue rolling around the rolled up bacon to make a rose shape.

Use a toothpick at the bottom of the rolled up pieces of bacon rose to secure it. Place on the parchment lined baking sheet so the cylinder is facing up.

Repeat with remaining bacon.

Place in the oven to bake for 30-40 minutes or until the bacon is cooked through and browned. If you use thin bacon, cook for 25-35 minutes; make sure to check often. If you use thick cut bacon, cook for 35-45 minutes. Remove from oven and allow to cool a bit before handling.
TESTIMONY OF THE DAY
"When I was in 7 th grade, I was diagnosed with Petit Mal Epilepsy. I think I was around 12 years old when this came about and was started on medications that I felt- even as a kid, caused me to eat more and retain weight. I truly believe this is where my weight gain began. I can't blame meds for everything-then there was the freshman 15, going off to college and eating carb filled meals in the dorm, going to grad school when many meals were fast food in the car, sleeping in the car because I worked A LOT and had a full load of classes. Healthy eating and weight loss, while important, was not a priority at that time.
Like many, I have tried every diet out there- Weight Watchers, Nutrisystem, Atkins, cabbage soup, Wheat Belly, Dr. Oz recommendations, and of course every magazine at the grocery checkout that touted a new weightloss miracle! I also have a library of books and cookbooks…nothing worked consistently, and part of that of course was me.
A year and half ago, I passed my psychology licensing exam- it was a weight on my shoulders- I graduated in 2001 but feared this exam. Now about 17 years later and against all odds, and working full time and being a mom, I passed my final exam on January 12, 2018. At this time, I was at my highest weight of 290!. The day after, I started low carb. Somehow I knew this was part of the issue. I was also hearing about keto- and remember thinking- wow, wish I knew about this as a kid, maybe I wouldn't have had to take medications for so long…I recall thinking isn't that the very strict diet? Then my trusty sources- the women's magazines at the grocery store, mentioned keto…so I started reading…and this is how it began. It started to make some sense. I watched the magic pill documentary and was amazed! By May 21, 2018, I realized I had lost about 25 lbs! I felt great and didn't feel deprived. I think this is one of the keys to successful weight loss. I like to eat and taste food, it's an important part of my culture and how many of us live. I was learning that there are substitutes and people doing keto, eat real food. So my keto journey began…there was still much to learn, and I hadn't discovered Maria and Craig Emmerich yet…but I did the best I could and didn't cheat. As with any learning process, there's trial and error. In the beginning, I didn't understand what "macros" were, but I just knew no sugar, carbs, grains or starch. That's where I started.
By July 2018- I was on top of the world! I had lost an additional 30 lbs! I even went on a 2 mile hike in the Smokey Mountains- something I never thought I could do. That summer I was faced with temptation as I went home to Michigan and was faced with Lebanese food, pita bread, fried lake perch, sweets, ice cream, and I said no to all of it!
Keto gave me better health! After 3 months of Keto, I was able to get off high blood pressure medication, and diabetic medications! I had been diagnosed diabetic about 5 year's prior- and it runs in my family. This scared me because I've had relatives lose limbs and die because of complications of diabetes. My fear, which is what drives me every day to keto on, is my daughter…currently she is 13, and I don't want to miss out on watching her grow, graduate college, get married and have my future grandchildren…I would remind myself of this EVERY SINGLE DAY and especially when faced with temptation…My Mary is more important to me that how a slice of pizza tastes.
So by early fall 2018, I came across the Emmerichs, and learned of their cookbooks and started to educate myself through their wisdom. I am forever grateful. In addition to continuing to learn, reminding myself why I want health (Mary), the facebook groups that the Emmerichs run are truly family to me. I cleared my Facebook of all the unhealthy food groups etc, and so mostly I see my keto family on my Facebook- that was a huge support!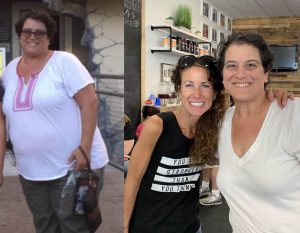 I started keto for health, and experienced wonderful side effects of weight loss, confidence and a happier self. I am still working toward my weightloss- as of August 6, 2019, I've lost 100.3 lbs! I'm amazed! I am a role model for my daughter and husband- they are not full keto, but they are cutting way down on carbs and sugar and grains- mainly because I do the cooking, but they are slowing learning and proud of me. Everyone does things when they are ready, so I tell everyone about my journey, the Keto way, and the Emmerichs. I have gone from a size 24/3x to size 12/14/L.
I feel that I've been given my life back to live. I hope next summer I will be paddle boarding on Lake Huron (because I won't in FL because of Alligators) and continue to go on hikes and pushing myself to even better health. When you feel like giving up, remember why you started, and know that even if people in your family or friends aren't supportive, your keto family has supportive and inspirational message 24/7!" Helen
Most people I consult are doing keto totally wrong. Get fast results with the my NEW Keto School!