Testimony of the Day
"A year ago I met Maria Emmerich for a health assessment and consultation. My main goal was to lose a few pounds. However, I had also been suffering from IBS, allergies, and many sinus infections over the past several years. Maria helped me change my diet and my life. She has a wealth of knowledge on how vitamins, chemicals, and different foods can affect our metabolism, moods, and energy levels. I would highly recommend her to anyone looking to make a lifestyle change, lose weight, and get healthier for good, not just temporarily on the latest fad diet. She has a wealth of information on her blog. The results will amaze you!
I have not had a sinus infection in 12 months and my IBS problems disappeared. No more allergy-related eczema. And I lost weight (of course now gained being pregnant, but I'm smaller than I was with either of my previous pregnancies!). Feel free to ask me any questions. I highly encourage all of my friends to check out Maria's books and websites if you are serious about getting healthy!" -Mary
Click HERE to start your journey to a keto-adapted diet!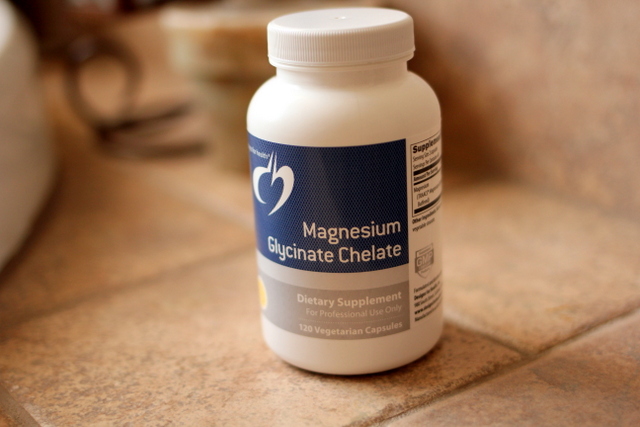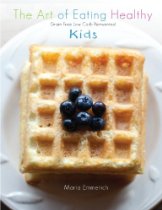 Magnesium Facts
For every molecule of sugar we ingest, our bodies use 54 molecules of magnesium to process it! No matter where the carbohydrates come from; 4 grams of carbohydrates equal one teaspoon of sugar in our body. Let me say that again…4 grams of carbohydrates equal 1 teaspoon of sugar in our body. So with that thought, a small Blizzard has 530 calories and 83 grams of carbohydrates; which equals 21 teaspoons of sugar. A nine-ounce bag of potato chips equals 32 teaspoons of sugar…add a soda, that's another 16 teaspoons of sugar.
Are your kids having a hard time falling asleep? Most people are deficient in magnesium, including children. A magnesium deficiency can have serious consequences, including low serotonin. Magnesium and serotonin don't just help to regulate your mood, they also can affect your physiology in many ways. Serotonin is a neurotransmitter that sends signals of satiety, satisfaction, and relaxation. It also regulates our appetite and influences sleep cycles; if serotonin is low, melatonin will be low. So low magnesium can lead to over-eating, depression, insomnia, and other serious issues including migraine headaches.
Find more fun facts like this in my kids color cookbook. Click HERE to find.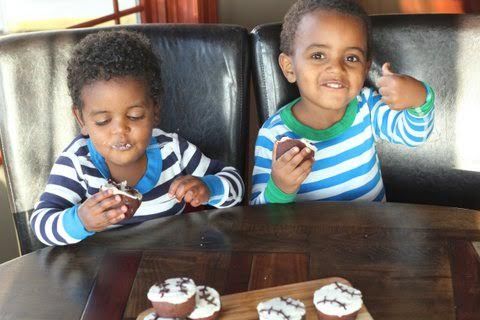 1/2 cup coconut flour
1/4 tsp Celtic sea salt
1/4 tsp baking soda
6 eggs (or 3 eggs and 1/3 cup coconut milk)
1/2 cup Swerve  (or erythritol)
1 tsp stevia glycerite (omit if using Swerve)
1 tsp vanilla
1/2 cup coconut oil or butter, melted
1/4 cup unsweetened cocoa powder
Preheat oven to 350 degrees F. In a medium-sized bowl sifts together the dry ingredients. Slowly add the wet ingredients into the dry ingredients and stir until very smooth. Grease a donut pan and fill about 2/3 of the way full with batter. Bake for 18-20 minutes, or until a toothpick comes out clean.
FROSTING:
1/2 cup coconut oil or butter
8 oz cream cheese or coconut cream
3 TBS Vanilla Almond Milk
1 TBS Stevia Glycerite (to taste)
In a bowl, mix the butter/oil and the cream cheese, almond milk, and sweetener to taste. Mix until creamy. Spread on top of cupcakes. I also melted 1 ChocoPerfection bar with 3 TBS almond milk. I placed the melted chocolate in a small Ziplock bag and cut a tiny hole in the corner. I used this to pipe baseball stripes on the cupcakes. Makes 16 servings.
NUTRITIONAL COMPARISON (per serving)
Traditional Cupcakes = 283 calories, 19g fat, 3.6g protein, 26 carbs, 0.9g fiber
"Healthified" Cupcakes = 214 calories, 20g fat, 4.2g protein, 3.2 carbs, 1.7g fiber