Banana Cream Pie
TESTIMONIES OF THE DAY
Phone Client Testimony: Working with you has been a joy.  You are an amazing person with a huge heart. Your kindness and caring come through clearly, even over the phone. And obviously your knowledge is invaluable. I still can't believe I am sleeping 7-8 hours every night.
Thank you so much for everything! K
Keto Cleanse Testimony: "We did the keto cleanse and all the recipes were fabulous and so we can't wait for more. Thank you again so much for all you do." – Jamie
Photo Testimony:"I started following you and eating keto adapted about 18 months ago.  I, like you, have tried everything-vegan, vegetarian, vegan raw, liquid, low fat, weight watchers, every pill there is.  I had many autoimmune disorders going on in my body.  I have been very, very active for about 10 years-running, HIIT, weight lifting, cycling.  I also am fortunate to be super disciplined; for whatever reason (probably better called OCD) sticking to things is very easy for me. 
I just couldn't get the weight to come off.  I was tired all the time, and had tons of pain in my body.  I would have frequent blood sugar crashes that would send me to take naps several times a day.  Then I found your blog.  I have been eating keto adapted now for about a year and a half.  I have played with my carbs and my diet to see what works.  I have been super low, and up into moderate carb intake.  Too low makes me have bouts of nausea and something throwing up in the middle of the night. 
When my carbs get too high (over 50), I start to have pain in my joints and my weight loss stalls.  I don't have much more to lose and I haven't even figured out what maintenance looks like, but I know this works.  I feel best, I perform better and I even build muscle eating about 50 or less carbs a day with 70-75% fat.  I have gone from a size 14 pants, to a loose size 2.  I have lost 42 pounds so far.  I have dropped my body fat from 29% to 12.31%.  Thank you for all you do to educate and promote this way of living.  I may not have bought one of your programs, but I have ALL your cookbooks, plus Keto-adapted and Secret to controlling your weight, cravings, and moods." – Dawn 
 To start your path to healthy healing, click HERE. Now on sale!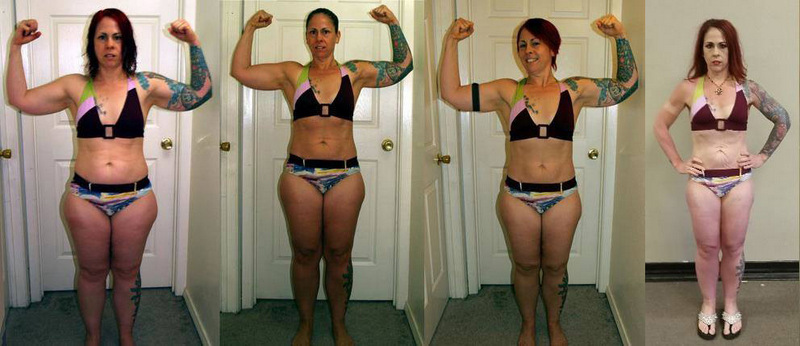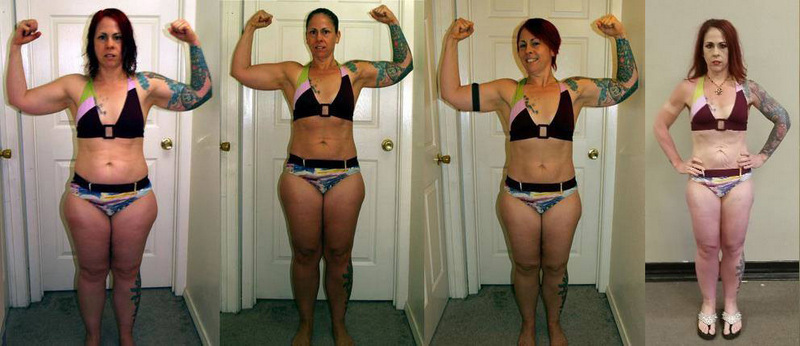 Weekend Eating
Do you wake up Monday morning with a "food hangover" and dreading the scale? In the past, I was what you would call a "week-day" dieter. I would be so good during the weekdays (probably because I was so busy) but on those relaxing weekends, I would let anything pass my lips. Yes, I said anything. All of the junk food I blog about staying away from, I was guilty of eating in my past life (several years ago). I would love Friday afternoons because it meant I no longer followed my rules of eating. I do not judge anyone for their diets because I was there once myself too. It was a long process to get where I am today.
A few years ago, Craig and I were at a Chinese/Sushi restaurant and I asked my husband "When was it, where I would see Crab Rangoon on a menu and not be tempted to order it?"… This wasn't an over night process for me and I don't expect it to be for you. One main thing that helped for me was to take note of how I felt in the morning after eating junk food.  Just how awful I felt the next day helped me make better choices.
The average woman eats 400 more calories (most of them in the form of carbohydrates) on a Saturday or Sunday than she does on a weekday, which can lead to a 9 pound gain over the course of a year.
This yoyo weight gain also causes a tired liver. Instead of hating yourself on Monday morning, keep some of my "healthified" treats on hand.
I actually do recommend a higher calorie day once or twice a week to help stimulate the thyroid and T3 production, but this doesn't mean a "cheat day" of Pizza Hut and Dairy Queen. It means maybe a huge piece of "healthified" dessert that day or an extra serving of "healthified" pizza. I usually have my cheesecake or my ice cream recipe on those days (I'm not dairy sensitive). Where Craig prefers an extra hamburger (he doesn't have a sweet tooth).
To read more on Over-Feeding Days, check out my book Keto Adapted. Thank you for your love and support!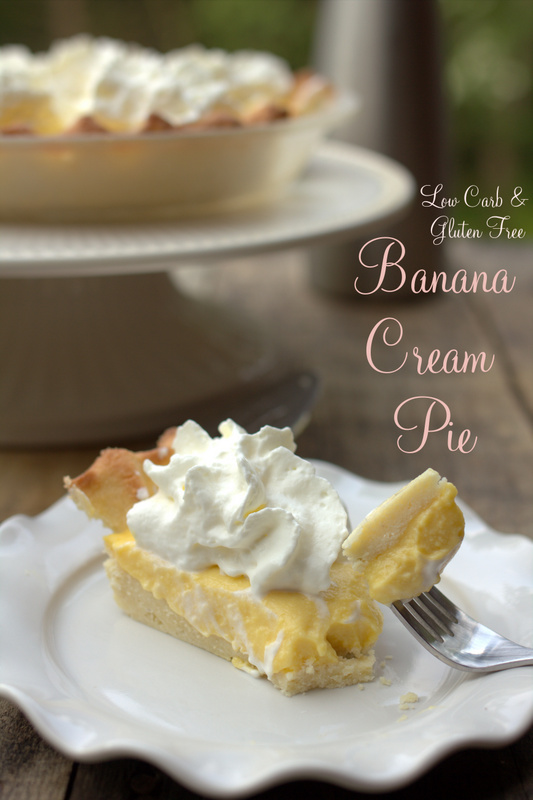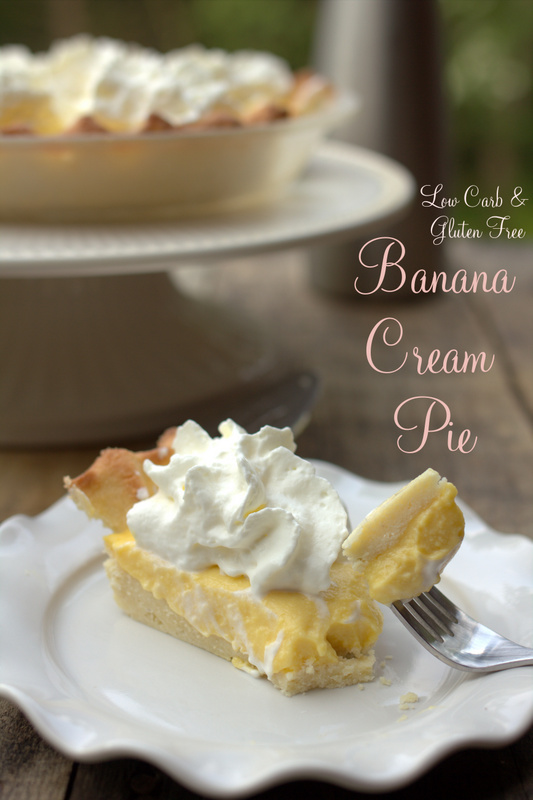 Banana Cream Pie
Ingredients
CRUST:

3/4

cup

blanched almond flour

1/4

cup

coconut flour

1/2

cup

coconut oil or butter

1/2

cup

Natural Sweetener

1

tsp

stevia glycerite

1

tsp

Redmond Real salt

FILLING:

6

large egg yolks

1/2

cup

unsweetened almond milk

1/4

cup

Natural Sweetener

or erythritol and 1/4 tsp stevia glycerite

1/4

cup

butter or coconut oil

melted

1

teaspoon

banana extract
Instructions
Preheat oven to 325 degrees F. Grease an 8 inch pie pan.

To make the crust, in a medium bowl, mix ingredients. Press onto bottom of pie pan. Place in oven to pre-bake the crust. Bake for 15 minutes or until lightly golden brown. Remove from oven and set aside to cool.

To make the filling, whisk egg yolks, almond milk, and sweetener in medium metal bowl to blend. Slowly mix in the melted butter so the eggs don't cook unevenly. Set bowl over saucepan of simmering water. Whisk mixture constantly and vigorously until thickened and instant-read thermometer inserted into mixture registers 140°F for 3 minutes, about 5 minutes total (or coats the back of a spoon). Add extract. Remove mixture from over water. It can be prepared 1-3 days ahead and refrigerated.

Pour the mixture into the cooled pie crust and top with sugar-free sweetened whip cream if desired.
Notes
NUTRITIONAL COMPARISON (per serving)
"Healthified" Banana Cream Pie = 194 calories, 19.1g fat, 3.4g protein, 3.4g carbs, 1.8g fiber Without crust:
62 calories, 6.1g fat, 1.4g protein, 0.4g carbs, 0g fiber