Baconnaise
Try my Baconnaise recipe.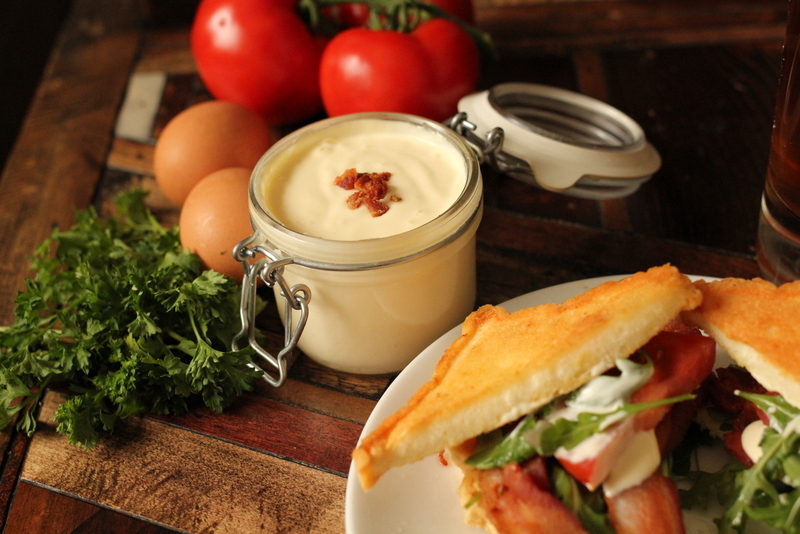 Baconnaise
Ingredients
2 egg yolks
3 tsp lemon juice
1 cup liquid bacon fat (not too hot)
1 tsp Dijon mustard (to help emulsify)
Instructions
Place the yolks in a small food processor with 1 tsp lemon juice and mix until well combined.
Turn the food processor on low and slowly drizzle the liquid bacon fat into the yolk mixture, drop by drop in the beginning. If you put too much oil at once, it will separate.
As you add more bacon fat, the emulsion will form and the mayonnaise will start to thicken and you can pour the fat in faster.
Once you add all the bacon fat, mustard and add the rest of the lemon juice and taste your creation. Add salt to taste if needed.
Store in the refrigerator.
Notes
NUTRITIONAL INFORMATION (per serving)
"Healthified" Baconnaise = 123 calories, 13.4g fat, 0.5g protein, 0.1g carbs (98% fat, 1.6% protein, 0.4% carbs)
Testimony of the Day
In 2001 I felt like crap! Depression, anxiety, exhaustion, adrenal fatigue, hypothyroidism, mononucleosis, candida over growth, Celiac's disease, and an abundant of other food sensitivities. All unknown at the time. I just knew I hurt mentally, emotional, spiritual, physically, psychologically and I didn't know why. No one did. I was a full blown vegan.
With Maria's guidance of supplements and staying 100% compliance to her diet, my gut has finally healed, my emotional health completely stabilized, my acne gone, excess pounds gone, brain fog gone, tired / fatigue gone. I am the healthy image I longed to be. It took time, persistence, patience, and self-discipline. It has been a journey that has paid off!" Lacy