3 Musketeers
TESTIMONY OF THE DAY
HAQ Testimony Update: "Hello Maria and Craig!
I started following Keto Adapted in Mar-14 just taking it slowly by reading your book, blogs, recipes. I had to keep it simple since the rest of the family wasn't fully on board 🙂 I then consulted with you.
Well I just got the results of my lab work and am amazed. I knew it was working from weight loss and feeling in general but this just confirmed it. I also have celiac so this was necessary to help with that. I am by no means perfect in my eating but I try to make choices one step at a time :). Here were the results: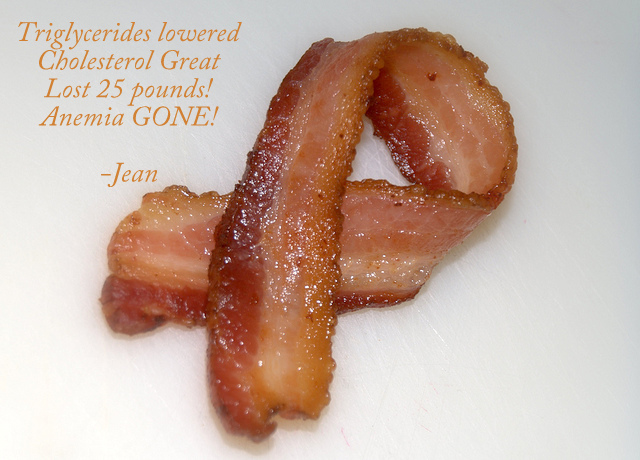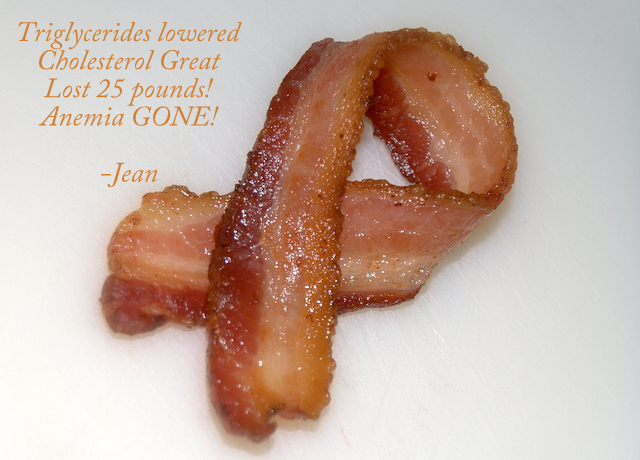 Triglycerides: 41 down from 86 Glucose: 84 down from 93 LDL cholesterol 115 down from 141 Cholesterol: 181 down from 208 
I've also dropped about 25 pounds…and anemia is gone!
See that is what bacon and burgers will do for a girl
I just took the supplements class and can't wait to get started on the next step. Happy to say the whole family is getting there too!
Thanks for ALL you do!" – Jean
 SCARY FACT: Only about 8% of celiacs truly heal! Do not let your self be the 92% suffering!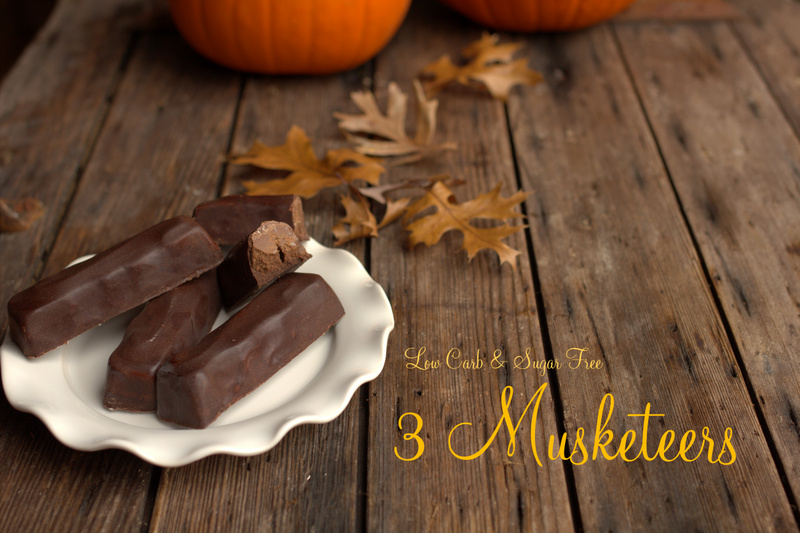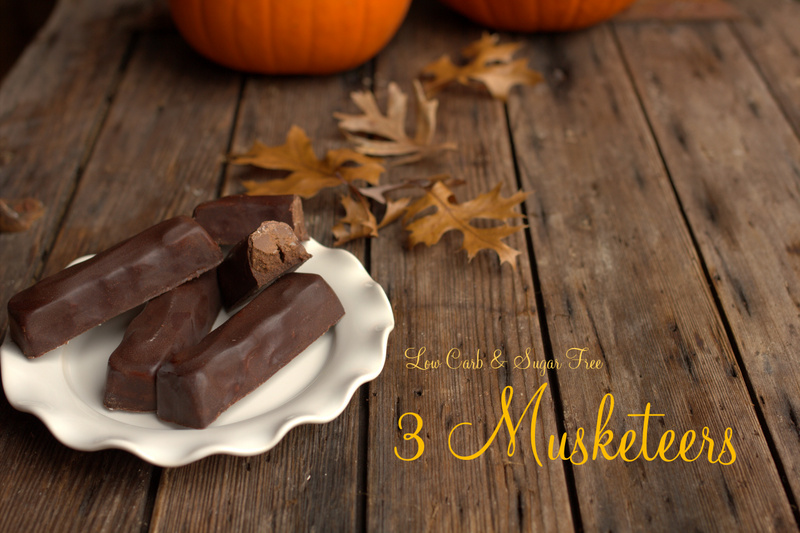 The funny thing about this recipe is that I originally posted it on Facebook (on Keto Adapted) as a Milky Way. My friend Rebecca texted me and wrote, "shouldn't it be a 3 Musketeers?"
I asked "What's the difference?"
She said that a Milky Way has caramel!
AH! It has been a long time since I've had either!
Anyway, we do go trick-or-treating but what we do is the boys exchange the candy they gather for "healthified" ChocoPerfection bars and my homemade chocolates. My son Micah especially really doesn't like it when his belly hurts so he prefers to not eat sugar. The time and effort to create a healthy Halloween is totally worth it!
3 Musketeers
Ingredients
WHITE CHOCOLATE BAR:

2

oz

cocoa butter

1/3

cup

Natural Sweetener

1

tsp

toffee extract or a few drops toffee oil

1/8

tsp

Redmond Real salt

MILK CHOCOLATE BAR:

Add 1/4 oz unsweetened baking chocolate

DARK CHOCOLATE BAR:

Add 1/2 to 1 oz unsweetened baking chocolate

depending on how dark you like it

FILLING:

1

cup

coconut oil or butter

room temperature

1¼

cup

Natural Sweetener

4

1 oz squares unsweetened baking chocolate, melted and cooled

1

vanilla bean or 1 tsp vanilla extract

¼

tsp

almond extract

4

eggs
Instructions
Place cocoa butter in a double boiler and heat on medium high until fully melted (or microwave safe bowl and heat on high for one minute, check and heat for 30 seconds until melted). Melting cocoa butter takes longer than traditional fats.

Stir in natural sweetener.

Stir in extracts and salt.

line the edges of truffle or candy bar mold with the chocolate leaving the center open for the filling to go in and then will put chocolate on top of filling to seal it. If the chocolate won't stay up the edges of the mold to line it, let set up just halfway by cooling it in the freezer for a minute or two and then smooth it around with finger to get the sides lined and ready to set and fill. Sometimes the chocolate is too oily and needs to set up slightly in order to stick to edges of candy mold.

Cool in refrigerator until white chocolate is solid, about an hour. Or the speedy method; you can place the molds in a freezer till they are set up, which will only take a couple of minutes versus and hour.

FILLING: Cream coconut oil or butter in a mixing bowl. Gradually beat in the natural sweetener with an electric mixer until light colored and well blended. Stir in the thoroughly cooled chocolate, vanilla and almond. Add the eggs, one at a time, beating 5 minutes on medium speed after each addition. Refrigerate at least 2 hours before making candy bars.

TO MAKE Candy Bar: Remove the mold from the fridge or freezer and fill with filling. Then top off the filling with a layer of the cocoa butter mix so that the filling is inside and surrounded by the chocolate. Place back into fridge/freezer to set.
Notes
NUTRITIONAL COMPARISON (per serving)
Traditional Milky Way = 200 calories, 9g fat, 2g protein, 28g carbs
"Healthified" Milky Way = 118 calories, 13.2g fat, 0.5g protein, 0.8g carbs
Click HERE to find ChocoPerfection on sale!