Testimony of the Day
"It's been less than a year since I stopped eating wheat and anything containing gluten. This January we started watching carbs, but not religiously. In under one year, more than 45 pounds has disappeared. (The two pics on the right are "before", within the last two years, and the two pics on the left are recent, as in last few weeks.)
I don't know for certain how much I've lost because I stopped weighing myself when getting on the scale made me cry… I can only assume it's closer to a 55 pound loss, but I'm going with the measured loss, starting with the weight once I was able to get bring myself to get back on the scale.
I still have a little ways to go, but I am really pleased and quite proud of how far I've come. (Plus I've gained some decent cooking skills along the way.) I've seen and been inspired by a lot of before & after pics, so here's my proof that it works and I'm happy to share it." – Stephanie
Don't wait another day! Click HERE to get started on your journey!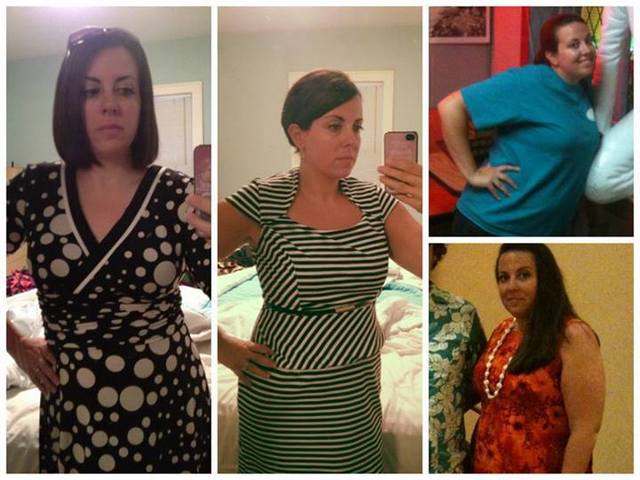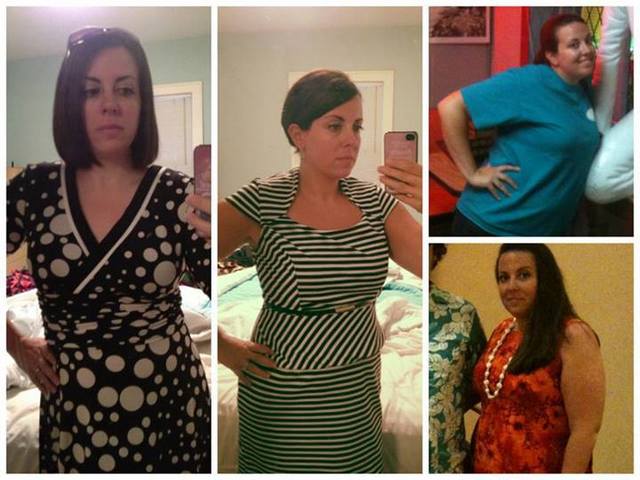 Another big SALE!
My Kids cookbook is now 30% off! Now through Sunday get it for $17.99! This is not just for kids, some of the breakfast options alone make this worth it for us big kids (pancakes, waffles, malt-OH-meal and amazing cereals). Plus french 'fries", sloppy joes and much more. All the recipes are grain free and low carbs (along with dairy-free options). If you have a copy already, share, share, share and tell your friends. Thanks so much for your support! 🙂
Click HERE to get your copy today!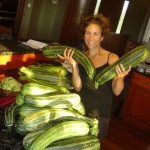 Do you have zucchini coming out of your garden like I do?
I was about to play 'ding dong ditch' on my neighbors, but with this recipe, I might be keeping more zucchini than I thought I would!
Zucchini Bundt Cake
To find the best prices on the ingredients I use, click on the word to take you to the website. A tasty change-up in this recipe is to use raspberry extract in place of vanilla for a chocolate-raspberry cake!
Ingredients
CAKE:

3

cup

blanched almond flour

or 1 cup coconut flour

3/4

cup

unsweetened cocoa powder

1/2

tsp

Redmond Real salt

1

tsp

baking soda

1

tsp

ground cinnamon

optional

6

eggs

12 eggs if using coconut flour

1

cup

Natural Sweetener

or equivalent

3

TBS

coconut oil or butter

melted

3

TBS

unsweetened almond milk or coconut milk

1/2 cup if using coconut flour

1 1/2

cups

grated raw zucchini

1

tsp

vanilla

or other extract like raspberry

OPTIONAL: 1/2 cup chopped walnuts or pecans

GLAZE:

1/2

cup

coconut oil

melted

1/4

cup

Natural Sweetener

or equivalent

1

tsp

vanilla extract

or other extract like raspberry
Instructions
Preheat oven to 350F.

Combine almond or coconut flour, salt, cocoa powder, cinnamon and baking soda into medium-sized bowl.

Beat eggs and natural sweetener for about 2-3 minutes.

Add in melted coconut oil, almond milk and extract to the egg mixture.

Grate the zucchini. Squeeze out the water of zucchini if it seems wet, then add to the egg mixture.

If desired add 1/2 cup chopped walnuts or pecans.

Stir the wet and dry ingredients together, only stirring enough to combine. Spray bundt pan with coconut oil spray.

Bake about 50-60 minutes, or toothpick inserted into the center comes out clean.

OPTION: Make into donuts! For some reason, everything tastes better as a donut! Click HERE to find my donut pan.

GLAZE: Mix all ingredients and spoon over cooled cake.
Notes
NUTRITIONAL COMPARISON (per serving):
Traditional Chocolate Zucchini Cake = 289 calories, 19g fat, 5g protein, 40.6g carbs, 2.1g fiber (38.5 effective carbs)
"Healthified" Almond Flour Zucchini Cake = 242 calories, 21.6g fat, 7.5g protein, 7.2g carbs, 3.7g fiber (3.5 effective carbs)
"Healthified" (using coconut flour) = 171 calories, 14g fat, 6.1g protein, 6.8g carbs, 4g fiber (2.8 effective carbs)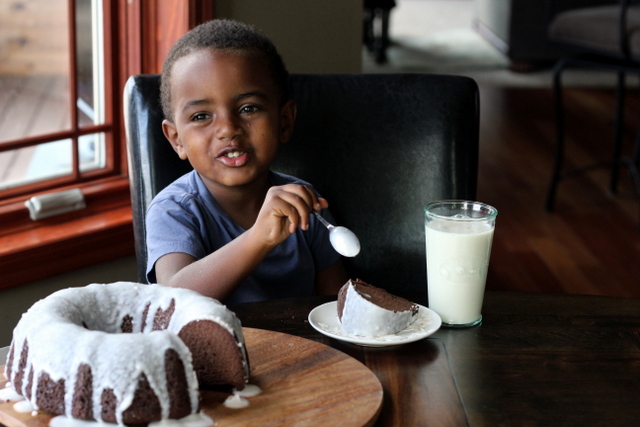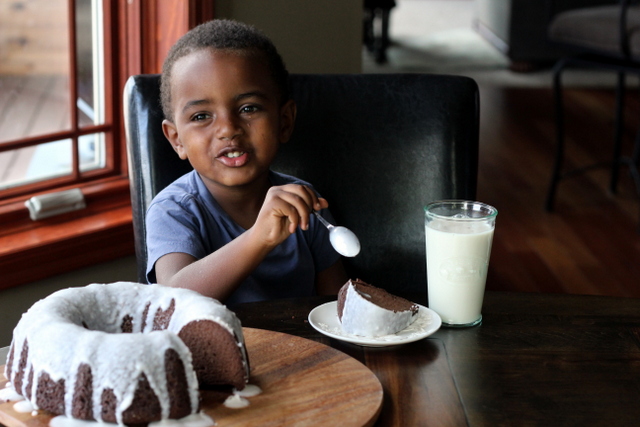 link
link