Testimonies of the Day
30 Day Accelerated Client: "Good morning, I just wanted to share with you, today is day 13 of your advanced healing plan.  Yesterday and today I have woken up feeling like a new person.  I am only 34 but have felt much older for the past few years (and now that I feel this good think it has been most of my life).  My GI issues that have gone on for 2.5 years are slightly improved but the main changes surround my attitude, energy, and skin.  The past 2 mornings I have woken up in such a positive mood I have been excited to exercise and to have a good day.  I have had so much energy I almost feel like Tigger!  Almost, ha ha!  
My skin has also clearing up, which is something I have battled since my teen years.  I have lost about 7 pounds but the most exciting part is how I feel.  When I woke up yesterday I felt astonished at how miserable I have felt for many years.  I have always been someone who needed 12 hours of sleep but when I started having kids 8 years ago, that really took a toll on me to the point that after reading your information, I am pretty sure I have burnt my adrenal system out and compounded the issues with poor food choices that enhanced inflammation.  
I suffered weight gain and depression along with anxiety.  I would just feel unhappy and spent more energy than I had to get through the day.  It is such a cycle and for the first time in my life I feel like I have some control over it.  I no longer feel trapped in my dysfunctional body!!  Thank you!  I want to sing your praises.  You have answered my few emails with straightforward and caring replies.  You have a personal touch which sets you apart.  I have already sent my integrative doctor a message because I know he will want to know more about your plans.  Have a great weekend, I know I will!" – Llisa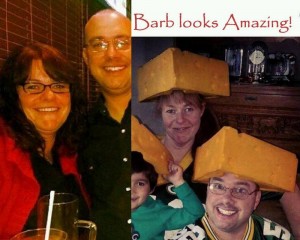 A great message to wake up to!
"Hi Maria. I want to take the time and let you know that I am thankful for you and all you do. Last Sunday I had a picture taken with my husband. I really noticed my face. So I looked up some pictures from about a year ago. I started reading Keto adapted late March and started living the Maria way of life right away. I did have a few slips but all in all its a way of life for me.
May you and your Family have a wonderful Thanksgiving,
Barb"
 If you want to get started on a path to health and healing, click HERE. You will not regret it!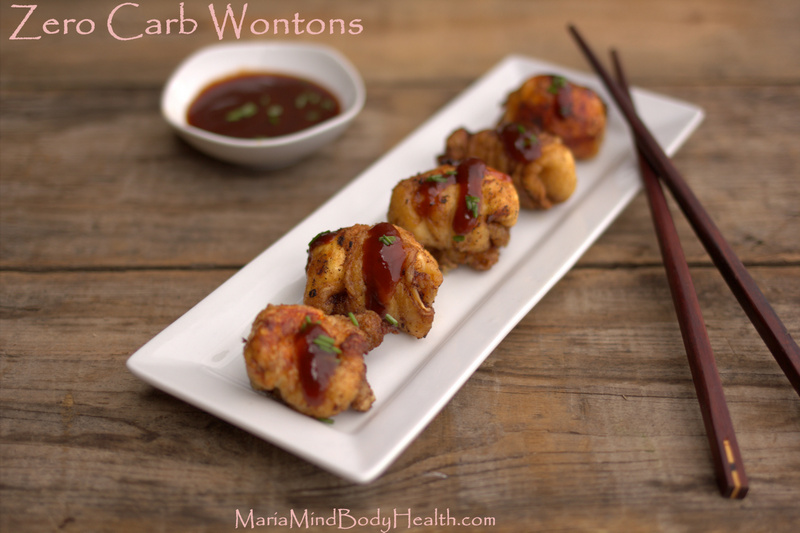 I know this recipe may sound a bit crazy, but it is seriously good!
You may be wondering where to get all the chicken skin, but if you call your local butcher, just ask for a bag of chicken skin. A huge bag cost only $8 in my area.
Happy Frying!

Zero Carb Wontons
Ingredients
8 oz Cream Cheese
2 TBS chives, chopped
24 pieces chicken skin (about 3.5 inches in diameter)
Coconut Oil, For Frying
Celtic Sea Salt for seasoning
Dipping Sauce:
½ cup coconut aminos/organic Tamari sauce (aged soy sauce)
¼ cup organic chicken bone broth (homemade is naturally thick which works great for this recipe)
2 TBS coconut vinegar or rice wine vinegar
¼ cup Swerve confectioners
1½ tsp minced garlic
1½ tsp minced ginger
Instructions
In a medium bowl, combine the cream cheese and chives.
One at a time, assemble the chicken wontons: place approximately 1 TBS cream cheese mixture in the center of a chicken skin.
Wrap the skin around the cream cheese mixture. The skin will shrink a lot so make sure to use a large enough chicken skin. The first time I did it the cream cheese squirted out.
Heat 2-3 inches of oil in a large saucepan or medium skillet to just under 350 degrees. Experiment with a spare pieces of chicken skin to check if oil is ready.
About 3 at a time, fry the chicken wontons for about 3-5 minutes, flipping carefully midway through to make sure they brown evenly.
Remove from heat, sprinkle with salt and while they cool, make the dipping sauce.
Make the dipping sauce by combining the coconut aminos, organic broth, coconut vinegar, natural sweetener, garlic and ginger in a small saucepan on medium-high heat. Heat until natural sweetener is dissolved. Sift in the guar gum (make sure to sift or it will clump up). Remove from heat. Taste and adjust amounts as desired.
Serve with chicken wontons!
Notes
NUTRITIONAL COMPARISON (per serving)
Traditional Wontons = 290 calories, 19g fat, 5g protein, 25g carbs, 2g fiber
"Healthified" Wontons = 290 calories, 27g fat, 11g protein, 1g carb, 0g fiber

84% fat, 15% protein, 1% carbs
Thanks Amanda for the inspiration for this recipe! 🙂