Zero Carb Risotto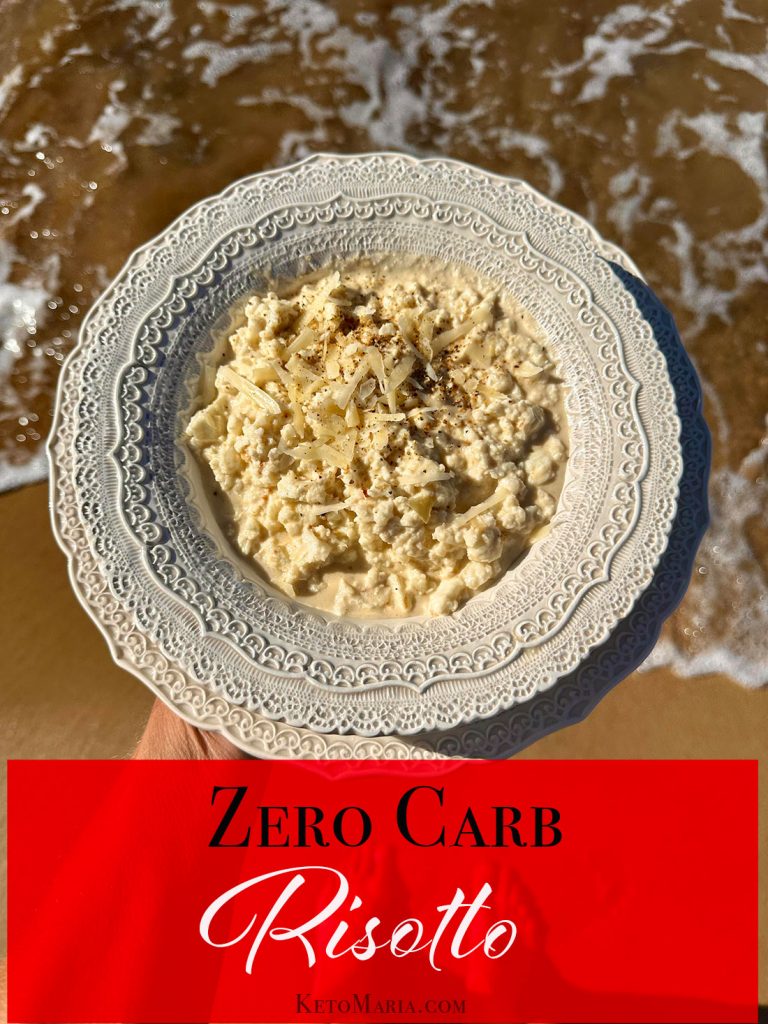 HOW TO MAKE ZERO CARB RISOTTO
If you haven't noticed, I do not allow advertising on my site.
I just didn't agree with some of the products that were advertised. They were keto products, but they were unhealthy and I would never personally eat most of the products. It was hard to say no to blog advertisements; they pay thousands of dollars a month, but I just felt uncomfortable about having the products I didn't recommend on my website.
Instead, I have created a shopping list where you can find all the healthy ingredients that are difficult to find in the grocery store (and if you do find them, they are often very expensive).
I have done a lot of detective work and found the lowest prices on for all of the products I use and love. Everything from food, pantry items, kitchen tools, supplements, and skin products are on my list.
I rarely waste time in the grocery store because I find everything online for a way better price!
All you have to do is click on the words in my recipes and it will take you right to the correct item. If you add them to your cart I get a tiny commission that helps me afford to keep practicing recipes (Recipe experimenting can costing me a fortune!…but I love helping!).
I also have GREAT HOLIDAY GIFT IDEAS on the list!
Happy Shopping and THANK YOU for all your support!!!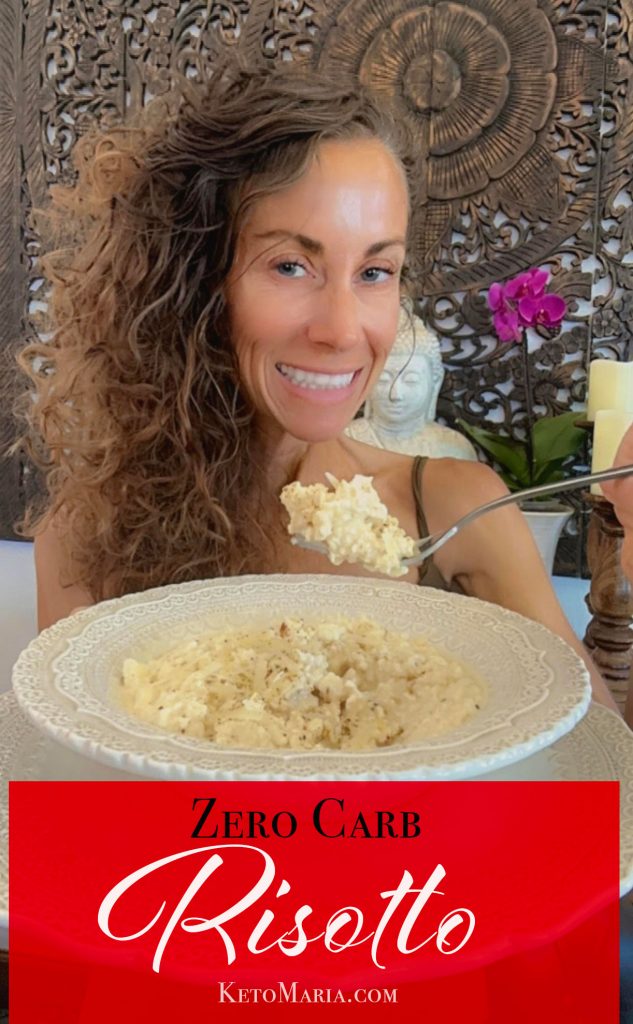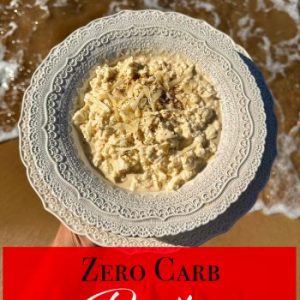 Zero Carb Risotto
Ingredients
1

cup

liquid egg whites

1/4

teaspoon

Redmond real salt

1

teaspoon

butter flavored coconut oil

or butter if not dairy free

2

tablespoons

diced onion

1/4

teaspoon

minced garlic

2

ounces

cream cheese

softened (or Kite Hill brand for dairy free)

1/2

cup

beef or chicken broth

2

tablespoons

freshly grated Parmesan

plus more for garnish (omit for dairy free)
Instructions
Grease a large non-stick pan with avocado oil spray. Add the liquid egg whites and heat to medium high heat. Use a whisk to separate the egg whites while it cooks; so it resembles small pieces of rice. Season with salt. Remove the cooked egg whites and place into a paper towel lined bowl so the paper towel absorbs any excess liquid.

Heat the coconut oil over medium high in the skillet and add the onion. Sauté for 2 minutes or until onion is soft. Add the garlic and sauté another minute or two, or until fragrant. Add the softened cream cheese and loosen with the whisk. Add the broth and Parmesan and whisk until well combined. Heat until thickened to your liking. Add the reserved egg white rice and stir gently. Place into a bowl. Season with salt and pepper if desired and garish with additional Parmesan.
Nutrition
Calories:
206
|
Fat:
13
g
|
Protein:
17
g
|
Carbohydrates:
3
g
|
Fiber:
0.2
g
|
P:E Ratio:
1.1
TESTIMONY OF THE DAY
"I can still hardly believe how much I've changed my health in a year!
God brought me through a series of major stressors but my body was worse for the wear. I tanked my adrenal system and gained a lot of weight. Step one was to accept myself with grace. Then a time came when I really started questioning how the weight was affecting my health. Is this the inevitable path of aging or can I change my future? I chose to go for a new life.

Knowing that I do better with low carbs, I researched and decided to try Maria & Craig Emmerich's keto plan. I studied her online course and books, cooked her recipes, and immersed myself in their online group. I succeeded beyond my wildest dreams!

• 75 pounds lost in a year.

• From size 16/18 to a size 6/8.

• No more heartburn meds.

• Eating delicious food.

• Feeling like myself again, but better.

Thank you so much, Maria & Craig! You're the best! " – Jaya
Most people I consult are doing keto totally wrong. Get fast results with the my Mind-blowing Keto School!