Zero Carb Dutch Baby
Nothing screams Spring like asparagus except when you can't find it in the spot you grew it! I just got off the phone with my dad and my brother. My dad told me that they were searching and searching for the asparagus they always had in the yard. My brother started laughing and saying they found out what happened…they caught my brother's yellow lab chomping away on it! Winnie loves fresh produce! How cute! So I was thinking about what to make with it and I get so many people commenting on how much they love my zero carb, gluten free baby Dutch pancakes and thought a savory version would be awesome!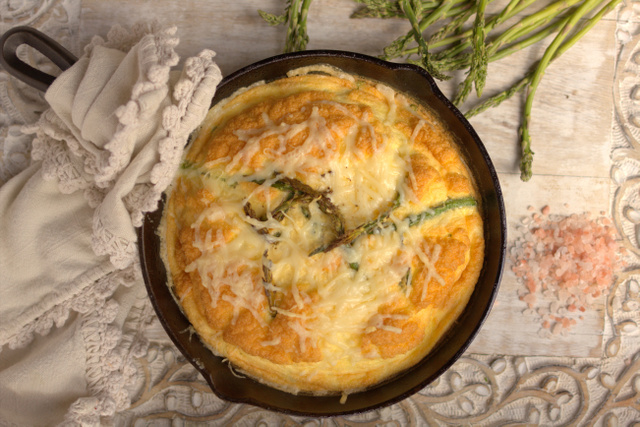 Bonus Keto Ingredient: drizzle this tasty breakfast with my dairy-free Hollandaise!
Happy Eating!

Zero Carb Dutch Baby
Ingredients
Prep: 5 minutes
Cook: 18 minutes
Yield: 2
Dairy free option/nut free option/gluten free/soy free
2 TBS coconut oil (or butter if not dairy sensitive)
3 large eggs
¾ cup unsweetened cashew/almond milk (hemp milk if nut free)
¼ cup unflavored egg white protein powder
1 tsp baking powder
1 tsp Celtic sea salt
2 tablespoons chopped dill (or other herbs)
8 sprigs asparagus
Parmesan cheese (Nutritional Yeast if dairy free)
Instructions
Preheat oven to 425 degrees F (400 degrees F in convection ovens). In a medium cast iron skillet, place 2 tablespoons coconut oil. Place in hot oven.
In a blender, combine the eggs, cashew milk, protein powder, baking powder, salt, and herbs if desired. Blend for about 1 minute or until foamy. Pour the batter into the skillet. Arrange asparagus on top of the batter (they may fall into the batter which is fine). Sprinkle with Parmesan or Nutritional Yeast.
Bake for about 18-20 minutes or until the pancake is puffed and golden brown.
Remove the pancake from the oven, spread additional butter or coconut oil on the pancake, cut into wedges and enjoy! Makes 2 servings.
Notes
NUTRITIONAL COMPARISON (per serving)
Traditional Dutch Baby = 378 calories, 22.3g fat, 15g protein, 28.6g carbs, 0.8g fiber
"Healthified" Dutch Baby = 251 calories, 20g fat, 16.2g protein, 1.4g carbs, 0g fiber (72% fat, 26% protein, 2% carbs)
TESTIMONY OF THE DAY
A great testimony from a phone client! She not only lost a ton of weight, her husband got off all medication!!!
Get started on your path to healthy healing today!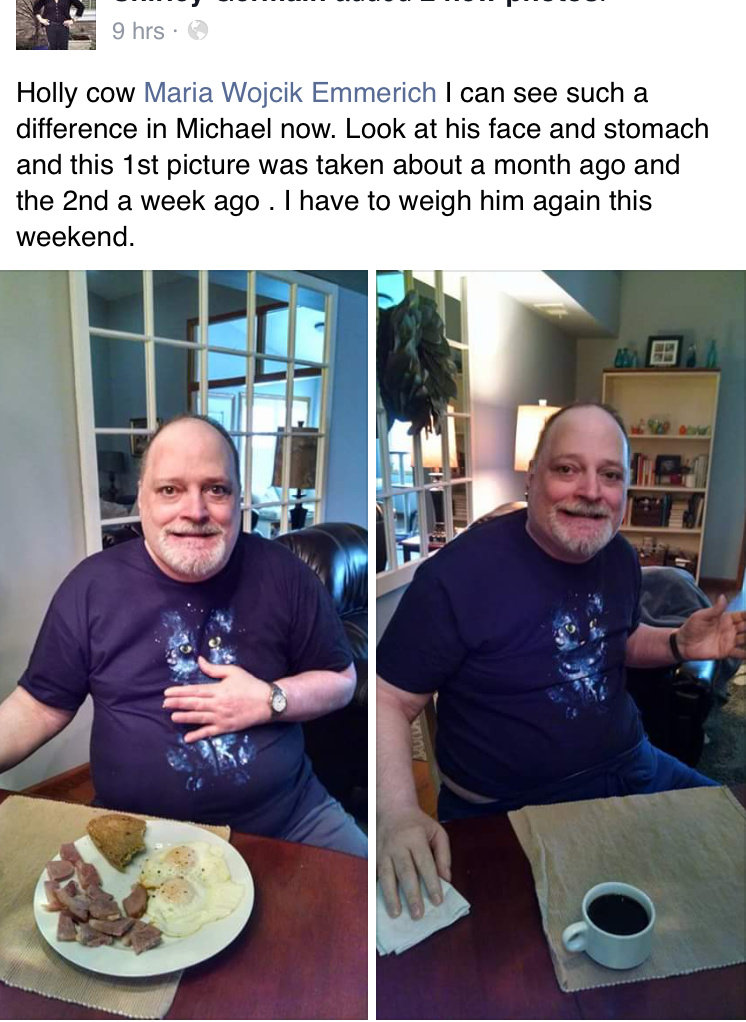 Reminder to take my next FREE Webinar!
Click HERE to find the next Webinar!