When Keto Can Be Dangerous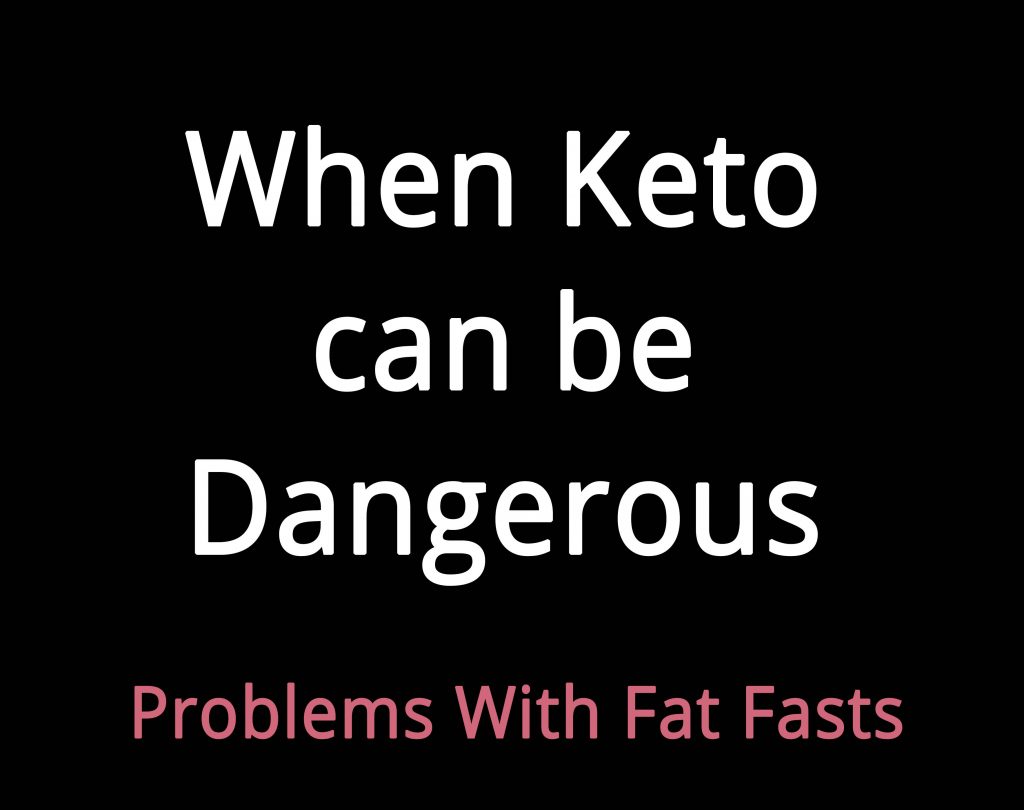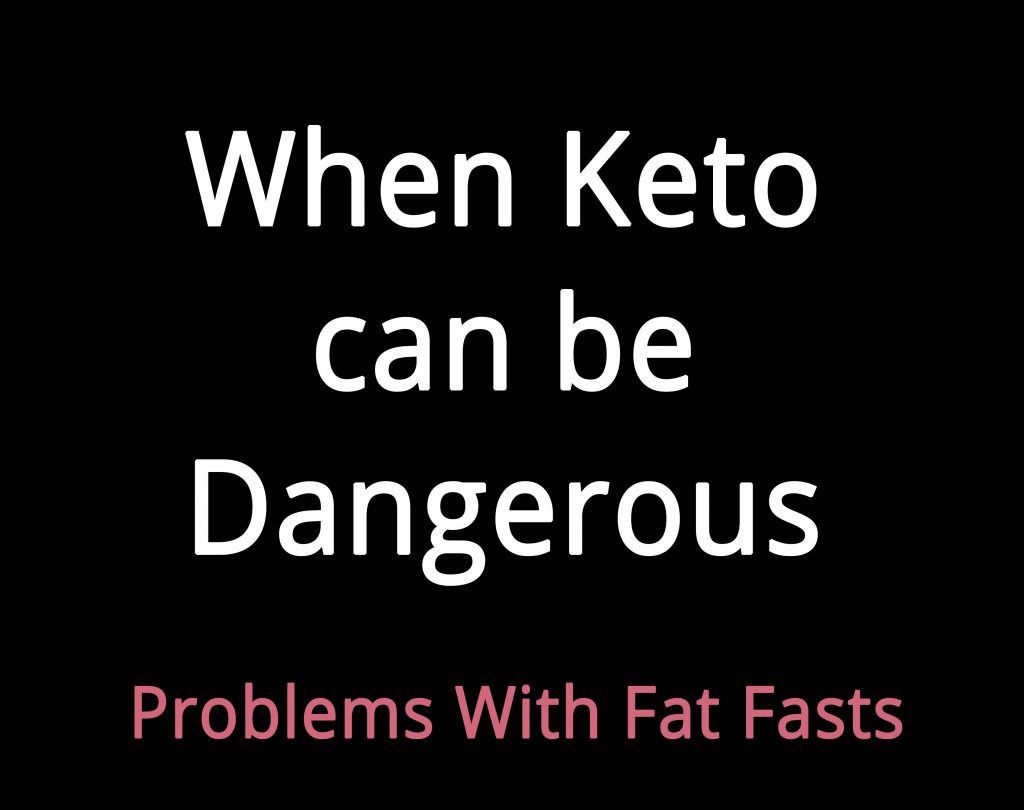 Keto has become really popular. Unfortunately, there is also some really bad keto advice out there. How many of you have seen somebody who isn't losing weight and is told to "up the fat and lower the protein" or "make sure to get your fat in" or "try a fat fast".  In this article we will discuss the science and biology that makes these statements not only bad advice but potentially dangerous for your health long term.
Manipulation of Blood Markers
Our bodies are amazing at adapting and reacting to the inputs (food) we give it. Our friend Dave Feldman is doing an amazing job of showing this. He has been doing some amazing things with manipulating his diet to create drastic changes in his blood levels of cholesterol, triglycerides and even thickness of his arterial walls!
How quickly you can change your bod's blood markers like cholesterol or triglycerides shows how the body is changing based on the inputs it is given. Let's take a look at blood triglycerides and the health effects of high triglycerides.
Triglycerides
There are a lot of different opinions on markers like blood cholesterol and LDL levels. But what is universally accepted is that high blood fat (triglycerides) is very dangerous long term. The body likes to tightly control the amount of fuel in your blood at any given time. Too much fuel is damaging just like too much fuel in an engine. Some have more short-term risks (like chronically high blood glucose levels that could actually kill you) and some have long term health effects like high triglycerides.
You do not want high fasting triglyceride levels.  It is associated with increased risk for many diseases. Elevated levels of triglycerides in your blood can increase your risk of developing diabetes, cardiovascular illnesses, and other life-threatening diseases(source). You do not want elevated blood triglycerides. That is pretty much universally understood and similar to detrimental effects of elevated blood glucose.
The 90% Fat Experiment
So many people are taking this bad advice to eat lots of fat, reach a fat goal, do a fat fast, eat fat bombs or bullet proof coffee. All of these have one thing in common, very high fat levels at the expense of lower protein levels.
As an experiment another friend of ours, Mike Berta, recently participated in a N=1 where he ate 90% fat for one week to see the effects on his body. Mike has a great keto success story where he has lost over 70 pounds in 3 years following a well formulated ketogenic diet with enough protein and moderating fat levels as needed to lose weight. He used the guidance of Dr Ted Naiman to achieve his amazing results.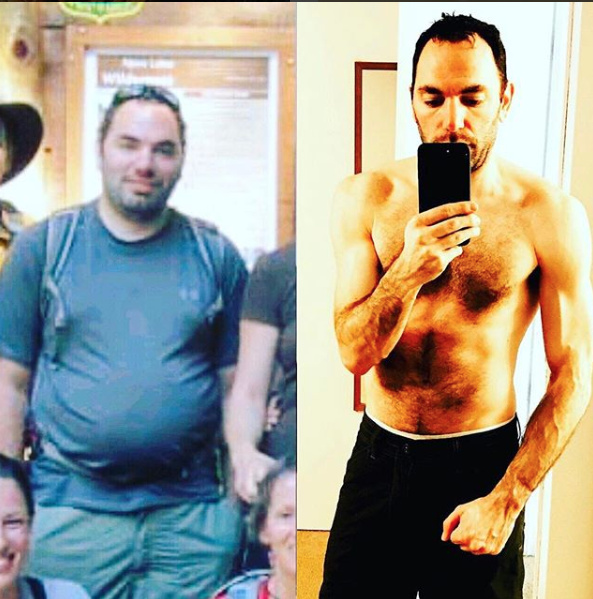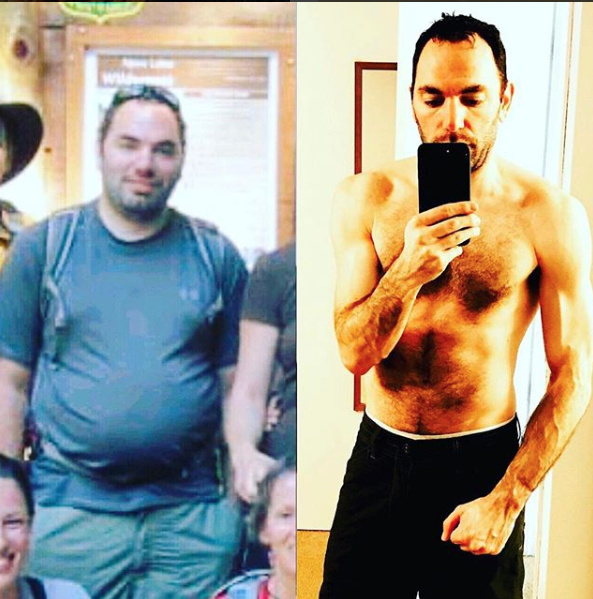 Mike is now pretty lean and as is shown from these photos and his fasting insulin levels, he is well below his personal fat threshold. This is an important note in the analysis of what happened in his experiment.
What is a personal fat threshold? As we describe in our book Keto, insulin rises the closer you get to your personal fat threshold or the point where the adipocytes (fat cells) you have get over stuffed and inflamed. This could be a small amount of fat or a large amount of body fat depending on the person's number of adipocytes. Some people don't have many adipocytes but the ones they have are over stuffed and inflamed. They can be 130 pounds but have insulin resistance because their fat cells are filled. Another person can be very insulin sensitive with 75 or 100 pounds of body fat because they have a lot of adipocytes tissues and they aren't all over stuffed and inflamed yet.
This is why someone who is overweight can be insulin sensitive, but they will have higher basal insulin levels because the body has to produce more insulin to hold back the extra body fat from entering the blood and over supplying the blood with fuel. Someone in this state could have fasting insulin levels of 10-15 compared to Mike's 2.5.
Let's take a look at Mike's labs before his experiment. Here are his fasted lab levels before the experiment, specifically his triglyceride levels.


His triglycerides are good at 118 mg/dL. Around 100 is great, under 100 is ideal. But Mike has great markers in his before labs including low A1c (4.8%), low insulin (2.5), low inflammation (hsCRP of 0.2) and other markers in the healthy range. These are all benefits many of our clients see with a well formulated ketogenic diet. We see many clients who have triglycerides that drop from 400 or more down to 100s pretty quickly eating a well formulated keto diet. But you can do keto the wrong way, and this is an example of that.
So what happened after one week of eating 90% fat? Surely 90% fat is still highly ketogenic. Here are his triglycerides AFTER one week of 90% fat.


That is not a typo or a lab error. His triglycerides went from 118 to 1,201 in just 1 week of eating 90% fat! His other markers of inflammation, A1c, CRP were all relatively unchanged. He went back to his normal well formulated ketogenic diet the next week and his triglycerides returned to 85.
So what on earth happened to his triglycerides? I had some ideas so to test them out I reached out to the person who has one of the best understanding of fatty acid metabolism.
My friend Mike Julian was gracious enough to give me this description of what he thinks happened.
"I can't say this is the gospel, but my hunch is that I think it happens precisely because of the stable/low insulin. What impetus is in place to rapidly clear the triglycerides? The low protein or worse yet something like a fat fast would predictably yield similar results I believe.

Lipolysis has no acute signal to stop so you effectively have adipose in a wide open state and then you throw heaps of dietary fat into circulation.

Acylation-stimulating protein (ASP) will place dietary lipids in storage without an acute rise in insulin levels. But a key point about ASP is that its actions are permitted by a requisite level of insulin. This is why a t1d not taking insulin can't store lipid (fat) even if ASP is alive and well. There needs to be an appropriate basal (of baseline) level of insulin present and then ASP functions properly. Mike Berta is very lean and has a very low basal/fasting insulin. It's possible that what he experienced was what would ultimately be a short term side effect of having low insulin and being relatively insulin sensitive going into it and that the acute insulin resistance brought about by the sudden increase in fat is what created this rise in fasting Triglycerides. Perhaps if he persisted his basal insulin levels would've risen and he would've begun to properly clear the lipid from circulation and into storage properly, the side effect being fat gain.

This phenomenon might actually explain why some lean individuals who follow bad keto advice literally believe that they can't get fat when they raise their dietary fat. Perhaps the peripheral insulin resistance they might be creating is making it difficult for their adipose to store it so it instead lingers in circulation for much longer, which is probably not great in the long run.

Where I'm going with that is this fat is stored in lean tissues via gradient. If the circulation is flooded then ALL tissues accumulate lipid.

If that is happening and you toss a consistent dietary surplus in on top of it, you MIGHT be setting yourself up for a poor long term outcome." – Mike Julian
Because Mike Berta is well below his personal fat threshold and has low basal or fasting insulin levels, the high fat diet combined with low carbs and low protein doesn't produce enough insulin to store the fat into fat cells so it lingers in the blood creating very high fasting triglyceride levels. In the next section I try to explain further what Mike is describing.
Fatty Acid Metabolism
There is a lot of talk about protein in the ketogenic community. Worries about "too much protein turning into glucose" are really a myth that we have discussed in detail in our book Keto as well as HERE and HERE. Getting enough protein is very important for long term health. Maintaining lean mass as we age is very important. You don't want to be wheelchair bound and frail when you are older. So hitting your protein goal or going over it are very important for quality of life as we age. Oh, and when we age, we need more protein. The adult recommendation of 0.8 times your lean body mass for grams of protein a day goes up to 1.0 or more just to maintain lean mass when you are in your 60-70s.
But there is another very dangerous effect of too little protein when it is combined with too much fat in the diet.
Almost all fat that comes in through the diet end up in the bloodstream as chylomicrons. At this stage they have two fates, either be used as fuel in the muscle and other tissues or be stored in our adipocytes (fat cells). Studies have shown that most of the fat first goes to our fat storage before later coming out of fat storage and used as fuel. The mobilization of fat from your fat stores to be used as fuel is called lipolysis.
So what puts fat into storage? There are a couple mechanisms. The main and primary controller is insulin. Yes, fat does raise insulin levels, not as much as protein or carbs, but it does raise insulin a bit.
Insulin does two things. It helps store fuels (fat and glucose) into the tissues. Either muscle (glycogen) or adipocytes (fat). It also acts as a net to hold back fat or glucose from being released from the fat cells or muscle. This makes sense because if you have a large amount of glucose or fat coming in through the meal, the body doesn't want an oversupply of fuel in the blood so it stops adding fuel (stops lipolysis) and starts storing it to lower the blood fuel levels.
But there is also a lesser known process for storing fat and that is Acylation-stimulating protein (ASP). This is a process that helps put fat into storage when insulin levels aren't very high. But there is a threshold level of basal or fasting insulin to enable ASP to function properly. And in Mike's case, his low fasting insulin of 2.5 meant that he didn't have enough insulin to store the fat coming in from the diet (and hold back more from coming out of fat cells or lipolysis). So the fat accumulated in his blood and resulted in very high triglycerides. Over time, if he continued doing this (or a fat fast, etc) he will have fat getting stored everywhere in the liver, pancreas and other tissues, that subcutaneous fat that is so detrimental for health. Not a good idea.
Harmful Effects of Bulletproof Coffee and Fat Bombs
Also important to note is the rate of uptake of these process oils. MCT oils and drinking calories enables you to drink a large amount of fat very quickly. This floods the system with energy that it struggles to deal with. In nature we don't have this scenario. You don't eat pure, refined liquid fats. You eat foods like protein that contain fats. In that way these refined oils can be looked at as very much like processed foods. Highly refined, loaded with empty calories and devoid of micronutrients.
So you are probably saying "but I am above my fat threshold, I still have 40 pounds to lose". Yes, in that case there would likely be enough basal insulin to store the fat eaten. If weight loss is your goal, storing a bunch of fat into your fat cells is not what you want to do. You want a negative fat flux (more fat coming out of adipocytes than going back in). In addition to these issues, you are not getting enough protein so you are losing that precious lean mass over time. Not what we want as we age.
Just Eat Whole Foods
You might be saying, you have some fat bomb or similar recipes. We have always told clients, only use those during the first couple weeks of going keto if needed to fight cravings or hunger. But once keto adapted, remove them. Your body can now use body fat for fuel just as well as dietary so you want it using more body fat instead of dietary (which is fat loss).
Drinking a fatty coffee (or bullet proof coffee) for your first meal has many negatives. For weight loss, you are tipping your fat balance to the diet meaning you will burn less body fat for fuel.
Also, you don't get any of the valuable protein!  Now if you are thinking "I will just add some protein powder to my fatty coffee", that isn't the way to go either. Just look at how many nutrients you get from whole foods compared to a fatty coffee for the same 400 calories.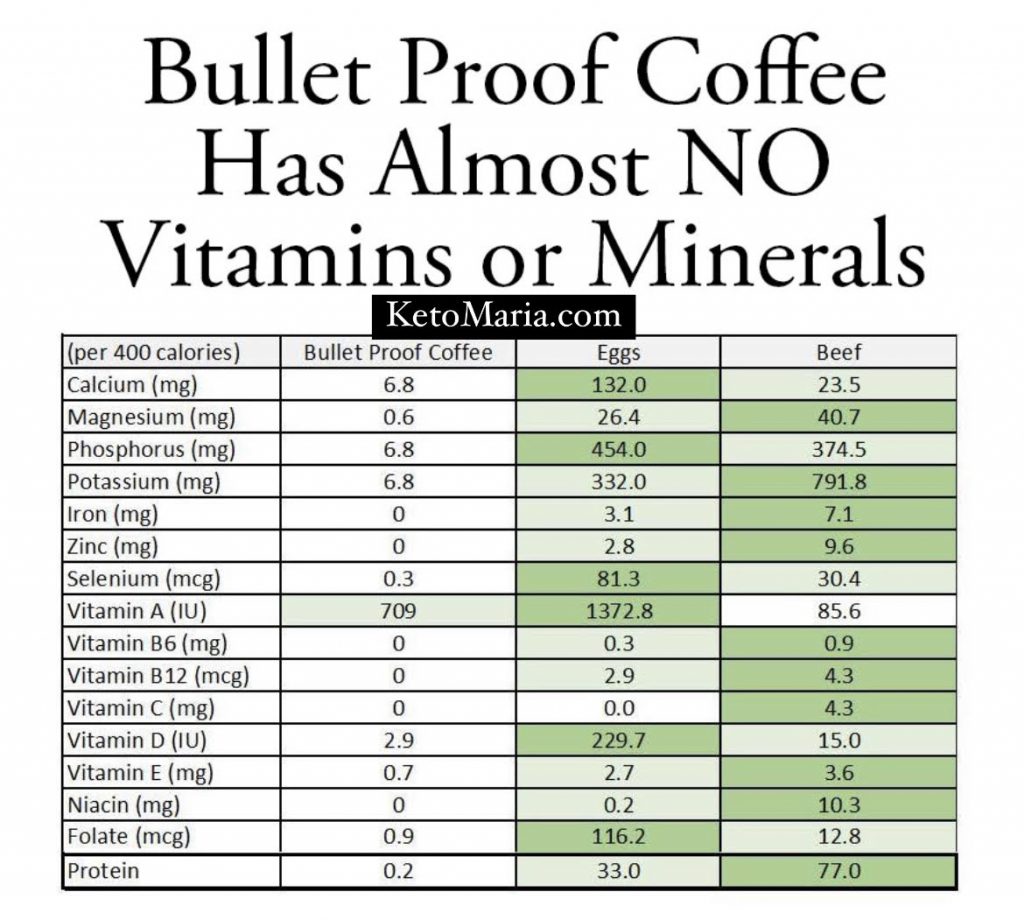 Eggs, and even better beef, provide much more vitamins, minerals and complete proteins. It is time to ditch all the products like MCT powder, fat shots, fatty coffee, fatty lattes and fatty drinks in general. And fat bombs are a transition tool, not a long-term staple. Don't do fat fasts.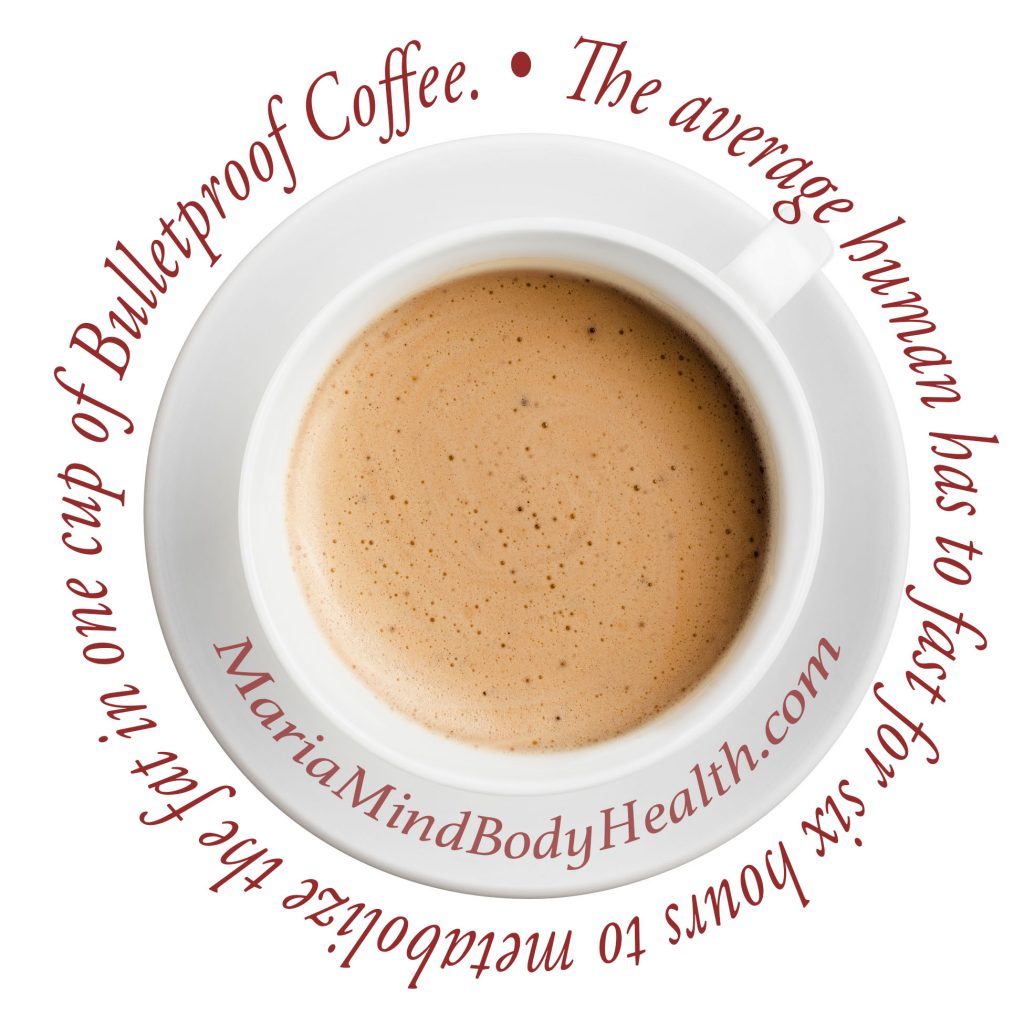 Just stick with whole foods and in general don't drink your calories. Chewing slows down ingestion of calories and registers leptin better. Let your body use its own body fat for fuel instead to help you lose weight. Your body with thank you and your cells will get all the vitamins and minerals they need to stay happy and healthy.
Click HERE to read how to cut the coffee! 

TESTIMONY OF THE DAY
"Thank you so much! I have to credit you!! I appreciate all you have done for the world and have loved watching your career blossom and supporting your book sales! You couldn't have known the timeliness of you messaging me! Thank you for reaching out to me this morning! You are an amazing source of inspiration and encouragement.
️" Nicole
Most people I consult are doing keto totally wrong. Get fast results with the my NEW Keto School!