Testimony of the Day
 This woman flew over 2 hours to my office! And the 'kicker' is that she makes beautiful cakes all day and is surrounded by sugar and wheat, but she is committed!
"In October 2102 I started on the path to having gastric bypass surgery after years of yo-yo dieting and being overweight since around age 8-9. I did everything from doctor supervised to phen-fen to WW to Medifast. My best weight loss was from Medifast but it quickly became too expensive and really was icky to drink shakes all day! 
In January 2013 I read a Wheat Belly synopsis. This was an interesting concept to me so I bought the Wheat Belly Cookbook on Kindle. At the end of his book, Dr. Davis offered Maria's Blog as a great place for recipes, guidance, etc. I checked it out and was impressed so I bought the Metabolism book for my kindle. Then I had an initial health assessment and email consult with Maria. I immediately stopped my diet coke addiction (over 40 oz a day) – that was the hardest one for me. During this time we started eating less wheat and sugar and by January 15th I got rid of all the grain products and went wheat free.  
Since that consult with Maria in early January through today I've lost 51 lbs. The first 40 came of rather quickly and the last 11 have been slower, but are still coming off at about 1 to 1.5 lbs a week. All this with little exercise (since I'm allergic to it! Ha, Ha, Ha!) I canceled my WLS that was scheduled for April 2013 and couldn't be happier. My moods are improved, I'm sleeping great, my body doesn't ache all the time, my hands and feet aren't always cold, I've not had a headache or acid reflex since late January, and my PMS is much better. I was experiencing facial ticks and vertigo type symptoms daily and the doctor didn't know why but within 10 days of getting off the Diet Coke, they were gone and haven't been back. 
I still have a long way to go (another 75 lbs maybe) but am now confident I have the right knowledge and the right nutritionist (Maria) to help guide me. Maria's books, blog posts, and facebook page are great and full of eye-opening insights. We like most of her recipes I've made – especially the treats! I would love to be able to afford one-on-one consults but our budget only allowed for the basic health assessment and email consult. Of all the things I've done to shed the pounds, paying Maria (including books, cookbooks, and one seminar) was the best money I've ever spent. Wish I would have found Maria sooner – I would have saved a ton of money on wasted programs. -Paula"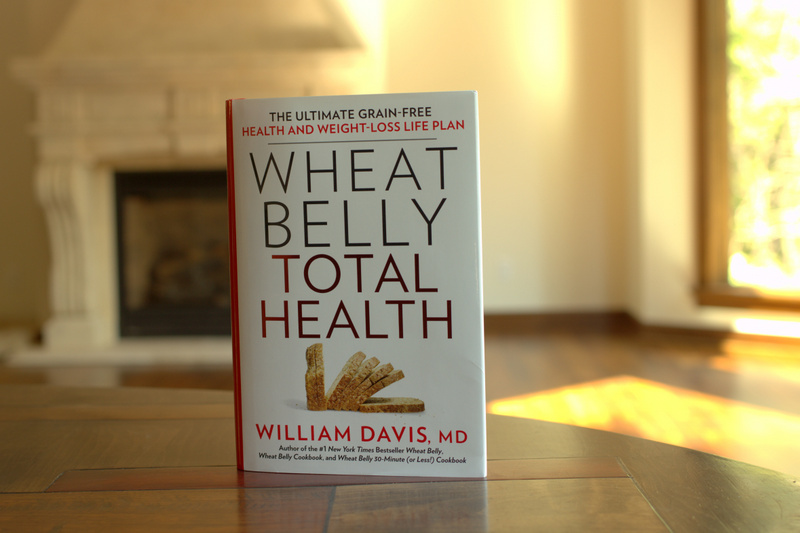 WHEAT BELLY: TOTAL HEALTH
Dr. William Davis, author of New York Times best-selling book Wheat Belly: Lose the Wheat, Lose the Weight, and Find Your Path Back to Health has done it again. He brilliantly wrote a perfect pairing book called Wheat Belly: Total Health. It is a coherent next step for anyone choosing to take control of their life and become the healthy person they deserve to be!
If you have an autoimmune disorder plaguing you such as Hashimoto's, Graves, or diabetes, migraines, chronic pain, low energy, depression, take a step towards healing and get this book!
There are 3 main sections to Wheat Belly: Total Health. The first section illuminates the issues with eating grains of all types. He describes why those "healthy whole grains" that are pushed on us by many medical professionals are anything but healthy!
The second section teaches why this diet is more than just about losing weight, but becoming the amazing and healthy person you deserve to be! I too wasn't always this healthy and active. Even as a teenager; it wasn't until I cut all grains did I feel like the strong woman I am today. In this section you get guidance on how to make this switch as effortlessly as possible. I love how he includes tips from his patients; that was my favorite part!
In the third section, you are informed of all the harm consuming grains have done on our bodies… depressing yet empowering how we have the POWER TO CHANGE and TOTALLY RECOVER! And by adapting this LIFESTYLE (not a temporary diet) that is when we begin to heal our bodies from terrible ailments (as well as losing that Wheat BellyJ).
So start your path to health today and pick up Wheat Belly: Total Health! You deserve to be the strong and healthy person you were meant to be!
Click HERE to get your copy (on SALE now!)