Tuna Noodle Salad with Protein Sparing Noodles

TUNA NOODLE SALAD WITH PSMF NOODLES
I love tuna noodle salad! I always have!
If you miss a delicious tuna noodle salad, you must try my recipe!
My tuna noodle salad with protein sparing noodles will blow your mind and is perfect for your keto macro days. If you want to enjoy this recipe on your protein sparing macro days, you can use my protein sparing mayo that is all protein and zero fat. I have hundreds of those recipes for my members on Keto-Adapted.com where I help guide you to find health like I do for the testimonials I post at the bottom of all of my blog posts.
If you take my NEW PSMF Class this Saturday (which you get the recording for A MONTH so if you are busy this Saturday you should still sign up), you get a MONTH of my support and access to all of my exclusive recipes!  Click HERE to learn more! In one month you can change your life! 

HOW TO MAKE PROTEIN SPARING NOODLES
To make my Protein Sparing Noodles, I used Further Food Gelatin! Adding gelatin to my protein sparing noodles adds a delicious chewy texture!
Further Food gelatin and collagen peptides are both excellent sources of collagen. Both their Collagen & Gelatin are sourced from the highest quality, grass-fed, pasture-raised, hormone-free, and antibiotic free bovine collagen.
The benefits of collagen and gelatin are astounding! Just eating my delicious Protein Sparing Noodles helps support skin elasticity & hydration, longer hair & nails, stronger bones & joints, faster recovery between workouts, increased flexibility, improved digestion, and it even keeps you feeling full and satiated for longer!
Further Food Collagen Peptides dissolve instantly in any recipe, and Gelatin Powder naturally thickens recipes. It's perfect for making keto noodles, dairy free ice cream, jello, sugar free gummies, no bake cheesecake, or panna cotta!
Use code MARIAMINDBODY is for 20% off site-wide !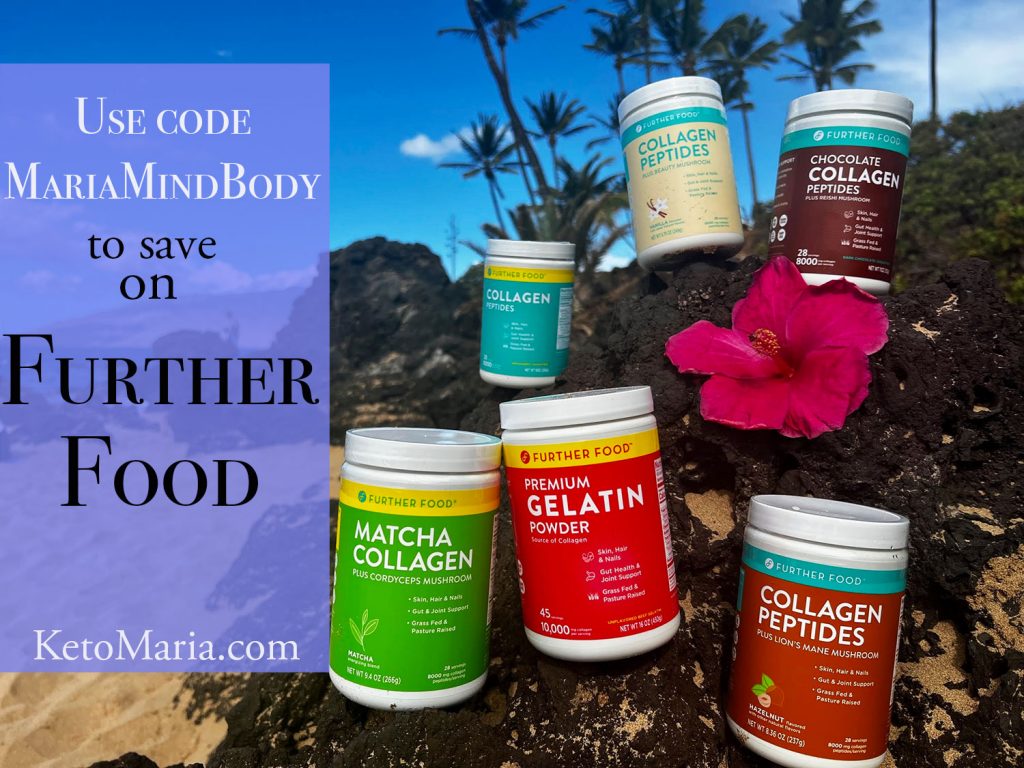 Tuna Noodle Salad with Protein Sparing Noodles
Instructions
To make the protein sparing noodles, preheat oven to 300 degrees F.

Place the egg whites into a blender. Add the Further Food gelatin and salt and blend the mixture well.

Spray a silicone baking sheet with edges (like THIS ONE) liberally with avocado oil spray. Pour the mixture into the baking sheet and use a spatula to spread the mixture out to cover the baking sheet completely in a thin layer. Place in the oven to bake for 6-10 minutes or until just cooked through.

Remove from oven and allow to cool. Place in the freezer for 10-20 minutes to help with easy removal from baking sheet.

To make the Tuna Salad, place the tuna into a large bowl. Add the mayo, green onion, pickle juice, Redmond Season Salt, diced pickles and hard boiled egg and stir well to combine. Taste and adjust seasoning to your liking.

Once the sheet of protein sparing noodles is cool, remove it from the silicone pan.

Place the sheet of noodles onto a cutting board and roll it up in a tight jelly roll. Use a sharp knife to slice into protein noodles, cut into small noodles to resemble macaroni noodle size.

Add the noodles to the tuna salad and stir to coat the noodles.

Store extras in an airtight container in the fridge for up to 5 days. Serve chilled.
Nutrition
Calories:
248
|
Fat:
12
g
|
Protein:
33
g
|
Carbohydrates:
1
g
|
Fiber:
1
g
|
P:E Ratio:
2.8
TESTIMONY OF THE DAY
"I have been overweight since second grade. In fifth and sixth grade my parents took me once a week to a children's weight loss clinic, where group weigh-ins and talk therapy were the order of the day. I was an active kid, I was on the swim team and I showed horses, it wasn't a lack of exercise. By the time I graduated high school I was wearing a size 22/24.
I was put on blood pressure medication when I was 30 and put on antidepressants a year later. Around 35 I was diagnosed with Hashimotos.
That fall, my doctor talked to me about Metformin. He gave me a prescription that I did not fill until February of 2017. When I saw him in June of 2017, he told me that we needed to talk about insulin, I was 420 pounds.
That is when I found Maria Emmerich. In the first few months I lost 35 pounds, enough for my doctor to say I did not need the insulin (yet). At 6 months, my doctor took me off metformin, and the antidepressants. At only 9 months, I lost 100 pounds, and my doctor cried.

In 2 years, I have lost 206 pounds and am 20 pounds from my goal. I am OFF blood pressure medicines and now the only thing I am still taking is for the Hashimotos, and I am working to get off of that now thanks to Maria.

I'm now in a size 14/16, I actually bought a size 12 dress the other day, because it fit! I have not worn a size 14/16 since 6th grade.

Maria has helped me greatly while I have been on this journey, I live in Wisconsin and have been lucky enough to have met her in person now 5 times. Every time I see her it amazes me that she remembers me, her warmth and joy inspire me to continue on with my journey. My only regret is that I did not find this way of eating sooner.

I was finally able to go on a zip line! I cried the whole time because in my mind I was not a 208 pound person on that zip line I was still 425 pounds in my head.  It was cathartic, and made me see myself as a completely different person I am now compared to who I was when I started this journey!

Thank you Maria, from the bottom of my heart, Meredith"
Most people I consult are doing keto totally wrong. Get fast results with the my Mind-blowing Keto School!