Slow Cooker Santa Fe Meatloaf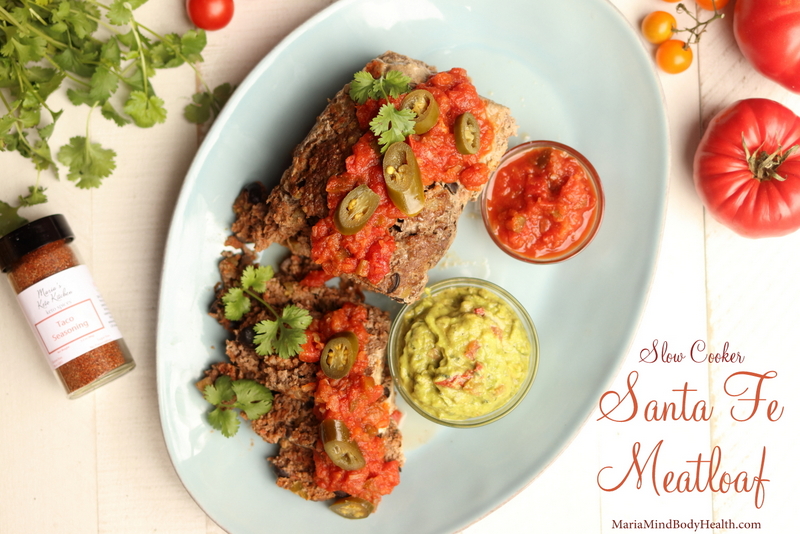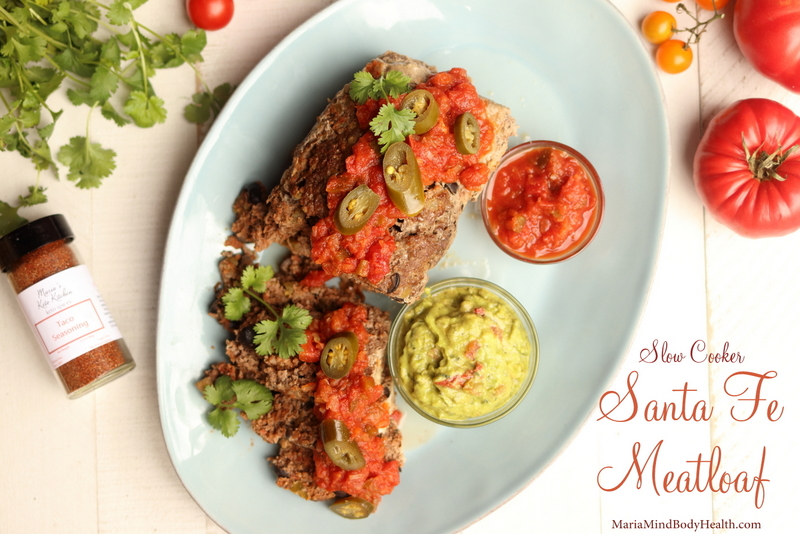 Plan Plan Plan = Success! I hear all the time, "I'm too busy!" I am also a very busy woman but I make this a priority. In my past life, when I wasn't prepared and ate junk, everything suffered. My mood, my energy, my lack of focus… the bad food caused a snowball of events that caused everything to fall apart. Taking the time is a priority and I make sure that it happens. One way I make my life easier is to prep the night before. My kids clean up for dinner while I plan and prepare the slow cooker for the following day. I put the shell of the slow cooker in the fridge so in the morning all I have to do is take it out and turn it on.
I also save time by getting quality food mailed to me. I love that I don't waste time driving to the grocery store and waiting in line! I get just about everything mailed to me! I also find delivery services like Butcherbox to be very helpful for clients who get too tempted by the smell of donuts when walking into a grocery store and end up falling into old bad habits by buying food that ends up holding you back from your health goals.
We love using Butcherbox ground beef for lots of recipes including this one.
If you have ever been disappointed with dried out oven-baked meatloaf you must try this recipe! The slow cooker seals in moisture to make this keto dinner soft, savory and delicious! The whole family is going to enjoy this one!
Mushrooms add moisture. Lighten calories and add umami! Even if you don't like mushrooms, don't worry! You don't even taste them!
MORE SLOW COOKER RECIPES
If you are looking for more recipes to make your summer easier you must check out KETO INSTANT POT eBOOK! Many of you know I had to cut over 70 recipes from my Keto Instant Pot book and many of them were my recipe testers favorite recipes! I ended up saving those delicious recipes for a Keto Instant Pot ebook!!!!! So if you need help being able to have quick and easy Keto meals on the table, you will love this Keto instant pot ebook!
Keto Instant Pot ebook also has SLOW COOKER directions for EVERY recipe! So if you are afraid of your instant pot, you can still enjoy the recipes!
Click HERE to find it on sale!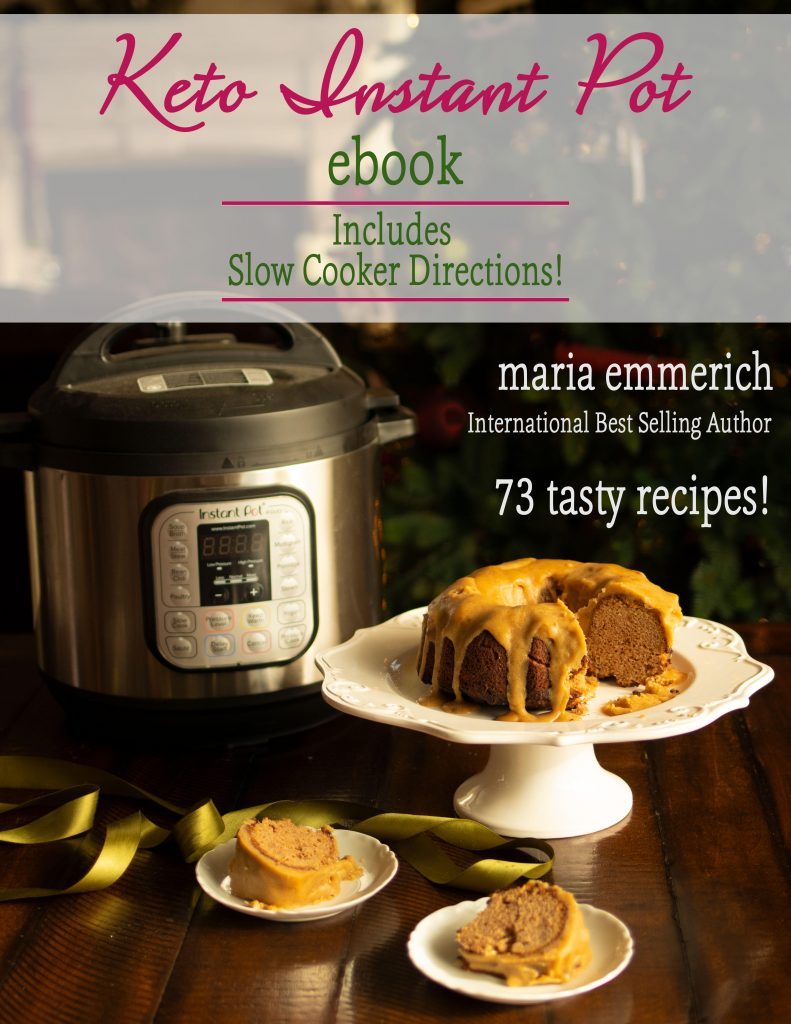 Slow Cooker Santa Fe Meatloaf
Ingredients
1 1/2

pounds

ground beef 85% lean

2/3

cup

salsa

store bought or homemade, plus more for garnish

1/2

cup

finely chopped mushrooms

1/2

cup

chopped green onions

3 1/2

teaspoons

Maria's Keto Kitchen Taco Seasoning

or click HERE to find the Taco Seasoning recipe

1

teaspoon

Redmond Real salt

1

4-oz. can mild chopped green chiles, drained well

1

large egg

lightly beaten

1

jalapeño

thinly sliced (optional)

Garnish with Cilantro leaves and guacamole

optional
Instructions
Place a 15 by 9 inch piece of parchment paper. Set aside. (If using an oven place parchment into a 9 by 5 inch loaf pan and preheat oven to 350 degrees F.

In a large bowl use your hands to combine beef, salsa, mushrooms, green onions, seasoning, salt, chiles, and egg. Form into a 9- x 5-inch loaf. Place loaf onto parchment paper. Hold the edged and gently place into a 5-quart slow cooker. Top with jalapeno slices if desired. Cover tightly and cook on low for 5 hours and 30 minutes.

NOTE: If using an oven cook for 1 hour or until beef is cooked through.

Garnish with additional salsa, guacamole and cilantro leaves if desired.
Notes
Nutritional Information:
319 calories, 24g fat, 21g protein, 4g carbs, 1g fiber
TESTIMONY OF THE DAY
 Thank you for your love and support!
"Woo-freekin-HOOOOOO! 



 I completed the cleanse and lost 16.9 lbs!! 
 I procrastinated so hard on the before pics/measurements that I never ended up taking them and I totally regret that 

 However, all my clothes are fitting looser/more comfortably AND my torso/belly has slimmed out significantly, which is my FAVE thing about Keto because that is the area where I carry all my extra weight – and was the hardest to get rid of on any other way of eating I had tried in the past. I am over the moon with my results and will definitely be continuing my whole foods approach and sticking to the dairy free, as well! 



 PS – I also tried the much talked about Chocolate Pudding recipe (added some coconut whipped cream), and all I can say is WOW! So chocolatey, decadent and delicious. You would NEVER know the base is 10 hard boiled eggs! Lol 

#

mindblown

 Thank you Maria Wojcik Emmerich for this book! It changed my life 

" – Athena